UCR Research and Economic Development Newsletter: April 1, 2013
Michael Pazzani
Vice Chancellor for Research and Economic Development
Back Issues of Newsletter: http://or.ucr.edu/vcr/newsletters.aspx
---
<![if !supportLists]>· <![endif]>Continuing Resolution: Federal Agency Budgets for the rest of 2013
<![if !supportLists]>· <![endif]>Interview with Jim Leach, Chairman of the National Endowment For The Humanities
<![if !supportLists]>· <![endif]>UC Patent Amendment
<![if !supportLists]>· <![endif]>JPL Talk: April 12
<![if !supportLists]>· <![endif]>NSF funding for Veterans
<![if !supportLists]>· <![endif]>Reminder: Distinguished Lecture- Brain Activity Map: April 4
<![if !supportLists]>· <![endif]>Submitting NIH proposals via Twitter
<![if !supportLists]>· <![endif]>Allen's Hummingbird Nest
---
Continuing Resolution: Federal Agency Budgets for the rest of 2013
Congress has passed a continuing resolution bill funding many federal research agencies. A summary of the outcome for various agencies is below. The news is not as bad as some had feared and in some cases, better than many had anticipated. See below for a summary.
National Science Foundation (NSF) will be supported at the FY 2013 requested level for all accounts except the Education and Human Resources (EHR) account, which will receive $20 million above the FY 2013 request. The bill will provide NSF with $7.39 billion; however, accounting for the rescission, NSF will receive $7.25 billion, which is still more than the FY 2012 enacted level of $7.03 billion.
Social science remains under attack as Senators John McCain and Tom Coburn introduced an amendment to cut the Political Science Program within the Directorate for Social, Behavioral and Economic Sciences (SBE). Following negotiations with Senator Barbara Mikulski, Chair of the Senate Appropriations Committee, a compromise of the amendment was incorporated into the bill preventing NSF from supporting political science grants unless they are deemed "as promoting national security or the economic interests of the United States."
Now is a good time to ask for REU supplements. It is also a good time to ask for Early-concept Grants for Exploratory Research (EAGER) awards. NSF sets aside approximately 5% of its funds for EAGER awards (http://www.nsf.gov/pubs/policydocs/pappguide/nsf09_1/gpg_2.jsp#IID2) which are typically at the discretion of program officers. An EAGER proposal can be submitted if an approach is very promising but unproven or of NSF declined a proposal that the reviewers found very exciting but criticized because there wasn't enough preliminary results. The EAGER award would supply one year of funding. EAGER can also be used by NSF to get funding to its priority areas. Due to the budget uncertainty, NSF didn't create full announcements for new priorities and might consider jump starting programs with one year grants.
• Cyber-enabled Materials, Manufacturing, and Smart Systems
• Expeditions in Education (E2)
• Secure and Trustworthy Cyberspace (SaTC)
With EAGER awards, a PI should consult with a NSF program officer before applying.
Department of Education. Under the CR, most Department of Education programs would be funded at FY 2012 level, with a likely 5 percent cut due to the sequester. My best guess is that with the budget uncertainty over, the Department of education will announce the GAANN program within the next few weeks and that it will give only a month to complete applications after the announcement..
U.S. Department of Agriculture (USDA) For the Agricultural Research Service (ARS), the continuing resolution provides $1.074 billion for FY 2013, which is approximately $21 million below the FY 2012 level. For the National Institute of Food and Agriculture (NIFA), the bill provides $1.205 billion for FY 2013, which is about $3 million above the FY 2012 level. Within NIFA, the bill prioritizes competitive research through the Agriculture and Food Research Initiative (AFRI), providing $290 million for AFRI, which is an increase of nearly $25.5 million above FY 2012.
Department of Defense (DOD) Compared to 2012, ONR's basic research increased by 5% and applied research increased by 7%. Air Force Basic Research decreased 3% and applied research decreased 8%. Army Basic research decreased 5% and applied research increased 5%.
NIH's budget did not fare as well as some other agencies. It is receiving a small increase of $67M but then is receiving a reduction of approximately 5%. This will reduce the number of new awards NIH can make.
The president is expected to release the 2014 budget on April 10, and there is some hope that the restrictions on political science funding will be removed when there is time for rational deliberation.
---
Interview with Jim Leach, Chairman of the National Endowment for the Humanities
Jim Leach discusses the humanities, STEM education, and jobs in an NPR audio interview at http://cpa.ds.npr.org/knau/audio/2013/03/leach0328.mp3
---
UC Patent Amendment
A recent court ruling has prompted UC to amend employee's Patent Acknowledgment for those employees hired before November 2011. Below is information on the patent amendment and a link to electronically sign the agreement for those that have not already done so. If you have any questions or objections, please contact me.
What are the changes in the Amendment to the Patent Acknowledgment?
There are four changes in the Amendment:
<![if !supportLists]>1. <![endif]>The words "and do hereby assign" are added. This addition provides a present assignment of invention and patent rights to UC, addressing the problem created by the Supreme Court decision.
<![if !supportLists]>2. <![endif]>The words "within the course and scope of my University employment" are added. This clarifies the scope of the present assignment, and is actually slightly narrower than the original version of the Patent Acknowledgment.
<![if !supportLists]>3. <![endif]>A grammatical correction with the addition of the word "through" in the following: "through any connection with my use of gift, grant or contract research funds received through the University."
<![if !supportLists]>4. <![endif]>"Office of Technology Transfer" is replaced with "University authorized licensing office" to reflect that fact that licensing is no longer done by a central office, but is conducted locally by campuses.
The Amendment does not alter or diminish any of your individual rights as inventors.
Existing employees hired prior to November 1, 2011 and who have not yet signed the 2011 Patent Amendment are able to e-sign the patent amendment by clicking on My Patent Amendment in the upper left box. http://atyourserviceonline.ucop.edu/ayso Background information, including Frequently Asked Questions, is available at:
http://atyourservice.ucop.edu/employees/policies_employee_labor_relations/patent-acknowledgment/ In addition, existing employees who signed the 2011 Patent Amendment are able to see the date and time of signature through the My Patent Amendment feature.
---
JPL Talk: April 12
High-Performance Spaceflight Computing:
Next Steps at NASA and AFRL
Richard J. Doyle
Jet Propulsion Laboratory
California Institute of Technology
April 12, 11:10am
Winston Chung Hall Room 138.
Spaceflight computing is a key resource for NASA space missions and a core determining factor of spacecraft capability, with ripple effects throughout the spacecraft, end-to-end system, and the mission. This flight system resource can be aptly viewed as a "technology multiplier" in that advances in onboard computing will provide dramatic improvements in flight functions and capabilities across the NASA mission classes, and will enable new flight capabilities and mission scenarios, increasing science and exploration overall return.
Space-qualified computing technology, however, has not advanced significantly in more than ten years and the current state of the practice falls short in meeting the near- to mid-term needs of NASA missions. To sharpen understanding of this gap, a multi-center NASA team conducted a study to address the following questions:
• What are the paradigm shifting NASA space-based applications that drive flight computing?
• What are the requirements imposed on flight computing by these applications?
• Which emerging computing architecture would provide the maximum return on investment?
• How can NASA most effectively invest its limited resources to develop the required technology?
I will report on answers to these questions from the NASA study – with focus on computational drivers due to increasing use of high data rate sensors and instruments, vision-based processing, and model-based reasoning – and how the study results are leading to a joint investment in multi-core flight computing capability between NASA and the Air Force Research Lab (AFRL).
Bio
Richard J. Doyle is Manager of the Information and Data Science Program Office at the Jet Propulsion Laboratory in Pasadena, California. He is an Associate Fellow of the American Institute of Aeronautics and Astronautics (AIAA) and a member of the AIAA Intelligent Systems Technical Committee. He holds the Ph.D. in Computer Science / Artificial Intelligence from the Massachusetts Institute of Technology. Dr. Doyle is past Executive Council member of the Association for the Advancement of Artificial Intelligence (AAAI) and a member of the Advisory Board for IEEE Intelligent Systems. He was General Chair for the International Symposium on Artificial Intelligence, Robotics and Automation in Space (i-SAIRAS), held at University City, Los Angeles in 2007, and Local Arrangements Chair for the International Joint Conference on Artificial Intelligence (IJCAI-09) held in Pasadena in 2009.
---
NSF funding for Veterans
The NSF Directorate for Computer and Information Science and Engineering (CISE) invites its grantees to submit requests for supplemental funding for research experiences for veterans. Active CISE grantees interested in pursuing this opportunity are encouraged to submit their supplemental funding requests by April 30, 2013, per the guidelines specified below.
Proposed CISE supplements … will specifically afford U.S. veterans an opportunity to engage in meaningful research experiences, as recommended by the report of an NSF-funded workshop on "Veterans' Education for Engineering and Science" published in April 2009: "NSF and other federal science and engineering agencies should create an education/career development program focused on getting veterans into science and technology careers. NSF and the other federal agencies have long experience sponsoring education research and activities. The cost to expand and enrich such programs is a small fraction of the cost of the post-9/11 Veterans educational benefit. Yet by expanding it, the community could engage a significant number of veterans with the potential to pursue careers in fields of engineering, science and technology."
In particular, such CISE supplements will provide students and teachers who are veterans with opportunities to participate with active CISE grantees to conduct relevant research in order to gain a deeper understanding of computing. The participation of veterans from groups underrepresented in computing - underrepresented minorities, women, and persons with disabilities - is strongly encouraged.
, CISE will follow the guidelines of the current Research Experiences for Undergraduates (REU) supplemental funding program [see program solicitation NSF 13-542, "Research Experiences for Undergraduates (REU): Sites and Supplements," http://www.nsf.gov/pubs/2013/nsf13542/nsf13542.htm. As such, for single investigator projects, these supplemental funding requests should typically be for no more than two students for one year. Research teams funded through multi-investigator projects may request support for a larger number of students, commensurate with the size and nature of their projects.
Investigators are encouraged to refer to the REU solicitation referenced above - and the corresponding CISE DCL http://www.nsf.gov/pubs/2013/nsf13068/nsf13068.jsp - for detailed information concerning submission requirements. A grantee with questions may also contact his/her cognizant CISE program officer.
---
Reminder: Distinguished Lecture- Brain Activity Map: April 4
There has been great interest in the Brain Activity Map since President Obama proposed plans for a project analogous to the Human Genome Project of the 1990s. The ideas behind the proposed initiative are based in part by a paper in Neuron: A. Paul Alivisatos, Miyoung Chun, George M. Church, Ralph J. Greenspan, Michael L. Roukes, Rafael Yuste, The Brain Activity Map Project and the Challenge of Functional Connectomics, Neuron, Volume 74, Issue 6, 21 June 2012, Pages 970-974, http://www.sciencedirect.com/science/article/pii/S0896627312005181.
One of the authors of the paper will visit UCR on April 4 to present an overview of the brain activity map.
The Brain Activity Map
Ralph J. Greenspan, PhD
Associate Director
Kavli Institute for Brain and Mind
University of California San Diego
Thursday April 4, 1:10PM
Genomics Building Auditorium
While it is no mystery to any of us as to why we need a brain, it remains a major mystery as to how our brain does what it does. We know a great deal about the composition of individual nerve cells (neurons) that make up the brain and how they send and receive electrical and chemical signals. We also know a great deal about which areas of the brain participate in the various activities we do, and we have a constantly improving picture of the contacts individual neurons make with each other to form circuits, and how large bundles of neurons connect major areas of the brain to each other. But when it comes to understanding how the signals from individual nerve cells combine to produce activities as effortless for us as walking or recognizing a melody, or as demanding as playing the piano or understanding mathematics, there is a major gap. The "Brain Activity Map Project" aims at allowing us to fill in this gap.
The goal of the BAM Project is to construct a functional brain map in order to understand complex brain processes. This map will fill the gap in our knowledge of brain activity at a scale between single neuron and whole brain function, an intermediate level where theories predict that complex functions emerge from the network interactions involving millions of neurons. The BAM Project will be a large-scale, long-term research project built upon close interactions between scientists, engineers, and theoreticians.
Biography
Dr. Ralph J. Greenspan has worked on the genetic basis of behavior and brain function in fruit flies (Drosophila melanogaster) almost since the inception of the field, studying with one of its founders, Jeffery Hall, at Brandeis University in Massachusetts, where he received his Ph.D. in biology in 1979. He is currently Associate Director of the Kavli Institute for Brain and Mind at the University of California San Diego. Dr. Greenspan's research includes studies of the consequences of mutations and localized genetic alterations in the nervous, molecular identification of genes causing naturally occurring variation in behavior, and the genetic analysis of fruit fly sleep and attention. His current research addresses large-scale network questions pertaining to the action of genes and neurons. In addition to research papers, he has authored: Fly Pushing: The Theory and Practice of Drosophila Genetics, , An Introduction to Nervous Systems, and How Genes Influence Behaviour (with Jonathan Flint and Ken Kendler).
---
Submitting NIH proposals via Twitter
NIH has announced that starting April 1, in collaboration with Twitter, it will begin accepting proposals by text message. To submit a proposal, faculty should
1. Create an account on http://www.twitter.com
2. Tweet your proposal including a hash tag for UC Riverside #ucr and the institute, e.g., #nigms.
Proposals are limited to 140 characters including budget and CV. While all health related topics are covered by this announcement, special consideration will be given to proposals that address conditions that affect the mobile web generation such as iPhone finger, blackberry thumb, and Google glass myopia.
Proposals will be reviewed by the general public on Facebook. Funding decisions will be announced within 48 hours of submission. NIH spokesperson Dr. April Fulesjoak said that NIH anticipates the pay line to be at 95 "likes." Funds will be distributed by PayPal eliminating the need for university accounting systems. In lieu of effort reporting, the Office of the Inspector General has approved a pilot program for UCR in which the whereabouts of awardees will be tracked 24/7 by the location of their mobile devices.
---
Allen's Hummingbird Nest
<![if !vml]>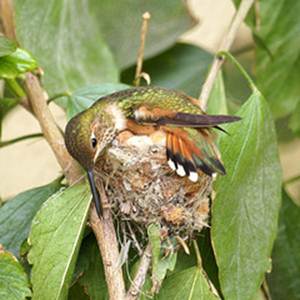 <![endif]>
(click to enlarge)
An Allen's hummingbird made a nest in our backyard. Above is a photo of her putting the finishing touches on the nest. A thirty second video showing the hummingbird returning to nest with nesting material is on the web at
http://www.flickr.com/photos/pazzani/8579741831/in/photostream?likes_hd=1. I started this newsletter on Friday and when I finished Sunday, we had two baby hummingbirds.
<![if !vml]>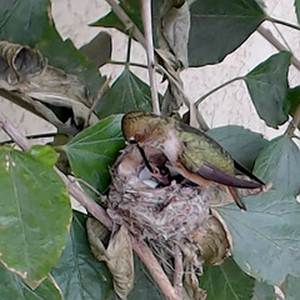 <![endif]>
(click to enlarge)
A video of the feeding is available at http://www.youtube.com/watch?v=QNKXdN-FkxU. By the way, videos were taken with a remote webcam to avoid disturbing the nest.
Michael Pazzani
Vice Chancellor for Research and Economic Development
Professor, Computer Science & Engineering
University of California, Riverside
200 University Office Building
Riverside, CA 92521
Assistant: Gloria Gallego
951-827-4800