UCR Research and Economic Development Newsletter: May 18, 2013
Michael Pazzani
Vice Chancellor for Research and Economic Development
Back Issues of Newsletter: http://or.ucr.edu/vcr/newsletters.aspx
---
<![if !supportLists]>· <![endif]>Survey for Industry Sponsored Research
<![if !supportLists]>· <![endif]>SBIR/STTR Pilot Program for new Phase I Proposals
<![if !supportLists]>· <![endif]>NIH Peer Review
<![if !supportLists]>· <![endif]>Update on NSF Workshop
<![if !supportLists]>· <![endif]>NEH Summer Stipends
<![if !supportLists]>· <![endif]>Pew Scholars Program in the Biomedical Sciences award
<![if !supportLists]>· <![endif]>OFR-NSF Funding Announcement
<![if !supportLists]>· <![endif]>Stupid Faculty Tricks
<![if !supportLists]>· <![endif]>Horned Grebe
---
Survey for Industry Sponsored Research
University of California and most universities have by policy or practice been taking the position that intellectual property developed in the course of a project funded by industry is owned by the university. Industry sponsored research agreements then contain a clause giving the company the first right to negotiate a license to the technology.
A few universities, such as Penn State, University of Minnesota and University of Iowa have recently been introducing an additional option in some fields that allows the sponsoring company to have exclusive rights to the technology sponsored by the company according to some predefined terms. See http://www.research.umn.edu/techcomm/industry-sponsor.html for example.
I am participating in a UC committee exploring whether there are problems with the "first right to negotiate" approach and opportunities with having an option for a predefined approach. Can I ask you to fill out a short survey on this to understand better UCR faculty experiences and preferences? The short survey is https://docs.google.com/forms/d/1Qx5wRcJKM0LYFQOWWlp_veN0yAMV9LyM0i7X9mIsadg/viewform
I repeat the survey below, but encourage you to fill out anonymously at the website above
Have you experienced problems reaching agreement on intellectual property when engaging in industry sponsored research when university insists upon "first right to negotiate a license"
Check all that apply.
[ ] No, There is no industry support for my type of research
[ ] No, Companies and I easily agree on "first right to negotiate a license"
[ ] Yes, It takes too long to come to an agreement when the intellectual property isn't important anyway
[ ] Yes, I have experienced situations in which an agreement I wanted to pursue was never reached due to intellectual property
[ ] Other:
Should the university have an additional option available where any new intellectual property discovered in an industry sponsored research project is automatically assigned to the sponsored according to some predefined terms?
Mark only one oval.
( ) No, Not in any field
( ) Not in my field, but it is appropriate for some fields or some faculty
( ) Yes in my field, but not in all fields
( ) Yes, in all fields
( ) Other:
---
SBIR/STTR Pilot Program for new Phase I Proposals
I am pleased to announce that the Research and Economic Development has established a pilot program to stimulate and encourage UCR's participation in the U.S. Small Business Innovation Research (SBIR) and Small Business Technology Transfer (STTR) programs, as well as increase interactions with promising small business interested in advancing innovative technology of mutual interest. Through this pilot program, UCR will waive all facilities and administrative (F&A) cost on all UCR subcontract proposals with businesses applying for either SBIR or STTR Phase I funding. The pilot program is effective for new proposals immediately and will continue through June 30, 2015, at which time the program will be evaluated to determine if it will continue. It is important to note that this pilot program does not apply to SBIR or STTR Phase II funding, which will continue to be subject to UCR's standard applicable research F&A cost rate. Please see the RED website for more details.
---
About NIH Peer Review
For more information about the NIH peer review process please see the following resources:
<![if !supportLists]>· <![endif]>Video – "NIH Peer Review Revealed": http://www.youtube.com/watch?v=fBDxI6l4dOA
<![if !supportLists]>· <![endif]>Document – "NIH Peer Review: Grants and Cooperative Agreements": http://grants.nih.gov/grants/PeerReview22713webv2.pdf
---
Update on NSF Workshop-BRAIN Initiative: Physical and Mathematical Principles of Brain Structure
The NSF recently held a workshop sponsored by the Physics Division and the Division of Mathematical Sciences within the Directorate for Mathematical and Physical Sciences. Many groups within the federal arena are aligning themselves with the BRAIN initiative and we will surely see more of these in the near future. This particular workshop highlighted the importance of data sharing and linking of future findings. The white papers that were collected at this workshop are available at http://or.ucr.edu/OrApps/VCR/Talks/20130505-BrainStuctureFunctionWorkshop/default.aspx
---
NEH Summer Stipends
It's never too early to think about next summer…NEH offers summer support to individuals pursuing advanced research that is of value to humanities scholars, general audiences, or both. Recipients usually produce articles, monographs, books, digital materials, archaeological site reports, translations, editions, or other scholarly resources. Summer Stipends support continuous full-time work on a humanities project for a period of two months. The number of applications to an NEH grant program can vary widely from year to year, as can the funding ratio. For more information see the NEH website at: http://www.neh.gov/grants/research/summer-stipends.
---
Pew Scholars Program in the Biomedical Sciences award
Be sure to check out the limited funding announcements on our faculty website: https://or.ucr.edu/ord/limitedsubmissions.aspx. We are always adding announcements. The latest is below
The Pew Charitable Trusts invites UCR to nominate a candidate for the 2014 Pew Scholars Program in the Biomedical Sciences award. The Pew Scholars Program supports assistant professors of outstanding promise in science relevant to the advancement of human health. The award provides $240,000 in flexible support—$60,000 per year for a four-year period.
---
OFR-NSF Seeks Proposals in Support of Research Collaborations in Finance Informatics
The National Science Foundation (NSF) and the Office of Financial Research (OFR) of the Department of Treasury share an interest in advancing basic and applied research centered on Computational and Information Processing Approaches to and Infrastructure in support of, Financial Research and Analysis and Management (CIFRAM). NSF and OFR have established a collaboration (hereafter referred to as CIFRAM) to identify and fund a small number of exploratory but potentially transformative CIFRAM research proposals. The collaboration enables OFR to support a broad range of financial research related to OFR's mission, including research on potential threats to financial stability. It also assists OFR with the goal of promoting and encouraging collaboration between the government, the private sector, and academic institutions interested in furthering financial research and analysis. The collaboration enables the NSF to nurture fundamental CISE research on a variety of topics including algorithms, informatics, knowledge representation, and data analytics needed to advance the current state of the art in financial research and analysis. Proposals that involve collaborations between Computer Scientists, Mathematicians, Statisticians, and experts in Financial Risk Analysis and Management are especially welcome.
For further information, please see: http://www.nsf.gov/pubs/2013/nsf13093/nsf13093.jsp?WT.mc_id=USNSF_25&WT.mc_ev=click
---
Stupid Faculty Tricks
NSF's Office of Inspector general conducts investigations of scientific misconducts and improper use of funds. A recent report http://www.nsf.gov/pubs/2013/oig13001/index.jsp lists several examples of practices that should be avoided.
Faculty Member Claims Copied Text was Public Knowledge
A faculty member at an Ohio university plagiarized approximately 500 lines of text into four proposals submitted to NSF. He admitted that he copied most of the material, which he said he did because English was not his native language. He also asserted that citations and quotation marks were unnecessary because the text was copied from a public source, or was public knowledge. The university investigation concluded that the faculty member's actions were reckless and he should have known of the need for citation.
The university placed a formal letter of reprimand in the faculty member's permanent record, with an admonition that further plagiarism may result in termination of his employment. It further required, for two years, the faculty member and the Sponsored Research Office to certify that any proposals submitted contain no plagiarism, and required that the faculty member enroll in a course on research ethics. NSF recommended that NSF require certifications and assurances for three years and bar the faculty member from participating as a peer reviewer, advisor, or consultant for NSF for three years.
PI and his Company Suspended Government-Wide
A PI for a Maryland company that received a Small Business Technology Transfer (STTR) award from NSF falsely certified to NSF that he was primarily employed by the company when he was employed full-time at a university. The PI also falsely asserted that he had a mandatory outside investment to support a Phase IB application for supplemental funding, and he failed to issue a required subaward to the company's partnering research institution in the Phase IB STTR award. NSF suspended the PI and his company government-wide pending the conclusion of our investigation.
University Returns $330,460 After Professor Falsely Certified Effort
An Indiana university put $160,529 back into two active NSF awards and returned $169,930 to NSF for a third closed award after the university's internal audit and our investigation confirmed that a tenured professor at the university held an undisclosed paid teaching position at a foreign university while simultaneously serving as PI for the three NSF awards. The PI charged travel and summer salary to the NSF awards, certifying 100% effort on his NSF awards for time during which he was teaching at the foreign institution.
---
Horned Grebe
Four horned grebes where reported at Bolsa Chica Wetlands in Huntington Beach. I had never seen one before, so one day a few weeks ago while in the area on other business, I stopped by. One was right where it was reported, so it was easy to find and photograph.
<![if !vml]>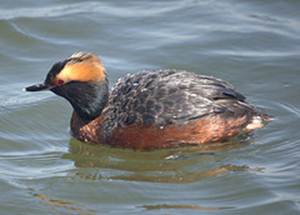 <![endif]>
(click to enlarge)
---
Michael Pazzani
Vice Chancellor for Research and Economic Development
Professor, Computer Science & Engineering
University of California, Riverside
200 University Office Building
Riverside, CA 92521
Assistant: Jennifer Vazquez
951-827-4800