UCR Research and Economic Development Newsletter: July 10, 2013
Michael Pazzani
Vice Chancellor for Research and Economic Development
Back Issues of Newsletter: http://or.ucr.edu/vcr/newsletters.aspx
---
<![if !supportLists]>∑ <![endif]>NSF CAREER Proposals
<![if !supportLists]>∑ <![endif]>Welcome Helen Magid, Foundation Grant Writer
<![if !supportLists]>∑ <![endif]>Keck Foundation
<![if !supportLists]>∑ <![endif]>NSF Operating Plan for FY 2013
<![if !supportLists]>∑ <![endif]>NIH Funding for 2014?
<![if !supportLists]>∑ <![endif]>White-Headed Woodpecker and Green-Tailed Towhee
---
NSF CAREER Proposals
If you are planning to submit a NSF CAREER award later this month, you can increase your chances of being funded by working with a grant facilitator (Randy Black at randall.black@ucr.edu, Mitch Boretz (BCOE) mitch@engr.ucr.edu, Mike Mueller (CNAS) michael.mueller@ucr.edu. The web site
http://research.ucr.edu/OrApps/RD/proposals/Default.aspx also has sample proposals, sample Chairís letters, and information on broader impacts and educational plans. See also http://www.nsf.gov/pubs/2011/nsf11038/nsf11038.jsp at NSF for frequently asked questions about the CAREER award.
In my experience, the most common reasons that NSF CAREER awards are declined are:
<![if !supportLists]>∑ <![endif]>The proposal is a loosely connected series of projects without a unifying goal.
<![if !supportLists]>∑ <![endif]>The proposal fails to distinguish between the existing research and the proposed research of the investigator and places more emphasis on what has been accomplished rather than the ambitious project that WILL be accomplished if funded.
<![if !supportLists]>∑ <![endif]>The education plan is not well integrated into the proposal. It should be mentioned in the first page and integrated into the timeline. It should focus on a plan to integrate your research with education in UCRís degree granting programs.
<![if !supportLists]>∑ <![endif]>The education plan and the broader impacts are not separate and distinct. The broader impacts might include outreach to K-12, efforts to increase diversity of students pursuing undergraduate or graduate degree programs, the impact of your research on society, or the potential for your research to be the foundation for commercial products.
---
Welcome Helen Magid, Foundation Grant Writer
In cooperation with the Research and Economic Development Office, UCR Advancement has hired Helen Magid as a Foundation Grant Writer. In addition to helping to write grants to foundations, Helen will also assist faculty with proposals to the National Endowment for The Humanities and the National Endowment for the Arts. Her bio is below.
For the past five years, Helen has served as the manager of development and communications for the Los Angeles Education Partnership, an organization that helps students in high-need schools improve their academic achievement by partnering with educators, parents and the community. In her role, she helped develop proposals and secure funding through multiple granting agencies, managed communications, and planed various fundraising events. Helen has also held the position of adjunct professor of writing (screenwriting, fiction, and non-fiction). She is deeply influenced by the humanities in the UC system as she earned a Master of Fine Arts in Screenwriting from the University of California, Los Angeles (UCLA) and holds a Bachelor of Arts in Theater from the University of California, Santa Cruz (UCSC).
Her office is in Hinderaker Hall 1120B and you can reach her at extension 951-827-7143 or at Helen.magid@ucr.edu
---
Keck Foundation
The Keck Foundation offers the opportunity to discuss potential proposals with universities before full proposals are submitted. If you are interested in applying to Keck this winter, please contact Rebeccah Goldware at rebeccah.goldware@ucr.edu as soon as possible. An abstract of less than one page will help focus the conversation and is needed by July 21. An ideal abstract might be one that was declined by a federal agency with reviews that indicated that the research is very innovative and exciting and would have a large impact, but is too risky due to the lack of preliminary data or a transformative proposal that you havenít submitted to a federal agency because itís too early.
In my experience, the most common reasons that proposals are rejected by Keck is that they are not ambitious enough, i.e., an incremental advance over the state of the art vs. creating a new paradigm.
Funding is awarded for projects in medicine, science and engineering for research that:
Focuses on important and emerging areas of research

Has the potential to develop breakthrough technologies, instrumentation or methodologies

Is innovative, distinctive and interdisciplinary

Demonstrates a high level of risk due to unconventional approaches, or by challenging the prevailing paradigm

Has the potential for transformative impact, such as the founding of a new field of research, the enabling of observations not previously possible or the altered perception of a previously intractable problem

Falls outside the mission of public funding agencies

Demonstrates that private philanthropy generally, and the W. M. Keck Foundation in particular, is essential to the projectís success
---
NSF Operating Plan for FY 2013
NSF finally has an operating plan for this year. See http://www.nsf.gov/about/congress/113/highlights/cu13_0409.jsp. NSF's total funding for FY2013 is just under $6.9 billion. By comparison, NSF's FY 2012 level was $7.0 billion. While this isnít great, it is much better than the worst case scenarios feared earlier in the year.
---
NIH Funding for 2014?
Federal spending on the National Institutes of Health would increase by $307-million under an appropriations bill for the 2014 fiscal year that was approved by a Senate panel on Tuesday.
Ö
Over all, the bill would be slightly less generous to research Ö than President Obama's budget, which would provide $31.3-billion for the National Institutes of Health (compared with the bill's $30.955-billion)Ö
Still, the legislation is much more generous than the equivalent bill in the House of Representatives is likely to be, given that chamber's budget blueprint. The House set aside $121.8-billion for labor, health, and education programs, almost 26 percent less than the Senate did. If that difference were applied evenly, the National Institutes of Health would get $8-billion less under the House bill than in the Senate's version.
If House members spared certain programs, they would have to cut more deeply elsewhere. Either way, reconciling the competing measures will be difficult.
During Tuesday's session, the Appropriations Committee's chairwoman, Sen. Barbara Mikulski, Democrat of Maryland, vowed to bring the education-spending bill to the floor for the first time since 2007. In every year since then, the bill has been wrapped into an "omnibus" spending measure containing several other bills.
Source: http://chronicle.com/article/Senate-Appropriators-Call-for/140155/?cid=pm&utm_source=pm&utm_medium=en
---
White-Headed Woodpecker and Green-Tailed Towhee
A few weekends ago, my wife and I went to Grassy Hollow Visitor Center near Wrightwood, CA with Norm Ellstrand and Tracy Kahn. I was happy to add two birds to my life list: the White-Headed Woodpecker and the Green-Tailed Towhee. I looked for the towhee a few times this year near the UCR Botanic Gardens and was never able to find it.
<![if !vml]>
<![endif]><![if !vml]>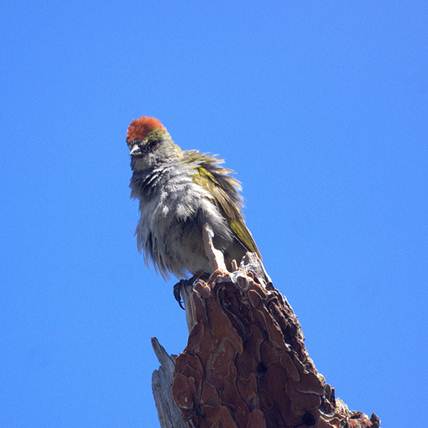 <![endif]>
Michael Pazzani
Vice Chancellor for Research and Economic Development
Professor, Computer Science & Engineering
University of California, Riverside
200 University Office Building
Riverside, CA 92521
Assistant: Jennifer Vazquez
951-827-4800