UCR Research and Economic Development Newsletter: July 27, 2013
Michael Pazzani
Vice Chancellor for Research and Economic Development
Back Issues of Newsletter: http://or.ucr.edu/vcr/newsletters.aspx
---
<![if !supportLists]>· <![endif]>Results of UCR Collaborative Seed Grant Program And Proof of Concept Program
<![if !supportLists]>· <![endif]>NSF: Partnerships for Innovation: Accelerating Innovation Research- Technology Translation
<![if !supportLists]>· <![endif]>NEA Research: Art Works
<![if !supportLists]>· <![endif]>NIH: Transformative Research Awards
<![if !supportLists]>· <![endif]>NIH: Individual Development Plans
<![if !supportLists]>· <![endif]>Academic Research Funding Strategies: Research Development & Grant Writing News
<![if !supportLists]>·

<![endif]>Former Researcher at UC-Irvine Faces Felony Charges
<![if !supportLists]>·

<![endif]>
Baby Cormorants
---
Results of UCR Collaborative Seed Grant Program and Proof of Concept Program
Unfortunately, I underestimated how long it would take to distribute and review proposals in the UCR Seed Grant Program and Proof of Concept Program. I had hoped decisions would be made by August 1, but it is now looking like August 20. All proposers will receive anonymous reviews together with decisions. A list of funded projects will be posted on the Research and Economic Development web site and included in an upcoming newsletter.
---
NSF: Partnerships for Innovation: Accelerating Innovation Research- Technology Translation
Deadline Oct 7
http://www.nsf.gov/pubs/2013/nsf13575/nsf13575.htm?WT.mc_id=USNSF_25&WT.mc_ev=click
The NSF Partnerships for Innovation (PFI) program within the Division of Industrial Innovation and Partnerships (IIP) is an umbrella for two complementary subprograms, Accelerating Innovation Research (AIR) and Building Innovation Capacity (BIC). In the final analysis, both programs are concerned with the movement of academic research discoveries into the marketplace although each focuses on different stages along the innovation spectrum. The subject of this solicitation is PFI: AIR Technology Translation (TT) only. The PFI: AIR-TT solicitation is intended to help bridge the funding gap between existing research discoveries that validate relevant science and engineering fundamentals and their translation through proof-of-concept, prototype, or scale-up along a path toward commercialization and engage faculty and students in entrepreneurial/innovative thinking.
This proposal requires some items that may be difficult for faculty to do alone or at the last minute.
A preliminary market research study to support the market potential of the existing research discovery. This section should include a detailed discussion of the market need addressed, the existing competitive technologies to meet the need and their shortcomings, and how the proof-of-concept, prototype or scale-up will provide a path to either a competitive solution or a competitive substitute.

A preliminary patent search and accompanying discussion to support the feasibility of obtaining needed licenses and/or sufficient protection for the intellectual property developed. This section should include a discussion of any relevant background intellectual property held by the proposing institution, its availability for licensing, and an assessment of how another party might patent or practice around both background and anticipated intellectual property assets.

A strategy or plan that lays out a path toward commercialization and continues beyond the duration of this award.
Please contact me if you'd like assistance with these proposals. Julie Mason in the Science Library , Gunnar Hurtig in SoBA and some outside entrepreneurs have agreed to help.
---
NEA Research: Art Works
The NEA anticipates awarding up to 25 grants, based on the availability of funding. Grants generally will range from $10,000 to $30,000.
The NEA will make awards to support research on how "art works." Consistent with its strategic plan, the NEA distinguishes between research projects seeking to define value for the U.S. arts sector, and those seeking to demonstrate the arts' impact on American life. "Value"-oriented research will measure or otherwise clarify one or more components of how Americans participate in the arts. Such research also may probe the underlying conditions and vehicles for arts participation; for instance, it can examine how key inputs such as training, education, and infrastructure, directly affect arts creation, arts audiences, or other aspects of arts engagement.
Anticipated Deadline: Nov 2103
2102 Announcement: http://arts.gov/grants/apply/Research/index.html
---
NIH: Transformative Research Awards
The National Institutes of Health have released a request for applications for the NIH Transformative Research Awards. This program makes awards of up to five years to individual scientists or groups of scientists proposing groundbreaking, exceptionally innovative, original and/or unconventional research with the potential to create new scientific paradigms, establish entirely new and improved clinical approaches, or develop transformative technologies. Little or no preliminary data are expected. Projects must clearly demonstrate the potential to produce a major impact in a broad area of biomedical or behavioral research.
Reviewers will be asked to emphasize the importance of the problem, the novelty of the hypothesis and/or the proposed methodology, and the magnitude of the potential impact rather than on experimental details. This is an R01 funding mechanism, which normally takes a 12-page Research Strategy section. In this case, however, it is "highly recommended" that this section be no more than 8 pages (6 pages Approach, 1 page Appropriateness for Transformative Research Awards initiative, 1 page timeline).
Letters of intent are due September 4 and full proposals are due October 4, 2013.
The solicitation is available at http://grants.nih.gov/grants/guide/rfa-files/RFA-RM-13-008.html.
---
NIH: Individual Development Plans
National Institutes of Health (NIH) recently issued a notice (http://grants.nih.gov/grants/guide/notice-files/NOT-OD-13-093.html) that it will begin encouraging grantees to develop an institutional policy requiring the use of Individual Development Plans (IDPs) by all NIH-supported graduate students and postdoctoral fellows. In the announcement, grantee institutions are also encouraged to begin reporting the use of IDPs in the Research Performance Progress Reports (RPPRs) of any projects that include graduate students or postdocs. Instructions for reporting IDPs will appear in the RPPR on October 18, 2013, and institutions are expected to begin reporting IDPs by no later than October 1, 2014. Research and Economic Development will be working with the Graduate Division to meet this deadline
The recommendation to increase the use of IDPs by postdocs was among several recommendations included in last year's Biomedical Research Workforce Advisory Committee to the NIH Director (ACD) Working Group Report (http://acd.od.nih.gov/Biomedical_research_wgreport.pdf). A modified version of the recommendation (expanded to include graduate students) was also part of the NIH leadership's proposed plan for implementing the ACD Report (http://www.nih.gov/news/health/dec2012/od-07.htm). The IDP issue was included in an NIH Request for Information released in February on the implementation of the ACD Report recommendations (http://grants.nih.gov/grants/guide/notice-files/NOT-OD-13-045.html), and according to NIH, feedback has indicated that the research community overwhelmingly believes IDPs to be an effective and useful mentoring tool.
Right now, some NIH and NSF proposals require a postdoctoral mentoring plan. At UCR, you can find a sample Postdoctoral Mentoring Plan at http://research.ucr.edu/OrApps/RD/proposals/Default.aspx
---
Academic Research Funding Strategies: Research Development & Grant Writing News
UCR subscribes to a newsletter by Academic Research Funding Strategies. They are available at http://research.ucr.edu/OrApps/SP/Info/GrantWriting/GrantWritingNews.aspx The July newsletter table of contents is below.
Funding Snapshot: National Institute of Justice

Funding Snapshot: US Department of ED

How NASA, USDA, HHS/ACF Review Proposal

s

Research Grant Writing Web Resources

Educational Grant Writing Web Resources

Agency Research News

Agency Reports, Workshops & Roadmaps

New Funding Opportunities
---
Former Researcher at UC-Irvine Faces Felony Charges
A computer engineer who stepped down in January from the University of California at Irvine faculty has been charged with six felony counts in connection with his alleged receipt of hundreds of thousands of dollars from a Japanese company that financed his research, according to the Voice of OC, a nonprofit investigative news agency focusing on Orange County, Calif.
The researcher, Tatsuya Suda, an Irvine faculty member for 25 years, also has been charged with perjury for his alleged attempts to hide the payments, which amounted to $325,000 to $700,000. According to local prosecutors, Mr. Suda double-billed the university for travel expenses that had already been covered by the Japanese company, KDDI Inc. If convicted of the conflict of interest, Mr. Suda could face up to eight years in prison, the news service reported.
Mr. Suda pleaded not guilty at his arraignment, the news service said, and his lawyer did not respond to an interview request.
Following an internal investigation by the university that began in 2009, Mr. Suda paid restitution of $145,000, but Irvine is seeking nearly $200,000 more, prosecutors told the Voice of OC.
Source: http://chronicle.com/blogs/ticker/59251/59251
---
Baby Cormorants
Here's a photo of a cormorant nest from La Jolla Cove.
<![if !vml]>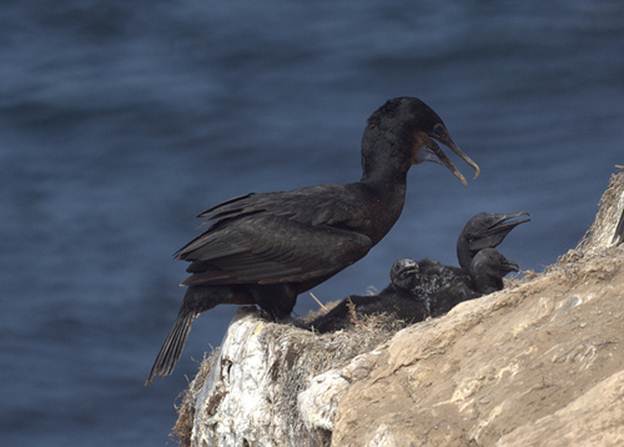 <![endif]>
Michael Pazzani
Vice Chancellor for Research and Economic Development
Professor, Computer Science & Engineering
University of California, Riverside
200 University Office Building
Riverside, CA 92521
Assistant: Toni Graham