UCR Research and Economic Development Newsletter: August 20, 2013
Michael Pazzani
Vice Chancellor for Research and Economic Development
Back Issues of Newsletter: http://or.ucr.edu/vcr/newsletters.aspx
Grant Opportunity Search: http://pivot.cos.com
<![if !supportLists]>· <![endif]>NSF Grants Conference
<![if !supportLists]>· <![endif]>NEA: How Art Works
<![if !supportLists]>· <![endif]>AFOSR Young Investigator Program
<![if !supportLists]>· <![endif]>DOD MURI
<![if !supportLists]>· <![endif]>NSA and Research Funding
<![if !supportLists]>· <![endif]>Results of UCR Collaborative Seed Grant Program
<![if !supportLists]>· <![endif]>Red-Tailed Hawk
NSF Grants Conference
The first National Science Foundation Grants Conference of fiscal year 2014 will be held in Denver, CO, on October 21-22, 2013. My office will sponsor a few faculty to attend. If you are interested in attending, please contact me.
Key representatives from the National Science Foundation as well as your colleagues - faculty, researchers and grant administrators - representing colleges and universities from around the US will participate.
This two-day conference is a must, especially for new faculty, researchers and administrators who want to gain key insight into a wide range of current issues at NSF including the state of current funding; new and current policies and procedures; and pertinent administrative issues. NSF program officers representing each NSF directorate will be on hand to provide up-to-date information about specific funding opportunities and answer your questions.
Highlights include:
New programs and initiatives;

Future directions and strategies for national science policy;

Proposal preparation;

NSF's merit review process;

Cross-disciplinary and special interest programs;

Conflict of interest policies; and

Breakout sessions by discipline.
NEA: How Art Works
In September 2012, the NEA's Research and Economic Development & Analysis published its five-year research agenda, supported by a system map and measurement model. Titled How Art Works, the report offers a framework for studying research topics critical to a broader public understanding of the arts' value and/or impact for individuals and communities.
The NEA's Research and Economic Development & Analysis will make awards to support research that investigates the value and/or impact of the arts, either as individual components within the U.S. arts ecology or as they interact with each other and/or with other domains of American life.
Details: http://arts.gov/grants/apply/Research/Grant-program-description.html
Deadline: November 5, 2013. NEA strongly recommends that you submit at least 10 days in advance of the deadline to give yourself ample time to resolve any problems that you might encounter.
Helen Magid (Helen.magid@ucr.edu) can assist faculty interested in applying for this program
AFOSR Young Investigator Program
The Young Investigator Research Program (YIP) supports young scientists and engineers in Air Force relevant disciplines and is designed to promote innovative research in fields such as: energy, power and propulsion, materials interactions in extreme environments, aero-structure interactions and control, hierarchical design and characterization of materials, space architecture and protection, thermal control, mathematical, information and computer sciences, biology, behavioral sciences, plasma and quantum physics, theoretical and experimental physics, microwave and photonic systems, information and signal process, and materials-processing techniques. The awards foster creative basic research, enhance early career development of outstanding young investigators, and increase opportunities to recognize Air Force mission and challenges in science and engineering.
Details: https://www.fbo.gov/index?s=opportunity&mode=form&id=ac9c7db3985190172b1c6a9f7a344fa6&tab=core&_cview=1
Deadline: Sept 15, 2013
DOD MURI
The Department of Defense has released ONRBAA13-022, Fiscal Year (FY) 2014 Department of Defense Multidisciplinary Research Program of the University Research Initiative. This annual program makes awards of $1 million to $2.5 million to interdisciplinary, multi-institutional teams.
White papers (4 pp) are strongly recommended and are due October 15. Full proposals are due December 16. You are encouraged to consult with colleagues at other universities to form multi-institution teams and speak with a program officer before submitting your white paper.
(http://pivot.cos.com provides a mechanism to search for faculty at UCR or other schools with certain expertise).
The topic areas this year are below.
The topics:
Army:
1. Attosecond Electron Dynamics
2. Force-Activated Synthetic Biology
3. Nonlinear Dynamics of Energy Hypersurfaces Governing Reaction Networks
4. Strongly Linked Multiscale Models for Predicting Novel Functional Materials
5. Multistep Catalysis
6. Innovation in Prokaryotic Evolution
7. Ultracold Molecular Ion Reactions
8. The Skin-Microbe Interactome
Air Force
9. Time-resolved quantum dynamics of complex systems
10. Computational Foundation of Mathematics and Information
11. Transport and Utilization of Energy Using Plasmon-induced Processes
12. Design Rules for Biobased and Bioinspired Materials
13. Control of Coherent Structures in Plasmas for Reconfigurable Metamaterial-Based Devices
14. Multifunctional Quantum Transduction of Photons, Electrons and Phonons
15. Control of Light Propagation through Metasurfaces
16. Goal-Driven, Multi-Source Algorithms for Complex Resilient Multi-Physics Systems
17. Security Theory of Nano-Scale Devices
Navy
18. Understanding Energy Harvesting Mechanisms in Polymer-Based Photovoltaics
19. Role of Bidirectional Computation in Visual Scene Analysis
20. Exploring the Atomic and Electronic Structure of Materials to Predict Functional Material Properties
21. Optical Computing
22. Quantum optomechanics
23. Air-Sea Interaction and RF Propagation in Maritime Atmospheric Boundary Layers
24. Hydrodynamics of Non-traditional Propulsion
The solicitation is available at http://www.grants.gov/web/grants/search-grants.html?keywords=MURI
NSA and Research Funding
Since NSA has been in the press recently, it's worth noting that they also fund university research in mathematics. The MSP supports self-directed, unclassified research in the areas of Algebra, Number Theory, Discrete Mathematics, Probability, and Statistics. The program does not support research in cryptology. The Research Grants program offers three types of grants: the Young Investigators Grant, the Standard Grant, and the Senior Investigators Grant. More details are available on the MSP proposal submission website. Investigators must be U.S. citizens or permanent residents of the United States. Proposals should be submitted electronically by October 15 . Questions about the program may be directed to MSPgrants@nsa.gov.
Details: http://www.nsa.gov/research/math_research/
Results of UCR Collaborative Seed Grant Program
I'm pleased to announce the results of the UCR Collaborative Seed Grant Program (see http://research.ucr.edu/ord/funding/opportunities/collaborative-seed-grant-program.aspx for details)
I'd like to thank the anonymous faculty reviews who provided constructive feedback to me and the proposers.
The program provides funds to enable teams of UCR faculty to collaborate and publish before grant submission, making UCR more competitive for multi-investigator grants from external agencies.
By serving as a catalyst for UCR faculty to develop new multi-investigator, and/or multi-disciplinary teams, the program is intended to make UCR more competitive for center, program project grants, or similar large, multi-investigator research grants. The Projects
Enable a team of two or more UCR faculty to obtain initial results or data that will make them more competitive for any existing federal agency research center program (e.g., NIH program project grants, NSF Science and Technology Centers, NSF Engineering Research Centers, DOE Manufacturing centers, NEH Summer Institutes, USDA/NIFA Policy Research Centers, etc.

Create a new multi-disciplinary team of two or more UCR faculty in an area that is a new federal research funding priority, e.g., Brain Research through Advancing Innovative Neurotechnologies, Big Data, Digital Humanities, etc.
A new competition will be announced in January. The awards and amounts are below.
<![if !supportLists]>· <![endif]>Aaron Seitz and Victor Zordan, The University of California Riverside Brain Game Center for Mental Fitness and Wellbeing, $70,000
<![if !supportLists]>· <![endif]>Christian Lytle and Cindy Larive, Identification of absorbed fecal solutes by metabolomic profiling, $24,000
<![if !supportLists]>· <![endif]>Yinsheng Wang and Jikui Song, RING Finger and Arsenite-induced Genomic Instability, $50,000
<![if !supportLists]>· <![endif]>Kevin Esterling and Evangelos Christidis, The Role of, and Opportunities for, Online Social Media in Diabetes Care, $60,000
<![if !supportLists]>· <![endif]>Khaleel Razak, Iryna Ethell and Devin Binder, Mechanisms and treatment of sensory deficits in Fragile X Syndrome, $60,000
<![if !supportLists]>· <![endif]>Jiayu Liao and Michael Pirrung, Novel SUMOylation Inhibitor as in vivo Probe for Cancer Synthetic Lethality Treatment, $70,000
<![if !supportLists]>· <![endif]>Richard Hooley, Quan Cheng and Yinsheng Wang, Synthetic Receptors as Selective Hosts and Transfection Agents in Living Cells, $45,000
<![if !supportLists]>· <![endif]>Frances Sladek, James Borneman, Margarita Curras-Collazo, Tao Jiang and Chris Lytle, Dietary Effects on the Gut-Brain Axis, $70,000
<![if !supportLists]>· <![endif]>David Kisailus and Cheryl Hayashi, Biologically Derived, Impact Resistant Composites for Energy and Health Applications, $70,000
<![if !supportLists]>· <![endif]>Nicole Zur Nieden and Hideaki Tsutsui, Understanding biomechanics of pluripotent stem cells under controlled fluidic shear, $60,000
<![if !supportLists]>· <![endif]>Thomas Morton, Leonard Mueller, Christopher Switzer and Ameae Walker, Binding to the i-Motif as a Strategy for Inhibiting Cancer Metastasis, $60,000
<![if !supportLists]>· <![endif]>Ashok Mulchandani, Xin Ge, Manuela Martins-Green and James Borneman, TREATING DISEASES BY CONTROLLING BACTERIAL BIOFILMS, $60,000
<![if !supportLists]>· <![endif]>David Jassby and Ian Wheeldon, Subsurface Carbon Mapping using Magnetotactic Bacteria, $36,000
<![if !supportLists]>· <![endif]>Masaru Rao, Victor Rodgers and Kaustabh Ghosh, Rationally-Designed Surface Nanopatterning: A New Paradigm for Mitigating Adverse Physiological Responses to Coronary Stenting, $70,000
<![if !supportLists]>· <![endif]>Katherine Borkovich, Cynthia Larive and Jason Stajich, High-throughput synthetic biology for natural products discovery, $65,000
<![if !supportLists]>· <![endif]>Akua Asa-Awuku, Development of a Portable Environmental Chamber, $50,000
<![if !supportLists]>· <![endif]>Umar Mohideen, I-Chueh Huang, Sarjeet Gill and Roya Zandi, Seed Funding for "Examining HIV Gag Mediated Vesicle Budding Under Physiological Biomimetic Conditions", $45,000
<![if !supportLists]>· <![endif]>Huinan Liu and Iryna Ethell, Engineering Biodegradable Conductive Magnesium-Polymer Composites for Neurogenesis, $70,000
<![if !supportLists]>· <![endif]>Bradley White and Eamonn Keogh, Inexpensive, automated detection of Anopheles malaria mosquitoes in Africa, $45,000
<![if !supportLists]>· <![endif]>Thomas Eulgem, Conserved roles of WRKY transcription factors within the plant immune transcriptional network, $40,000
<![if !supportLists]>· <![endif]>Victor Rodgers and Dimitrios Morikis, Novel Device for Quantifying Complement Protein Interactions, $39,000
<![if !supportLists]>· <![endif]>Edward Korzus and B. Glenn Stanley, A genetic approach for studying neural circuits, $40,000
The results of the Proof of Concept Fund will be announced next week.
Red-Tailed Hawk
Here's a photo of the red-tailed hawk taken at the UCR botanic gardens
<![if !vml]>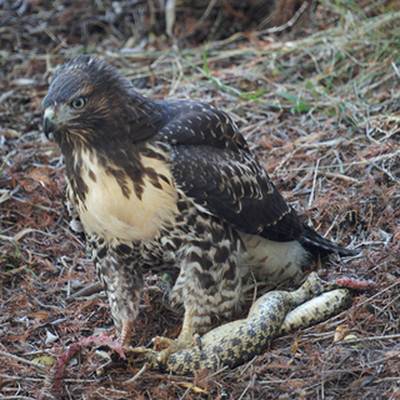 <![endif]>
Michael Pazzani
Vice Chancellor for Research and Economic Development
Professor, Computer Science & Engineering
University of California, Riverside
200 University Office Building
Riverside, CA 92521
Assistant: Toni Graham