From:                                         Michael Pazzani
Sent:                                           Saturday, August 31, 2013 6:30 AM
To:                                               Michael Pazzani
Subject:                                     UCR Research and Economic Development Newsletter:  August 31, 2013
Follow Up Flag:                      Follow up
Flag Status:                              Flagged
UCR Research and Economic Development Newsletter: August 31, 2013
Michael Pazzani
Vice Chancellor for Research and Economic Development
Back Issues of Newsletter: http://or.ucr.edu/vcr/newsletters.aspx
Grant Opportunity Search: http://pivot.cos.com
<![if !supportLists]>· <![endif]>USDA/NIFA
<![if !supportLists]>· <![endif]>Pre Award Spending: Getting Ready for Fall
<![if !supportLists]>· <![endif]>Social Science Funding from DOD
<![if !supportLists]>· <![endif]>DOD FY 2014 Defense University Research Instrumentation Program (DURIP)
<![if !supportLists]>· <![endif]>Keck Foundation: One Page Proposals
<![if !supportLists]>· <![endif]>NIH Program Announcement: Ethical, Legal, and Social Implications (ELSI) of Genomic Research
<![if !supportLists]>· <![endif]>NSF: Catalyzing New International Collaboration
<![if !supportLists]>· <![endif]>African Hoopoe
USDA/NIFA
Dr Sonny Ramaswamy Director, National Institute of Food and Agriculture recently gave a talk, Setting the Table for a Hotter, Flatter, More Crowded Earth that lays out the challenges that NIFA is addressing and its funding programs. This talk is a global view of food and agriculture, the transformative technologies needed to meet future challenges, and how USDA/NIFA's programs and future priorities will participate in development/adoption of those technologies. See
http://www.ksre.ksu.edu/Seminars/p.aspx?tabid=505 to watch the talk.
Pre Award Spending: Getting Ready for Fall
Most Federal agencies permit expenses to be charged to a project up to 90 days before the start date of a project. If you have been notified by a federal agency that you will be funded and need funds in the fall quarter, you can request a "PreAward," a time-limited campus authorization to incur contract/grant expenditures prior to the actual receipt of the official award document. You initiate a PreAward via the Online PreAward Request System. The online PreAward application is accessed by clicking "PreAward Request System" from the Authorized Applications section in R'Space. The PreAward Request will be routed through the department for necessary approvals and then submitted to Research and Economic Development for final approval and processing. PreAward requests must include the FAU that will be charged should the funding not be received or should the PreAward period not coincide with the actual project period. There is very little risk that once a proposal has been recommended for funding that the federal government will cancel funding.
For more on information on PreAwards and the Online PreAward Request System, please visit http://cnc.ucr.edu/preaward/
If you have questions about the risks involved, feel free to contact me.
Social Science Funding from DoD
The Department of Defense (DOD) recently released the fiscal year (FY) 2014 Broad Agency Announcement (BAA) for the Minerva Initiative, its signature social science research program.
Many of the FY 2014 Minerva topics remain focused on understanding the events of the Arab Spring and its aftermath. Notable themes across topic areas include the rise of non-state actors as key players in international affairs, questions and models addressing the driving factors behind societal change and social mobilization, the effects of a changing climate and natural resource environment on global stability, and social and behavioral science issues associated with cybersecurity. A complete list of topics and subtopics is below – detailed descriptions of each are available in the BAA:
(1) Belief Formation and Movements for Change
(1-A) Belief formation and influence
(1-B) Group identity, cultural norms, and security
(1-C) Movements for change
(1-D) Organizational dynamics in movements
(2) Models of Societal Resilience and Change
(2-A) Economic factors
(2-B) Governance factors
(2-C) Energy, environment, and resource factors
(2-D) Additional factors impacting societal resilience and change
(3) Theories of Power and Escalation
(3-A) The changing role of the state in a globalized world
(3-B) Beyond conventional deterrence
(4) Emerging Topics in Conflict and Security
(4-A) Quantification and metrics
(4-B) Additional topics
Letters of Intent: Letters of intent are not required through this competition. However, DOD strongly encourages interested researchers to submit white papers in advance of full proposals. Program managers will provide feedback on white papers to advise on the extent to which a proposed topic aligns with DOD's interests. White papers are due by 3:00 PM EST on Monday, November 18. A white paper is not required before submitting a full proposal but is strongly encouraged.
Submission Deadline: Full proposals are due to DOD by noon PST on Friday, February 14, 2014.
Additional Information:
<![if !supportLists]>· <![endif]>The complete FY 2014 Minerva Initiative BAA is available at http://www.onr.navy.mil/~/media/Files/Funding-Announcements/BAA/2013/13-024.ashx.
<![if !supportLists]>· <![endif]>For reference, the list of funded projects for the FY 2013 competition is at http://minerva.dtic.mil/funded.html. Past recipients include UCSD, UCLA, University of Maryland, Duke University, Arizona State University Brown University, University of Florida, University of Tennessee at Knoxville, University of Vermont, Pennsylvania State University, University of Texas at Austin, Princeton University and San Francisco State University.
<![if !supportLists]>· <![endif]>Full details of the Minerva Initiative are at http://minerva.dtic.mil/index.html.




---




DOD FY 2014 Defense University Research Instrumentation Program (DURIP)
The Department of Defense (DoD) announces the Fiscal Year 2014 Defense University Research Instrumentation Program (DURIP), a part of the University Research Initiative (URI). DURIP is designed to improve the capabilities of U.S. institutions of higher education (hereafter referred to as "universities") to conduct research and to educate scientists and engineers in areas important to national defense by providing funds for the acquisition of research equipment. 
This announcement seeks proposals to purchase instrumentation in support of research in areas of interest to the DoD, including areas of research supported by the administering agencies. The research areas of interest for the administering agencies are available on-line.  
http://www.grants.gov/web/grants/view-opportunity.html?oppId=238081 
The Deadline is Oct 20, 2013.   A few comments
<![if !supportLists]>·

         

<![endif]>

Earlier this year, DOD changed a deadline of an equipment proposal.   Please monitor this closely and use the option to be emailed any changes from grants.gov
<![if !supportLists]>·

         

<![endif]>

Nearly all funding goes to PIs who have DoD research contracts.  It is helpful to discuss your plans with your existing program officers.




---




Keck Foundation: One Page Proposals
The Keck Foundation is currently reviewing concept proposals for the Phase 1 submission this fall. If you are interested in applying for this limited submission, please contact Rebeccah Goldware at goldware@ucr.edu as soon as possible. An abstract of less than one page will help focus the conversation and is needed by Friday, September 13. An ideal abstract might describe a project that was declined by a federal agency with reviews that indicated that the research is very innovative and exciting and would have a large impact, but is too risky due to the lack of preliminary data or a transformative proposal that you haven't submitted to a federal agency because it's too early.
In my experience, the most common reasons that proposals are rejected by Keck is that they are not ambitious enough, i.e., an incremental advance over the state of the art vs. creating a new paradigm.
Funding is awarded for projects in medicine, science and engineering for research that:
Focuses on important and emerging areas of research

Has the potential to develop breakthrough technologies, instrumentation or methodologies

Is innovative, distinctive and interdisciplinary

Demonstrates a high level of risk due to unconventional approaches, or by challenging the prevailing paradigm

Has the potential for transformative impact, such as the founding of a new field of research, the enabling of observations not previously possible or the altered perception of a previously intractable problem

Falls outside the mission of public funding agencies

Demonstrates that private philanthropy generally, and the W. M. Keck Foundation in particular, is essential to the project's success
When writing your abstract, it is important to stress that the proposals will be not be read by your academic peers but by generalists whose goal is to identify projects with the greatest impact. The advice of George Heilmeier, director of DARPA in the 1970s is applicable here. He developed a set of questions that he expected every proposal for a new research program to answer. These are referred to as the "Heilmeier Catechism." These questions are still in use at DARPA, but I think they are more widely applicable, including Keck. These questions are:
<![if !supportLists]>1. <![endif]>What are you trying to do? Articulate your objectives using absolutely no jargon. What is the problem? Why is it hard?
<![if !supportLists]>2. <![endif]>How is it done today, and what are the limits of current practice?
<![if !supportLists]>3. <![endif]>What's new in your approach and why do you think it will be successful?
<![if !supportLists]>4. <![endif]>Who cares?
<![if !supportLists]>5. <![endif]>If you're successful, what difference will it make? What impact will success have? How will it be measured?
<![if !supportLists]>6. <![endif]>What are the risks and the payoffs?
<![if !supportLists]>7. <![endif]>How much will it cost?
<![if !supportLists]>8. <![endif]>How long will it take?
<![if !supportLists]>9. <![endif]>What are the midterm and final "exams" to check for success? How will progress be measured?
For more info on Dr. Heilmeier, see Joshua Shapiro (1994). George H. Heilmeier IEEE Spectrum, Volume 31, Issue 6, 56 – 59.
For the Keck on page proposals, 1-6 are most important. For the full proposal, the remaining are applicable.
NIH Program Announcement: Ethical, Legal, and Social Implications of Genomic Research
NIH is funding projects that study the ethical, legal and social implications (ELSI) of human genome research. See http://grants.nih.gov/grants/guide/pa-files/PA-11-250.html (R01), http://grants.nih.gov/grants/guide/pa-files/PA-11-251.html (R21), or http://grants.nih.gov/grants/guide/pa-files/PA-11-249.html (R03).
NSF: Catalyzing New International Collaboration
The Catalyzing New International Collaboration (CNIC) program is designed to promote professional development of U.S. STEM researchers and to advance their research through international engagement. Applications may be made at any time.
This program offers support for the initial phases of an international collaboration with the strong expectation that the next phase will involve submission by U.S. investigators of a follow-on proposal to an NSF Directorate for continued funding of the research initiated with the CNIC grant. To facilitate this end, prior to submission in response to this solicitation, it is required that PIs establish communication with a Program Officer in the NSF Division to which the follow-on proposal would be submitted. Alternatively, PIs may contact the CNIC Program Director who will consult with the appropriate program director on behalf of the proposer. In either case, the PI should provide a brief description of proposed activities (one page max). Disciplinary Program Officers or the CNIC Program Director will advise potential proposers if the proposed international collaboration activity should be submitted to CNIC or to other existing programs as a regular proposal, a supplement, or an EAGER.
See: http://www.nsf.gov/pubs/2012/nsf12573/nsf12573.htm for details.
African Hoopoe
Here's a photo of a Hoopoe from South Africa.
<![if !vml]>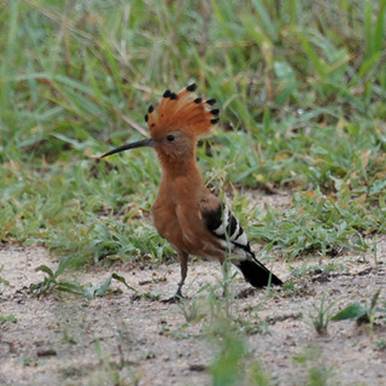 <![endif]>
(click to enlarge)

Michael Pazzani
Vice Chancellor for Research and Economic Development
Professor, Computer Science & Engineering
University of California, Riverside
200 University Office Building
Riverside, CA 92521
Assistant: Toni Graham
951-827-4800