From:                                         Michael Pazzani
Sent:                                           Sunday, September 29, 2013 8:43 AM
To:                                               Michael Pazzani
Subject:                                     UCR Research and Economic Development Newsletter:  September 29, 2013
UCR Research and Economic Development Newsletter: September 29, 2013
Michael Pazzani
Vice Chancellor for Research and Economic Development
Back Issues of Newsletter: http://or.ucr.edu/vcr/newsletters.aspx
Grant Opportunity Search: http://pivot.cos.com
<![if !supportLists]>· <![endif]>Support for obtaining external funding
<![if !supportLists]>· <![endif]>Distinguished Speaker: Larry Smarr, Oct 18, Cyberinfrastructure for Research
<![if !supportLists]>· <![endif]>Director of New Ventures
<![if !supportLists]>· <![endif]>Research on Aging
<![if !supportLists]>· <![endif]>Intellectual Property (IP) Awareness
<![if !supportLists]>· <![endif]>Grants, Proposals, and the Potential Government Shutdown
<![if !supportLists]>· <![endif]>Orange Bishop
Support for Creating Research Proposals
The Research and Economic Development (RED) offers a number of resources to help faculty obtain external funding.
<![if !supportLists]>• <![endif]>Grant Facilitator: Randy Black (randall.black@ucr.edu) can assist with editing the text of proposals and provide assistance with text and ideas for broader impacts, outreach and evaluation. Mitch Boretz provides a similar function for BCOE. Also see http://research.ucr.edu/ord/proposaldevlopment.aspx for proposal development resources. (Mike Mueller has left the university and we are recruiting a replacement to concentrate on CNAS. In the meantime, CNAS faculty should contact Randy).
<![if !supportLists]>• <![endif]>Foundation Grant Assistance: Helen Magid, Helen.magid@ucr.edu, helps to write grants to foundations as well as the National Endowment for The Humanities and the National Endowment for the Arts. (Helen is part of UCR Advancement with support from RED).
<![if !supportLists]>• <![endif]>Travel to Funding Agencies: My office will provide funds to visit funding agencies such as DOE, NSF, NIH, NEH, etc to discuss proposal ideas with program officers. If several faculty from a department or center wish to visit an agency, we can provide assistance with organizing a meeting. We can also provide funds to spend an extra day in Washington if reviewing proposals for an agency so that you can have time to speak with program officers. Just email me if interested.
<![if !supportLists]>• <![endif]>Pivot: Pivot is a service that allows faculty, staff, and students to identify funding opportunities. (see http://pivot.cos.com to use or http://research.ucr.edu/ord/funding/search-engines/pivot.aspx for instructions). It contains several important features:
<![if !supportLists]>o <![endif]>Funding Opportunities Search: Given a keyword such as "data preservation" Pivot returns funding opportunities. With a few extra clicks, one can restrict to US government or foundation opportunities for research or fellowships.
<![if !supportLists]>o <![endif]>Funding Opportunities Alert: Once you have conducted and refined a search, Pivot can email you whenever a new opportunity is available.
<![if !supportLists]>o <![endif]>Expertise search: If you are looking for a collaborator on a topic such as "aging" or "face recognition," Pivot can identify colleagues at UCR (or other universities). A profile of expertise is automatically created from publications.
<![if !supportLists]>• <![endif]>Corporate Relations: Rebeccah Goldware, Director of Industry & Research Relations, goldware@ucr.edu can help identify corporate sponsors for a research project.
<![if !supportLists]>• <![endif]>Sponsored Projects Administration (SPA): SPA is responsible for reviewing, endorsing and submitting proposals to extramural sponsors for research, training, instructional and other activities. SPA is also responsible for preparing, negotiating, and accepting agreements for projects funded by federal and state agencies, foundations, and other public and private sources. http://research.ucr.edu/spa.aspx
<![if !supportLists]>• <![endif]>Corporate Contracts: Misty Madero (misty.madero@ucr.edu) negotiates contracts, nondisclosure agreements, and material transfer agreements with corporations.
<![if !supportLists]>• <![endif]>Workshops: My office also holds meetings on topics such as aging (see below), health care disparities, big data, brain research, drug development, image analysis, etc. with the goal of forming teams on topics that cross departments or schools.
Please contact me if you would like a representative from Research and Economic Development to attend a department or other meeting to discuss obtaining external funding or other topics such as technology commercialization or patenting.
Distinguished Speaker: Larry Smarr, Oct 18, Cyberinfrastructure for Research
If you would like to meet with Dr. Smarr after his talk, please contact Toni Grahams (Toni.graham@ucr.edu)
High Performance Cyberinfrastructure for Data-Intensive Research
Larry Smarr
Harry E. Gruber Professor, Computer Science and Engineering, UC San Diego
Director, California Institute for Telecommunications and Information Technology
Friday, October 18, 9:10AM
Genomics Building Auditorium
With the increasing number of digital scientific instruments and sensornets available to university researchers, the need for a high performance cyberinfrastructure (HPCI), separate from the shared Internet, is becoming necessary. The backbone of such an HPCI are dedicated wavelengths of light on optical fiber, typically with speeds of 10Gbps or 10,000 megabits/sec, roughly 1000x the speed of the shared Internet. We are fortunate in California to have one of the most advanced optical state networks, the CENIC research and education network. I will describe future extensions of the CENIC backbone to enable a wide range of disciplinary Big Data research. One extension involves building optical fiber "Big Data Freeways" on UC campuses, similar to the NSF-funded PRISM network now being deployed on the UCSD campus, to feed the coming 100Gbps CENIC campus connections. These Freeways connect on-campus end users, compute and storage resources, and data-generating devices, such as scientific instruments, with remote Big Data facilities. I will describe uses of PRISM ranging from particle physics to biomedical data to climate research. The second type of extension is high performance wireless networks to cover the rural regions of our counties, similar to the NSF-funded High Performance Wireless Research and Education Network (HPWREN) currently deployed in San Diego and Imperial counties. HPWREN has enabled data-intensive astronomy observations, wildfire detection, first responder connectivity, Internet access to Native American reservations, seismic networks, and nature observatories.
Bio
Larry Smarr became founding director in 2000 of the California Institute for Telecommunications and Information Technology (Calit2), a University of California San Diego/UC Irvine partnership. He holds the Harry E. Gruber professorship in the Jacobs School's Department of Computer Science and Engineering at UCSD. For the previous 15 years as founding director of both the National Center for Supercomputing Applications and the National Computational Science Alliance, Smarr helped drive major developments in the planetary information infrastructure: the Internet, the Web, scientific visualization, virtual reality, collaboratories, and global telepresence. His views have been quoted in Science, Nature, the New York Times, Wall Street Journal, Time, Newsweek, Wired, Fortune, Business Week, the Sydney Morning Herald, the Age, and the Australian Broadcasting Company. He gives frequent keynote addresses (www.calit2.net/newsroom/presentations/lsmarr/index.php) at professional conferences and to popular audiences.
Smarr serves as PI on the NSF's OptIPuter and the Moore Foundation's CAMERA microbial metagenomics projects, as well as co-PI on the NSF GreenLight Project. Smarr was a member of President Clinton's Information Technology Advisory Committee and served until 2005 on the Advisory Committee to the Director of the National Institutes of Health and the NASA Advisory Council. He served on Governor Schwarzenegger's California Broadband Taskforce in 2007.
Smarr received his Ph.D. from the University of Texas at Austin in 1975 and conducted observational, theoretical, and computational based astrophysical sciences research for the next 20 years. He is a member of the National Academy of Engineering and a Fellow of the American Physical Society and the American Academy of Arts and Sciences. In 1990 he received the Franklin Institute's Delmer S. Fahrney Gold Medal for Leadership in Science or Technology. In 2006 he received two Lifetime Achievement awards: the IEEE Computer Society Tsutomu Kanai Award in distributed computing systems, and the ESRI Award.




---




Director of New Ventures
I'm pleased to announce that Gunnar Hurtig will be joining Research and Economic Development and Economic Development as the Director of New Ventures on a part-time basis effective Oct 1, 2013.   Gunnar's role is to assist faculty by creating business models for inventions, an essential step in attracting investment for new companies.   Gunnar is a Lecturer in Entrepreneurship in the School of Business Administration and teaches courses on Entrepreneurship, International Business and Ethics.  Gunnar will work closely with the Office of Technology Commercialization in identifying investors for UCR technology.  To schedule an appointment to discuss a business idea with Gunnar, email him at gunnar.hurtig@ucr.edu or call (951) 827-3692 or (408) 838-5813.
Gunnar graduated from Cornell University with a BEE and MS(EE). While in graduate school he was on the science staff of the Arecibo Radio Telescope. After graduation he started two companies specializing in signal processing and sold the first to Fairchild Semiconductor. Following the sale of his second company to Baldwin Electronics, he attended Stanford Business School and graduated with an MBA in finance. Shortly after graduation he was sent to Tokyo to manage TDK/Fairchild for two years. He returned to the states to become Director of Marketing of the LSI Group which was responsible for about one-third of Fairchild sales world-wide.
He then entered the venture capital community as a General Partner of Weiss, Peck and Greer specializing in high-technology start-ups. He has sat on the Board's of over 30 companies including two German firms. After spending two years as SVP of Strategic Planning at National Semiconductor he, his wife and son sailed his boat over 2000 miles from San Francisco to Cabo San Lucas and back to San Diego. Upon return, he received an MS in Astronomy from Swinburne University and with the family moved to Palm Desert, CA where he became a Lecturer at UCR. From then to the present time he taught fifteen courses in Entrepreneurship, International Business, Marketing and Ethics while writing his dissertation for a PhD in Astrophysics and Radio Astronomy. Title: 'A 3 mm Survey of 43 potential High-mass Star forming regions.'
Research on Aging
I'd like to hold a meeting to bring together researchers on aging from a variety of fields and perspectives. The goal is to form interdisciplinary connections to make contributions to aging research or to seek external funding for research. If you'd like to attend, please contact Toni Graham (toni.graham@ucr.edu) who will find a time for the meeting.
Below are just a few of the funding opportunities available for research in aging.
<![if !supportLists]>• <![endif]>Family and Interpersonal Relationships in an Aging Context
<![if !supportLists]>• <![endif]>Single Cell Studies in Aging Research
<![if !supportLists]>• <![endif]>Aging Research Dissertation Awards to Increase Diversity
<![if !supportLists]>• <![endif]>Biodemography of Aging
<![if !supportLists]>• <![endif]>Multidisciplinary Studies of HIV/AIDS and Aging
<![if !supportLists]>• <![endif]>Social Neuroscience and Neuroeconomics of Aging
<![if !supportLists]>• <![endif]>Renal Function and Chronic Kidney Disease in Aging
<![if !supportLists]>• <![endif]>National Technical Assistance Center for Senior Transportation
<![if !supportLists]>• <![endif]>Economics of Retirement
<![if !supportLists]>• <![endif]>Social and Behavioral Research on the Elderly in Disasters
<![if !supportLists]>• <![endif]>Regional and International Differences in Health and Longevity at Older Ages
<![if !supportLists]>• <![endif]>Smart and Connected Health
<![if !supportLists]>• <![endif]>Age-Related Disabilities Engineering
Intellectual Property (IP) Awareness
Dear Colleagues,
On behalf of the Office of Research and Graduate Studies and the Office of Ethics, Compliance and Audit Services, we are pleased to announce the availability of a new systemwide briefing with a focus on "intellectual property (IP) awareness" developed for UC researchers. As you know, IP plays a vital role in innovation and economic productivity. This online module is intended to provide a user-friendly overview of the four main categories of IP: patents, copyright, trademarks, and trade secrets. It was developed to serve as a resource for the University of California students, faculty, and staff.
To view the course, please visit here. The course is being made available to the campuses as a resource. Please note that this course is NOT a mandatory training requirement of the University of California Regents or Office of the President. Copies can be made available to any UC location in various formats. To request a copy of the course, please contact ip_awareness@ucop.edu.
Please SHARE the above information across your location but especially WITH the faculty to make sure they know about this new resource.
Special thanks goes to Professor John Villasenor at UCLA for providing his assistance and expertise in developing the course content. Professor Villasenor was instrumental in bringing this resource to fruition to the University of California and our other colleagues in Higher Education.
Please let us know if you have any suggestions/comments about this course or any thoughts you would like to share regarding how we may effectively get this information to our UC researchers.
Best Regards,
Sheryl Vacca, SVP/Chief Compliance and Audit Officer
Steve Beckwith, VP for Research and Graduate Studies
Grants, Proposals, and the Potential Government Shutdown
The University of California has provided advice on the impacts of a potential government shutdown on current grants and proposal submissions. See
http://blink.ucsd.edu/sponsor/ocga/federal-budget.html for details. My recommendation is just to relax. If you were expecting a grant to be funded in the beginning of October and the government shuts down, it will be funded a short time after the government reopens. If you have a deadline in early October, submit the proposal on time. If grants.gov or fastlane is not operations, the deadlines will be extended.
If you need help relaxing, I recommend Bahamian Sky Juice.

4 ripe coconuts (or 2 cup coconut water)
1 cup evaporated milk
1 cup gin
1 teaspoon ground cinnamon
1/2 teaspoon freshly grated nutmeg
Directions:

1. Using a screwdriver and a hammer, poke through the eyes of the coconuts, and drain out the liquid through a strainer into a mixing bowl. There should be a total of about 2 cups. Set the shells aside (or use coconut water).
2 Add the evaporated milk, gin, cinnamon and nutmeg to the coconut water. 3
Refrigerate the mixture until cold, at least 2 hours, or cool mixture down with ice.
4. To serve, pour the drink through a funnel into the reserved coconut shells. Insert straws. (Or serve in a glass and top with freshly grated nutmeg.)
Serves 4. Repeat as needed.
By the way, did you know that gin was invented in Leiden?
Orange Bishop
Here's a photo of an orange bishop from Peck Road Water Conservation Park in Arcadia. The Orange Bishop is an introduced species to the US and several small breeding colonies exist in Southern California.
<![if !vml]>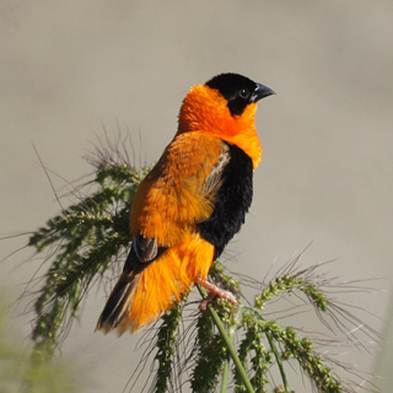 <![endif]>
Michael Pazzani
Vice Chancellor for Research and Economic Development
Professor, Computer Science & Engineering
University of California, Riverside
200 University Office Building
Riverside, CA 92521
Assistant: Toni Graham
951-827-4800