UCR Research and Economic Development Newsletter: Dec 15, 2013
Michael Pazzani
Vice Chancellor for Research and Economic Development
Back Issues of Newsletter: http://or.ucr.edu/vcr/newsletters.aspx
Grant Opportunity Search: http://pivot.cos.com
<![if !supportLists]>· <![endif]>Meetings with Lewis-Burke (Funding Consultants) Jan 7 & 8
<![if !supportLists]>· <![endif]>Keck Foundation: Jan 10
<![if !supportLists]>· <![endif]>NIH Paylines
<![if !supportLists]>· <![endif]>NSF Acceptance Rates
<![if !supportLists]>· <![endif]>UCR Collaborative Seed Grants: Jan 28
<![if !supportLists]>· <![endif]>UCR Proof of Concept Fund: Feb 6
<![if !supportLists]>· <![endif]>Sugar Plum Fairy Recipe
<![if !supportLists]>· <![endif]>Clark's Nutcracker
Meetings with Lewis-Burke (Funding Consultants) Jan 7 & 8
UCR works with Lewis-Burke, a DC based firm to identify funding opportunities and discuss funding strategies. They will be visiting UCR in early January and have sessions on various funding topics or agencies. The schedule is below. Faculties are welcome to attend any session.
January 7
10:00 HH 4127 STEM Pipeline issues: Outreach, recruiting, retention, K-12 STEM programs
1:00 UOB 220: Aging (including biomedical, social and psychological research)
2:30 UOB 220 NIH, PHS Funding and DoD Medical Programs
4:00 UOB 220 Programs and Strategies for New Investigators
January 8
9:00 UOB 210 Earth Science, Geosciences, Seismology
10:30 Bourns A265 Department of Defense Funding
1:00 UOB 210 Funding for research on water
2:30 UOB 210 Social Science Funding
2:30 TBD Department of Energy: Includes Office of Science and High Energy Physics
4:00 UOB 210 USDA and NIFA funding Programs
We are still looking for a room for the Department of Energy Session which will be in parallel with the social science funding session.
Keck Foundation
Larry Page, the co-founder of Google has said "If what you're doing is not seen by some people as science fiction, it's probably not transformative enough." Consider Amazon using drones to deliver packages. How can drones help your research? That's the type of research the Keck Foundation is looking to fund. Did you have an idea that is disruptive to your field?
The Keck Foundation offers the opportunity to discuss potential proposals with universities before full proposals are submitted. They foundation allows each university to submit one medical research and one science or engineering proposals (seehttp://www.wmkeck.org/grant-programs/grant-programs.html for details) If you are interested in applying to Keck for the upcoming submission, please contact Rebeccah Goldware at goldware@ucr.edu as soon as possible. An abstract of less than one page will help focus the conversation and is needed by Friday, January 10. An ideal abstract might be one that was declined by a federal agency with reviews that indicated that the research is very innovative and exciting and would have a large impact, but is too risky due to the lack of preliminary data or a disruptive proposal that you haven't submitted to a federal agency because it's too early.
In my experience, the most common reasons that proposals are rejected by Keck is that they are not ambitious enough, i.e., an incremental advance over the state of the art vs. creating a new paradigm.
Funding is awarded for projects in medicine, science and engineering for research that:
Focuses on important and emerging areas of research

Has the potential to develop breakthrough technologies, instrumentation or methodologies

Is innovative, distinctive and interdisciplinary

Demonstrates a high level of risk due to unconventional approaches, or by challenging the prevailing paradigm

Has the potential for transformative impact, such as the founding of a new field of research, the enabling of observations not previously possible or the altered perception of a previously intractable problem

Falls outside the mission of public funding agencies

Demonstrates that private philanthropy generally, and the W. M. Keck Foundation in particular, is essential to the project's success. For example, they don't fund the type of research that the Gates Foundation funds.
NIH Paylines
Mitch Boretz forwarded me an interesting graph from an upcoming book on NIH. The authors, Michelle L. Kienholz and Jeremy M. Berg, analyzed funding in 2012 at several institutes at NIH as a function of the percentile score. Essentially 100% of the grants in the top X% are funded, none of the grants in the lower Y% are funded and the probability of funding decreases between X and Y.
<![if !vml]>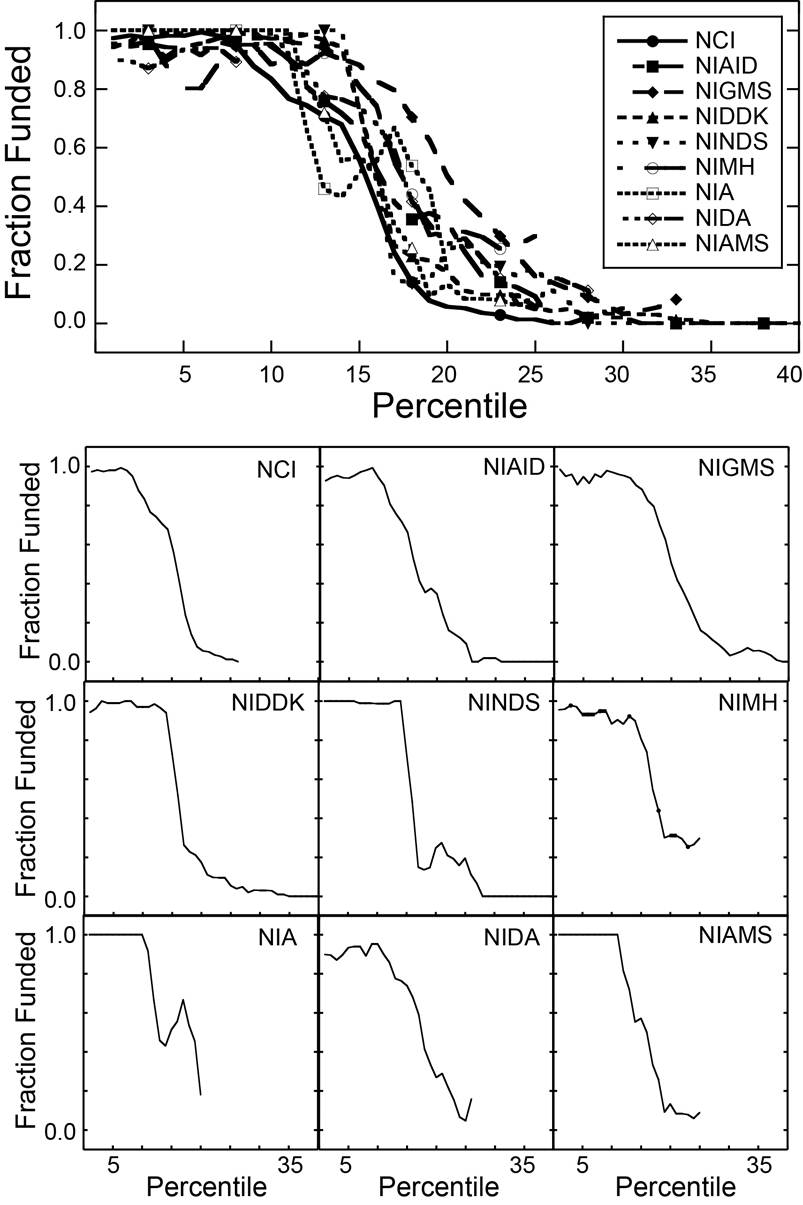 <![endif]>
NSF Acceptance Rates in 2013
The table below shows the acceptance rates for various directorates at NSF in 2013. Overall, the average acceptance rate was 22% with the lowest division being EHR at 18%. These numbers are considerably higher than most people believe. One reason for this, in my experience is that NSF program directors have a vested interest in making the situation seem worse so their division director increases their budget.
ORG

NSF Total

49013

10844

0.22

$116,403

BIO

5937

1253

0.21

$141,119

CSE

7821

1616

0.21

$150,114

EHR

4501

793

0.18

$163,788

ENG

10742

2217

0.21

$118,268

GEO

6090

1568

0.26

$133,201

MPS

8903

2201

0.25

$101,295

O/D

583

273

0.47

$5,070

OPP

3

3

1

$69,858

SBE

4433

920

0.21

$50,011
One can drill down deeper into the data to the specific program level at http://dellweb.bfa.nsf.gov/awdfr3/default.asp. Indeed, there are some programs with 5% acceptance rates such as NSF/BIO/IOS/ PHYSIOLOG & STRUCTURAL SYS which funded 3 of 63 proposals. However, NSF/BIO/IOS/ MODULATION funded 30 of 79 proposals for a 38% acceptance rate.
UCR Collaborative Seed Grants: Jan 28
The Research and Economic Development (RED) is pleased to announce the continuation of the collaborative seed grant program. The grants are internal funds for UCR faculty teams to collaborate and publish in advance of proposing multi-investigator projects and centers to external agencies. This year, there will be two types of awards:
Large Project Seed Grants: Enable a team of two or more UCR faculty to obtain initial results or data to prepare for a center grant, defined as at least 3 UCR faculty and 4 UCR graduate students. Examples include NIH program project (P-50) grants, NSF Science and Technology Centers, NSF Engineering Research Centers, DOE Manufacturing Centers, NEH Summer Institutes, or USDA/NIFA Policy Research Centers. Large Project seed grants have a maximum budget of $75,000 and funds may be spent from July 1, 2014-June 30,,2015.

Small Project Seed Grants: Enable a team of two or more UCR faculty to obtain initial results or data that will make them more competitive for any peer reviewed federal program. A typical Small Project grant would include summer support for a graduate student plus supplies. . Small Project seed grants have a maximum budget of $12,000 and funds may be spent from July 1, 2014- Oct 1, 2014.
Applications should be submitted by Jan 28, 2014. More details are available on at: http://research.ucr.edu/ord/funding/opportunities/collaborative-seed-grant-program.aspx
UCR Proof of Concept Fund: Feb 6
The Office of the Vice Chancellor for Research and Economic Development announces the FY2014-2015 Proof of Concept for Technology Commercialization (POC) Award Program. The POC award provides UCR investigators up to $35,000 to further develop a commercializable invention based upon UCR intellectual property not yet licensed. The effort should address a critical issue, such as creating a prototype, scaling up a process, or obtaining additional data to support a commercialization effort by making the invention more attractive to licensees or investors. The award shall be used only for technical salaries and benefits, supplies, vivarium or other facilities fees and contracted services directly related to the project.
Applications should be submitted by Feb 6, 2014. For more details, see http://research.ucr.edu/ord/funding/opportunities/proof-of-concept-fund.aspx
Sugar Plum Fairy Recipe
If you are looking for something to do while UCR is closed, here's a suggestion from Sandra Lee:

2 parts Champagne
1 part plum wine
Splash cranberry juice
Gumdrops, for garnish
In a champagne glass combine Champagne, plum wine and cranberry juice. Garnish with a gumdrop.
Clark's Nutcracker
I'd never heard of a Clark's Nutcracker until November. Gene Anderson told me that they are frequently found at Onyx Summit near Big Bear, so one weekend my wife and I went in search and eventually found a flock feeding on pine nuts.

<![if !vml]>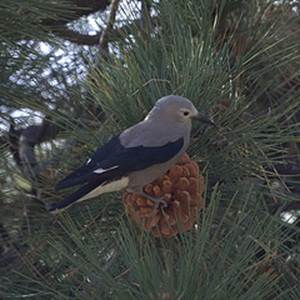 <![endif]>
(click to enlarge)
The observant reader of this section will note that the last newsletter had a Lewis's Woodpecker. Who do you think the Lewis's Woodpecker and the Clark's Nutcracker were named after?
Michael Pazzani
Vice Chancellor for Research and Economic Development
Professor, Computer Science & Engineering
University of California, Riverside
200 University Office Building
Riverside, CA 92521
Assistant: Johanna Bowman