UCR Research and Economic Development Newsletter: Feb 13, 2014
Michael Pazzani
Vice Chancellor for Research and Economic Development
Back Issues of Newsletter: http://reserach.ucr.edu/vcr/newsletters.aspx
Grant Opportunity Search: http://pivot.cos.com
<![if !supportLists]>· <![endif]>Springboard Presentation – Wednesday, February 26 at noon
<![if !supportLists]>· <![endif]>Dr. Mark Silver's NEH Workshop Materials & Hints
<![if !supportLists]>· <![endif]>USDA: Strengthening grants again
<![if !supportLists]>· <![endif]>Distinguished Speaker: Bozena Michniak-Kohn, Feb 24, Nanocarriers for Topical Treatment of Psoriasis
<![if !supportLists]>· <![endif]>Ochre-bellied flycatcher
Interested in starting a company? Attend the Springboard Presentation – Wed, Feb 26 at noon:
Wednesday, February 26th
12:00 P.M. — 1:00 P.M. (light lunch will be provided)
UCR - University Office Building Conference Room 210
Springboard is a free program that is open for enrollment to innovation companies in the Southern California region. Springboard assists companies in proving their business model and developing a compelling commercialization strategy. Steve Hoey, Director of Business Creation and Development at CONNECT, will visit UCR to share with attendees the benefits the Springboard program can have for a technology start-up.
About the Speaker:
Steve Hoey, Director - Business Creation and Development
Steve's responsibilities include managing the Springboard Program and heading up CONNECT's research on the innovation economy. Steve is the editor of the CONNECT Innovation Report, The San Diego Innovation Assets Report and the Southern California Nexus of Innovation White Paper. He has conducted regional innovation ecosystem assessments for InSoCal CONNECT and the State of Hawaii. Steve is a frequent speaker and writer on San Diego's innovation economy.
Steve previously worked as a research assistant at the Harvard Business School, examining technological innovation in the semiconductor industry and models of effective senior management decision-making and action planning. Prior to joining CONNECT he served as a senior engagement manager for Oliver Wyman in New York and Europe. While at Oliver Wyman, he specialized in the financial services industry practice. Steve holds a Ph.D. from UC San Diego and an M.B.A. from Oxford University where he conducted research on emerging business model strategies in the biotech industry.
RSVP by Friday, February 21 using the following link: https://www.surveymonkey.com/s/LQVFF27 so we know how many pizzas to order. And we'll order one extra just in case you forget to RSVP
Dr. Mark Silver's National Endowment for the Humanities Workshop Materials & Hints
For those that were unable to attend or would like the slides that were presented by Dr. Mark Silver (NEH Research Division) at the February 5th National Endowment for the Humanities Workshop they are available at http://research.ucr.edu/OrApps/VCR/Talks/20140207-NEH/default.aspx.
Helen Magid collected some Hints from the talk.
<![if !supportLists]>· <![endif]>The NEH will offer feedback for many proposals if they are provided a working draft approximately 6 weeks before the final deadline. They do not read drafts for Fellowship or Summer Stipend programs as those have a considerable number of submissions. (Each funding opportunity has specific deadlines for feedback responses.)
<![if !supportLists]>· <![endif]>Applicants can submit to more than NEH one program concurrently on the same topic. This differs from other agencies such as NSF and NIH where duplication is prohibited. If you have a strong application, this can improve your odds. You can only accept one award if offered more than one.
<![if !supportLists]>· <![endif]>The NEH will provide panelist notes on proposals only if requested by the applicant. These can help strengthen a proposal when revising and resubmitting. You should always request these even if funded.
<![if !supportLists]>· <![endif]>The NEH encourages reapplication of proposals that are revised to take pane notes into account. All review panels have 100% turnover so no panelist will see a revised application and there is no need to mention that the application is being resubmitted.
<![if !supportLists]>· <![endif]>Letters of recommendation, which have no page limit, are an excellent way to expand proposal content beyond page limits in order to address the applicant's capability but also to emphasize the way in which the research or project is of intellectual significance.
For a complete list of all upcoming NEH grants and deadlines please visit, http://www.neh.gov/grants.
USDA: Strengthening grants again
In my last newsletter I reported on USDA grants including the fact that UCR is eligible for strengthening grants. (see http://reserach.ucr.edu/vcr/newsletters.aspx). Since then, I heard some misinformation that I'd like to correct:
<![if !supportLists]>1. <![endif]>UC and UCR discourage USDA grants because they don't pay the same overhead rate as NSF. While UC and UCR require one to use the maximum allowable overhead rate, the fact that USDA pays less should not discourage one from applying. The direct costs, supporting graduate students, buying equipment are important and allow research to be conducted that is published in top journals. Since the mission is different, One can always apply to NSF on a more fundamental grant and USDA on a focused topic.
<![if !supportLists]>2. <![endif]>USDA grants aren't sought after by prestigious universities. This isn't true. In 2011, Cornell received $32.7M from USDA, UC Davis, $28M, Pend State $22.3M, Maryland $15.2M, Rutgers 14.4 compared to UC Riverside $4.8M. There is some room for strengthening UCR's USDA funding
Universities eligible for strengthening grants can apply for equipment grants and seed grants. There is a separate pool of money for Standard Grants as well. Areas of interest include
<![if !supportLists]>· <![endif]>Plant Breeding for Agricultural Production
<![if !supportLists]>· <![endif]>Plant Growth and Development, Composition and Stress Tolerance
<![if !supportLists]>· <![endif]>Photosynthetic Efficiency and Nutrient Utilization in Agricultural Plants
<![if !supportLists]>· <![endif]>Understanding Plant-Associated Microorganisms and Plant-Microbe Interactions
<![if !supportLists]>· <![endif]>Controlling Weedy and Invasive Plants
<![if !supportLists]>· <![endif]>Plant-Associated Insects and Nematodes
<![if !supportLists]>· <![endif]>Food Safety, Nutrition, and Health
<![if !supportLists]>· <![endif]>Renewable Energy, Natural Resources, and Environment
See http://www.grants.gov/web/grants/applicants/download-application-package.html#download=true&oppNum=USDA-NIFA-AFRI-004412 for more details.
Randy Black has created a draft letter explaining UCR's Eligibility for strengthening which may be included with a letter of intent. See below.
Statement of UC Riverside eligibility for USDA FASE Foundational, Strengthening grants
UCR submits this application based on eligibility, briefly being among "minority-serving degree-granting institutions that previously had limited institutional success for receiving Federal funds." p. 39 of NIFA AFRI FY 2014 Foundational Program RFA for Strengthening Grant Eligibility (http://www.nifa.usda.gov/funding/rfas/afri.html).
Specifically, UCR
1) is a degree-granting "minority-serving institution" defined per Part VIII H. an institution whose enrollment of a "combination of minorities exceeds fifty percent of the total enrollment," with "minority" defined as "Alaskan Native, American Indian, Asian-American, African-American, hispanic-American, Native Hawaiian, or Pacific Islander," Part VIII H. p. 69. Combined total minority enrollment is 6.6% African American, 35.7 Asian American, 31.5% Chicano and Latino, and .5% Native American or 74.3 total. http://www.ucr.edu/about/facts.html
and
2) has "limited institutional success" per Part VIII H. as "not among the most successful universities and colleges for receiving Federal funds for science and engineering research." UCR is not on the list of successful institutions provided in the RFA, Table 1, p. 71.
Nanocarriers for Topical Treatment of Psoriasis
B. Michniak-Kohn
10am Monday Feb 24
321 of the School of Medicine Research Building
1Ernest Mario School of Pharmacy, Rutgers - The State University of NJ, Piscataway, NJ,
2 Center for Dermal Research, New Jersey Center for Biomaterials, Rutgers - The State University of NJ, Piscataway, NJ
A tunable family of tyrosine-derived triblock copolymers was synthesized with hydrophobic blocks composed of oligomers of desaminotyrosyl tyrosine esters and diacids and poly(ethylene glycol) as hydrophilic blocks. These triblock copolymers spontaneously self-assemble to produce TyroSpheresTM that act as an effective sink for binding paclitaxel (PTX). Release experiments were performed in Franz diffusion cells to approximate skin application conditions in the presence and absence of receptor fluid surfactants. Skin distribution analysis of the drug payload from TyroSpheres™ was performed using 1) confocal laser scanning microscopy of Nile Red (a fluorescent model compound with LogP similar to paclitaxel) in human cadaver skin, 2) quantification of Nile Red (by fluorescence visualization) in human cadaver skin, healthy human skin biopsies, and psoriatic human skin biopsies, and 3) mass spectroscopy of paclitaxel. To determine whether drug or drug / polymer was delivered into the skin, a polymer with a fluorescent moiety attached to the polymer backbone was synthesized. TyroSpheres™ composed of this new polymer were prepared and characterized and additional skin distribution studies were performed.
TyroSpheres™ were found to be non-cytotoxic, provide enhancement of drug solubility and stability, effectively encapsulate therapeutically relevant amounts of PTX, a drug with anti-proliferative activity, and release it in a rate-controlled manner. Skin distribution studies using a fluorescent dye as a model compound confirm that: 1) TyroSpheresTM deliver significantly higher amounts of the payload (8-fold) to psoriatic skin compared to healthy skin in vitro, and 2) TyroSpheresTM deliver their payload to the basal layer of the epidermis, the target layer for treatment of psoriasis. Based on skin distribution data, as well as dual-labeling skin distribution studies where payload and polymer were tagged with separate fluorophores, we hypothesize that TyroSpheres™ reside on the skin surface where they release drug in a controlled fashion. This drug partitions into and diffuses through the stratum corneum and further partitions into and diffuses through the epidermis until it reaches the basal layer where psoriasis originates. In this system drug remains in the epidermis (topical delivery) due to the increased hydrophilicity of the dermis that restricts significant partitioning of hydrophobic drug thereby restricting drug access to the relatively more hydrophobic epidermis. TyroSpheres™ are essential in this topical delivery system as they provide stability for the drug and greatly enhance solubility. This increase in solubility leads to an increased concentration gradient which is the driving force enabling the delivery of the drug. Additionally, TyroSpheres™ can be incorporated into a topically elegant viscous formulation with no impact on homogeneity, release, or skin distribution. These factors make our delivery system an excellent candidate for the treatment of psoriasis, where topical drug delivery with limited systemic exposure is required.
ACKNOWLEDGEMENTS
NIH (Grant # 5R01AR056079) for financial support of this study.
Dr. Bozena B. Michniak-Kohn is a Professor in Pharmaceutics at the Ernest Mario School of Pharmacy, and Founder /Director of the Center for Dermal Research CDR at Rutgers-The State University of New Jersey, Piscataway, NJ. She is also the Director of the Laboratory for Drug Delivery of the New Jersey Center for Biomaterials (NJCBM). Her main research focus is topical, transdermal and buccal drug delivery. Dr. Michniak-Kohn has directed over 40 Ph.D. and Masters students, and 300+ undergraduates and the work resulted in over 390 abstracts, 2 books, 34 book chapters, and over 120 papers. She is a reviewer for over a dozen pharmaceutical and drug delivery journals. For this work she was awarded Fellow status of the American Association of Pharmaceutical Scientists (AAPS) in 2008. Websites: www.centerfordermalresearch.org and www.michniaklab.org.
Here's a neat bird from Trinidad.
<![if !vml]>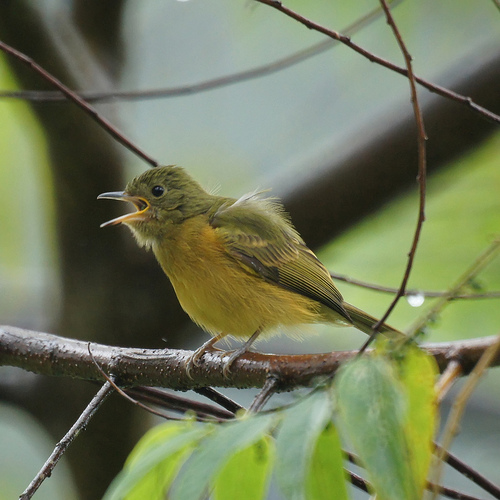 <![endif]>
Michael Pazzani
Vice Chancellor for Research and Economic Development
Professor, Computer Science & Engineering
University of California, Riverside
200 University Office Building
Riverside, CA 92521
Assistant: Johanna Bowman