UCR Research and Economic Development Newsletter: March 23, 2014
Michael Pazzani
Vice Chancellor for Research and Economic Development
Back Issues of Newsletter: http://reserach.ucr.edu/vcr/newsletters.aspx
Grant Opportunity Search: http://pivot.cos.com
<![if !supportLists]>· <![endif]>Proposal Tips
<![if !supportLists]>· <![endif]>April 15: NSF CAREER Workshop
<![if !supportLists]>· <![endif]>NSF Budget
<![if !supportLists]>· <![endif]>April 22: UC Innovation Day at UCR: Save the date
<![if !supportLists]>· <![endif]>Save the date: August 15: Sonny Ramaswamy: USDA
<![if !supportLists]>· <![endif]>The Road to NIH on YouTube
<![if !supportLists]>· <![endif]>NSF Brain Initiative, May 1 Deadline
<![if !supportLists]>· <![endif]>NIAID Step Nine to a Winning Application: Nail Your Budget
<![if !supportLists]>· <![endif]>Foundation Opportunities
<![if !supportLists]>· <![endif]>Tufted Titmouse
Proposals Tips
I've been looking at some recent proposals submitted by UCR recently and working on one of my own. Here are some tips:
<![if !supportLists]>· <![endif]>Include several photographs, graphs, and diagrams in a proposal. These can include photographs of a lab, a field site, a outreach activity as well as graphs or data that might appear in a publications. Approximately 40% of the NSF CAREER awards submitted from UCR with illustrations were funded. No CAREER proposal without illustrations was funded.
<![if !supportLists]>· <![endif]>Finish a complete draft at least a month early and allow other in the department and colleagues at other universities to comment and address their comments. I recently passed a proposal I was writing on to people at 3 universities, and there was sufficient time to change the approach in one section, to clarify several points, and to emphasize an additional point. Often, the second version of a proposal is the one that is funded. It's better to wait a week or two for comments from colleagues to produce the second version than 6-8 months for agency comments.
<![if !supportLists]>· <![endif]>Have someone not familiar with the proposal proofread the final proposal. Even after working with UCR grant facilitators, my wife found about 20 typos. Little things, like "under way" vs. "underway," inconsistent capitalization and incomplete sentences can form a bad impression on reviewers.
NSF CAREER Workshop: April 15: 10:30
The CAREER is NSF's most prestigious award in support of untenured faculty who exemplify the role of teacher-scholars through outstanding research, excellent education and the integration of education and research within the context of the mission of their organizations. See http://www.nsf.gov/funding/pgm_summ.jsp?pims_id=503214 for the NSF solicitation.
CAREER proposals are due July 21-24, 2014; the exact deadline varies by discipline. It pays to start a few months early to make sure the proposal is well thought out and addresses all criteria for funding.
UCR will offer a workshop on preparing an NSF CAREER proposal on Tuesday April 15th from 10:30 – 12:00 PM in the Highlander Union Building, Room 355.
At the workshop, we will go over the essential components of the CAREER award, including
• Research Plan
• Educational Plan
• Broader Impacts
• Data Management Plans
Previous winners of the NSF CAREER awards will discuss what worked (and what didn't work) for them. We will go over NSF requirements, suggestions and best practices from past winners, and your questions and ideas. Sample funded proposals will be made available.
NSF Budget
I have attached the entire NSF proposed budget for FY2105. While the budget has not passed congressed and the dollar amounts may change, the budget is a good indicator of the scientific priorities for each NSF division. In addition, the budget discusses new themes and programs that cross NSF divisions and directorates (and cross UCR departments and schools). Some details are below. If you want to find out where NSF thinks your field is heading,
Cognitive Science and Neuroscience ($29.0 million) in FY 2015 draws together under one framework ongoing cognitive science and neuroscience research and NSF's contributions to the Administration's Brain Research through Advancing Innovation and Neurotechnologies (BRAIN) Initiative. Improved understanding of the brain will promote brain health; enable engineered solutions that enhance, replace, or compensate for lost function; improve the effectiveness of formaland informal educational approaches; and lead to brain-inspired smarter technologies for improved quality of life.
Cyber-enabled Materials, Manufacturing, and Smart Systems (CEMMSS) ($213.20 million)
aims to integrate a number of science and engineering activities across the Foundation – breakthrough materials, advanced manufacturing, robotics, and cyber-physical systems. It addresses pressing technological challenges facing the Nation and promotes U.S. manufacturing competiveness. CEMMSS is aligned with key interagency activities, including the Administration's Materials Genome Initiative, Advanced Manufacturing Partnership, and the National Robotics Initiative.
Cyberinfrastructure Framework for 21st Century Science, Engineering, and Education (CIF21)
($124.75 million) accelerates and transforms the process of scientific discovery and innovation by providing advanced cyberinfrastructure and new capabilities in computational and data-enabled science and engineering (CDS&E). In FY 2015, NSF will continue to lead the Big Data/National Data Infrastructure program, a joint solicitation with the National Institutes of Health (NIH) that strives to enable breakthrough discoveries and innovation in science, engineering, medicine, commerce, education, and national security.
Science, Engineering, and Education for Sustainability (SEES) ($139.0 million) aims to increase understanding of the integrated system of supply chains, society, the natural world, and alternations humans bring to Earth, in order to create a sustainable world. In FY 2015, SEES enters a transition period toward sunsetting in FY 2017. SEES continues to support important scientific and societal contributions during the phase-down period and will make significant progress towards achieving programmatic goals through projects currently underway.
The Secure and Trustworthy Cyberspace (SaTC) investment ($99.75 million) aims to build the knowledge base in cybersecurity that enables discovery, learning and innovation, and leads to a more secure and trustworthy cyberspace. Through a focus on long-term, foundational research, SaTC will develop the scientific foundations for cybersecurity research for years to come. SaTC aligns NSF's cybersecurity investments with the four thrusts outlined in the national cybersecurity strategy, Trustworthy Cyberspace: Strategic Plan for the Federal Cybersecurity Research and Development Program.
Advanced Manufacturing research ($150.70 million) holds tremendous potential for significant
short-term and long-term economic impact by promising entirely new classes and families of products that were previously unattainable. In FY 2015, NSF's investment emphasizes several emerging opportunities including cyber–physical systems, advanced robotics research, scalable nanomanufacturing, sensor and model-based smart manufacturing, educational activities to support training the next generation of product designers and engineers, and industry-university cooperation.
Clean Energy investments ($361.95 million) that will lead to future clean energy and energy efficient technologies are seen throughout the NSF portfolio, both in core research programs and targeted investments such as BioMaPS and SEES. Specific activities include research related to sustainability science and engineering, such as the conversion, storage, and distribution of diverse power sources (including smart grids), and the science and engineering of energy materials, energy use, and energy efficiency.
The Improving Undergraduate STEM Education (IUSE) program ($118.48 million) is a more
extensive coordination of NSF's undergraduate STEM education investments within a framework designed to accelerate improvement and measurable impact in undergraduate STEM education. IUSE is built upon a knowledge base accumulated from decades of research, development, and best practices across the Nation in STEM undergraduate education, and it integrates theories and findings from education research with attention to the needs and directions of frontier science and engineering research.
April 22: UC Innovation Day at UCR: Save the date
UC Innovation Day – Riverside
Tuesday, April 22, 2014
5-7 PM, reception immediately following
Alumni and Visitors Center at UC Riverside
3701 Canyon Crest Dr, Riverside, CA 92521
Featured Speakers include:
Welcome by Chancellor Kim Wilcox
Program overview by Kish Rajan, Director – Governor's Office of Business and Economic Development
New Innovations and Industry partners
Safe and low-cost mosquito repellant created by Anand Ray, UCR and commercial implementation by Amro Albana of Innovation Economy Corp

Online educational text materials – Frank Vahid, UCR and Zyante, Inc.

New chemicals in plant growth by Sean Cutler, UCR and the commercial opportunities with Michael Nuccio from Syngenta

iHub partner Terry Bills from esri

QB3: California Institute for Quantitative Biosciences: Reg Kelly, UCSF
For more details please contact Rebeccah Goldware goldware@ucr.edu
Save the date: August 15: Sonny Ramaswamy: USDA
Dr Sonny Ramaswamy will be visiting UCR on August 15. We are working out the details of his visit which will include a talk on USDA/NIFA and visits to research labs. For now, if you are interested in interacting with Ramaswamy, please plan on being on campus that day.
Dr. Sonny Ramaswamy was appointed to serve as director of the USDA's National Institute of Food and Agriculture (NIFA) on May 7, 2012. As part of USDA's Research, Education, and Extension mission, he oversees NIFA awards funds for a wide range of extramural research, education, and extension projects that address the needs of farmers, ranchers, and agricultural producers. Prior to joining NIFA, Dr. Ramaswamy served as dean of Oregon State University's College of Agricultural Sciences and director of the Oregon Agricultural Experiment Station. He received a Bachelor of Science in agriculture and a Master of Science in entomology from the University of Agricultural Sciences, Bangalore, India, and his doctorate in entomology from Rutgers University.
The Road to NIH Funding on YouTube
New to the NIH grants process? Looking for some direction? Then grab a seat and watch our new YouTube video, The NIH Grants Process: the Big Picture, designed to help you get started on the road to NIH funding. This video, produced by the NIH Office of Extramural Research (OER), provides a high-level overview of the grants process from application to award.
As you begin to navigate the NIH grants process, be sure to bookmark grants.nih.gov for many more online resources. These include guidance on the various aspects of the grants process, podcasts, webinars, policy information, the NIH Guide to Grants and Contracts, and so much more. More videos related to NIH grants information may be also be found on YouTube.
NSF Brain Initiative, May 1 Deadline
There is a new opportunity for researchers interested in the Administration's BRAIN Initiative. The National Science Foundation (NSF) released a Dear Colleague Letter announcing that the Biological Sciences Directorate (BIO) will fund Early Concept Grants for Exploratory Research (EAGER) proposals as part of NSF's activities related to the BRAIN Initiative.
The goal is to identify, "...opportunities to leverage and synthesize technological and conceptual innovation across disciplines and scales to accelerate progress toward an integrated understanding of neural circuits in behavior and cognition, or more simply "catching circuits in action". The neuroscience research community and specialists in other areas including, but not limited to genetics, physiology, synthetic biology, engineering, physics, mathematics, statistics, behavior and cognition are encouraged to work across disciplines to develop new approaches and neurotechnology focused at understanding the properties of circuits that underlie behavior and/or cognition in any organism. Projects that take advantage of existing DBI investments in informatics, computing and other infrastructure, such as the Neuroscience Gateway, in novel ways are also eligible."
Interested principal investigators (PI) should submit a two-page summary of their research concepts by May 1, 2014, to this email address: BIO-BRAIN@nsf.gov. The summaries will be reviewed internally and those that best meet the goals of the Dear Colleague will be invited to submit EAGER proposals.
The Dear Colleague is available at: http://www.nsf.gov/pubs/2014/nsf14044/nsf14044.jsp?WT.mc_id=USNSF_25&WT.mc_ev=click.
NIAID Step Nine to a Winning Application: Nail Your Budget
From: NIAID Funding Newsletter: You want the budget for your R01 application to be in the Goldilocks zone—not too big and not too small, but just right. In this step, we show you how to reach that happy medium. Read the full article.
Foundation Opportunities
<![if !supportLists]>1) <![endif]>Gates Foundation Grand Challenges Exploration
Deadline: May 6, 11:30 P.M. P.D.T.
Amount: $100,000 for Phase I; up to $1,000,000 for Phase II
Grand Challenges Explorations (GCE) supports hundreds of early-stage research projects – including many ideas that have never before been tested – and scientists and innovators from a wide range of disciplines and regions. The Explorations initiative funds innovative ideas that could lead to new vaccines, diagnostics, drugs, and other technologies targeting diseases that claim millions of lives every year, as well as improvements and innovations in agriculture development and others of the Bill & Melinda Gates Foundation priority areas.
GCE is an extension of the foundation's commitment to the Grand Challenges in Global Health, which was launched in 2003 to accelerate the discovery of new technologies to improve global health. More recently, GCE has expanded to include global development and communications challenges. To date, the foundation has committed over half a billion dollars to support hundreds of projects on topics such as making childhood vaccines easier to use in poor countries, and creating new ways to control insects that spread disease.
Key features of the Grand Challenges Explorations initiative are:
<![if !supportLists]>· <![endif]>A short application. Instructions are available online at:
http://www.grandchallenges.org/Explorations/Pages/ApplicationInstructions.aspx
<![if !supportLists]>· <![endif]>Rapid turnaround time. We will select projects in approximately five months from the proposal submission deadline. All applicants will be notified of the status of their application via e-mail when final decisions are made.
<![if !supportLists]>· <![endif]>We review for novel ideas that show great promise. Our review process is blinded and champion-based, where reviewers with a track record in identifying innovative ideas select the proposals they find most pioneering - no consensus or peer review is needed.
Awards of $100,000 USD are made in Phase I. Phase I awardees have one opportunity to apply for a follow-on Phase II award of up to $1,000,000 USD.
<![if !supportLists]>2) <![endif]>ESA Foundation Seeks Proposals for Youth-Oriented Technology/Computer Game Projects
Deadline: May 15, 2014
Amount: up to $50,000
URL: http://www.esafoundation.org/
The Entertainment Software Association Foundation, the philanthropic arm of the Entertainment Software Association, is seeking proposals for projects that use innovative technology and/or computer and video games to positively shape the lives of youth in the United States.
The foundation supports geographically diverse projects and programs that benefit boys and girls of all races and religions. Eligible projects must be implemented or available in a minimum of two states (preferably nationwide) and serve American youth between the ages 7 and 18. In addition, projects must provide programs and services that utilize technology and/or computer and video games for education purposes.
Grants of up to $50,000 will be awarded to first-time recipients.
<![if !supportLists]>3) <![endif]>Gerber Foundation Seeks Proposals for Pediatric Research Projects
Deadline: June 1, 2014 (Concept Papers)
Amount: up to $300,000
URL: http://www.gerberfoundation.org/
The Gerber Foundation is accepting concept papers for health and/or nutrition-related research on issues affecting infants and young children. Of particular interest are applied research projects focused on reducing the incidence of serious neonatal and early childhood illnesses, or improving cognitive, social, and emotional aspects of development.
The foundation awards pediatric research grants through two programs, a Research Award and a Novice Research Grant. Both grants support research designed to improve health, nutrition, and/or developmental outcomes for infants from before birth and children up to age 3. Projects may include etiologic mechanisms of disease; new, improved, or less invasive diagnostic procedures; reduction or elimination of side effects; alleviation of symptoms; new, improved, or less invasive therapies, care, or treatments; dosage or dosing requirements or mechanisms for drugs, nutrient supplementation, or other therapeutic measures (under or overdosing); and preventative measures.
Novice Research Grants of up to $20,000 per project will be awarded to physicians as well as candidates for Ph.D. and PharmD degrees who are in a residency or fellowship training program and are no more than one year post training. The Novice Research Grant program also provides up to $2,000 to cover travel and attendance costs for one conference so that the awarded can report findings from the project during the grant period. Novice Research grantees must have an assigned mentor for the project as well as a current development plan and must not have received a K award from the National Institutes of Health. The qualifications and experience of the mentor will be an evaluation consideration.
Priority is given to projects offering a substantial promise of meaningful advances in prevention and treatment of diseases and those with broad applicability to the general population on a regional or national level.
<![if !supportLists]>4) <![endif]>Howard Hughes Medical Institute Launches National Competition for Biomedical Researchers
Deadline: June 3, 2014
URL: http://www.hhmi.org/
The Howard Hughes Medical Institute has issued a call for applications from basic researchers and physician scientists for research positions. The initiative represents an investment of approximately $150 million in basic biomedical research over the next five years.
Through this national competition, HHMI seeks to appoint up to twenty-five new researchers who study significant biological problems in the biomedical disciplines, including plant biology and related fields such as evolutionary biology, biophysics, chemical biology, biomedical engineering, and computational biology. Individual researchers selected through the competition will receive a five-year appointment to HHMI, which is renewable pending favorable scientific review.
By employing scientists as HHMI investigators — rather than awarding them research grants — the institute is guided by the principle of "people, not projects." HHMI investigators have the freedom to explore and, if necessary, to change direction in their research. Moreover, they have support to follow their ideas through to fruition — even if that process takes many years.
Once selected, HHMI provides each investigator with a full salary, benefits, and a research budget for their initial five-year appointment. The institute also will cover other expenses, including the purchase of critical equipment.
Successful candidates are expected to hold a Ph.D. and/or M.D. or equivalent degree; have a tenured or tenure-track position as assistant professor or higher academic rank (or the equivalent) at an eligible institution in the U.S.; have more than five but no more than fifteen years of post-training, professional experience; and be the principal investigator on one (or more) active, national, peer-reviewed research grants with a duration of at least three years.
All semifinalists will be expected to attend a scientific symposium at HHMI in April 2015 and present a brief research talk to HHMI scientific leadership and a final advisory panel. Finalists will be selected shortly after the scientific symposium.
<![if !supportLists]>5) <![endif]>Kress Foundation Invites Applications for Scholarly European Art Projects
Deadline: Rolling (January 1, April 1, October 1)
URL: http://www.kressfoundation.org/
The Samuel H. Kress Foundation is accepting applications from nonprofit organizations for scholarly projects that will enhance the appreciation and understanding of European art and architecture from antiquity to the dawn of the modern era. Through its History of Art program, the foundation will award grants in support of projects that create and disseminate specialized knowledge in the field of European art, including archival projects, development and dissemination of scholarly databases, documentation projects, museum exhibitions and publications, photographic campaigns, scholarly catalogs and publications, and technical and scientific studies. The program also supports activities that permit art historians to share their expertise through international exchanges, professional meetings, conferences, symposia, consultations, the presentation of research, and other professional events.
In previous years, grant amounts have ranged from $1,000 to $93,000.
The foundation has three application deadlines a year ̶ January 1, April 1, and October 1.
Tufted Titmouse
I still haven't found much time for birding in Southern California, but I was recently on the east coast and got reacquainted with one my favorite backyard birds there: the tufted titmouse.
<![if !vml]>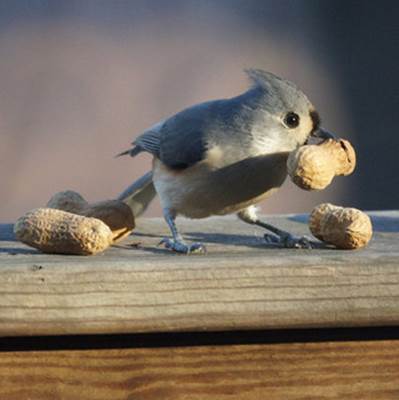 <![endif]>
(click to enlarge)
Michael Pazzani
Vice Chancellor for Research and Economic Development
Professor, Computer Science & Engineering
University of California, Riverside
200 University Office Building
Riverside, CA 92521
Assistant: Johanna Bowman