UCR Research and Economic Development Newsletter: April 23, 2014
Michael. Pazzani
Vice Chancellor for Research and Economic Development
Back Issues of Newsletter: http://reserach.ucr.edu/vcr/newsletters.aspx
Grant Opportunity Search: http://pivot.cos.com
---
<![if !supportLists]>· <![endif]>Bruce LaMattina, Visiting DOD Funding Consultant: May 6 & May 7
<![if !supportLists]>· <![endif]>Updated NIH Resubmission Policy
<![if !supportLists]>· <![endif]>Predoctoral Training in Biomedical Big Data Science (T32)
<![if !supportLists]>· <![endif]>Brain Research Foundation Scientific Innovations Award: Internal Deadline, May 21
<![if !supportLists]>· <![endif]>SAMSUNG Global Research Outreach (GRO) Program: June 12, 2014
<![if !supportLists]>· <![endif]>Hooded Oriole and Blue Grosbeak
---
Bruce LaMattina, Visiting DOD Funding Consultant: May 6 & May 7
Bruce LaMattina, a former Army Research Officer program officver officer will be visiting UCR on May 6th and 7th. He's a DOD funding expert who possesses extensive knowledge in understanding the specific criteria the DOD is interested in, the proposal process, and the success metrics. Almost 100% of the pre-proposals he has assisted faculty with have been invited for full proposals and 50% of the DoD young investigator proposals have been funded. He's worked with the Congressionally Directed Medical Research Program (CDMRP) as part of their gap analysis team that's used to develop BAAs. During his visit at UCR Bruce will be providing two presentations as an opportunity to mentor any faculty interested in attending. Please RSVP by visiting the links corresponding to the seminars you're interested in attending below by 5:00 PM on Friday, May 2nd. The survey also has a space to indicates times you are available to meet with Bruce to discuss your ideas for a DARPA, AFOSR, ONR, ARO, IARPA, CDMRP or DoD Young investigator award.
<![if !supportLists]>· <![endif]>Tuesday, May 6th, 10:00 – 11:30 AM, Winston Chung Hall, RM 443
"DOD Funding For Physical Sciences and Engineering: Opportunities & Strategies"
RSVP Link: https://www.surveymonkey.com/s/KSYJWCL
<![if !supportLists]>· <![endif]>Wednesday, May 7th, 11:30–1:30 PM, SOM Research Building, Room 321
"DOD Funding for Medicine Life Sciences"
RSVP Link: https://www.surveymonkey.com/s/KNTVWRS
---
Updated NIH Resubmission Policy
NIH has announced a policy change on resubmission of grant applications. While the new policy still allows a single resubmission per application, ideas that were unsuccessfully submitted as a resubmission (A1) may now be presented in a new grant application (A0) without having to substantially redesign the content and scope of the project. – See the NIH policy http://1.usa.gov/P8caVG or Sally Rockey's blog (http://nexus.od.nih.gov/all/2014/04/17/blog-on-nih-policy-notice-14-074/#)
---
Predoctoral Training in Biomedical Big Data Science (T32)
NIH has published an RFA for Big Data to Knowledge Initiative (BD2K) Institutional Training Grant. If interested in applying, please contact me.
The long-term goal of the BD2K initiative (http://go.usa.gov/KH9Q) is to support the advances in data science, other quantitative sciences, policy, and training that are needed for the effective use of Big Data in biomedical research. To address the growing need and opportunities for skilled researchers to fully utilize the vast amount of heterogeneous biomedical Big Data, a series of BD2K FOAs have been designed to provide support for: 1) development of a sufficient cadre of researchers skilled in the science of Big Data; and 2) elevation of the general competencies in data usage and analysis across the biomedical research workforce. The portfolio of BD2K training activities will include opportunities for the full spectrum of scientists, from students to senior faculty, from developers of methods and tools to investigators who need to use Big Data tools.
Due to the multifaceted challenges faced in meeting the opportunities provided by Big Data, the following principles were taken into account in designing the set of BD2K training FOAs:
A combination of skills is needed to utilize Big Data, both technical and "soft" skills.

Technical skills are needed in (1) computer science or informatics, (2) statistics and mathematics, and (3) biomedical science.

Communication skills are critical to foster collaborations.

The principles of study design and reproducible research (related to the practices that ensure the

reproducibility of analyses of data) should be stressed.

Big Data scientists must be prepared to be independent researchers, but at the same time, an interdisciplinary, team-science approach is frequently the optimal way to solve Big Data challenges or to use Big Data effectively.

Individuals and scientists may need additional skills and knowledge to work effectively in interdisciplinary teams.

Training in the quantitative sciences and experimental design will be increasingly important to researchers and clinicians.

BD2K training programs should be designed to develop the ability of scientists to work at the intersection of multiple disciplines necessary to utilize Big Data.

Team mentoring is encouraged.

Innovative approaches to training are encouraged, in order to take best advantage of the particular talents and expertise available at the institution(s).

The training environment is critical and should include access to large data sets and ongoing research projects of multiple types.

Career paths for data scientists that recognize and reward contributions in methodology, computation, or development of tools are important.

Training individuals to participate across the full spectrum of scientific roles is encouraged, even though the jobs necessary to Big Data Science may not correspond to traditional scientific, particularly academic, jobs or fit neatly into existing departments.

Recruitment of talent from diverse scientific backgrounds, such as computer science, engineering, informatics, mathematics, physics, and statistics, to biomedical Big Data Science is important.
http://grants.nih.gov/grants/guide/rfa-files/RFA-HG-14-004.html
---
Brain Research Foundation Scientific Innovations Award: Deadline, July 4 at 4PM CT
The Brain Research Foundation has invited the University of California, Riverside to nominate one senior faculty member to submit a Letter of Intent for the 2015 Scientific Innovations Award (SIA). The objective of the program is to support projects that may be too innovative and speculative for traditional funding sources but still have a high likelihood of producing important findings. It is expected that investigations supported by these grants will yield high impact findings and result in major grant applications and significant publications in high impact journals.
To be eligible, the nominee must be a full-time associate professor/full professor working in the area of studies and brain function in health and disease. Current major NIH or other peer-reviewed funding is preferred but evidence of such funding in the past three years is essential. The grant period is for two years in the amount of $150,000. The support focus is for new research projects of the highest scientific merit.
Please note that BRF will only accept a single LOI per institution so a deadline of May 21 for a limited submission application at http://research.ucr.edu/ord/limitedsubmissions.aspx

To learn more about the Brain Research Foundation, see http://thebrf.org/
To view the updated guidelines visit website, see http://thebrf.org/Grants/Scientific+Innovations+Award
---
SAMSUNG Global Research Outreach (GRO) Program: June 12, 2014
The GRO Program is SAMSUNG's (Samsung Electronics & affiliated Samsung companies) academic research collaboration platform. The GRO program annually invites world-class university researchers to submit innovative research proposals to foster collaborative relationships. Selected proposals will receive financial support for one year ranging from USD $70,000 to $100,000 including overhead. In some cases, larger awards may be possible for especially outstanding proposals. Awards may be renewed up to three years, based on research outcomes and necessity for further research partnership driven by SAMSUNG.
All eligible applicants should submit application forms by June 12, 2014 for proposal screening. Only research proposals submitted through the GRO online submission site will be accepted.
2014 GRO Program is seeking proposals in twelve (12) research themes Collaboration on the special subjects is actively sought, but other subject submissions are welcomed because innovation has no boundaries.
Samsung is seeking novel ideas in the following broad research themes:
<![if !supportLists]>• <![endif]>Sensor Technology
<![if !supportLists]>• <![endif]>New Display
<![if !supportLists]>• <![endif]>Machine Learning & Recognition
<![if !supportLists]>• <![endif]>Next Generation Computing
<![if !supportLists]>• <![endif]>Next Generation Web
<![if !supportLists]>• <![endif]>Big Data & Network
<![if !supportLists]>• <![endif]>Security
<![if !supportLists]>• <![endif]>Functional Material
<![if !supportLists]>• <![endif]>OLED Material
<![if !supportLists]>• <![endif]>Next Generation Battery
<![if !supportLists]>• <![endif]>Energy Harvesting
<![if !supportLists]>• <![endif]>Design & Service
Under the research themes, there are forty (40) special subjects this year. Each special subject has a detailed Call for Proposal on the GRO homepage.
To learn more about the 2014 GRO, please visit:
http://www.sait.samsung.co.kr/saithome/01_about/gro_overview.jsp
---
Hooded Oriole and Blue Grosbeak
The hooded orioles have returned to nest in the Riverside area. This one dropped by my yard last Sunday.
<![if !vml]>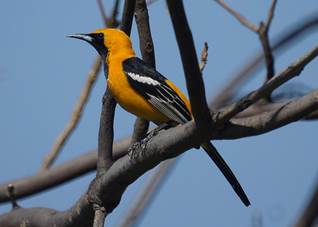 <![endif]>
(click to enlarge)
The Blue Grosbeak is a migrant that also had a brief visit to my yard.
<![if !vml]>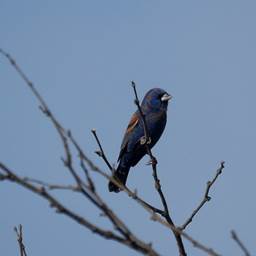 <![endif]>
(click to enlarge)
Michael Pazzani
Vice Chancellor for Research and Economic Development
Professor, Computer Science & Engineering
University of California, Riverside
200 University Office Building
Riverside, CA 92521
Assistant: Johanna Bowman
951-827-4800