UCR Research and Economic Development Newsletter: June 22, 2014
Michael Pazzani
Vice Chancellor for Research and Economic Development
Back Issues of Newsletter: http://reserach.ucr.edu/vcr/newsletters.aspx
Grant Opportunity Search: http://pivot.cos.com
<![if !supportLists]>· <![endif]>HONING YOUR PROPOSAL WRITING SKILLS
<![if !supportLists]>· <![endif]>NSF CAREER Proposals
<![if !supportLists]>· <![endif]>Venture 101: Wednesday, June 25, 2:30
<![if !supportLists]>· <![endif]>I think we now have a final time and date for the USDA talk: July 21 at 10am
<![if !supportLists]>· <![endif]>2015 Pew Scholars Program in the Biomedical Sciences award. July 1.
<![if !supportLists]>· <![endif]>Stupid Faculty Tricks
<![if !supportLists]>· <![endif]>Bathing Beauties
HONING YOUR PROPOSAL WRITING SKILLS
George A. Hazelrigg, aprogram director at NSF has some hints on writing propsoals. Here are my favorite exerpts. See http://poole.ncsu.edu/i/com/weblogs/research-development/Honing-Proposal-Skillls-1.pdf for more.
It should be totally obvious that the most important thing a reviewer wants to know when he or she picks up a proposal is what it's about. Ergo, for NSF, the first sentence of paragraph one, page one should begin, "The research objective of this proposal is..." In my experience, any other sentence used to start the proposal results in a lower rating.
There are many words that, to reviewers, mean "not research." These include "develop," "design," "optimize," "control," "manage," and so on. If your statement of your research objective includes one of these words, for example, "The research objective of this proposal is to develop....," you have just told the reviewers that your objective is not research, and your rating will be lower.
This information, and many other proposal hints are contained in the attached Research Development & Grant Writing News.
NSF CAREER Proposals
The CAREER is NSF's most prestigious award in support of untenured faculty who exemplify the role of teacher-scholars through outstanding research, excellent education and the integration of education and research within the context of the mission of their organizations. See http://www.nsf.gov/funding/pgm_summ.jsp?pims_id=503214 for the NSF solicitation. CAREER proposals are due July 21-24, 2014; the exact deadline varies by discipline.
Randy Black in Research and Economic Development and Mitch Boretz in BCOE have been providing feedback on proposals. The most common area that needs attention are the educational plan and the broader impacts and the most common mistake is treating these as the same. Often, the educational plan will be targeted toward existing UCR students and the education the PI delivered at UCR. The broader impact plan will often encourage or assist members of underrepresented groups who are not necessarily UCR students to pursue college education. The following quote from the CAREER solicitation describes the educational
NSF … encourages all applicants to think creatively about how their research will impact their education goals and, conversely, how their education activities will feed back into their research. These plans should reflect both the proposer's own disciplinary and educational interests and goals, as well as the needs and context of his or her organization.
In general, it is better to join an excising UCR broader impacts activity than to create your own. See http://research.ucr.edu/WebDocs/RD/ProposalMaterials/NSF%20CAREER/Broader%20Impacts/Education%20Engagement%20Opportunities%2004152014.doc for a list of activities that may be appropriate for a CAREER award. http://research.ucr.edu/OrApps/RD/proposals/Default.aspx contains many resources for proposal writing and has a section specifically for CAREER.
A second area of improvement in CAREER proposals is the chair's letter. The Chair's letter presents an opportunity to place the PI's proposal and CAREER in context. The Chair's letter should
<![if !supportLists]>· <![endif]>Verify that the PI in eligible for the program.
<![if !supportLists]>· <![endif]>Show Strong Support for the research education, and broader impacts of the CAREER proposal.
<![if !supportLists]>· <![endif]>Describe how the PI's goals mesh with those of the department and university.
<![if !supportLists]>· <![endif]>Describe the  Commitment to the professional development of the PI with mentoring
A typical letter might start "UCR is committed to the success of its faculty. Dr. X was hired in 2014 and provided with "describe lab size and equipment" Other items to include would describe
<![if !supportLists]>· <![endif]>How the research of the PI fits within the research of the department, college or university by joining an existing group of faculty with a similar research emphasis, or bridging two established strengths, or creating a new focus that will be expanding in importance.
<![if !supportLists]>· <![endif]>Other support in addition to start-up fund provided by the university, e.g., access to funds to recruiting new graduate students, etc.
<![if !supportLists]>· <![endif]>The sabbatical system at UCR and how assistant professors may take a sabbatical before tenure to work on their research.
<![if !supportLists]>· <![endif]>How the department will support the education plan.
<![if !supportLists]>· <![endif]>How the department or college supports the broader impact plans.
A generic letter, appropriate for all faculty in a department should be avoided. Listing facilities the PI doesn't need and outreach programs the PI is not participating is not helpful. Reading the proposal and commenting on the specific research, education and outreach plans is encouraged.
Here are some hints from an NSF presentation on CAREEER proposals.
What makes a proposal competitive?
<![if !supportLists]>• <![endif]>A timely and compelling idea that lies with NSF strategic goals
<![if !supportLists]>• <![endif]>Sound justification with testable hypothesis(es)
<![if !supportLists]>• <![endif]>Clear, succinct experimental design and realistic scope of work
<![if !supportLists]>• <![endif]>Knowledge of subject area, pertinent literature
<![if !supportLists]>• <![endif]>PI experienced in the methodology (or collaborating)
<![if !supportLists]>• <![endif]>Preliminary data or record of publication
<![if !supportLists]>• <![endif]>Clear plan
<![if !supportLists]>• <![endif]>Written clearly and proofread
Most Common Flaws in a proposal
<![if !supportLists]>• <![endif]>No conceptual framework (no big picture)
<![if !supportLists]>• <![endif]>Results will not advance current understanding or are incremental
<![if !supportLists]>• <![endif]>Study is too ambitious or too narrow in scope
<![if !supportLists]>• <![endif]>Emphasis is on (new) methods, not questions
<![if !supportLists]>• <![endif]>Lack of familiarity with latest advances in field
<![if !supportLists]>• <![endif]>Lack of detail on data analysis, modeling, or interpretation
<![if !supportLists]>• <![endif]>Results will not address the stated hypotheses
<![if !supportLists]>• <![endif]>PI qualifications/expertise not evident
<![if !supportLists]>• <![endif]>Necessary collaborations not documented
Last year, UCR's success rate was about 33% on CAREER awards. This year, I hope we can exceed that. Finishing a draft early and getting feedback from colleagues on the intellectual merits and grant writers on the education and outreach plans is the best way to increase your chances of getting funded.
Venture Investing 101: 2:30 Wed June 25
Tim Hoerr CEO of Serra Ventures and Managing Partner of Serra Capita will be visiting UCR on June 25 in collaboration with INSOCAL CONNECT. He will speak at 2:30 in the Genomics Auditorium to introduce entrepreneurs and start-up companies to the venture capital process by presenting essential elements of building a high performance technology company
The Serra companies provide early stage capital and a variety of strategic services to high tech start-up companies. Serra invests in several areas related to UCR research areas including information technology (personalization, computer vision, security), devices (sensors, medical devices), materials, agriculture technology and water filtration.
Note: This talk requires registration. You may extend this invitation to potential partners interested in commercializing technology. Send mail to VCREDadmin@ucr.edu to register.
Sonny Ramaswamy of USDA to Visit UCR on July 21, 2014. Talk at 10am
Dr Sonny Ramaswamy will be visiting UCR on July 21. He will speak at 10amam in the Genomics Auditorium.
Dr. Sonny Ramaswamy was appointed to serve as director of the USDA's National Institute of Food and Agriculture (NIFA) on May 7, 2012. As part of USDA's Research, Education, and Extension mission, he oversees NIFA awards funds for a wide range of extramural research, education, and extension projects that address the needs of farmers, ranchers, and agricultural producers. Prior to joining NIFA, Dr. Ramaswamy served as dean of Oregon State University's College of Agricultural Sciences and director of the Oregon Agricultural Experiment Station. He received a Bachelor of Science in agriculture and a Master of Science in entomology from the University of Agricultural Sciences, Bangalore, India, and his doctorate in entomology from Rutgers University.
Note, the talk was previously planned for 9am, but we changed the time to 10am.
2015 Pew Scholars Program in the Biomedical Sciences award.
The Pew scholars program supports assistant professors of outstanding promise in science relevant to the advancement of human health. The award provides $240,000 in flexible support—$60,000 per year for four years.
Each interested applicant should submit pre-proposal materials—including a research project summary, curriculum vitae, and a letter of support from the chair of his or her division—to the office of sponsored research, which will submit them to an internal selection committee for consideration.

These materials must be submitted by July 1, 2014 to limited@ucr.edu
Candidates must have been awarded a doctorate in fields related to biomedical sciences or medicine.

As of Nov. 1, 2014, candidates must hold full-time appointments at the rank of assistant professor.

On July 1, 2014, candidates must have been in such an appointment for less than three years (not appointed before July 1, 2011), whether or not such an appointment was on a tenure track.
Stupid Faculty Tricks
NSF's Office of Inspector general conducts investigations of scientific misconducts and improper use of funds. A recent report http://www.nsf.gov/pubs/2014/oig14002/oig14002.pdf lists several examples of practices that should be avoided. To summarize:
<![if !supportLists]>1. <![endif]>Do not fabricate data, do not use data that is suspected of being fabricated by others and do not ignore data fabrication by colleagues.
<![if !supportLists]>2. <![endif]>Don't use grant funds for personal use.
<![if !supportLists]>3. <![endif]>Meeting a deadline is not a good reason to plagiarize.
By the way, did you know being "suspended from government programs" means that in addition to not being allowed to submit proposal to a federal agency, you can't get a federal loan such as a mortgage or education loan for a child.
Postdoc and Mentor Perpetuate Data Falsification and Fabrication In a Series of Published Articles A former postdoctoral researcher and his mentor at a Colorado university perpetuated the apparent validity of research data after the postdoc had intentionally falsified and fabricated the original study. After coauthors on the original study were unable to replicate the postdoc's research results, the mentor's college—without informing university-level administration— conducted an informal inquiry and recommended that the issue be worked out in the literature rather than through a formal investigation. Although the mentor's lab members had been able to repeat the results when the postdoc was there, after he left they could not do so.
As a result of the inadequacy of the college's informal inquiry, we conducted our own on-site inquiry. We recommended that the university conduct an investigation, which it agreed to do. The university investigation focused on the postdoc's reported isolation of four compounds and the mentor's continued use of the resulting data over several years, despite mounting evidence of research misconduct presented by lab members and other faculty members. The mentor's failure to require lab notebooks or to maintain instrumental data in his own lab complicated the investigation; however, his coauthors, students, and other university collaborators maintained sufficient records to enable the investigation to proceed.
The university ultimately concluded that the postdoc had intentionally fabricated data with respect to the four compounds he claimed to have isolated as natural products. Because the postdoc was no longer an employee, the university could take no direct actions against him. The university also concluded that the mentor was "reckless in his use of highly suspect data" in the face of the "loud chorus of voices challenging the original" work. The investigation committee recommended the retraction of eight publications and required that the mentor receive instruction "in proper scientific laboratory protocols to document techniques and procedures." We agreed with the university's findings and recommended that NSF: debar the postdoc for five years and the mentor for three years; terminate the former postdoc's active NSF awards; and require retraction of the papers identified by the university and completion of training. Additionally, until five years after the end of their respective debarment periods, we recommended NSF require certifications and assurances; require submission of detailed data management and mentoring plans with annual certifications of adherence to those plans for new NSF awards; and bar both from serving NSF as a peer reviewer, advisor, or consultant.
Former Professor Debarred for Theft of Grant Funds … A former professor of an Indiana university used NSF grant funds to purchase items for personal use, and as a result he was: suspended government-wide by NSF; indicted and pled guilty to criminal conversion; sentenced to probation and home confinement; and ordered to pay restitution to NSF. We recommended that NSF debar the former professor and his company for ten years. Since the company and the former professor had already been suspended for three years, NSF debarred them for seven years. NSF also prohibited the former professor from serving as an NSF reviewer, advisor, or consultant to NSF during the debarment period.
PI Plagiarizes in Funded Faculty Early Career Development (CAREER) Proposal A professor at a Tennessee university plagiarized in a CAREER proposal submitted to NSF. The professor asserted that he was rushed in preparing the proposal and did not have time to properly edit his submission. However, the same copied text appeared in proposals he later submitted to other federal agencies, seeking support for the same research that was already funded by the NSF CAREER award. The university made a finding of research misconduct, required training in the responsible conduct of research, and placed the professor under the mentorship of a senior faculty member. We agreed with the university's conclusions, and recommended that NSF impose a three-year period of certifications and assurances, and a concurrent prohibition from service to NSF as a reviewer, consultant, or advisor.
Bathing Beauties
Many people put out food for birds, but water is just as important and can attract quite a variety of birds. Here are some of the birds that have cooled off at my birdbath recently.
<![if !vml]>
<![endif]>
Cooper's Hawk
<![if !vml]>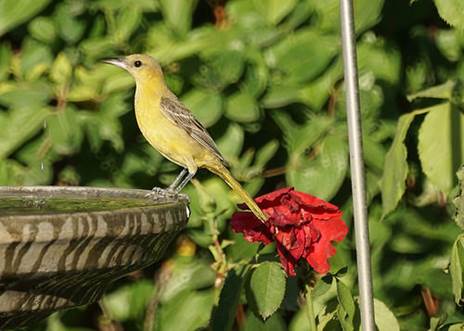 <![endif]>
Hooded Oriole

<![if !vml]>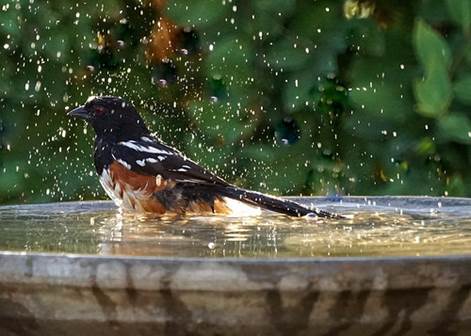 <![endif]>
Spotted Towhee
<![if !vml]>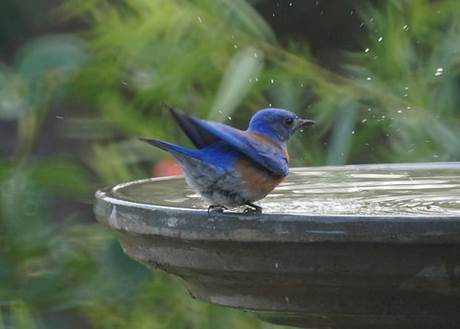 <![endif]>
Western Bluebird
Michael Pazzani
Vice Chancellor for Research and Economic Development
Professor, Computer Science & Engineering
University of California, Riverside
200 University Office Building
Riverside, CA 92521
Assistant: Lila Basham-Casteloes
Email: VCREDadmin@ucr.edu