UCR Research and Economic Development Newsletter: September 25 2014
Michael Pazzani
Vice Chancellor for Research and Economic Development
Back Issues of Newsletter: http://research.ucr.edu/vcr/newsletters.aspx
Grant Opportunity Search: http://pivot.cos.com
TEDxRiverside: Oct 16, 2014: http://www.tedxriverside.com
Google Faculty Research Awards:
Google gives faculty research awards (to be in an amount approximately equivalent to the amount necessary to support one graduate student for one year plus travel). Most awards are in the $40,000 to $70,000 range. The maximum amount a PI can request is $150,000. The intent of the Google Research Awards is to support cutting-edge research in Computer Science, Engineering, and related fields. There are two items worth noting in applying for these awards:
http://research.google.com/university/relations/research_awards.html
Deadline: October 15, 2014
Google ask applicants to categorize their proposals into one of the following broad research areas of interest to Google:
Computational neuroscience, Economics and market algorithms, Geo/maps, Human-computer interaction, Information retrieval, extraction, and organization (including semantic graphs) , Machine learning and data mining, Machine perception, Machine translation, Mobile, Natural language processing, Networking, Online education at scale, Physical interactions with devices, Policy and standards, Privacy, Robotics, Security, Social networks, Software engineering and programming languages, Speech, Structured data and database management, Systems (hardware and software)
Funding Opportunity: DOD Releases FY 2015 MURI BAA
The Department of Defense (DOD) released the broad agency announcement (BAA) for the fiscal year (FY) 2015 Multidisciplinary University Research Initiative (MURI). MURI is one of the signature DOD research programs for the university community and stand as the benchmark for building a defense-oriented research capability on campus
UCR has done well in the MURI competition in the past few years, leading projects in 2013 and 2014 and being part of other projects as well.
This yearfs topics are:
Army Research Office (ARO)
Emulating the Principles of Impulsive Biological Force Generation
Exploiting nitrogen vacancy diamonds for manipulation of biological transduction
Noncommutativity in Interdependent Multimodal Data Analysis
Multi-scale Response for Adaptive Chemical and Material Systems
New Regimes in Quantum Optics
Fractional Order Methods for Sharp Interface Flows
2-Dimensional Organic Polymers
Network Science of Teams
Air Force Office of Scientific Research (AFOSR)
Exploiting Biological Electromechanics: Using Electromagnetic Energy to Control Biological Systems
Large Scale Nano-Architecture Formation
Membrane-Based Electronics: Foldable & Adaptable Integrated Circuits
Semantics and Structures for Higher-level Quantum Programming Languages
Strong Field Laser Matter Interactions at Mid-Infrared Wavelength
Office of Naval Research (ONR)
Visual Commonsense for Scene Understanding
Characterization and Prediction of Remotely Sensed Mesoscale Aerosols in Coastal and Maritime
Atmospheric Boundary Layers for Electro-optical Propagation
Role of the Host Microbiome on Behavior/Resilience in Response to Stressors
Metalloid Cluster Networks
Computational and Experimental Methods towards Understanding the Chemistry and Physics of
Materials over 2000‹C
Quantum Optomechanics
As expected, FY 2015 topics map largely to Director for Basic Research Robin Staffinfs research priorities. Engineered materials, quantum information, and synthetic biology continue to receive strong emphasis. Across all topics, computational approaches continue to be valued.
DOD encourages faculty to engage with program managers assigned to each topic area through the white paper process to assess the feasibility of proposed topics. Topics listed above describe the focus areas important to each branch and are not meant to restrict the possible directions awarded research could take. DOD notes that for topics 5, 13, and 14, faculty are encouraged to partner with universities from the United Kingdom in an effort to expand DODfs capabilities in these fields.
Due Dates: White papers are due November 24. Full Proposals are due by 4:00 PM (EST) on February 23, 2015.
Total Funding and Award Size: DOD expects $145 million dollars to be made available, pending congressional appropriations. Individual awards will range from $1 million to $2.5 million annually for up to five years, but MURI awards typically fall between $1.25 million and $1.5 million annually. Each topic in the solicitation specifies approximately how much will be made for that topic and how proposed teams should be arranged based on budgets. For reference, DOD issued 24 awards for a total of $167 million in FY 2014.
Eligibility and Limitations: The competition is open to U.S. institutions of higher education with degree-granting programs in science, mathematics, or engineering. While industry, DOD laboratories, and foreign universities may not receive funding, DOD encourages universities to work with entities focused on applied and transitional research to collaborate on potential commercial applications for MURI-funded research.
Sources and Additional Background:
Funding Opportunity: DOD Releases FY 2015 DURIP BAA
The Department of Defense (DOD) released the broad agency announcement (BAA) for the fiscal year (FY) 2015 Defense University Research Instrumentation Program (DURIP) competition. DURIP, a part of DODfs University Research Initiative (URI) suite of programs, provides acquisition funding for equipment used to support defense-related research activities on campus. DURIP funding may be used to purchase instrumentation to advance defense-relevant research, but according to DOD cannot be used to fund construction or modification of buildings, building support systems, or fixed equipment (i.e. clean rooms or fume hoods).
Faculty already funded by DOD or collaborating with the DOD on projects have a greater chance of being awarded a DURIP since they can justify the relevance of the project to DOD. Communicating with a DOD program manager to gauge interest or steer the project in a particular direction is strongly encouraged before writing a full proposal. If youfd like assistance with identifying a program manager, please contact me.
Due Dates: Proposals are due by 4:00 PM (EST) on November 17. Award decisions are expected in the spring of 2015.
Total Funding and Award Size: DOD expects $46 million to be available for this program, with individual awards ranging from $50,000 to $1.5 million. For FY 2014, DOD made 149 awards averaging $268,000.
Sources and Additional Background:
The following is an excerpt from the Office of Research Integrity of Health and Human Services regarding a finding of research misconduct. Faculty are advised to avoid these practices. See https://ori.hhs.gov/case_summary for more examples of what not to do.
ORI found that an Assistant Professor, Department of Medicine, Boston University School of Medicine Cancer Research Center (BUSM), engaged in research misconduct in research supported by National Cancer Institute (NCI), National Institutes of Health (NIH), grants R01 CA102940 and R01 CA101992.

ORI found that the Respondent engaged in research misconduct by fabricating data that were included in two (2) published papers. Specifically, ORI found that Respondent Fabricated RT-PCR and ChIP experiments represented in Figures 1b, 2b, 3a,b, 4b,c, 6a,b, 7c in Mol. Endocrinol. 23(12):2075- 85, 2009; RT-PCR and/or ChIP experiments were included in six (6) of seven (7) figures in this publication; and Fabricated RT-PCR and ChIP experiments represented in Figures 2a,b, 3a,b, 4a,c, 5a,b, 6b,c, 8a,b in Oncogene 28(5):651-61, 2009; RT-PCR and/or ChIP experiments were included in six (6) of eight (8) figures in this publication.

Respondent has entered into a Voluntary Exclusion Agreement (Agreement). Respondent and the U.S. Public Health Service (PHS) want to conclude this matter without further expenditure of time or other resources. Respondent accepts ORI's findings of research misconduct as set forth above but neither admits nor denies committing research misconduct.

As a condition of the Agreement, Respondent agrees that the Mol. Endocrinol. 23(12):2075-85, 2009, and Oncogene 28(5):651-61, 2009, publications be retracted.

In entering into the Agreement, the Respondent has voluntarily agreed for a period of two (2) years, beginning on July 18, 2011:

(1) To exclude himself from any contracting or subcontracting with any agency of the United States Government c

(2) To exclude himself from serving in any advisory capacity to PHS, including but not limited to service on any PHS advisory committee, board, and/or peer review committee, or as a consultant.
During one recent 100 degree weekend, I went to the mountains to cool off and go birding. Below is a photo of the white-headed woodpecker which also likes the cooler mountain regions of Southern California
<![if !vml]>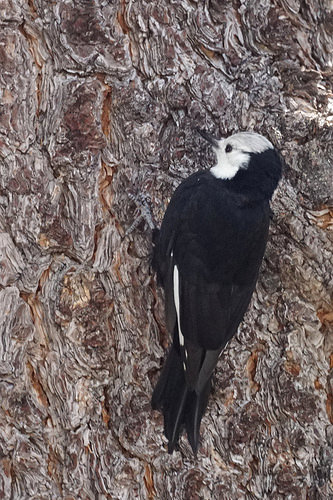 <![endif]>
White-headed Woodpecker
<![if !vml]>
<![endif]><![if !vml]>
<![endif]>
Michael Pazzani
Vice Chancellor for Research and Economic Development
Professor, Computer Science & Engineering
University of California, Riverside
200 University Office Building
Riverside, CA 92521
Assistant: Linda Bejenaru
Email: VCREDadmin@ucr.edu