UCR Research and Economic Development Newsletter: October 10, 2014
Michael Pazzani
Vice Chancellor for Research and Economic Development
Back Issues of Newsletter: http://research.ucr.edu/vcr/newsletters.aspx
Grant Opportunity Search: http://pivot.cos.com
<![if !supportLists]>· <![endif]>NIH Talk By Sally J. Rockey, Ph.D., Oct 15
<![if !supportLists]>· <![endif]>National Science Foundation Funding Seminar, Oct 23
<![if !supportLists]>· <![endif]>Some Pragmatic Strategies for Obtaining DoD Research Funding, Nov 14
<![if !supportLists]>· <![endif]>IUSE Webinar
<![if !supportLists]>· <![endif]>ICAM is Now Accepting Applications for Postdoctoral and Senior Faculty Fellowship
<![if !supportLists]>· <![endif]>The Bill & Melinda Gates Foundation
<![if !supportLists]>· <![endif]>Statistical Consulting Collaboratory
<![if !supportLists]>· <![endif]>Office of Naval Research
<![if !supportLists]>· <![endif]>TEDxRiverside: Oct 16, 2014
<![if !supportLists]>· <![endif]>Wilson's Warbler
NIH Talk by Sally J. Rockey, Ph.D.
Hosted by Dr. David Lo
Wednesday, October 15, 2014
4:00pm – 5:30pm
SOM Education Building, Ground Level, Lecture Hall G650
UCR OFFICE OF RESEARCH AND ECONOMIC DEVELOPENT IN COLLABOPRATION WITH THE SCHOOL OF MEDICINE PRESENTS: Sally J. Rockey, Ph.D., NIH's Deputy Director for Extramural Research, serving as the principal scientific leader and advisor to the NIH Director on the NIH extramural research program.
Please join special visitor, Dr. Sally Rockey, who will be holding a special session to meet researchers on campus, especially young faculty who are either NIH funded or would like to be NIH funded. We invite you all to this special presentation to ask questions and get some ideas on grants and strategies. This will be taking place on Wednesday, October 15th at 4:00 in the SOM Education Building, Ground Level, Lecture Hall G650.
For updates on funding priorities, best strategies, and funding success over the years, please visit Dr. Rockey's "Rock Talk" blog, targeted for NIH funded or aspiring NIH-funded researchers (http://nexus.od.nih.gov/all/category/blog/)
All interested researchers are invited, including graduate students and postdoctoral fellows.
Please RSVP to marisela.martinez@ucr.edu by October 13th.
National Science Foundation Funding Seminar
Thursday, October 23, 2014
10:00am – 11:00am
Genomics Building Auditorium
Please join us for a National Science Foundation Seminar on Thursday, October 23rd at 10:00am in the Genomics Building Auditorium. Presenting will be three UCR faculty who have been program directors or division directors at NSF:
Jan Stets
Michael Allen
Michael Pazzani
Some Pragmatic Strategies for Obtaining DoD Research Funding
Suveen Mathaudhu, Ph.D.
November 14, 2014
10:00am – 11:00am
Orbach Science Library 240
Suveen Mathaudhu, a BCOE faculty member, will be holding a seminar entitled, "Knowing is Half the Battle: Some Pragmatic Strategies for Obtaining DoD Research Funding" on Friday, November 14th at 10:00 in the Orbach Science Library 240.
Mathaudhu serves as an Assistant Professor in the Mechanical Engineering Department and Materials Science and Engineering Program, where he studies the underpinning mechanisms that will make metallic materials and composites lighter and stronger. He received his Ph.D. in Mechanical Engineering from Texas A&M University in 2006. There, he studied processing methods to produce bulk nanoscrystalline and metastable metals for structural and defense applications. He subsequently served as an ORISE post-doctoral Fellow and then a Staff Scientist at the U.S. Army Research Laboratory from 2006-2010. From 2010 - 2014, he was the Program Manager for the Synthesis and Processing of Materials at the U.S. Army Research Office, and also, an Adjunct Assistant Professor in the Materials Science and Engineering Department at North Carolina State University. He is active in several technical societies, and frequently speaks and writes on science of superheroes as a broad STEM outreach tool."
NSF Improving Undergraduate STEM Education Webinars
Thursday, November 6, 2014, 11:00am – 1:00pm
Tuesday, November 11, 2014, 11:00am – 12:00pm
Thursday, November 13, 2014, 11:00am – 1:00pm
Tuesday, November 18, 2014, 11:00am – 1:00pm
Thursday, November 20, 2014, 11:00am – 1:00pm
(All will be held in UOB 210, Lunch will be served)
The National Science Foundation (NSF) has released a new program entitled, Improving Undergraduate STEM Education (IUSE). The IUSE program is designed to address the immediate challenges facing undergraduate STEM education. Proposals concerning new structures or functions of undergraduate learning, new methods for certification or credentialing, and teaching enterprise are currently being accepted.
The program features two tracks:
(1) Engaged Student Learning: This focuses on the design, development, and research involving means to increase student engagement in a measurable and lasting way; and
(2) Institutional and Community Transformation: This focuses on inventive approaches to substantially increase the dissemination of highly effective methods of STEM teaching and learning.
Two tiers of projects exist within each track: (i) Exploration and (ii) Design and Development. These tracks will entertain research studies in all areas. The IUSE program also offers support for a variety of focused innovative projects that seek to identify future opportunities and challenges facing undergraduate STEM education.
Information about IUSE can be found here.
Workshop Topics
Each workshop lasts approximately 2 hours and will focus on:
<![if !supportLists]>· <![endif]>Incorporating effective strategies into an educational proposal or
<![if !supportLists]>· <![endif]>Defining project goals, objectives, and evaluation questions or
<![if !supportLists]>· <![endif]>Working with an evaluator to develop a project evaluation plan or
<![if !supportLists]>· <![endif]>Addressing NSF's broader impacts expectations in a project or
<![if !supportLists]>· <![endif]>Designing a project for impact and transportability.
ICAM IS NOW ACCEPTING APPLICATIONS FOR POSTDOCTORAL AND SENIOR FACULTY FELLOWSHIP APPLICATIONS FOR THE 2015-2016 ACADEMIC YEAR (JULY 1, 2015 – JUNE 30, 2016).
DEADLINE: NOVEMBER 3, 2014
The Institute for Complex Adaptive Matter (ICAM) invites applications for postdoctoral and senior faculty fellow appointments tenable at ICAM branch member institutions for the academic year 2015-2016 (July 1, 2015 – June 30, 2016). These awards are intended to catalyze research and research collaborations on complex adaptive matter, by supplementing existing postdoctoral appointments or sabbatical leave support. Successful applicants are expected to carry out a research program at ICAM institutions and to participate actively in educational outreach. ICAM anticipates at least 3 postdoctoral fellows and 1 senior faculty fellow will be awarded in the fields of quantum matter, living matter, soft matter (including chemical and biochemical matter), or emergent materials for renewable energy sources.
NOTE – Postdoctoral (Senior) Fellowships have been increased to a maximum of $30,000 ($25,000) per year, with final amounts at the discretion of the Fellows Selection Committee and ICAM Board of Governors.
THE APPLICATION DEADLINE IS NOVEMBER 3, 2014
Only applications that are complete by the deadline will receive full consideration. Applications must be submitted online at http://icam-i2cam.org/index.php/awards/.
ICAM encourages women and underrepresented groups apply.
The Bill & Melinda Gates Foundation
The Bill & Melinda Gates Foundation is now inviting applications for three new Grand Challenges:
Putting Women and Girls at the Center of Development

Creating and Measuring Integrated Solutions for Healthy Birth, Growth, and Development (part of the All Children Thriving platform)

New Interventions for Global Health
Applications for these new challenges will be accepted beginning on November 4, 2014. Please also note that we are still accepting applications for six Grand Challenges Explorations topics.
For links to more information on these challenges, please visit the grant opportunity page at www.grandchallenges.org, which features a new homepage to support the next phase of Grand Challenges launched today with international partners at the 10th annual Grand Challenges meeting.
Statistical Consulting Collaboratory
The Statistical Consulting Collaboratory at UCR resides in the Department of Statistics. The primary mission of the Collaboratory is to provide UCR faculty and graduate students with an environment for collaboration in research that demands the use of quantitative methods. The Collaboratory can be called upon either for research collaborations that require the development of new statistical methods, or alternatively for immediate problem solving using state of the art methods. The Collaboratory is also open to serving off-campus clients in the same ways, and has had a number of successful relationships with external clients in government, industry and academia. The following youtube link helps us celebrate the 10th anniversary of the UCR Statistical Consulting Collaboratory with highlights from its mission.
https://www.youtube.com/watch?v=u8nhHg-zA50
Here is a handy resource from the Office of Naval Research that shows what research areas they are interested in and which program officer handles them. http://www.onr.navy.mil/en/Science-Technology/Contacts.aspx
TEDxRiverside Oct 16 2014
TEDxRiverside will be held Oct 16, 2014, from 9AM to 5PM at the Fox Performing Arts Center. Talks will include three UCR alumni
<![if !supportLists]>· <![endif]>Richard Schrock, Nobel Prize Winner in Chemistry
<![if !supportLists]>· <![endif]>Steven Breen, Pulitzer Prize Winner, Editorial Cartoonists from San Diego Union Tribune
<![if !supportLists]>· <![endif]>Patrick York, UCR MFA Alumni
Additional Speakers or Performers include Grammy Award Winner Melissa Manchester, Garner Holt, CEO of the company that does animatronics for Disney, Sally Rockey from NIH and Performance Artist Gregory Adamson. UCR and other students can save $10 by using the Offer Code Student10. UCR faculty can save $5 by using the offer Code UNEX5 See TEDxRiverside for tickets.
The fall migration is picking up in Riverside. Here's one of my favorite backyard migrants.
<![if !vml]>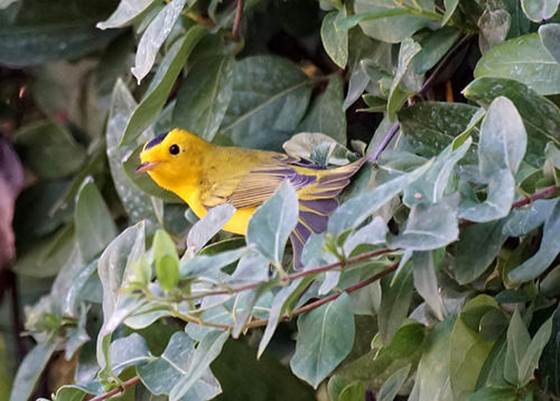 <![endif]>
Michael Pazzani
Vice Chancellor for Research and Economic Development
Professor, Computer Science & Engineering
University of California, Riverside
200 University Office Building
Riverside, CA 92521
Assistant: Linda Bejenaru
Email: VCREDadmin@ucr.edu
Michael Pazzani
Vice Chancellor for Research and Economic Development
Professor, Computer Science & Engineering
University of California, Riverside
200 University Office Building
Riverside, CA 92521
Assistant: Linda Bejenaru
Email: VCREDadmin@ucr.edu