UCR Research and Economic Development Newsletter: November 16, 2014
Michael Pazzani
Vice Chancellor for Research and Economic Development
Back Issues of Newsletter: http://research.ucr.edu/vcr/newsletters.aspx
Grant Opportunity Search: http://pivot.cos.com
<![if !supportLists]>· <![endif]>Lunchtime Research Meetings
<![if !supportLists]>· <![endif]>NSF and NIH SBIR/STTR Workshop at UCR: Dec 5
<![if !supportLists]>· <![endif]>USDA/NIFA Strategic Plan
<![if !supportLists]>· <![endif]>Defense Threat Reduction Agency Webinar: Dec 4
<![if !supportLists]>· <![endif]>DoD Research and Education Program for HBCU/MI
<![if !supportLists]>· <![endif]>What is the airspeed velocity of an unladen swallow?
<![if !supportLists]>· <![endif]>Baby Barn Swallows
In the next few weeks, I'm going to hold catered lunch time meetings for UCR faculty. The goal is to have an informal discussion on research topics that cross departments and schools and to allow faculty to meet potential collaborators. The lunches will be held in UOB 210 and consist of Thai food from a nearby restaurant. A vegetarian and a gluten-free option will be available. Lunch will be served promptly at 12 and the meetings will last until 1:30
The schedule for this year is below. Click on a link to add yourself to the lunch list for a particular date and topic.
Monday, 11/24- Spatial Science: Research on and Applications of Geographic Information: http://www.jooners.com/guest?l=48befcac-ba4e-40eb-b63a-22d7f948e519
Monday, 12/1- The Brain Initiative: http://www.jooners.com/guest?l=872b6352-3914-454f-bb6b-ed3ab132c4fb
Friday 12/12, High Speed Networking & Applications: http://www.jooners.com/guest?l=ecea823a-3614-4b29-a754-f5d78ad5b8f8. UCR received a $500K grant to up upgrade its computer network to provide faster connectivity between some buildings internal to UCR and to the external internet. Faculty that have large data sets or need to access large data sets are encouraged to attend. This will inform the design of the network and services to be rolled out in the spring.
Monday 12/22, Big Data: http://www.jooners.com/guest?l=b21d90ef-0c19-4919-b567-992d5e0bfde2. This meeting will focus on research whose goal is to derive knowledge from data.
I welcome suggestions for topics for next year, particularly those that cross schools. Collaborations between STEM fields and humanities, arts, public policy, education, medicine and agriculture are welcome.
NSF and NIH SBIR Workshop at UCR: Dec 5
UCR will host a workshop on the NSF and NIH Small Business Innovation Research (SBIR) and Small Business Technology Transfer (STTR) programs on Dec 5 from 1-3PM at the alumni and visitors center. It will feature talks by a NSF program director, a local entrepreneur invoked with the SBIR program, and a panel of UCR faculty who have been involved in these grants.
Steven Konsek: Overview of SBIR/STTR at National Science Foundation
Molly Schmid Overview of NIH SBIR/STTR programs
Panel: Xin Ge (Chemical and Environmental Engineering), Ilhem Messaoudi (School of Medicine) Frank Vahid (Computer Science and Engineering)
To encourage participation in these grant programs, UCR waives overhead on SBIR and STTR Phase I grants (when permitted by the agency). See http://research.ucr.edu/About/News.aspx?K=323
Presenter Bios
<![if !supportLists]>· <![endif]>Steven Konsek Program Director, SBIR/STTR National Science Foundation: Steven Konsek joined the National Science Foundation in September 2012 as a SBIR/STTR Program Director. Prior to joining NSF, he was the Chief Technology Officer at Illumitex, a venture-backed company developing light emitting diode chips, packages and fixtures for general illumination. He previously served as Chief of Technical Staff at Glo, recognized as one of Europe's top LED startups. Prior to Glo Steven was the Director of Device R&D at Nantero, a memory startup. Throughout his career Steven has developed innovative, game-changing technologies across a range of semiconductor applications. He has a PhD in Physics from the University of Washington and a BS in Mathematics from Purdue University. He holds numerous patents and publications in LEDs, memory, process integration and nanoscale devices.
<![if !supportLists]>· <![endif]>Molly Schmid has a distinguished career in both academia and in the biotechnology industry. She was an Assistant Professor, Molecular Biology at Princeton University, part of executive teams (Microcide Pharmaceuticals, Affinium Pharmaceuticals) that raised over $100M in funding through venture capital, corporate partnerships, public markets, and research grants. She has served on grant review panels for NIH, NSF, DoD and DoE, and has chaired SBIR/STTR review panels for NIH. Currently, she is Vice President, Life and Health Technologies, for ieCrowd, Inc. in Riverside CA. She is also a Senior Counselor for TriTech Small Business Development Center, former President of the Tech Coast Angels Inland Empire network, and a member of the TCA Board of Directors.
The National Institute of Food and Agriculture has released its strategic plan for FY2014-2018. http://www.nifa.usda.gov/about/pdfs/strat_plan_2014.pdf.
NIFA investments in research, education, and extension are currently organized within ten portfolios:
<![if !supportLists]>· <![endif]>Sustainable Agricultural Systems: Addresses human interaction between science, technology, and agriculture. Integrates the biological, physical, and environmental and socioeconomic factors essential to successful production enterprises and viable rural communities.
<![if !supportLists]>· <![endif]>Bioenergy: Supports advances in crop development, coordinated logistics, near-term commercialization in conversion technologies and products, modeling the improvement of maintaining environmental services, and evaluating social prosperity for rural communities.
<![if !supportLists]>· <![endif]>Climate Change: Supports transformational discovery, learning and outreach programs that advance the development and delivery of agricultural science and optimizes sustainable management, production, utilization and consumption of goods and services from working lands under a variable and changing climate.
<![if !supportLists]>· <![endif]>Education and Multicultural Systems: Provides leadership and administrative guidance to education grant and formula programs that serve secondary and postsecondary institutions that invest in students and institutions which promote national and global well-being in the food and agriculture science systems.
<![if !supportLists]>· <![endif]>Environmental Systems: Supports scientific research, education and extension that involves air, water, soil, natural resources, and biodiversity in order to advance the sustainability of agricultural, forest, and range production systems.
<![if !supportLists]>· <![endif]>Family and Consumer Sciences: Supports the human and social dimensions of food and agricultural sciences.
<![if !supportLists]>· <![endif]>Food Safety: Ensures a safe and high quality food supply through funding of research, education, and extension activities and efforts by partners and stakeholders; sets national priorities; and provides guidance, management and oversight of these activities
<![if !supportLists]>· <![endif]>Human Nutrition: Develops the research base for guidance on diet and physical activity and develops and implements effective educational and environmental strategies to improve the Nation's health by providing leadership for strong research, education and extension.
<![if !supportLists]>· <![endif]>International Programs: Assists in strengthening the international dimension of NIFA and its U.S. university partners in order to help USDA achieve its food security objectives.
<![if !supportLists]>· <![endif]>Youth Development: Advances research-based youth development and 4-H through the science of engagement, learning and change to create a better future for our nation and the world.
Defense Threat Reduction Agency Webinar: Dec 4
The Defense Threat Reduction Agency (DTRA) is an agency within the United States Department of Defense that supports research on countering weapons of mass destruction (chemical, biological, radiological, nuclear, and high explosives). DTRA's main functions are threat reduction, threat control, and technology development. A new Broad Agency Announcement will come out on Dec 1. On Dec 4, DTRA will hold a webinar to discuss this year's basic research directions.
Thursday, December 4, 2014 at 10:00am PST (includes a live Q&A)
Covered Topics and What You Can Expect:
Introduction to DTRA mission and its Research and Development goals and objectives.

Review of the 1 December 2014 Basic Research BAA: eligibility, time-lines, award types and sizes.

Review by the portfolio manager of each Basic Research topic advertised in 1 December 2014 BAA.

Question and Answer session on specific research topics and overall BAA eligibility, time-lines, award structure.
Who should attend?
Innovators from universities or industry seeking funding for basic research in collective efforts to combat WMD. This can include: university chief research officers and professors, directors of economic development, corporate business development directors and researchers, and academic liaisons.
Hosts: Mr. Robert Kehlet and Dr. Viktoria Greanya
Cost is Free, but registration required.
This series is online. You need a computer with web access for the visual/audio. Questions are sent in via a chat box to the speakers. Register here: https://www.signup4.net/public/ap.aspx?EID=BAAW11E&OID=50
For more info on DTRA see http://www.dtra.mil/Research.aspx
DoD Research and Education Program for Historically Black Colleges and Minority-Serving Institutions (HBCU/MI)
UCR is eligible as a HSI to submit up to three $600,000/3-year proposals to the Department of Defense (DoD) program described at http://www.arl.army.mil/www/default.cfm?page=8.
To select the three most competitive proposals, Office of Research and Economic Development requests by Dec. 4, 2014 an internal preproposal at http://research.ucr.edu/ord/limitedsubmissions.aspx Please include any encouraging communications from DoD officials in your limited submission prepropsoal.
This program supports awards up to $200,000 per year for three years will support projects to (a) enhance research programs and capabilities in scientific and engineering disciplines critical to the national security functions of the DoD; (b) enhance the capacity of an HBCU/MI to participate in DoD research programs and activities; and (c) increase the number of graduates, including underrepresented minorities, in fields of science, technology, engineering, and mathematics (STEM) important to the defense mission.
Projects must be for basic research but can be in any topic area of interest to DOD. Projects must be conducted by a single PI working within his/her institution (no outside collaborations) and include student involvement. Each proposal must request support for at least two—but no more than four—students. These may be undergraduate students, graduate students (including post-doctoral associates), or a combination. Student support may include full or partial tuition, stipends, fees, and other justified expenses. Awards will not fund equipment.
The Army will award a total of $18 million acting on behalf of all of DoD: Army Research Office (ARO), Office of Naval Research (ONR), and the Air Force Office of Scientific Research (AFOSR). Proposals selected to go forward must be submitted to DOD by January 15, 2015.
What is the airspeed velocity of an unladen swallow?
I attended the production of production of Spamalot by UCR's Theater department at University Theatre, Humanities 400 this weekend and highly recommend it. The final three shows are November 20th, 21st, and 22nd at 8PM. Tickets are free for students and $14 general admission.
Details at http://events.ucr.edu/cgi-bin/display.cgi?event_id=41967
Someday, I hope to see a European and an African Swallow. Here are some barn swallows from New Jersey.
<![if !vml]>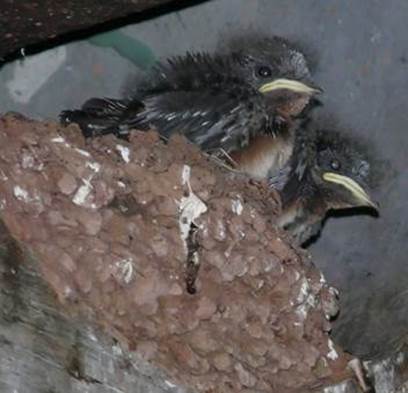 <![endif]>
(click to enlarge)

Michael Pazzani
Vice Chancellor for Research and Economic Development
Professor, Computer Science & Engineering
University of California, Riverside
200 University Office Building
Riverside, CA 92521
Assistant: Linda Bejenaru
Email: VCREDadmin@ucr.edu
Michael Pazzani
Vice Chancellor for Research and Economic Development
Professor, Computer Science & Engineering
University of California, Riverside
200 University Office Building
Riverside, CA 92521
Assistant: Linda Bejenaru
Email: VCREDadmin@ucr.edu