UCR Research and Economic Development Newsletter: Feb 1, 2015
Michael Pazzani
Vice Chancellor for Research and Economic Development
Back Issues of Newsletter: http://research.ucr.edu/vcr/newsletters.aspx
Grant Opportunity Search: http://pivot.cos.com
<![if !supportLists]>∑ <![endif]>ONR Young Investigators 2015
<![if !supportLists]>∑ <![endif]>James S. McDonnell Foundation: Scholar Award in Studying Complex Systems
<![if !supportLists]>∑ <![endif]>In case you missed it: Collaborative Seed Grant Program
<![if !supportLists]>∑ <![endif]>In case you missed it: Cluster Hiring: Provost Announcement
<![if !supportLists]>∑ <![endif]>Cedar Waxwing
The Office of Naval Research has announced the 2015 opportunity for Research Young Investigator Program (YIP) which funds early-career investigators up to $170,000 per year for three years, plus equipment in year one if needed. http://www.onr.navy.mil/~/media/Files/Funding-Announcements/BAA/2015/15-0006.ashx
Deadline: March 4, 2015.
To be eligible you must be: 1) A U.S. citizen, national, or permanent resident as of the proposal due date, 2) in your first or second tenure-track appointment, and 3) have been appointed to your first tenure-track appointment after November 1, 2009. All three criteria are required.
ONR YIPs are competitive and prestigious; last yearís win rate was 8.5% (24/280).
The ultimate recommendation for award of proposals is made by ONR's scientific/technical community.
Here is a handy resource from the Office of Naval Research that shows what research areas they are interested in and which program officer handles them. http://www.onr.navy.mil/en/Science-Technology/Contacts.aspx In general, it is a good idea to discuss a proposal with an ONR program officer before submitting and a one page white paper is a good way of making initial contact.
James S. McDonnell Foundation: Scholar Award in Studying Complex Systems
March 11, 2015 deadline to submit.
https://www.jsmf.org/apply/scholar-cs/
The Scholar Awards program's emphasis is furthering the science of complex systems via the continued development of the theory and tools used in the study of complex research questions and not on particular fields of research per se. JSMF is particularly interested in projects attempting to apply complex systems approaches to coherently articulated questions.
Scholar Awards in Complex System Science ( Scholar Awards-CS) provide largely unrestricted funding over a sufficient time period ($450,000 paid in three (3) $150,000 payments; funds expendable in no less than 3 and no more than 6 years) to allow investigators to pursue and develop new directions to their research programs. Eligible Scholar Award principal investigators must have completed all doctoral, postdoctoral, or fellowship training and hold an independent research position. James S. McDonnell Scholar Awards are not intended to serve primarily as career development awards -- the intent is to allow creative researchers to pursue important research. It is anticipated that successful Scholar-Award applications will have principal investigators between 5 and 15 years post Ph.D. Researchers with prior grant support from JSMF are not eligible for consideration for a Scholar Award-CS.
Proposals will be evaluated by this review panel.
Reviewing past recipients can be informative.
Collaborative Seed Grant Program
The Office of Research and Economic Development (RED) is pleased to announce the continuation of the Collaborative Seed Grant Program. The grants are internal funds for UCR faculty teams to collaborate and publish in advance of proposing multi-investigator projects and centers to external agencies. Teams with seed funding who generate preliminary results and gain experience working jointly have proven more successful when they later compete for multi-investigator and/or multidisciplinary grants.
PURPOSE
Serving as a catalyst for UCR faculty to form new teams, the seed grant program is intended to initiate new intellectual directions for faculty and to make UCR more competitive for multidisciplinary grants. Selection criteria for seed grants reward projects that create new relationships and synergies across schools, departments or centers. Key considerations include whether the project can be leveraged toward new externally-funded research, and whether the project cannot be otherwise initiated using regular department or school resources. An ideal project would apply for external funding within 6-12 months following seed funding.
TYPES OF AWARDS
Large Project Seed Grants: Enable a team of two or more UCR faculty to obtain initial results or data to prepare for a center grant, defined as at least 3 UCR faculty and 4 UCR graduate students. Examples include NIH program project (P-50) grants, NSF Science and Technology Centers, NSF Engineering Research Centers, DOE Manufacturing Centers, NEH Summer Institutes, or USDA/NIFA Coordinated Agricultural Project, etc. Large Project seed grants have a maximum budget of $75,000 and funds may be spent from July 1, 2015-June 30

,2016

.

Small Project Seed Grants: Enable a team of two or more UCR faculty to obtain initial results or data that will make them more competitive for any peer-reviewed federal program. A typical Small Project grant would include summer support for a graduate student plus supplies. . Small Project seed grants have a maximum budget of $10,000 and funds may be spent from July 1, 2015- December 31, 2015.
ELIGIBILITY
Proposals are invited from all UCR individuals eligible to serve as a Principal Investigator. (For additional information on PI eligibility see Policy #527-3.) Although external collaborations with universities or companies are encouraged, seed funded projects must involve at least two UCR faculty (a PI and at least one UCR co-PI) and funds may not be used to support outside institutions. A faculty member may participate in multiple seed proposals but should serve as lead PI on no more than one. A faculty PI on an award made through the Large Collaborative Seed Grant Program in 2014 cannot apply as PI in 2015
USE OF FUNDS
Funds may be used for any activity directly related to the conduct of the research, e.g. salaries and benefits for students, postdocs, or research scientists, research supplies, equipment/facility recharge, etc. Funds may not be used for faculty summer salaries, administrative staff, course buyouts, seminar speakers, consultants, conferences, or travel, except to federal agencies or proposer workshops. Small project seed grants will receive all funding at the start of the project. Large project seed grants will receive 50% of funds to initiate the project, with the remainder made available upon completion and approval of a brief report on project status. All funds must be expended by the end of the project period. To focus on projects that can make rapid progress, unexpended funds will be returned.
DEADLINES
The internal proposal deadline for both Large and Small Seed Grants is March 1, 2015.
PROGRESS TRACKING AND REPORTING
Awardees of Large Grants are required to submit both a brief interim report to release the remaining 50% of the funds and a final project report within 60 days of the award period end. Small Grant awardees are required only to submit a final project report within 60 days. The final project report should include the results of the research, a financial statement and plans or efforts underway to obtain external funding. Lack of timely reporting may result in exclusion from future award opportunities.
PIs and Co-PIs will be ineligible for future seed grants until an application based on the seed grant is submitted to a federal agency.
REVIEW PROCESS
Proposals will be reviewed by UCR faculty with comments returned to explain funding decisions. The alignment of projects with the goals of innovation and high impact, and the feasibility of completing the project and submitting a collaborative grant proposal are evaluation priorities. Proposals that are disruptive, use technology in new ways, or launch entirely novel approaches are specifically encouraged. The assessment will consider the extent of inter-disciplinary and inter-departmental collaboration as well as the potential for subsequent extramural funding. Deans of the PI and co-PIs also will be asked for input on the importance of the project for their school.
APPLICATION FORMAT
Bearing in mind that not all reviewers will have an extensive knowledge of their field of inquiry, faculty should use proposal language accessible to the most faculty. Both types of Seed Grant proposals use the same application format:
Application Form

Research Plan - No more than 3 pages, single-spaced, 12 point font with one-inch margins. Typical proposals should include: a brief introduction and one-year objectives, research plan - specific aims and methodology, anticipated results, and, if relevant, outcomes of previous submissions and needs for preliminary data.

External Funding Target: What specific federal funding opportunity will be targeted for subsequent funding? What is the proposed timeline for applying for external funding? Projects that do not indicate a specific opportunity will be returned without review.

Budget with breakdown of cost categories.

CVs (no more than 2 pages for each investigator).
APPLICATION SUBMISSION
Applications should be submitted through the "EasyChair" system at https://easychair.org/conferences/?conf=csgp2015
Questions on the EasyChair application system should be directed to Linda Bejenaru at VCREDadmin@ucr.edu or 951-827-4800
Provost Announcement: Cluster Hiring
UCR Faculty Hiring Program: Call for Proposals
December 2014
Overview:
To accelerate its rise, UCR needs to grow and to develop critical mass in areas of importance to California, the nation and the world. We plan to add 300 faculty between 2014 and 2020. This is an unprecedented opportunity for UCR, and it is essential that we use it to grow not only in size, but in quality as well. It is equally essential that we work to build a faculty that better represents the diversity of our student body.
An initial round of new multi-year recruitments will be authorized in the spring of 2015 according to a competitive proposal process. Recognizing that needs can be defined at different levels, and that good ideas can come from many places, proposals can be submitted by individuals, teams, departments/centers, or schools/colleges.
Objectives:
The overall objective is to advance towards the goals of the UCR 2020 plan, including enhancing UCRís performance on AAU membership metrics. To do this, we need to:
1. Hire scholars with promise for excellence in both research and teaching.
2. Build nationally visible programs.
3. Diversify the UCR faculty.
Proposals:
Proposals may be submitted by individuals, groups of faculty, or organized units such as departments, centers, schools, and colleges. Proposals must be submitted using the template below. Individuals and groups contemplating submitting a proposal are strongly encouraged to discuss the proposal with the relevant chairs, directors and deans, as support from those levels will be taken into account in allocation decisions. They should also consult the Vice Chancellor for Research and Economic Development to consider wide fit and support.
Process:
Proposals will be reviewed by the Deanís council as well as by a faculty panel convened by the VCRED and including representation from the Senate. Final decisions will be made by the Provost/EVC in consultation with these groups.
<![if !supportLists]>∑ <![endif]>Individual deans will be asked to prioritize proposals that include hires in their respective schools/colleges.
<![if !supportLists]>∑ <![endif]>After an initial review, the Provost and VCRED may request revised versions of some proposals, or recommend the combination of proposals that appear to overlap or complement one another.
Criteria: Proposals will be evaluated according to the following criteria:
<![if !supportLists]>∑ <![endif]>Potential of attracting exceptional recruits.
<![if !supportLists]>∑ <![endif]>Likelihood of increasing performance on appropriate competitive metrics (e.g. prestigious fellowships, federal funding, etc.).
<![if !supportLists]>∑ <![endif]>Potential to bring programs into the top quintile nationally.
<![if !supportLists]>∑ <![endif]>Potential to put UCR at the leading edge of emerging fields.
<![if !supportLists]>∑ <![endif]>Likely contribution to faculty diversity.
<![if !supportLists]>∑ <![endif]>Synergy with existing programs.
Timetable:
<![if !supportLists]>∑ <![endif]>Meetings to answer questions about proposals and process: January 2015
<![if !supportLists]>∑ <![endif]>Proposals due in Deansí Offices: February 27, 2015
<![if !supportLists]>∑ <![endif]>Proposals due in Provostís Office: March 13, 2015
<![if !supportLists]>∑ <![endif]>Initial allocations will be made by May 1, 2015.
Proposal Submission Template
NOTE: Maximum proposal length is three pages (12 point font). If more information is required, you will be asked to submit additional material. Submit proposals in .pdf format to Elaine Winn at elaine.winn@ucr.edu
Title of Proposal:
Main Contact (with email address):
Goal: (in one sentence):
Describe the research area in up to 2 pages. Please address:
<![if !supportLists]>∑ <![endif]>The future importance of the research area.
<![if !supportLists]>∑ <![endif]>The assets UCR already possesses that will contribute to building a leading program.
<![if !supportLists]>∑ <![endif]>Whether the proposal cross departments or schools/colleges, or is aimed at a single unit. (please provide approval lines with signatures for the relevant leaders).
State the number of hires requested at the assistant, associate, full levels and rationale; salary and startup for each hire; and the timetable for hiring (maximum of three years).
Can the hires be accommodated by reallocating the proposing unitsí current space, or does the plan rely upon an additional allocation of space? If more space is needed, how much, and of what type (office, dry lab, wet lab, etc.)?
What measures are envisioned in this proposal to attract a diverse pool? What have the units involved already done to increase the diversity of the faculty?
Cedar Waxwing
Hereís two photos of a cedar waxwing from my backyard. Flocks of these birds spend the winter in the riverside area, feasting on toyon and other berries
<![if !vml]>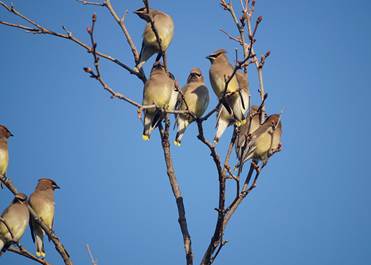 <![endif]>
<![if !vml]>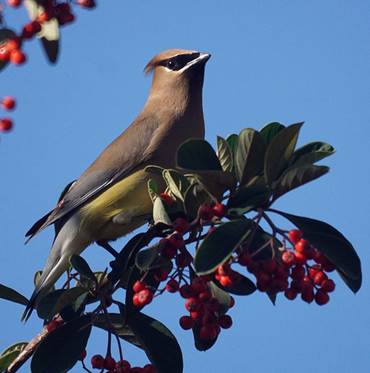 <![endif]>

Michael Pazzani
Vice Chancellor for Research and Economic Development
Professor, Computer Science & Engineering
University of California, Riverside
200 University Office Building
Riverside, CA 92521
Assistant: Linda Bejenaru
Email: VCREDadmin@ucr.edu