UCR Research and Economic Development Newsletter: Feb 7, 2015
Michael Pazzani
Vice Chancellor for Research and Economic Development
Back Issues of Newsletter: http://research.ucr.edu/vcr/newsletters.aspx
Grant Opportunity Search: http://pivot.cos.com
<![if !supportLists]>· <![endif]>National Science Foundation Research Traineeship Program (NRT)
<![if !supportLists]>· <![endif]> NSF Budget for 2016
<![if !supportLists]>· <![endif]> (FY) 2016 Budget Request for Federal Research, Health, and Education Programs
<![if !supportLists]>· <![endif]>ExxonMobil – The Outlook for Energy: A View to 2040: Feb 10, 2015
<![if !supportLists]>· <![endif]>Acorn Woodpecker
National Science Foundation Research Traineeship Program (NRT)
The National Science Foundation has released Program Solicitation 15-542, National Science Foundation Research Traineeship Program (NRT). UCR is allowed to submit three and the internal deadline is March 5, 2015. See http://research.ucr.edu/ord/SearchOr.aspx?k=2126965696&ae=A.
The NRT is substantially different than last year (and its predecessor the IGERT).
<![if !supportLists]>· <![endif]>NRT has introduced Innovations in Graduate Education (IGE) Track (2–3 years, up to $300,000–$500,000) dedicated solely to piloting, testing, and evaluating bold, new graduate-education approaches, models.
<![if !supportLists]>· <![endif]>The Traineeship Track is the more traditional training grant, (maximum 5 years, $3.0 million), and provides funds for graduate students in high-priority interdisciplinary research areas.
<![if !supportLists]>· <![endif]>One high priority is "Data-Enabled Science and Engineering (DESE)" and at least one Traineeship track proposal must be in this area.
<![if !supportLists]>· <![endif]>Unlike last year, one traineeship proposal outside of Data-Enabled Science and Engineering (DESE) may be submitted.
NSF (and other agencies) is also placing increasing emphasis on integrating evidence based strategies into the educational program and conduct "Robust formative assessment that is central to the traineeship and routinely informs and improves practice."
The NRT is a prestigious award with a low acceptance rate. Those wanting to apply are encouraged to read the solicitation thoroughly and make sure they can address all issues.
The solicitation is available at http://www.nsf.gov/publications/pub_summ.jsp?WT.z_pims_id=505015&ods_key=nsf15542.
I've attached the National Science Foundation Budget for FY2016. It's a long document, but it contains detailed information on emerging priority areas. It also contains references to reports on the motivations behind these priority areas. Both of these are useful in preparing now for competition that will come up a year from now.
The news NSF priority areas in the FY 2016 budget request include:
Understanding the Brain is a $144 million investment that is a component of the President's BRAIN Initiative.

Innovations at the Nexus of Food, Energy, and Water Systems is a $75 million investment aimed at increasing understanding of the effects of growing populations on food, energy and water resources.

Risk and Resilience is a $58 million investment in research focused on developing resilient response systems for manmade and natural disasters.

NSF Inclusion across the Nation of Communities of Learners that have been Underrepresented for Diversity in Engineering and Science (INCLUDES) is a $15 million initiative to develop scalable concepts for collaboration efforts to address diversity in these fields.
Existing priority areas that continue include Clean Energy Technology, Cyber-enabled Materials, Manufacturing, and Smart Systems (CEMMSS) , Cyberinfrastructure Framework for 21st Century Science, Engineering, and Education (CIF21), Research at the Interface of Biological, Mathematical, and Physical Sciences (BioMaPS), Science, Engineering, and Education for Sustainability (SEES) and Secure and Trustworthy Cyberspace (SaTC).
If you look deeper into the budget, you may find areas which are not necessarily a major national priority that the president announces in the state of union speech, but are aligned with your research area. Some examples that UCR may tap into include:
<![if !supportLists]>· <![endif]>Urban Science ($7.50 million) investments will focus on the research and development of critical infrastructure and applications, which address pressing urban challenges, such as sustainability, livability, and equity, through both fundamental research and translational research that is supported via partnerships.
<![if !supportLists]>· <![endif]>Synthetic Biology (approximately $60 million) investments support the design and construction of new biological components as well as the redesign of existing natural biological systems for tailored purposes (e.g., improving the efficiency of photosynthesis for clean energy generation, or introducing the ability of economically important crop plants to fix nitrogen thereby eliminating dependence on environmentally damaging fertilizers).
<![if !supportLists]>· <![endif]>In the NRT program, the priority research theme area for FY 2014 and FY 2015 addresses fundamental challenges advancing computation- and data-enabled science and engineering. Proposals for FY 2016 will be solicited in two additional NSF-wide priority research areas: Innovations at the Nexus of Food, Energy, and Water Systems (INFEWS) and Understanding the Brain (UtB).
Reports referenced within the budget provide a summary of the foundations of a field and often report on key questions for future research. For examples
<![if !supportLists]>· <![endif]>In May 2014, DMR sponsored a workshop on "Combinatorial Approaches to Functional Materials," which focused on challenges and opportunities to maximize the impact of theoretical and experimental combinatorial materials science to the Materials Genome Initiative. This workshop identified grand challenges for combinatorial materials research, assessing current practice to determine the approach, costs, risks, timescales, and payoffs in going forward. (see http://www.appliedmaterials.com/company/news/events/workshop-on-combinatorial-approaches-to-functional-materials)
<![if !supportLists]>· <![endif]>BCS and the Division of Physics within the Directorate for Mathematical and Physical Sciences (MPS) sponsored a workshop, Quantitative Theories of Learning, Memory and Prediction, in May 2014. This workshop brought together experts in theoretical physics, computational modeling, data acquisition, and cognitive neuroscience to discuss and identify the next frontiers in theoretical models of higher order cognitive processes. The results of this workshop will inform the division's investments in Understanding the Brain.
Exxon Mobil – The Outlook for Energy: A View to 2040
Who: Paul L. Tanaka & Tahmid Mizan
When: Tuesday, February 10, 2015, 1:00-2:00 p.m.
Where: UCR CE-CERT
1084 Columbia Ave., Riverside, conference room 105
Free & Ample Parking
You are invited to attend this seminar being given by ExxonMobil about "The Outlook for Energy: A View into 2040". No RSVP is needed..
Here's a photo of an Acorn Woodpecker with an acorn from Bonelli Park. Acorn Woodpecker groups spend large amounts of time storing acorns in holes drilled into a single tree. In the Riverside area, they can often be found in palm trees.
<![if !vml]>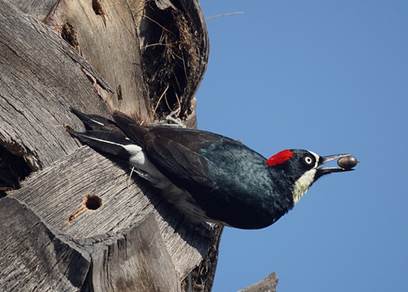 <![endif]>
(click to enlarge)
Michael Pazzani
Vice Chancellor for Research and Economic Development
Professor, Computer Science & Engineering
University of California, Riverside
200 University Office Building
Riverside, CA 92521
Assistant: Linda Bejenaru
Email: VCREDadmin@ucr.edu
Michael Pazzani
Vice Chancellor for Research and Economic Development
Professor, Computer Science & Engineering
University of California, Riverside
200 University Office Building
Riverside, CA 92521
Assistant: Linda Bejenaru
Email: VCREDadmin@ucr.edu