UCR Research and Economic Development Newsletter: March 6, 2015
Michael Pazzani
Vice Chancellor for Research and Economic Development
Back Issues of Newsletter: http://research.ucr.edu/vcr/newsletters.aspx
Grant Opportunity Search: http://pivot.cos.com
<![if !supportLists]>· <![endif]>US Department of Education FY 2015 GAANN Program Competition Update
<![if !supportLists]>· <![endif]>Funding for Food and Agriculture Research
<![if !supportLists]>· <![endif]>Grant Opportunities from the Gates Foundation and its Partners
<![if !supportLists]>· <![endif]>Meetings with Lewis-Burke – March 16 & 17
<![if !supportLists]>· <![endif]>Federal Funding Priorities
<![if !supportLists]>· <![endif]>Navigating Software Intellectual Property in a Research Environment – March 18th at 3:10pm
<![if !supportLists]>· <![endif]>How to Write a Winning NSF CAREER Proposal – March 24th at 11:00am
<![if !supportLists]>· <![endif]>Proof of Concept Funds for Technology Commercialization Program – Deadline April 15, 2015
<![if !supportLists]>· <![endif]>TEDxUCRLive March 17th at 8:30am and 1:00pm
<![if !supportLists]>· <![endif]>Keel-billed Toucan
US Department of Education FY 2015 GAANN Program Competition Update
Here is the latest update on the Graduate Assistance in Areas of National Need (GAANN). A competition for GAANN is anticipated in the spring of 2015 with an estimated 130 new awards being made in late summer 2015.
The GAANN Program provides awards for fellowships, through academic departments, to assist graduate students with excellent records who demonstrate financial need and plan to pursue the highest degree available in their courses of study at the institutions in a field designated as an area of national need..
USDA Announces More Than $160 Million Available in Funding for Food and Agriculture Research, Education, and Extension
The U.S. Department of Agriculture's (USDA) National Institute of Food and Agriculture (NIFA) announced the availability of more than $160 million in funding for research, education, and extension projects that address key challenges affecting U.S. agriculture production. NIFA will fund the awards through the Agriculture and Food Research Initiative (AFRI).
"The Agriculture and Food Research Initiative was created to find innovative solutions to the challenges we face as a society, such as hunger and food security, health, climate, food safety, and bioenergy," said Sonny Ramaswamy, NIFA director. "We are now in AFRI's sixth year, and already the program has made strides in advancing agricultural science. I am extremely proud of the work NIFA has funded thus far, and excited to see what groundbreaking research, education, and extension projects will result from this year's funding. These projects provide funding for the critical research, training, and assistance that ultimately strengthens rural America and our economy."
NIFA released six separate requests for applications (RFA) through the AFRI program. Five RFAs will support AFRI's challenge areas: food security, water, childhood obesity prevention, food safety, and climate. The challenge areas fund integrated, applied science that seek to find solutions to societal challenges that impact our ability to feed, clothe, and shelter a rising global population. An additional RFA for the AFRI Foundational program will addresses the six Farm Bill priority areas: 1) plant health and production and plant products; 2) animal health and production and animal products; 3) food safety, nutrition and health; 4) bioenergy, natural resources and environment; 5) agriculture systems and technology; and 6) agriculture economics and rural communities.
Fiscal Year 2015 AFRI RFAs include:
Foundational Program
This program builds a foundation of knowledge in fundamental and applied food and agricultural sciences that are critical for solving current and future societal challenges. The program funds work across all six Farm Bill priority areas.
$116 million
Water – The Water challenge area focuses on developing solutions for water management that link food, water, climate, energy, and environmental issues. Funding will be used to develop management practices, technologies, and tools for farmers, ranchers, forest owners, and citizens to improve water resource quantity and quality.
$9 million
Food Safety – The goal of this program is to further develop and promote the use of innovative and sustainable food processing technologies and better understand, characterize, and mitigate antimicrobial resistance across the food chain, from farm-to-fork.
$6 million
Agricultural and Natural Resources Science for Climate Variability and Change – In fiscal year 2015, NIFA will accept applications that support research to facilitate the adaptation of agroecosystems and natural resource systems to climate variability and the implementation of mitigation strategies in those systems. NIFA is soliciting proposals in three program areas: 1) climate and microbial processes in agroecosystems, 2) climate resilient land use for agriculture and forestry, and 3) synthesis and assessment of NIFA's climate investments.
$5 million
Childhood Obesity Prevention – Fiscal year 2015 funding is focused on generating new knowledge of behavioral, social, and environmental factors that influence childhood obesity. This knowledge should be used to develop and implement effective interventions for preventing overweight and obesity and promoting healthy behaviors in children and adolescents. The program focuses on prevention of weight gain and does not fund projects to promote weight loss.
$6 million
Food Security – This program's goal is to develop more sustainable, productive, and economically viable plant and animal production systems. It will also develop regionally-adapted crop cultivars and livestock breeds that contribute to rural economic development and prosperity while enhancing food security.
$16 million
Application deadlines vary by program area. See the request for application for more details. NIFA released the AFRI Food Security Challenge Area RFA on January 30, 2015 in a separate announcement.
The purpose of AFRI is to support research, education, and extension work by awarding grants that address key problems of national, regional, and multi-state importance in sustaining all components of food and agriculture. AFRI is NIFA's flagship competitive grant program authorized under the 2014 Farm Bill and supports work in six priority areas: 1) plant health and production and plant products; 2) animal health and production and animal products; 3) food safety, nutrition and health; 4) bioenergy, natural resources and environment; 5) agriculture systems and technology; and 6) agriculture economics and rural communities.
The 2014 Farm Bill requires NIFA to establish Centers of Excellence for food and agricultural research, education, and extension. Applicants who meet the requirements of this funding opportunity are also eligible to apply for Center of Excellence designation as part of their grant application, which gives them priority consideration during the external peer review process. Information on applying for this designation can be found in the RFA.
Through federal funding and leadership for research, education and extension programs, NIFA focuses on investing in science and solving critical issues impacting people's daily lives and the nation's future. More information is at: http://www.nifa.usda.gov/
Grant Opportunities from the Gates Foundation and its Partners
(Courtesy of Bryan Carlson, Executive Director of Foundation Relations, Office of Development, University Advancement)
The Gates foundation and its Grand Challenges partners are now accepting applications for the following grant programs – for more information please visit the grant opportunities page at www.grandchallenges.org
<![if !supportLists]>1. <![endif]>Grand Challenges Explorations, an initiative to encourage innovative and unconventional global health and development solutions, is now accepting grant proposals for its latest application round. Applicants can be at any experience level; in any discipline; and from any organization, including colleges and universities, government laboratories, research institutions, non-profit organizations and for profit companies.
Proposals are being accepted online until May 13, 2015 on the following topics:
<![if !supportLists]>• <![endif]>Addressing Newborn and Infant Gut Health Through Bacteriophage-Mediated Microbiome Engineering
<![if !supportLists]>• <![endif]>Explore New Ways to Measure Delivery and Use of Digital Financial Services Data
<![if !supportLists]>• <![endif]>Surveillance Tools, Diagnostics and an Artificial Diet to Support New Approaches to Vector Control
<![if !supportLists]>• <![endif]>New Approaches for Addressing Outdoor/Residual Malaria Transmission
<![if !supportLists]>• <![endif]>Reducing Pneumonia Fatalities Through Innovations that Improve Pneumonia Diagnosis & Referral of Malnourished Children
<![if !supportLists]>• <![endif]>Enable Merchant Acceptance of Mobile Money Payments
Initial grants will be US $100,000 each, and projects showing promise will have the opportunity to receive additional funding of up to US $1 million. Full descriptions of the new topics and application instructions are available at www.grandchallenges.org
<![if !supportLists]>2. <![endif]>Saving Lives at Birth: A Grand Challenge for Development has launched its fifth round for innovative prevention and treatment approaches for pregnant women and newborns in poor, hard-to-reach communities around the world. Saving Lives at Birth partners will fund transformative approaches that cut across three main domains: (i) science & technology, (ii) service delivery, and (iii) demand-side innovation.
The application deadline is March 27, 2015. Details on how to apply for a grant can be found at http://response.notifications.gatesfoundation.org/t?ctl=4C60472:9A01FFCB050D87A01F486439EB6590762B785AAF7A4109CC&
<![if !supportLists]>3. <![endif]>All Children Reading: A Grand Challenge for Development has launched two grant opportunities:
- As part of the Technology to Support Education in Crisis and Conflict Settings Ideation Challenge, it is seeking technology-supported approaches to provide basic education in one or more of the following situations: health crisis, natural disaster, and conflict zone. Proposed solutions should be usable within the first six months after the onset of the crisis or conflict and be usable within the context of a developing country.
The application deadline is March 30, 2015. Details on how to apply can be found at http://response.notifications.gatesfoundation.org/t?ctl=4C60473:9A01FFCB050D87A01F486439EB6590762B785AAF7A4109CC&
- The Tracking & Tracing Books Prize Competition is seeking innovations to track books destined for early-grade classrooms and learning centers in low-income countries and allow stakeholders, ranging from parents to Ministries of Education and donor agencies, to quickly and easily access tracking information.
The application deadline is April 1, 2015. Details on how to apply for a grant can be found at http://response.notifications.gatesfoundation.org/t?ctl=4C60474:9A01FFCB050D87A01F486439EB6590762B785AAF7A4109CC&
<![if !supportLists]>4. <![endif]>The Global Health Innovative Technology Fund (GHIT) as part of its new Grand Challenges Japan initiative has launched a Target Research Platform to fund bold ideas in drugs, vaccines, and diagnostics for a set of priority neglected infectious diseases. Applications must be from a partnership between Japanese and non-Japanese organizations.
The application deadline is March 13, 2015. Additional Information can be found at http://response.notifications.gatesfoundation.org/t?ctl=4C60475:9A01FFCB050D87A01F486439EB6590762B785AAF7A4109CC&
Meetings with Lewis-Burke (Funding Consultants) March 16 & 17
UCR works with Lewis-Burke, a DC based firm which monitors federal funding and provides guidance on federal funding. Representatives will be on campus to discuss funding strategies and availability on a variety of topics. Faculty are welcome and encouraged to attend any session that is of interest to them. The schedule is below. If you would like more information please contact Rebeccah Goldware at goldware@ucr.edu.
Monday, March 16
| | |
| --- | --- |
| 9:00am - Hinderaker 1127 | Translational Science for Diverse Populations |
| 11:30am - CE-CERT | Smart Grid |
| 1:30pm - UOB 210 | Water Quality and Access |
| 2:30pm - UOB 210 | Elimination of Vector Born Diseases |
| 4:00pm - Batchelor Hall 2158 | Food and Agriculture |
Tuesday, March 17, 2015
| | |
| --- | --- |
| 9:00am - UOB 210 | Aging Research |
| 10:00am - UOB 210 | Science of Science Policy |
| 12:30p - Sproul Hall 1215 | Education Research |
| 2:00pm - UOB 210 | Astronomy |
| 3:00pm - UOB 210 | Drought Tolerant Agriculture |
| 4:00pm - Chem. Sciences 231 | Material Science & Engineering |
I have attached a 65 page report by Lewis-Burke on Federal Funding Priorities. Below are a few of the highlights applicable to UCR, but the full report contains more information and detail.
<![if !supportLists]>· <![endif]>HRSA: New Diversity Program at the Health Resources and Services Administration (HRSA) The Presidentfs budget request would provide $14 million at HRSA for a new workforce program to increase diversity in healthcare professions.
<![if !supportLists]>· <![endif]>National Endowment for the Humanities While the budget request would provide a 1.3 percent increase overall for NEH, the request demonstrates a significant shift in NEH programmatic priorities to support the new initiative titled, gThe Common Good: The Humanities in the Public Square.h As more resources are requested for the Common Good initiative, the NEH gBridging Cultures: Understanding the U.S. and the Worldh initiative would be phased out. Initial programs and activities planned for The Common Good include:
<![if !supportLists]>o <![endif]>Standing Together: The Humanities and the Experience of War initiative launched last year, which supports humanities projects focusing on the experience of war and military service.
<![if !supportLists]>o <![endif]>The launch of the new Public Scholar Program to encourage engagement in humanities research and writing for the broader public.
<![if !supportLists]>o <![endif]>The creation of the Humanities Open Book program through a partnership with the Andrew W. Mellon Foundation to make out]of]print humanities books available for free.
<![if !supportLists]>o <![endif]>The creation of the Our Common Heritage program, which will support community efforts to
<![if !supportLists]>o <![endif]>digitize cultural heritage materials.
<![if !supportLists]>· <![endif]>NSF
<![if !supportLists]>o <![endif]>Innovations at the Nexus of Food, Energy, and Water Systems (INFEWS) The new INFEWS initiative would be supported at $75.0 million for FY 2016. INFEWS is an NSF]wide interdisciplinary initiative that aims to understand, design, and model the interconnected food, energy, and water systems. INFEWS builds on previous NSF investments such as the Science, Engineering, and Education for Sustainability (SEES) initiative, and includes all areas of science and engineering to address the relevant natural, social, and human]built factors. NSF expects to create a new INFEWS program as well as issue individual dear colleague letters in priority topic areas and emphasize the food]energy water] theme in other NSF]wide programs. INFEWS will also be a priority research theme for the FY 2016 NSF Research Traineeship (NRT) competition.
<![if !supportLists]>o <![endif]>Inclusion across the Nation of Communities of Learners that have been Underrepresented for Diversity in Engineering and Science (NSF INCLUDES) NSF INCLUDES is a new initiative for FY 2016 that would be supported at $15 million. NSF INCLUDES is planned to be a six year activity through FY 2020 and would support NSF]wide activities as well as domain specific efforts to increase the participation of underrepresented groups in science, technology, engineering, and mathematics (STEM) fields. Efforts for FY 2016 will include the development of a new concept to focus collaborative action as well as the launch of two new pilot models for inclusion in professional and social networks and empowering youth through engagement in STEM. NSF INCLUDES builds on previous NSF investments of around $800 million in broadening participation.
<![if !supportLists]>· <![endif]>Institute of Museum and Library Services The FY 2016 budget request would continue the Sparks! Ignition grant program. This program, which began in 2013, provides small grants for high]risk, innovative projects that expand and test new library, archive, and museum practices. The program has been popular at IMLS because it allows program officers the opportunity to fund small grants directly through the submission of short white papers.
<![if !supportLists]>· <![endif]>Dept of Education:
<![if !supportLists]>o <![endif]>Support for Hispanic Serving Institutions (HSIs) The FY 2016 budget request includes level funding for the Developing HSIs program, which would expand educational quality and capacity. The request also provides a request for new awards under the HSI STEM and Articulation program, which seeks to expand opportunities for underrepresented groups in STEM fields.
<![if !supportLists]>o <![endif]>Institute of Education Sciences (IES) The FY 2016 budget request would provide an increase of 17.8 percent above the FY 2015 enacted level for IES. This increase would allow the Institute to award over $60 million in additional grants in FY 2016 for research focused on early learning through postsecondary education, including research on adult education and issues relating to students with disabilities. The budget request also includes increased funding to support the Research, Development, and Dissemination program, which would create three new grant competitions focused on improving education practice; pathways to research; and low]cost, quick]turnaround, randomized control trials.
Navigating Software Intellectual Property in a Research Environment
Date: March 18, 2015
Time: 3:10 – 4:00 PDT
Location: Winston Chung Hall, Rm. 205/206
Dwayne Nelson will be presenting a talk on Navigating Software Intellectual Property in a Research Environment.
Nelson is an engineer and IP attorney living in the Inland Empire. His technical background is software, having obtained Bachelors and Masters degrees in Computer Science and a law degree from. Georgetown, Dwayne worked in the research organizations of SAIC and IBM. He practiced technology law in IBM's Research, Software Group and CHQ organizations for nearly 10 years, eventually managing a docket of more than 1,700 inventions. A registered patent attorney, Dwayne is also licensed to practice law in New York, Washington D.C. and New Jersey. Since late 2013, Dwayne has lived in California developing a tool for organizing Internet information streams.
Academic Research Funding Strategies 2015 Webinar: How to Write a Winning NSF CAREER Proposal
Date: March 24, 2015
Time: 11:00 am – 1:00 pm PDT
Location: Orbach Science Library, Rm. 240
Webinar for faculty on how to write a successful proposal to NSFfs Faculty Early Career Development Program (CAREER).
How to decide when and if to apply for a CAREER grant
How to position yourself and your research to be competitive for a CAREER
How to structure your proposal
How to develop an education plan
Addressing diversity
Keys to success and common mistakes to avoid
A step-by-step discussion of each section of the proposal and what it needs to tell the reviewers
How to analyze reviews and decide whether to revise and resubmit
Questions and Answers
A package will be also provided to participants that includes annotated excerpts from successful proposals and helpful resources.
Lunch will be served
Proof of Concept Funds for Technology Commercialization Program
The Office of the Vice Chancellor for Research and Economic Development announces the FY2015-2016 Proof of Concept for Technology Commercialization (POC) Award Program. The POC award provides UCR investigators up to $35,000 to further develop a commercializable invention based upon UCR intellectual property not yet licensed. The effort should address a critical issue, such as creating a prototype, scaling up a process, or obtaining additional data to support a commercialization effort by making the invention more attractive to licensees or investors. The award shall be used only for technical salaries and benefits, supplies, vivarium or other facilities fees and contracted services directly related to the project.
FUNDING CRITERIA
An invention disclosure must have been submitted to the Office of Technology. Commercialization on the key invention by Feb 21, 2015 and the University must have clear rights to commercialize the intellectual property.
The intellectual property and prospective product must address a need in the marketplace and have a competitive advantage over existing products.
The proposed work will start on July 1, 2015 and be accomplished by June 30, 2016.
The proposed work should undertake commercial-type prototype development or testing to generate evidence that an existing invention meets a market need, not the creation of new inventions or basic research.
Preference will be given to projects that can be completed within six months

.
<![if !supportLists]>6. <![endif]>Although the maximum award is $35,000, smaller focused projects are encouraged and the anticipated median award size is $20,000.
APPLICATION DIRECTIONS AND FORMAT
Applications should be submitted by April 15, 2015.
A cover sheet should include the project title, the name of the principal investigator, project participants, and names of inventors on the disclosure.
Describe the current status of the invention and the funding history of the research (up to 1 page).
Describe the proposed product that would be commercialized and the problem it solves (up to1 page).
Discuss potential customers, existing solutions available in the marketplace, and competitive advantages of proposed product. Describe a strategy for entering the market, e.g., licensing to an existing company or starting a new company (up to1 page).
Describe research at other universities and how your research is different and superior (up to 1 page).
Provide a detailed project description including a timeline, expected outcomes, and processes to achieve those goals. Include additional steps to commercialization that will remain following completion of the POC award project (up to 2 pages).
Include a Budget and brief narrative of how resources would be used.
REVIEW PROCESS
Proposals will be reviewed by UCR faculty and outside entrepreneurs who have signed a nondisclosure agreement. Anonymous reviews will be returned for all proposals.
APPLICATION PROCESS
Applications should be submitted via email by April 15, 2015 to Judy Swineford at judy.swineford@ucr.edu.
Questions about the application process should be directed to Linda Bejenaru at VCREDadmin@ucr.edu or 951-827-4800.
http://research.ucr.edu/ord/funding/opportunities/proof-of-concept-fund.aspx
TEDxUCR Live, March 17, 2015
A live simulcast of the TED2015 event in Vancouver on March 17 will be presented at UCR in the Genomics Auditorium
Session 1: 8:30am – 12:00
Session 2: 1:00pm – 4:30pm
UCR Genomics Auditorium
UCR Students & General FREE
Register at http://TEDx.UCR.EDU
In late February, I spent several days in Belize. Herefs a photo I took of a toucan.
<![if !vml]>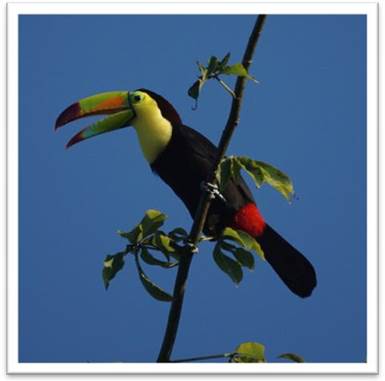 <![endif]>
(click to enlarge)
Michael Pazzani
Vice Chancellor for Research and Economic Development
Professor, Computer Science & Engineering
University of California, Riverside
200 University Office Building
Riverside, CA 92521
Assistant: Linda Bejenaru
Email: VCREDadmin@ucr.edu
Michael Pazzani
Vice Chancellor for Research and Economic Development
Professor, Computer Science & Engineering
University of California, Riverside
200 University Office Building
Riverside, CA 92521
Assistant: Linda Bejenaru
Email: VCREDadmin@ucr.edu