UCR Research and Economic Development Newsletter: March 21, 2015
Michael Pazzani
Vice Chancellor for Research and Economic Development
Back Issues of Newsletter: http://research.ucr.edu/vcr/newsletters.aspx
Grant Opportunity Search: http://pivot.cos.com
<![if !supportLists]>· <![endif]>AAAS Fellows
<![if !supportLists]>· <![endif]>USDA Equipment Grants
<![if !supportLists]>· <![endif]>USDA HSI Grants
<![if !supportLists]>· <![endif]>Other USDA opportunities
<![if !supportLists]>· <![endif]>How to Write a Winning NSF CAREER Proposal – March 24th at 11:00am
<![if !supportLists]>· <![endif]>Material Transfer Agreement (MTA)
<![if !supportLists]>· <![endif]>Blue-Gray Tanager
"Election as a Fellow of AAAS is an honor bestowed upon members by their peers. Fellows are recognized for meritorious efforts to advance science or its applications."
Applications for American Association for the Advancement of Science Fellows are due April 22, 2015. UCR has at more 60 fellows. If you are a fellow, consider nominating a colleague. Some additional details are below:
Requirements for Sponsors:
Only previously elected AAAS Fellows who are current in their membership may serve as

sponsors

.

No Fellow may serve as a sponsor on more than two (2) three-fellow nominations in any given year.

Only one of the three sponsors may be affiliated with the same institution as that of the nominee.
Requirement for Nominees:
Eligibility for nomination requires an individual to have been a continuous member (with no lapses in membership) of AAAS since December 31, 2011 or earlier. Members who joined after the December 31, 2011 cutoff date are not eligible for the 2015 cycle.
Details at http://www.aaas.org/current-nomination-cycle
As part of its strengthening program, USDA has an equipment grant program. It can be used to purchase growth chambers for new faculty or to replace aging growth chambers. UCR received one such award last year (Congratulations to Linda Walling), but I understand that additional growth chambers are desired.
Details at http://nifa.usda.gov/sites/default/files/rfa/FY%202015%20AFRI%20Food%20Security_final%20version(v4).pdf
•Equipment Grants: 50% of cost or $50,000 (whichever is less) for one piece of equipment ($10,000-250,000). Requires Non-federal matching
My office will provide 100% of the match for growth chambers. For other equipment, we'll match others sources such as start-up funds, or funds from your college, department, or ag board.
LETTER OF INTENT DEADLINE: April 02, 2015
APPLICATION DEADLINE: June 04, 2015:
USDA requires a letter of eligibility for strengthening. Below is one example.
Statement of UC Riverside eligibility for USDA FASE Foundational, Strengthening grants
UCR submits this application based on eligibility, briefly being among "minority-serving degree-granting institutions that previously had limited institutional success for receiving Federal funds." p. 39 of NIFA AFRI FY 2014 Foundational Program RFA for Strengthening Grant Eligibility (http://www.nifa.usda.gov/funding/rfas/afri.html).
Specifically, UCR
1) is a degree-granting "minority-serving institution" defined per Part VIII H. an institution whose enrollment of a "combination of minorities exceeds fifty percent of the total enrollment," with "minority" defined as "Alaskan Native, American Indian, Asian-American, African-American, Hispanic-American, Native Hawaiian, or Pacific Islander," Part VIII H. p. 69. Combined total minority enrollment is 6.6% African American, 35.7 Asian American, 31.5% Chicano and Latino, and .5% Native American or 74.3 total. http://www.ucr.edu/about/facts.html
and
2) has "limited institutional success" per Part VIII H. as "not among the most successful universities and colleges for receiving Federal funds for science and engineering research." UCR is not on the list of successful institutions provided in the RFA, Table 1, p. 71.
UCR has set an internal deadline for the limited submission process of March 26 for applicants to this HSI program. Realistically, we expect fewer applicants than allowed, so if you are interested in applying, simply send email to Randy Black Randall.Black@ucr.edu
Hispanic-Serving Institutions Education Grants Program (HSI)
http://www.nifa.usda.gov/funding-opportunity/hispanic-serving-institutions-education-grants-program-hsi

USDA has released USDA-NIFA-HSI-004977, Hispanic-Serving Institutions (HSI) Education Grants. The program supports the following education/capacity building activities:

(a) Curricula Design, Materials Development, and Library Resources (including development of courses of study and degree programs).
(b) Faculty Preparation and Enhancement for Teaching.
(c) Instruction Delivery Systems.
(d) Scientific Instrumentation for Teaching.
(e) Student Experiential Learning.
(f) Student Recruitment and Retention.

These activities should be relevant to the following disciplinary areas only:

1. Plant Health and Production and Plant Products – Plant systems
2. Animal Health and Production and Animal Products - Animal systems
3. Food Safety, Nutrition, and Health - Nutrition, food safety and quality, and health
4. Renewable Energy, Natural Resources, and Environment – Natural resources and environment
5. Agriculture Systems and Technology - Engineering products and processes
6. Agriculture Economics and Rural Communities – Markets, trade and policy

LIMITED SUBMISSION: For the FY 2015 program, an applicant may not submit as a lead institution more than four Strengthening applications, two Standard applications, and two Collaboration application. Only two awards will be made to an institution as a lead. Only one Standard and Collaboration application will be funded per institution.

The classes of proposals are:

a. Strengthening Projects will be fully funded for durations of 48 months. Proposals due April 16.

b. Standard Projects will be funded for 12 months and up to $250,000 per year with the opportunity for renewal for three additional years at a similar level, for a maximum of four years or $1,000,000, based on the availability of funds for this purpose and the projects' previous performance. Proposals due April 21.

c. Collaboration Projects will be funded for 12 months and up to $500,000 per year, including indirect costs, with the opportunity for renewal for three additional years at a similar level, for a total of four years and $2,000,000, based on availability of funds and previous performance. Proposals due April 23.
<![if !supportLineBreakNewLine]>
<![endif]>
UCR IS EXEMPT FROM COST SHARING ON THESE PROGRAMS
USDA's Specialty Crop Initiative: http://nifa.usda.gov/funding-opportunity/specialty-crop-research-initiative-scri
Funds research on Citrus (but not citrus greening), Avocadoes, etc. Complete, pre-applications must be received by 5:00 pm Eastern Time on March 30, 2015. NOTE: UCR IS NOT REQUIRED TO MATCH USDA FUNDS for this program.
AFRI also has Seed Grants ($150,000/2 years):
–Collect preliminary data for future AFRI funding
–Single function research, education or extension
LETTER OF INTENT DEADLINE: April 02, 2015
APPLICATION DEADLINE: June 04, 2015:
http://nifa.usda.gov/sites/default/files/rfa/FY%202015%20AFRI%20Food%20Security_final%20version(v4).pdf
Webinar: How to Write a Winning NSF CAREER Proposal
Date: March 24, 2015
Time: 11:00 am – 1:00 pm PDT
Location: Orbach Science Library, Rm. 240
Webinar for faculty on how to write a successful proposal to NSF's Faculty Early Career Development Program (CAREER).
How to structure your proposal

How to develop an education plan

Addressing diversity

Keys to success and common mistakes to avoid

A step-by-step discussion of each section of the proposal and what it needs to tell the reviewers

How to analyze reviews and decide whether to revise and resubmit

Questions and Answers
Lunch will be served. Please RSVP to VCREDadmin@ucr.edu
A package will be also provided to participants that includes annotated excerpts from successful proposals and helpful resources. Here's one such slide with the success rate of CAREER proposals. (The peak in 2009 was due to recovery act funding).
<![if !vml]>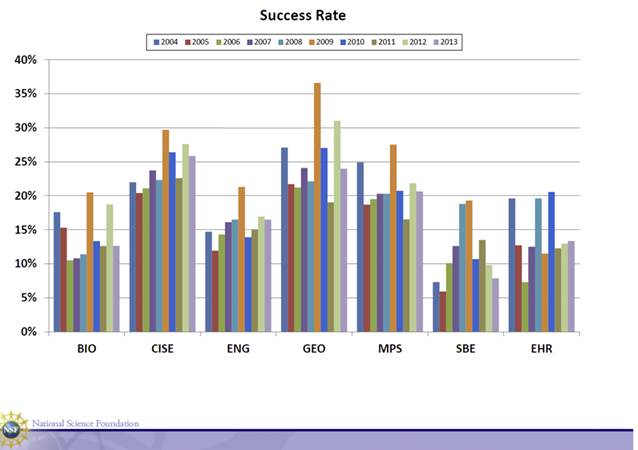 <![endif]>
Material Transfer Agreements (MTA)
The UCR MTA On-Line Material Transfer System is now available to all researchers in the UCR campus community. In order to enhance campus research and increase research collaboration with industry, non-profit, and other academic institutions, UCR encourages the transfer of materials to and from our campus. Examples of the type of material requested for transfer include, but are not limited to, biological (from DNA to live animals), non-biological, chemical compounds, data contained in databases, and software codes.
Should you desire to obtain materials for use in your research or desire to provide your materials to a colleague at another institution, please utilize the MTA On-Line Material Transfer System. This new electronic application can be accessed by clicking 'Material Transfer Request System' via the PAMIS (Proposal and Award Management Information System) Portal from the Authorized Applications section in R'Space. For additional information regarding the on-line system, please visit http://cnc.ucr.edu/mta/announcements.html.
Note: The paper MTA Request Form (pdf) will be completely phased out as of July 1, 2015 and, therefore, your comments as to any improvement to the on-line system are encouraged at this time. Comments should be directed to mta@ucr.edu.
Blue-Gray Tanager
Here's a photo I took in Belize of a blue-gray tanager eating a papaya. I almost talked my wife into planting a papaya tree for the birds, but Norm Ellstrand suggested I just hang up a papaya.
<![if !vml]>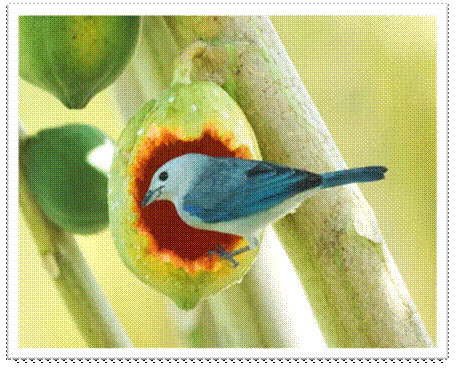 <![endif]>
(click to enlarge)
Michael Pazzani
Vice Chancellor for Research and Economic Development
Professor, Computer Science & Engineering
University of California, Riverside
200 University Office Building
Riverside, CA 92521
Assistant: Linda Bejenaru
Email: VCREDadmin@ucr.edu
Michael Pazzani
Vice Chancellor for Research and Economic Development
Professor, Computer Science & Engineering
University of California, Riverside
200 University Office Building
Riverside, CA 92521
Assistant: Linda Bejenaru
951-827-4800