UCR Research and Economic Development Newsletter: April 2, 2015
Michael Pazzani
Vice Chancellor for Research and Economic Development
Back Issues of Newsletter: http://research.ucr.edu/vcr/newsletters.aspx
Grant Opportunity Search: http://pivot.cos.com
<![if !supportLists]>· <![endif]>Graduate Assistance in Areas of National Need: Fellowships: May 29 Deadline
<![if !supportLists]>· <![endif]>NIFA funding for Citrus Greening: June 1 Deadline
<![if !supportLists]>· <![endif]>TEDxUCR: April 17
<![if !supportLists]>· <![endif]>NSF CAREER Workshop: Wed., 4/15 1:30-3:30 (HUB Rm. 268) & Thurs., 4/16: 1:00-3:00 (HUB Rm. 260)
<![if !supportLists]>· <![endif]>Nominate a CHASS or CNAS Dean
<![if !supportLists]>· <![endif]>Black-crested Titmouse and Green Jay
Graduate Assistance in Areas of National Need.
The US Department of Education has released the call for proposals for the GAANN program. It provides 3 years of fellowships to department or graduate programs for groups of 3-10 students. This is the first time in three years the GAANN has been completed and the first time in recent memory that a humanities field has been included as one of national need. The Deadline is May 29, 2015.
A project must provide fellowships in one or more of the following areas of national need:
<![if !supportLists]>· <![endif]>Area, Ethnic, and Cultural Studies;
<![if !supportLists]>· <![endif]>Biological Sciences/Life Sciences;
<![if !supportLists]>· <![endif]>Chemistry;
<![if !supportLists]>· <![endif]>Computer and Information Sciences;
<![if !supportLists]>· <![endif]>Engineering;
<![if !supportLists]>· <![endif]>Foreign Languages;
<![if !supportLists]>· <![endif]>Mathematics;
<![if !supportLists]>· <![endif]>Nursing;
<![if !supportLists]>· <![endif]>Physics;
<![if !supportLists]>· <![endif]>Psychology;
<![if !supportLists]>· <![endif]>Educational Evaluation, Research, and Statistics.
The call is at https://federalregister.gov/a/2015-07483
All UCR GAANN proposals will have many sections of identical or similar text. RED will coordinate data gathering and the writing of some sections for all UCR GAANN proposals to assure that they are compliant with sponsor requirements and responsive to the scoring criteria.
A GAANN proposal "boilerplate" template is available in the Proposal Materials GAANN folder in the link at the top of: http://research.ucr.edu/ord/proposaldevlopment.aspx
Inter- and multi-disciplinary proposals also are requested.
<![if !supportLists]>· <![endif]>An inter-disciplinary application must request funding for a single proposed program of study that involves academic fields in two or more disciplines.
<![if !supportLists]>· <![endif]>A multi-disciplinary application must request funding for two or more academic departments in areas of national need designated as priorities by the Secretary that are independent and unrelated to one another (typically these are for small departments at smaller schools and it is unlikely that UCR will submit a proposal in this category).
Only one application per degree program is allowed. For example, even though Engineering is listed once above, UCR can apply for one grant for each Engineering degree. Similarly, several Area Studies and Ethnic and Cultural Studies are possible. Some other GAANN hints.
<![if !supportLists]>1. <![endif]>Unlike the NRT, or IGERT, GAANN does not require innovation in the degree program. The goal is to produce more PH.D.'s in existing fields vs. create new fields.
<![if !supportLists]>2. <![endif]>GAANN proposals are more like filling out a form than writing a journal paper. The proposals are scored with each section having a different number of points. Leaving out sections or leaving out information in a section (even if it included elsewhere in the proposal or obvious) reduces the points awarded per section. The typical funding cutoff is around 95 out of a 100 and one can lose 2 points for not mentioning that UCR has a library.
<![if !supportLists]>3. <![endif]>There will likely be a workshop in DC announced in the next few days. RED will pay for one person per degree program to attend the workshop because the chances of acceptance increase considerably when you hear about the program and its requirements from program officers.
If you are thinking of applying, please contact Randall Black randall.black@ucr.edu for more advice, template proposals, etc.
NIFA funding for Citrus Greening: June 1 Deadline
The Specialty Crop Research Initiative (SCRI) Citrus Disease Research and Extension Program (CDRE) is authorized in the Agricultural Act of 2014 (H.R. 2642) to award grants to eligible entities to conduct research and extension activities, technical assistance and development activities to: (a) combat citrus diseases and pests, both domestic and invasive and including huanglongbing and the Asian citrus psyllid, which pose imminent harm to United States citrus production and threaten the future viability of the citrus industry; and (b) provide support for the dissemination and commercialization of relevant information, techniques, and technologies discovered pursuant to research and extension activities funded through SCRI/CDRE and other research and extension projects targeting problems caused by citrus production diseases and invasive pests.
Stakeholder relevance statements due June 1.
MATCHING IS NOT REQUIRED: Details at http://nifa.usda.gov/funding-opportunity/specialty-crop-research-initiativecitrus-disease-research-and-extension-scricdre
An analysis of the awards made last year indicates http://www.usda.gov/documents/citrus-greening-awardees-fact-sheet.pdf that many of the projects funded were larger than UCR's submissions. Multi-state and multidisciplinary prospoals are encouraged and you need not involve only states that are potentially affected by HLB. A $3M award was made to Kansas State last year.
TEDxUCR2015: Kaleidoscope
Friday, Apr 17, 2015, 4:00-8:30pm
UCR University Theater
Call (951)-827-4331 to order tickets
Early Bird $10/Student $15/General $25
The kaleidoscope makes its magic by using light and mirrors, showing the world in many facets and many colors. It teaches us it acquire multiple perspectives and to gain insight from the unusual and unexpected. Join us now in looking at a brighter and more colorful future through the Kaleidoscope of TED talks.
Eight great local speakers, performers and a variety of TED Talk videos!
Our speakers are…
Adam Young - Dancer
Boris Maciejovsky - Behavioral Economist
Chuan Qin - Erhu Performer
CiCi- Activist
Leonardo Mendoza - Master of Moments
Michael Uy - Hacker
Simon Tam - Bassist
Stu Krieger - Screen Writer

Dinner and Parking is provided.

<![if !vml]>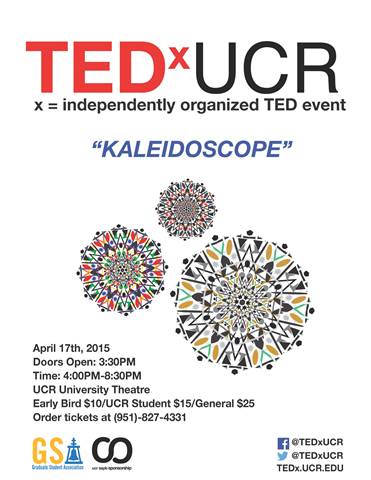 <![endif]>
Wednesday, April 15: 1:30-3:30 (HUB Rm. 268)
Thursday, April 16: 1:00-3:00 (HUB Rm. 260)
The annual UCR NSF CAREER Workshop is offered twice this year, presenting the same material in two sessions:
The CAREER is NSF's most prestigious award in support of untenured faculty who exemplify the role of teacher-scholars through outstanding research, excellent education and the integration of education and research within the context of the mission of their organizations. See http://www.nsf.gov/funding/pgm_summ.jsp?pims_id=503214 for the NSF solicitation.
CAREER proposals are due July 21-23, 2015; the exact deadline varies by discipline. It pays to start a few months early to make sure the proposal is well thought-out and addresses all criteria for funding.
The UCR workshop on preparing an NSF CAREER proposal, will be held on Wednesday, April 15 from 1:30 – 3:30 PM in the Highlander Union Building, Room 268, and repeated again on Thursday, April 16 from 1:00-3:00 in the Highlander Union Building, Room 260.
The workshop will offer guidance on essential components of the CAREER award, including
<![if !supportLists]>· <![endif]>Research Plan
<![if !supportLists]>· <![endif]>Educational Plan
<![if !supportLists]>· <![endif]>Broader Impacts
<![if !supportLists]>· <![endif]>Data Management Plan
Previous winners of the NSF CAREER awards will discuss what worked (and what didn't work) for them. We will go over NSF requirements, suggestions and best practices from past winners, and your questions and ideas. Sample funded proposals will be made available.
Please RSVP by Friday, April 10th, indicating which date you plan to attend, to: VCREDadmin@ucr.edu.
Unlike the webinar of last week, this will involve UCR faculty talking about the program and their proposals. In addition, an analysis of common problems in UCR proposals last year will be presented.
Nominate a Dean: CHASS or CNAS
As I'm sure most faculty are aware, UCR is conducting national searches for two deans. The goal is to cast a wide net to attract a diverse pool of high quality candidates. If you know someone who might be a good CHASS or CNAS dean, please consider nominating them. The search firm will then contact them to determine interest and qualifications.
<![if !supportLists]>· <![endif]>To nominate a CHASS Dean, send email to CHASS-DEAN@wittkieffer.com . The CHASS ad can be found at the Chronicle of Higher education at https://chroniclevitae.com/jobs/0000876737-01
<![if !supportLists]>· <![endif]>To nominate a CNAS dean, send mail to CNAS-DEAN@wittkieffer.com . The CNAS ad can be found at the Chronicle of Higher education at https://chroniclevitae.com/jobs/0000877601-01.
Please nominate candidates right away since applications will be reviewed in late April or early May.
Black-crested Titmouse
I spent part of spring break in Texas looking for the black-crested titmouse and the green jay. I was able to find both.
<![if !vml]>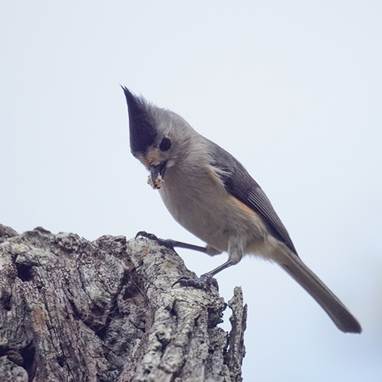 <![endif]>
<![if !vml]>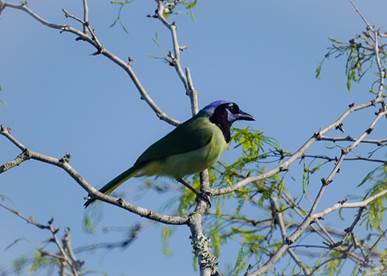 <![endif]>

(click to enlarge)
Michael Pazzani
Vice Chancellor for Research and Economic Development
Professor, Computer Science & Engineering
University of California, Riverside
200 University Office Building
Riverside, CA 92521
Assistant: Linda Bejenaru
Email: VCREDadmin@ucr.edu