UCR Research and Economic Development Newsletter: June 6, 2015
Michael Pazzani
Vice Chancellor for Research and Economic Development
Back Issues of Newsletter: http://research.ucr.edu/vcr/newsletters.aspx
Grant Opportunity Search: http://pivot.cos.com
<![if !supportLists]>· <![endif]>USDA Small Business Innovation Research (SBIR) Program Workshop – 6/19, 1:30-3:30
<![if !supportLists]>· <![endif]>Searle Scholars Program from the Kinship Foundation: July 9, 2015
<![if !supportLists]>· <![endif]>Alfred P. Sloan Foundation – Letter of Intent, June 15
<![if !supportLists]>· <![endif]>Stupid Faculty Tricks
<![if !supportLists]>· <![endif]>Baby Barn Swallows
USDA Small Business Innovation Research (SBIR) Program Workshop – 6/19, 1:30-3:30
UCR and TriTech will host a workshop on how to get funding through the USDA Small Business Innovation Research (SBIR) program on Friday, June 19 from 1:30p-3:30p in the Genomics Auditorium. It will feature talks by Scott Dockum, USDA SBIR program coordinator, and Agenor Mafra-Neto, a local entrepreneur who has received multiple SBIR awards.
Scott Dockum manages the day to day operations of the USDA SBIR Program. He supports the USDA SBIR portfolio of applied research and development projects supported by the program. Scott also leads SBIR outreach and commercialization activities within the program and coordinates SBIR activities, reporting and administrative
requirements as required by legislation and the Small Business Administration (SBA).
Agenor Mafra-Neto is a chemical ecology researcher and entrepreneur in the entomological field of insect chemical ecology. He is the CEO of ISCA Technologies, a company specializing in the development of semiochemical solutions for pest management, robotic smart traps and nanosensors. Dr. Mafra-Neto is the CEO and Director of Research and Development at ISCA Technologies, Inc. which he founded in 1996 in Riverside, California. ISCA Tecnologias, Ltda was founded in Brazil in 1997.
To encourage participation in commercialization, UCR waives overhead on SBIR and STTR Phase I grants (when permitted by the agency). See http://research.ucr.edu/About/News.aspx?K=323.
UCR and TritTch also provide advice on incorporation and accounting so that you are not featured in the next edition of Stupid Faculty Tricks.
Searle Scholars Program from the Kinship Foundation: July 9, 2015
UCR has been invited to select one candidate for the Searle Scholars Program from the Kinship Foundation. The award, given to 15 new recipients annually, is $300,000 for a three-year term with $100,000 payable each year of the grant. UCR's limited submission process can be found at http://research.ucr.edu/ord/limitedsubmissions.aspx. The internal deadline is July 9, 2015
Foundation submissions are not open to individuals who have not been selected by their institution to participate in the competition. Applicants for awards will be expected to be pursuing independent research careers in biochemistry, cell biology, genetics, immunology, neuroscience, pharmacology, and related areas in chemistry, medicine, and the biological sciences. Candidates should have begun their appointment as an independent investigator at the assistant professor level on or after July 1, 2014. The appointment must be their first tenure-track position (or its nearest equivalent).
The Searle Scholars Program does not ordinarily support purely clinical research but has supported research programs that include both clinical and basic components. Potential applicants who are unsure if their research is appropriate for the program are encouraged to examine the research interests of present and former Searle Scholars on their website.
Final nominee is required to submit a statement from their department chair, and three letters of support (one from their doctoral mentor, post-doctoral mentor and a third one of their choice).
Submission for final application is between September 1 – September 30, 2015.
Alfred P. Sloan Foundation June 15
UCR can nominate up to three candidates for the Sloan Research Fellowships. These fellowships, $50,000 for a two-year period, seek to stimulate fundamental research by early-career scientists usually below the rank of associate professor. Candidates must hold a Ph.D. (or equivalent) in chemistry, computational or evolutionary molecular biology, computer science, economics, mathematics, neuroscience, ocean sciences, physics, or a related field.
To indicate your interest in being nominated, please send a letter of intent to limited@ucr.edu by June 15 The Foundation welcomes nominations of all candidates their standards and requirements, but also strongly encourages the participation of women and members of underrepresented minority groups.
Nominations for the 2016 Sloan Research Fellowships will open in Summer 2015, with final applications due September 15.
Stupid Faculty Tricks
The following are verbatim from NSF's most recent Inspector general report: http://www.nsf.gov/pubs/2015/oig15002/oig15002.pdf I have added bold to some of the sanction imposed. (I have indented an added italics to indicate it is quotation from the cited source).
PI Fabricated IRB Approval Document Submitted to NSF
A PI at a Pennsylvania university fabricated a document showing his project's required IRB approval, and submitted the fabricated document to NSF. The PI admitted he had fabricated the IRB approval and the university has initiated an investigation. In response to our recommendation, NSF suspended the award — with $1,619,844 unexpended — pending conclusion of our investigation.
Proactive Review Identifies Plagiarism in Multiple Proposals
As part of a proactive review, we analyzed over 8,000 proposals awarded by NSF in FY 2011 for evidence of plagiarism. We processed these proposals using commercial plagiarism software, and ranked them by the amount of apparently-copied text. We determined that many proposals contained some amount of copied text, but opened cases only on the more apparently serious violations that might constitute research misconduct.
We opened 34 plagiarism investigations, ten of which have resulted in NSF making findings of research misconduct. From these cases we have recovered $357,602 in federal funds to date. We issued questionable research practice letters in six cases in which the copying was considered plagiarism, but did not rise to the level of research misconduct. Ten cases are still pending. One of the pending plagiarism investigations uncovered significant financial issues, and is being pursued for possible civil/criminal prosecution.
Texas Professor Claims Wrong Version of Proposal Submitted to NSF
Our investigation determined that a Texas PI plagiarized in two NSF proposals. The PI told us he mistakenly submitted a version of the proposal in which he used placeholders for copied text, and that proper citations and references were present in a "final" version. The "final" version that he provided showed changes only to the text which we had originally identified, suggesting that the final version was created after we contacted the PI. The PI's university determined that plagiarism also existed in a proposal submitted by the PI to another agency. Because the proposals were used as support in his tenure package, the university dismissed the professor.
Full Professor Claims Ignorance of Quotation Marks
A full professor at a Michigan university who plagiarized text into an NSF proposal asserted that he was unaware of the need for quotation marks, stating, "I really didn't know actually when you copy, you need to put quotation." The university rejected this excuse after finding the professor attributed text properly in 22 of his other papers, also noting the professor had already completed RCR training. They imposed three years of certifications and assurances, and required him to attend in-person remedial training at his own expense.
The NSF program officer determined that the plagiarized text would have been material to the funding decision. We concluded that the professor knowingly plagiarized and recommended that NSF terminate the award early, recover funds already spent, impose two years of certifications and assurances, and impose a ban of the same length on serving as an NSF reviewer, consultant, or advisor.
University Repays NSF for Unallocable International Travel Charges
A California university repaid $5,787 for international travel expenses a PI and his spouse charged to an NSF award. Our investigation determined that the travel charges for the PI and his spouse, who was also a faculty member, were not allocable to the award for which they were charged. In addition to repaying the funds to NSF, the university agreed to examine its conflict-of-interests policies governing the management of co-workers who are related to one another.
University Agrees to Repay $497,000 for Alleged Duplicate Funding
A California university agreed to repay $497,000 to settle allegations that a PI failed to disclose overlapping funding and submitted duplicate reports for NSF and Department of Energy (DOE) awards — NSF will receive $111,500 of that amount.
The settlement agreement resulted from mediation among the Department of Justice, DOE, NSF, and the university. The university agreed to institute a three-year compliance program to train employees on the proper administration of federal awards. In addition, for three years, the PI cannot serve as an NSF reviewer and is required to have her NSF proposals and progress reports internally reviewed and certified prior to submission to NSF.
Panelist Violated Confidentiality of NSF Review Process
We concurred with a Pennsylvania university's conclusion that one of its faculty members (the reviewer) violated the confidentiality of NSF's merit review process. NSF asked the reviewer to review ten proposals; he then asked two of his staff to assist him and provided them with access to the proposals to facilitate their reviews. During the university's inquiry, the reviewer admitted what he had done. Because the reviewer subsequently retired, the university took no action. We recommended that NSF send a letter of reprimand to the subject notifying him that NSF has made a finding that he violated NSF's confidentiality rules for panelists, and prohibit him from serving as a reviewer for one year.
South Carolina Man Pleads Guilty to Theft of NSF SBIR Award Funds
A PI, who previously was indicted for false claims, false statements and theft, pled guilty to theft in relation to false effort information he provided in official project reports submitted to NSF to obtain grant payments. He was sentenced to three years of probation and fined $5,000.
Company Agrees to Civil Settlement for Misrepresenting Its Accounting and Timekeeping Systems
NSF STTR awards involve a small business awardee that works in partnership with a non-profit research institution subawardee. We previously reported that a university repaid $54,076 related to unauthorized equipment purchases on an STTR subaward. During this reporting period, the company that received the STTR award repaid $170,923 in response to allegations that it misrepresented to NSF that its accounting system would separately track the expenditure of grant funds and that time records would be maintained for employees working on the grant.
PI Returns over $46,000 for Violating Small Business Program Rule
Our investigation into SBIR and STTR awards made to a Florida small business determined the PI violated the requirement that he must be primarily employed by the company throughout the period of the awards. However, because the violations occurred outside of the applicable statute of limitations, and due to conflicting and missing records of his primary employer, the STTR subawardee, we pursued this matter administratively. We notified the PI of the violations and he returned $46,397 (the amount of salary he was paid from the grants during the time when he was primarily employed by his university) to NSF.

<![if !vml]>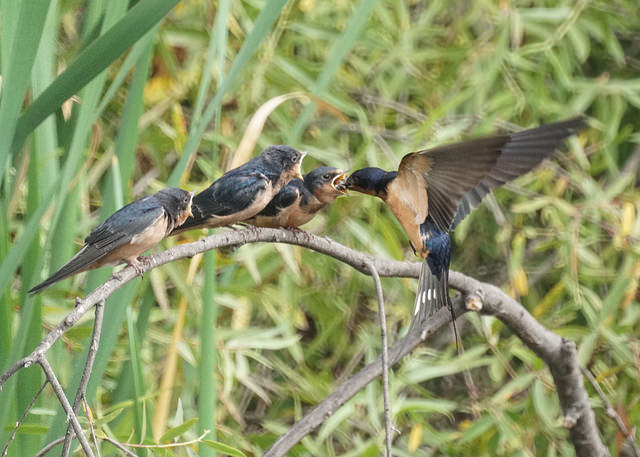 <![endif]>
I was at Prado Regional Park last weekend and came across three baby barn swallows perched on a branch, waiting for a parent to fly by and feed them.
Michael Pazzani
Vice Chancellor for Research and Economic Development
Professor, Computer Science & Engineering
University of California, Riverside
200 University Office Building
Riverside, CA 92521
Assistant: Linda Bejenaru
Email: VCREDadmin@ucr.edu
Michael Pazzani
Vice Chancellor for Research and Economic Development
Professor, Computer Science & Engineering
University of California, Riverside
200 University Office Building
Riverside, CA 92521
Assistant: Linda Bejenaru
Email: VCREDadmin@ucr.edu