UCR Research and Economic Development Newsletter: June 17, 2015
Michael Pazzani
Vice Chancellor for Research and Economic Development
Back Issues of Newsletter: http://research.ucr.edu/vcr/newsletters.aspx
Grant Opportunity Search: http://pivot.cos.com
<![if !supportLists]>· <![endif]>(FY) 2016 Department of Defense Multidisciplinary Research Program of the University Research Initiative (MURI)
<![if !supportLists]>· <![endif]>Grants to Support the Hispanic Health Services Research Grant Program: 8/11/15
<![if !supportLists]>· <![endif]>USDA Small Business Innovation Research (SBIR) Program Workshop – 6/19, 1:30-3:30
<![if !supportLists]>· <![endif]>Associate Vice Chancellor for Technology Partnerships – Candidate Presentations 6/19, 9:30 & 6/23, 10:00
<![if !supportLists]>· <![endif]>USDA NIFA AFRI Exploratory Research
<![if !supportLists]>· <![endif]>Dr. Sally Rockey to Lead the Foundation for Food and Agriculture Research
<![if !supportLists]>· <![endif]>Tech Coast Angels at UCR on July 6
<![if !supportLists]>· <![endif]>Funded Collaborative Seed Grants
<![if !supportLists]>· <![endif]>Western Tanager at the Jelly Feeder
(FY) 2016 Department of Defense Multidisciplinary Research Program of the University Research Initiative (MURI)
The Department of Defense has released the Fiscal Year (FY) 2016 Department of Defense Multidisciplinary Research Program of the University Research Initiative (MURI). This program makes multi-year awards to multidisciplinary, typically multi-institution teams.
The topics of interest this year are:
<![if !supportLists]>1. <![endif]>Sequence-Defined Synthetic Polymers Enabled by Engineered Translation Machinery
<![if !supportLists]>2. <![endif]>Discovering Hidden Phases with Electromagnetic Excitation
<![if !supportLists]>3. <![endif]>Modeling and Analysis of Multisensory Neural Information Processing for Direct Brain-Computer Communications
<![if !supportLists]>4. <![endif]>Modular Quantum Systems
<![if !supportLists]>5. <![endif]>Spin Textures and Dynamics Induced by Spin-Orbit Coupling
<![if !supportLists]>6. <![endif]>Defining Expertise by Discovering the Underlying Neural Mechanisms of Skill Learning
<![if !supportLists]>7. <![endif]>Media Analytics for Developing & Testing Theories of Social Structure & Interaction
<![if !supportLists]>8. <![endif]>Fundamental Properties of Energy Flow and Partitioning at Sub-nanoscale Interfaces
<![if !supportLists]>9. <![endif]>Active Ionosphere-Thermosphere Coupling: Mechanisms and Effects
<![if !supportLists]>10. <![endif]>Attojoule Nanooptoelectronics
<![if !supportLists]>11. <![endif]>4-D Electromagnetic Origami
<![if !supportLists]>12. <![endif]>Radiation-Balanced Lasers – New Vistas in Optical Gain and Refrigeration Materials
<![if !supportLists]>13. <![endif]>Quantum Many-Body Physics with Photons
<![if !supportLists]>14. <![endif]>The Role of Epigenetics in Human Performance
<![if !supportLists]>15. <![endif]>Realistic Dynamic Formalism for Advanced Cyber Interaction
<![if !supportLists]>16. <![endif]>Synthetic Electronics
<![if !supportLists]>17. <![endif]>Ultrahigh Thermal Conductivity Materials
<![if !supportLists]>18. <![endif]>Characterization of Gas Transport through Biological Membranes
<![if !supportLists]>19. <![endif]>Neural Basis of Symbolic Processing
<![if !supportLists]>20. <![endif]>Prediction of Multi-Physics Sprays and their Control
<![if !supportLists]>21. <![endif]>Dynamic Events in Solid Composite Materials at Ultra High Temperature and Pressure
Please see the detailed description of each topic area regarding team size and anticipated budget. Also, this year some topics are encouraging collaborations with UK institutions.
White papers (4 pp) are due September 8, 2015. Full proposals will be invited in late September and will be due December 7, 2015.
The solicitation is available at http://www.grants.gov/web/grants/view-opportunity.html?oppId=277226.
MURI full proposals have very complex budgets and arrangements with multiple universities. Research and Economic Development will support those selected for full proposals
Grants to Support the Hispanic Health Services Research Grant Program: 8/11/15
The Department of Health and Human Services (HHS) and The Centers for Medicare and Medicaid Services (CMS) are offering awards up to $215,000 for new faculty/new investigators conducting health services research to implement Hispanic health services research activities to meet the diverse needs of the CMS populations.
This grant program is designed to: 1) encourage health services and health disparities research impacting Hispanic Medicare, Medicaid and Children Health Insurance Program (CHIP) health service issues; 2) outreach activities to apprise Hispanic researchers of funding availability for research-related issues affecting Hispanic communities to expand the applicant pool for grant funding; 3) to implement its mission focusing on health care quality and improvement; 4) support extramural research in health care for Hispanic communities; 5) promote research aimed at developing a better understanding of health care service issues for Hispanic populations, and 6) create a network for communication and collaboration regarding Hispanic health care issues.
More details can be found here: http://www.grants.gov/web/grants/view-opportunity.html?oppId=277117
USDA Small Business Innovation Research (SBIR) Program Workshop – 6/19, 1:30-3:30
UCR and TriTech will host a workshop on how to get funding through the USDA Small Business Innovation Research (SBIR) program on Friday, June 19 from 1:30p-3:30p in Genomics. It will feature talks by Scott Dockum, USDA SBIR program coordinator, and Agenor Mafra-Neto, a local entrepreneur who has received multiple SBIR awards.
To encourage participation grant programs like this, UCR waives overhead on SBIR and STTR Phase I grants (when permitted by the agency). See http://research.ucr.edu/About/News.aspx?K=323.
Scott Dockum manages the day to day operations of the USDA SBIR Program. He supports the USDA SBIR portfolio of applied research and development projects supported by the program. Scott also leads SBIR outreach and commercialization activities within the program and coordinates SBIR activities, reporting and administrative requirements as required by legislation and the Small Business Administration (SBA).
Agenor Mafra-Neto is a chemical ecology researcher and entrepreneur in the entomological field of insect chemical ecology. He is the CEO of ISCA Technologies, a company specializing in the development of semiochemical solutions for pest management, robotic smart traps and nanosensors. Dr. Mafra-Neto is the CEO and Director of Research and Development at ISCA Technologies, Inc. which he founded in 1996 in Riverside, California. ISCA Tecnologias, Ltda was founded in Brazil in 1997.
Faculty, Postdocs, Students, and outside collaborators are welcome to attend
Associate Vice Chancellor for Technology Partnerships – Candidate Presentations 6/19, 9:30 & 6/23, 10:00
Two candidates will be interviewing for the AVC for Technology Partnerships in the next week. They will be giving talks in the University Lab Building (ULB) 104 on Friday, June 19 at 9:30am and Tuesday, June 23 at 10am.
The AVC for technology partnerships will be responsible for Technology Commercialization (Including patenting, licensing and new company formation) and Corporate Relationships (including corporate contracts and corporate gifts).
All faculty are welcome and encouraged to attend.
USDA NIFA AFRI Exploratory Research
This Program Area Priority addresses the overall priorities of AFRI and provides support proof of concept for untested novel ideas. This includes "high-risk, high-impact" work that will lead to a significant change in US agriculture.
In FY 2015, AFRI invites Research Project applications for Standard Grant type relevant to the priorities of the Exploratory Program Area described below. Some areas are aligned with UCR strengths including Plant Health and Production and Plant Products, Food Safety, Nutrition and Health, Bioenergy, Natural Resources, Environment, Agriculture, Systems and Technology.
Letter of Intent Deadline – accepted anytime between March 1, 2015 and August, 31 2015
Program Area e-mail address for Submission of Letter of Intent – exploratory@nifa.usda.gov. Include the program area priority in the subject line of your email submission (i.e., A. Plant Health and Production and Plant Products; B. Animal Health and Production and Animal Products; C. Food Safety, Nutrition and Health; D. Bioenergy, Natural Resources, and Environment; E. Agriculture, Systems and Technology; and F. Agriculture Economics and Rural Communities).
Application Deadline – Full proposal submission is dependent on acceptance of the Letter of Intent and is required within 60 days, with September 30, 2015 being the final deadline for proposal submission.
Total Program Funds – Approximately $2 million
Proposed Budget Requests -
<![if !supportLists]>• <![endif]>Standard Grants must not exceed $100,000 total (including indirect costs) for project periods of up to 2 years and are not renewable.
Program Area Priority Contact – Ms. Charlotte Kirk Baer (202) 720-5280 or cbaer@nifa.usda.gov
Further instructions and Letter of Intent instructions and are in the RFA beginning on page 36 and 55 (LOI). http://nifa.usda.gov/sites/default/files/rfa/FY2015%20AFRI%20Foundational%20RFA_revised_post_7.pdf
Other Program Area Priority Requirements:
<![if !supportLists]>• <![endif]>The project narrative is restricted to a maximum of 7 pages
<![if !supportLists]>• <![endif]>The proposal must include a clear description as to why it is appropriate for Exploratory Research Program Area Priority, and not appropriate for the existing program area priorities under AFRI.
Dr. Sally Rockey to Lead the Foundation for Food and Agriculture Research
The Foundation for Food and Agriculture Research, a private foundation formed by the 2014 Farm Bill to catalyze innovation in agricultural research, has named its first executive director. Dr. Sally Rockey, the current deputy of extramural research at the National Institutes of Health, will lead the foundation starting in September.
This is a major milestone for the foundation, and the news was announced via this press release. The foundation looks forward to exploring partnership opportunities as they establish research priorities. Notices will be provided as opportunities arise
Dr. Rockey received her Ph.D. in Entomology from Ohio State University, and has spent the majority of her career in the area of extramural research administration and information technology. She leads or is active on a number of Federal committees related to science, research administration, and electronic government and collaborates closely with academic and scientific communities. Among her many accomplishments, she managed the successful implementation of ARRA, led the focus on the biomedical research workforce, and greatly enhanced NIH's partnership and dialogue with the extramural community, especially through social media and her "Rock Talk" blog where she shared information about NIH grants policy, extramural research activities, and data about NIH-extramural research.
Dr. Rockey visited UCR last October and was a speaker at TEDxRiverside.
Tech Coast Angels: Monday, July 6 at 4:00PM
One way for UCR faculty or students to obtain funding to form a company is from angel investors. Angels are high-wealth individuals who provide funds in exchange for equity (i.e., stock) in a private business (Occasionally funds are provided as loan, typically converted in equity at a later date). Angel investors also typically provide advice on entrepreneurship and business. The Tech Coast Angels (TCA) are the largest angel investment organization in the U.S. with over 300 that have invested over $120 million in over 200 companies. Investors affiliated with TCA funded a company I founded in 1999 (together with investors from a Silicon Valley group).
TCA will be hosting a meeting in the Alumni & Visitor center in which companies pitch for funding on Monday, July 6 from 4:00-6:00PM. The goal of UCR hosting this event is not for students or faculty to pitch at this event but rather to watch the process and learn what interests investors and how to pitch for funding. Those attending will have the opportunity to apply for funding at a later date.
If you would like to attend, please inform Linda Bejenaru (vcredadmin@ucr.edu) by July 1.
Funded Collaborative Seed Grants
I am pleased to announce funding approval for the following Collaborative Seed Grant Proposals:
| | | |
| --- | --- | --- |
| PI(s) | Title | Amount |
| David Lo, David Cocker, Michael Allen, Emma Aronson, Jeff Diez, Meera Nair, Monica Carson | BREATHE Center small scale environmental chamber | $70,000 |
| Ian Wheeldon, Phillip Christopher, Charles Wyman, Harvey Blanch | Drop-In Hydrocarbon Fuels through Novel Integration of Biological and Catalytic Conversion of Cellulosic Biomass-Derived Sugars | $70,000 |
| Chris Bardeen, Richard Hooley, Francisco Zaera | Chemical Methods to make Photocontrolled Surfaces | $70,000 |
| | Developing Nanophotonics Research Program | $70,000 |
| Karine Le Roch, Stefano Lonardi, Frances Sladek | An in vivo system to monitor the 4D mammalian nucleome | $70,000 |
| Yadong Yin, Robert Haddon, Lorenzo Mangolini, Juchen Guo, Byran Wong | Advanced Manufacturing Technologies for Next-Generation Rechargeable Battery Materials | $70,000 |
| Georgios Vidalakis, James Borneman, Wenbo Ma, Philippe Rolshausen, Caroline Roper | Utilizing the Endophytic Phytobiome to Manage Huanglongbing | $70,000 |
| Jenerette Darrel | Small Unmanned Airborne Vehicles for Ecological Research at UCR | $70,000 |
| Suveen Mathaudhu, Guillermo Aguilar, David Kisailus, Yasuhiro Kodera, Huinan Liu, Masaru Rao | Synthesis and Processing of Revolutionary Nanostructured Biomaterials | $70,000 |
| Richard Hooley, Wenwan Zhong | Detection of Post-Translational Modifications With Synthetic Receptor Based Sensors | $10,000 |
| Nathaniel Gabor, Vivek Aji | Probing the Structural Origin of Regulation in Bio-Inspired Quantum Photocells | $10,000 |
| Ashok Mulchandani, Russ Hille | Electroenzymatic Conversion of Greenhouse Gas Carbon Dioxide to Formic Acid | $10,000 |
| Djurdjica Coss, Emma Wilson | Obesity-Induced Macrophage Brain Infiltration | $10,000 |
| Huiwang Ai, Prue Talbot | Redox Reporter-Modified Human Stem Cells for Assessing Environmentally Induced Oxidative Stress | $10,000 |
| Hideaki Tsutsui, Caroline Roper | Injectable Colorimetric Lateral Flow Biosensor in Food Crop Leaves | $10,000 |
| Chih-Cheng Tsai, Alexander Raikhel | The Molecular and Functional Characterization of Nulcear Receptor Corepressors | $10,000 |
| Jessica Purcell, Erin Rankin | Understanding the genetic basis of novel social phenotypes in damaging invasive wasps | $10,000 |
| Emma Wilson, Cindy Larive | Metabolism of T cells in infected brains | $10,000 |
| Khaleel Abdulrazak, Michael Adams | Novel Pain Suppression Mechanisms Operating in Predator-Prey Interactions: Pallid Bat vs. Venomous Scorpion | $10,000 |
| John Perry, David Martin | Anacardic Acid Analogues as New Leads to Treat Acute Myeloid Leukemia | $10,000 |
| Zhiyun Qian, Jang-Ting Guo | Analysis of costs and incentives of cyber misconduct | $10,000 |
| Carolyn Rasmussen, Amir Moradifam | Mathematical modeling of division orientation in plant cells | $10,000 |
| Ming Liu, Ruoxue Yan | An integrated ultrahigh-speed surface-plasmon optical modulator based on graphene | $10,000 |
| Chia-En Chang, Ian Wheeldon | Tuning Enzyme Kinetics through Designed Intermolecular Interactions | $10,000 |
| B. Hyle Park, Jin Nam | Early detection of cartilage defects by multi-modal optical coherence tomography | $10,000 |
| Masaru Rao, Hideaki Tsutsui | Ultrahigh throughput mechanoporation proof-of-concept study for adoptive cell transfer cancer immunotherapy | $10,000 |
| Xin Ge, Bryan Wong | Hybrid Structure Modeling / Quantum Mechanical Methods for Enzyme Engineering | $10,000 |
| Jory Yarmoff, Nathaniel Gabor | Surface Adsorption on Graphene | $10,000 |
| Haizhou Liu, Yadong Yin | Development of Magnetically Recyclable Photocatalytic Nanocomposites for Highly Efficient Water Treatment | $10,000 |
| Patricia Springer, Timothy Close | Understanding the control of leaf inclination under drought conditions in cowpea | $10,000 |
| Qi Zhu, Nanpeng Yu | Proactive Demand Participation of Smart Buildings in Smart Grid | $10,000 |
| Michael Pirrung, Huiwang Ai | Luciferin Engineering for Bioassays | $10,000 |
| Hamed Mohsenian-Rad, Fabio Pasqualetti, Amit Roy-Chowdhury | A Data-Driven Platform for Power Infrastructure Security Analysis | $10,000 |
| Valentine Vullev, Gregory Beran, Ming Lee Tang | Bioinspired electret multiscale materials for artificial photosynthesis | $10,000 |
| Erin Rankin, Christopher Clark | Pollination ecology of the Channel Islands and the evolution of year-round avian pollinators | $9,992 |
| David Reznick, Mark Springer | "The evolution of placentas in the fish family Poeciliidae". | $9,832 |
Western Tanager at the Jelly Feeder
Some western tanagers have been hanging around longer than previous years. Perhaps it's the jelly feeder. Many people feed seed, but ordinary grape jelly is preferred by some birds including orioles and western tanagers. My favorite jelly feeder story is that I once observed a gray catbird dip a grasshopper in jelly and then take it to feed its young.
<![if !vml]>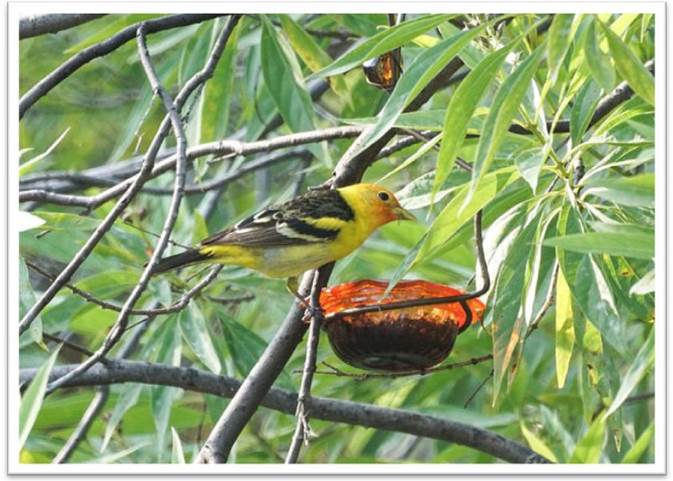 <![endif]>
(click to enlarge)
Michael Pazzani
Vice Chancellor for Research and Economic Development
Professor, Computer Science & Engineering
University of California, Riverside
200 University Office Building
Riverside, CA 92521
Assistant: Linda Bejenaru
Email: VCREDadmin@ucr.edu