UCR Research and Economic Development Newsletter: August 1, 2015
Michael Pazzani
Vice Chancellor for Research and Economic Development
Back Issues of Newsletter: http://research.ucr.edu/vcr/newsletters.aspx
Grant Opportunity Search: http://pivot.cos.com
<![if !supportLists]>· <![endif]>Keck Foundation Biomedical Grants– 8/2/15
<![if !supportLists]>· <![endif]>Pre-Award Spending: Make Fall commitment now
<![if !supportLists]>· <![endif]>NIH Requests for Feedback on Strategic Plan – 8/16/15
<![if !supportLists]>· <![endif]>2016 Department of Energy Early Career Research Program – 9/10/15
<![if !supportLists]>· <![endif]>NEH Digital Humanities Start-Up Grants – 9/16/15
<![if !supportLists]>· <![endif]>NSF: Interdisciplinary Behavioral and Social Science Research – 12/1/15
<![if !supportLists]>· <![endif]>U.S. Agency for International Development – Higher Education Partnerships for Innovation and Impact (HEPII)
<![if !supportLists]>· <![endif]>HRRB and IACUC Chairs
<![if !supportLists]>· <![endif]>Yellow-faced Grassquit
The Keck Foundation funds $1M grants in the biomedical sciences that are innovative and have the potential of being major breakthroughs. The foundation offers the opportunity to discuss potential proposals with universities before full proposals are submitted. The Foundation allows for only one submission per program. UCR will be emphasizing those in the biomedical areas for a submission to the medical research program (see http://www.wmkeck.org/grant-programs/grant-programs.html for details.) If you are interested in applying to Keck for the upcoming submission, please contact Randy Black (Randall.black@ucr.edu) as soon as possible. An abstract of less than one page will help focus the conversation and is needed by August 7. By August 2, please send Randy Black the title.
An ideal proposal might be a disruptive idea that you haven't submitted to a federal agency because it's too early or one that was declined by a federal agency with reviews that indicated that the research is extremely innovative and exciting and would have a large impact, but is too risky due to the lack of preliminary data.
In my experience, the most common reasons that proposals are rejected by Keck are that:
<![if !supportLists]>1. <![endif]>they are not ambitious enough, i.e., an incremental advance over the state of the art vs. creating a new paradigm
<![if !supportLists]>2. <![endif]>they focus too much on a single application and not enough on a breakthrough that will enable many applications
For examples of recently funded Keck proposals visit: http://www.wmkeck.org/grant-programs/research/medical-research-grant-abstracts/medical-research-2014.
Funding is awarded for research that:
Focuses on important and emerging areas of research

Has the potential to develop breakthrough technologies, instrumentation or methodologies

Is innovative, distinctive and interdisciplinary

Demonstrates a high level of risk due to unconventional approaches, or by challenging the prevailing paradigm

Has the potential for transformative impact, such as the founding of a new field of research, the enabling of observations not previously possible or the altered perception of a previously intractable problem

Falls outside the mission of public funding agencies

Demonstrates that private philanthropy generally, and the W. M. Keck Foundation in particular, is essential to the project's success. For example, they don't fund the type of research that the Gates Foundation funds.
Pre-Award Spending : Make Fall Commitments now
UCR's PAMIS system contains a pre-award system that allows PIs to request the authorization to spend funds before a grant has been executed. Right now is an excellent time to request spending up to 90 days before the grant is official, because there are less than 90 days in the federal year and most federal programs have committed their funds by now.
Unfortunately, there is an "abundance of caution" in the approval process because there is an infinitesimal chance that funds committed will not arrive. To overcome that caution, the Research and Economic Development Office is willing to incur that risk. In particular, for any NSF grant whose status is "recommended" a RED FAU can be used to guarantee funds if the award is not made. We are willing to take the risk with other agencies as well. Explain your situation to a RED staff member assigned to your department (see http://research.ucr.edu/about/staff.aspx?t=3) and they can approve or pass up the chain for approval.
NIH Requests for Feedback on Strategic Plan – 8/16/15
NIH is developing a 5-year NIH-wide Strategic Plan to advance its mission to support research in pursuit of fundamental knowledge about the nature and behavior of living systems, and the application of that knowledge to extend healthy life and reduce illness and disability. The goal of this larger NIH-wide strategic plan is not to outline the myriad of important research opportunities for specific disease applications, but to highlight major trans-NIH themes. See Request for Information (RFI): Inviting Comments and Suggestions on the NIH-wide Strategic Plan
NOT-OD-15-118: (http://grants.nih.gov/grants/guide/notice-files/NOT-OD-15-118.html) for the plan and http://grants.nih.gov/grants/rfi/rfi.cfm?ID=46 to leave feedback. by 11:59:59 pm (ET) on August 16, 2015. The
2016 Department of Energy Early Career Research Program – 9/10/15
The fiscal year 2016 Early Career Research Program was announced recently. The Early Career Research Program supports the development of individual research programs of outstanding scientists early in their careers and stimulates research careers in the disciplines supported by the DOE Office of Science. Opportunities exist in the following program areas: Advanced Scientific Computing Research (ASCR); Biological and Environmental Research (BER); Basic Energy Sciences (BES), Fusion Energy Sciences (FES); High Energy Physics (HEP), and Nuclear Physics (NP).
Important dates:
| | |
| --- | --- |
| Due date for Pre-applications: | 10-Sep-2015, 5 PM Eastern Time |
| Encourage/Discourage Decisions: | 8-Oct-2015, 5 PM Eastern Time |
| Due date for Proposals: | 19-Nov-2015, 5 PM Eastern Time |
New this year is a requirement for data management plans; proposals without the plan will be declined. Full details can be found here: http://science.energy.gov/early-career/.
NEH Digital Humanities Start-Up Grants – 9/16/15
The Digital Humanities Start-Up Grants program awards relatively small grants to support the planning stages of digital projects that promise to benefit the humanities. The program supports both new projects in early stages of development and efforts to reinvigorate existing or dormant projects in innovative ways.
Proposals should be for the planning or initial stages of digital initiatives in any area of the humanities. Digital Humanities Start-Up Grants may involve:
<![if !supportLists]>• <![endif]>creating or enhancing experimental, computationally-based methods or techniques for humanities research, teaching, preservation, or public programming;
<![if !supportLists]>• <![endif]>pursuing scholarship that examines the history, criticism, and philosophy of digital culture and its impact on society, or explores the philosophical or practical implications and impact of digital humanities in specific fields or disciplines; or
<![if !supportLists]>• <![endif]>revitalizing and/or recovering existing digital projects that promise to contribute substantively to scholarship, teaching, or public knowledge of the humanities.
Experimentation, reuse, and extensibility are hallmarks of this grant category, which incorporates the "high risk/high reward" paradigm often used by funding agencies in the sciences. NEH is requesting proposals for projects that take some risks in the pursuit of innovation and excellence.
Digital Humanities Start-Up Grants should result in plans, prototypes, or proofs of concept for long-term digital humanities projects prior to implementation. They can also be used to revitalize or recover projects in innovative ways that will allow greater access, reuse, and extensibility. Due September 16. Details at http://www.neh.gov/grants/odh/digital-humanities-start-grants
NSF: Interdisciplinary Behavioral and Social Science Research – 12/1/15
The Interdisciplinary Behavioral and Social Science Research (IBSS) competition promotes the conduct of interdisciplinary research by teams of investigators in the social and behavioral sciences. Emphasis is placed on support for research that involves researchers from multiple SBE disciplinary fields and that integrates scientific theoretical approaches and methodologies from multiple SBE disciplinary fields. Emphasis also is placed on the significance of expected intellectual contributions that are likely to yield generalizable insights and information that will enhance theoretical perspectives and advance basic knowledge and capabilities across multiple SBE disciplinary fields. Although the IBSS competition will consider any proposal that addresses a topic for which the proposal makes a compelling case that the research will enhance broader theoretical understanding across multiple social and behavioral science fields, social and behavioral science researchers are especially encouraged to submit proposals for research on one of the following three broadly defined topics: Population Change; Sources and Consequences of Disparities; and Technology, New Media, and Social Networks. Due Dec. 1. Details at https://www.nsf.gov/funding/pgm_summ.jsp?pims_id=504832
U.S. Agency for International Development (Higher Education Partnerships for Innovation and Impact (HEPII) Annual Program Statement (APS) – 6/29/16
The United States Agency for International Development (USAID) is seeking concept papers from higher education institutions (HEIs) to work with USAID to advance strategic priorities and objectives and achieve sustainable development outcomes, results, and impact. This Annual Program Statement (APS) has the flexibility to award Cooperative Agreements, Grants, Fixed Amount Awards, and leader with Associate Awards. This APS is not supported by specific funding, and any funding for any USAID-HEI partnership proposed under this APS would have to be requested from the specific USAID Mission, Bureau, or Independent Office with which the prospective applicant seeks to collaborate and to which the Concept Paper will be submitted. USAID seeks to optimize its relationship with HEIs by identifying and promoting successful partnerships and collaboration models, and increasing USAID's access to higher education technical resources. The purpose of this APS is to promote opportunities for leveraging HEI capabilities across USAID's portfolio and its program cycle, and strengthen developing country HEI capabilities to respond to and solve critical development challenges. Original Closing Date for Applications: Jun 29, 2016. See http://www.grants.gov/web/grants/search-grants.html?keywords=APS-OAA-15-000048 for details
I am pleased to announce the incoming Chairs of the IACUC and Social Behavior Human Research Review Board (HRRB1). Peter Hickmott, Ph.D. is the new Chair of the IACUC. Peter joined the IACUC January, 2001 and has been Vice-Chair since May, 2004. Peter is an Associate Professor in the Psychology department, where his research focuses on the basic cellular and synaptic properties that underlie the organization and plasticity of sensory maps, specifically the primary somatosensory cortex (S1). Rollanda (Randi) O'Connor, Ph.D. is the new Chair of the Social Behavior Human Research Review Board (HRRB1). Randi was previously Vice-Chair from July 2010 – June 2014. She is Professor and Eady/Hendrick Chair in Learning Disabilities in the Graduate School of Education, and her research focuses on increasing the responsiveness of children to reading interventions in Grades K-4, including the effects of Tier 2 intervention for English Learners across the first five years of reading development, and interventions to improve reading skills of 8th graders with LD and other disabilities.
I would also like to extend a thank you to the outgoing Chairs, Dr. Helen Henry and Dr. Augustine Kposowa, for their dedicated service to these two vital committees. Professor emerita Helen Henry, Ph.D. served on the IACUC for more than 12 years which includes serving as the Chair of IACUC since January 2004. Professor Augustine Kposowa, Ph.D. has served on UCR's Social Behavior HRRB for more than 12 years including serving as Chair of HRRB since September 2010. HRRB AND IACUC CHAIRS
Yellow-faced Grassquit
Here's a bird I ran across in Jamaica a few years ago. We couldn't identify it and nicknamed it the superhero bird due to its mask. We posted it on online and eventually found out it was a Yellow-faced Grassquit.
<![if !vml]>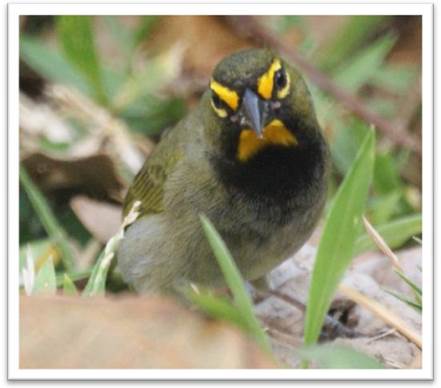 <![endif]>
(click to enlarge)
Michael Pazzani
Vice Chancellor for Research and Economic Development
Professor, Computer Science & Engineering
University of California, Riverside
200 University Office Building
Riverside, CA 92521
Assistant: Linda Bejenaru
Email: VCREDadmin@ucr.edu