UCR Research and Economic Development Newsletter: October 25, 2015
Michael Pazzani
Vice Chancellor for Research and Economic Development
Back Issues of Newsletter: http://research.ucr.edu/vcr/newsletters.aspx
Grant Opportunity Search: http://pivot.cos.com
<![if !supportLists]>· <![endif]>Collaborative Seed Grant Program
<![if !supportLists]>· <![endif]>NSF Research Traineeship (Nov 12 internal deadline)
<![if !supportLists]>· <![endif]>NEH's Next Generation Humanities Ph.D.
<![if !supportLists]>· <![endif]>Funding Summary for Social and Behavioral Sciences, the Humanities, and the Arts
<![if !supportLists]>· <![endif]>Upcoming Events and Research Information Sessions for Faculty/Researchers
<![if !supportLists]>· <![endif]>Hermit Thrush
Collaborative Seed Grant Program
The Office of Research and Economic Development (RED) is pleased to announce the continuation of the collaborative seed grant program. The grants are internal funds for UCR faculty teams to collaborate and publish in advance of proposing multi-investigator projects and centers to external agencies. Teams with seed funding who generate preliminary results and gain experience working jointly have proven more successful when they later compete for multi-investigator and/or multidisciplinary grants.
PURPOSE
Serving as a catalyst for UCR faculty to form new teams, the seed grant program is intended to initiate new intellectual directions for faculty and to make UCR more competitive for multidisciplinary grants. Selection criteria for seed grants reward projects that create new relationships and synergies across schools, departments or centers. Key considerations include whether the project can be leveraged toward new externally-funded research, and whether the project cannot be otherwise initiated using regular department or school resources. An ideal project would apply for external funding within 6-10 months following seed funding.
TYPES OF AWARDS
Large Project Seed Grants: Enable a team of two or more UCR faculty to obtain initial results or data to prepare for a center grant, defined as at least 3 UCR faculty and 4 UCR graduate students. Examples include NIH program project (P-50) grants, NSF Science and Technology Centers, NSF Engineering Research Centers, DOE Manufacturing Centers, NEH Summer Institutes, or USDA/NIFA Coordinated Agricultural Project, etc

..

Large Project seed grants have a maximum budget of $75,000 and funds may be spent from July 1, 2016-June 30

,2017

.

Small Project Seed Grants: Enable a team of two or more UCR faculty to obtain initial results or data that will make them more competitive for any peer-reviewed federal program. A typical Small Project grant would include summer support for a graduate student plus supplies. . Small Project seed grants have a maximum budget of $10,000 and funds may be spent from July 1, 2016- December 31, 2016.
ELIGIBILITY
Proposals are invited from all UCR individuals eligible to serve as a Principal Investigator. (For additional information on PI eligibility see Policy #527-3.) Although external collaborations with universities or companies are encouraged, seed funded projects must involve at least two UCR faculty (a PI and at least one UCR co-PI) and funds may not be used to support outside institutions. A faculty member may participate as PI or CoPI on only one seed grant. A faculty PI on an award made through the Large or Small Collaborative Seed Grant Program in 2013, 2014, or 2015 cannot be a Pi or coPi on a seed grant in 2016, unless they have been awarded a grant as a result of the prior seed grant or applied three times for funding based on the seed grant.
USE OF FUNDS
Funds may be used for any activity directly related to the conduct of the research, e.g. salaries and benefits for students, postdocs, or research scientists, research supplies, equipment/facility recharge, etc. Funds may not be used for faculty summer salaries, administrative staff, course buyouts, seminar speakers, consultants, conferences, or travel, except to federal agencies or proposer workshops. Small project seed grants will receive all funding at the start of the project. Large project seed grants will receive 50% of funds to initiate the project, with the remainder made available upon completion and approval of a brief report on project status. All funds must be expended by the end of the project period. To focus on projects that can make rapid progress, unexpended funds will be returned.
DEADLINES
The internal proposal deadline for both Large and Small Seed Grants is January 11, 2016.
PROGRESS TRACKING AND REPORTING
Awardees of Large Grants are required to submit both a brief interim report to release the remaining 50% of the funds and a final project report within 60 days of the award period end. Small Grant awardees are required only to submit a final project report within 60 days. The final project report should include the results of the research, a financial statement and plans or efforts underway to obtain external funding. Lack of timely reporting may result in exclusion from future award opportunities.
REVIEW PROCESS
Proposals will be reviewed by UCR faculty with comments returned to explain funding decisions. The alignment of projects with the goals of innovation and high impact, and the feasibility of completing the project and submitting a collaborative grant proposal are evaluation priorities. Proposals that are disruptive, use technology in new ways, or launch entirely novel approaches are specifically encouraged. The assessment will consider the extent of inter-disciplinary and inter-departmental collaboration as well as the potential for subsequent extramural funding. Deans of the PI and co-PIs also will be asked for input on the importance of the project for their school.
APPLICATION FORMAT
Bearing in mind that not all reviewers will have an extensive knowledge of their field of inquiry, faculty should use proposal language accessible to the most faculty. Both types of Seed Grant proposals use the same application format:
Application Form

Research Plan - No more than 3 pages, single-spaced, 12 point font with one-inch margins. Typical proposals should include: a brief introduction and one-year objectives, research plan - specific aims and methodology, and anticipated results.

External Funding Target: What specific federal funding opportunity will be targeted for subsequent funding? What is the proposed timeline for applying for external funding? Projects that do not indicate a specific opportunity will be returned without review.

Budget with breakdown of cost categories.

CVs (no more than 2 pages for each investigator).

Results of prior seed grant(s).
APPLICATION SUBMISSION
Applications should be submitted through the "EasyChair" system at https://easychair.org/conferences/?conf=csgp2016
The NSF Research Traineeship (NRT)
NRT is designed to encourage the development and implementation of bold, new, and potentially transformative models for STEM graduate education training. The NRT program seeks proposals that ensure that graduate students in research-based master's and doctoral degree programs develop the skills, knowledge, and competencies needed to pursue a range of STEM careers. The NRT program includes two tracks: the Traineeship Track and the Innovations in Graduate Education (IGE) Track.
The Traineeship Track is dedicated to effective training of STEM graduate students in high priority interdisciplinary research areas, through the use of a comprehensive traineeship model that is innovative, evidence-based, and aligned with changing workforce and research needs. For FY2016, there are four priority areas: (1) Data-Enabled Science and Engineering (DESE), (2) Understanding the Brain (UtB), (3) Innovations at the Nexus of Food, Energy, and Water Systems (INFEWS), and (4) any other interdisciplinary research theme of national priority. The priority research areas for the FY2017 competition will be (1) UtB, (2) INFEWS, and (3) any other interdisciplinary research theme of national priority.
The Innovations in Graduate Education Track focuses on test-bed projects aimed at piloting, testing, and validating innovative and potentially transformative approaches to graduate education. IGE projects are intended to generate the knowledge required for their customization, implementation, and broader adoption. While the Traineeship Track promotes building on the current knowledge base to develop comprehensive programs to effectively train STEM graduate students, the IGE Track supports testing of novel models or activities with high potential to enrich and extend the knowledge base on effective graduate education approaches.
Additional information on the NRT program can be found at http://www.nsf.gov/publications/pub_summ.jsp?ods_key=nsf16503, UCR can submit only 2 of each type of proposal. An internal deadline of November 12 has been set to submit a internal proposal. Please make sure the internal proposal is complete and follows the instructions of http://research.ucr.edu/ord/limitedsubmissions.aspx Last year, NSF has a 5% acceptance rate for the Traineeship track and a 20% acceptance rate for the IGE track. Proposals to the IGE track are highly encouraged and a good way to set up a traineeship track proposal in subsequent years.
Upcoming Events and Research Information Sessions for Faculty/Researchers
Don't forget to check out the Research and Economic Development events this fall http://research.ucr.edu/about/calendar.aspx. . Below are the events coming up in the next few weeks:
Date

Time

Location

Topic

10/28/15

3:00 – 6:00

Hinderacker B154

Business Meets Science Entrepreneur Matchmaking Event: http://research.ucr.edu/about/calendar.aspx

10/30/15

8:30 – 10:00

Alumni & Visitors Center

IRB 250 –- Quick Overview

10/30/15

10:15 – 11:15

Alumni & Visitors Center

IRB 250 – Case Studies Social Behavior Research presented by PRIM&R http://research.ucr.edu/event/about.aspx?ec=prim15in

10/30/15

11:15 – 12:15

Alumni & Visitors Center

IRB 250 – Case Studies in Biomedical Research presented by PRIM&R

11/2/15

12:00 – 1:30

UOB 210

STEM Learning – networking lunch

Full, but to put your name on the waiting list:

11/6/15

10:00 – 11:00.

HUB 260

Using NSF FastLane and Research.gov - New Faculty Seminar

11/16/15

12:00 – 1:30

UOB 210

Spatial Science – networking lunch

To reserve:

11/16/15

3:00 – 5:00

Alumni & Visitors Center

NIH SBIR Workshop
NEH's Next Generation Humanities Ph.D.
WASHINGTON (October 21, 2015) — The National Endowment for the Humanities (NEH) today announced a new grant program designed to inspire innovative models of doctoral education in the humanities that incorporate broader career preparation for PhD candidates.
Data collected by the Humanities Indicators project show that humanities PhDs pursue careers in many different professions, both inside and outside academia. Yet most humanities PhD programs in the United States still prepare students primarily for tenure-track positions at colleges and universities—positions that are increasingly in short supply.
NEH Next Generation Humanities PhD grants seek to address the disparities between graduate student expectations for a career in academia and eventual career outcomes and to promote greater integration of the humanities in the public sphere. These grants will allow colleges and universities to plan for major changes to PhD programs and then implement programmatic initiatives that will transform understanding of what it means to be a humanities scholar.
"Through the Next Generation Humanities PhD grant program, NEH expects to play a leading role in helping humanities doctoral programs prepare students for the challenges and opportunities of the 21stcentury," said NEH Chairman William D. Adams. "The knowledge and skills that students acquire through humanities PhD programs can make an important contribution to society in ways that go beyond the customary career track for doctoral students."
The new grant program offers one-to-one cost-sharing grants, so that recipient institutions must raise or contribute $1 for every $1 of NEH grant funding.
NEH Next Generation Humanities PhD Planning grants support efforts by institutions to bring together faculty, graduate students, administrators and other important constituencies to strategize and produce plans that will transform scholarly preparation in the humanities at the doctoral level.
Planning grants offer one-to-one cost-sharing grants of up to $25,000 for as long as 12 months, for a maximum total grant of $50,000. Planning themes might include strategies to secure faculty support for PhD reforms or efforts to increase students' exposure to multiple career paths or encourage collaboration with other departments or non-academic institutions. Application guidelines for NEH Next Generation PhD Planning grants are available at neh.gov.
NEH Next Generation Humanities PhD Implementation grants support institutions in enacting wide-ranging changes in humanities doctoral programs.
Implementation grants offer one-to-one cost-sharing grants of up to $350,000 for as long as 36 months, for a maximum total grant of $700,000. These grants may be used for programmatic changes to PhD programs such as alterations to dissertation formats or requirements, graduate student funding for activities other than teaching, or the development of systems to track post-doctoral career data for all PhD candidates. Application guidelines for NEH Next Generation PhD Implementation grants are available at neh.gov.
NEH program staff from the Office of Challenge Grants will conduct a webinar for interested applicants on Thursday, December 3, at 2 PM EST, 11Am PST. Click here to register. The application deadline for both Planning and Implementation grants is February 17, 2016.
Although details are still being worked out, UCR is committed to providing the required match for this (and all other) grant programs.
Funding Summary for Social and Behavioral Sciences, the Humanities, and the Arts
The social and behavioral sciences, the humanities, and the arts have a critical role to play in answering broader scientific and social questions, including in the areas of healthcare, energy, climate and sustainability among others. In addition, federal agencies are taking on new challenges through interdisciplinary approaches and emphasizing the importance of national initiatives reaching underserved populations – those whose opportunities are limited by geography, ethnicity, economics, or disability.
The attached report by Lewis-Burke Associates (LBA) include a select catalog of over 100 funding opportunities for behavioral and social sciences, arts, and humanities that span the federal government. When applying for federal research funding, researchers should think of the social sciences from an interdisciplinary perspective – how the social sciences affect technological innovation, national security, education, or human well-being in the context of national priorities.
UCR has contracted with LBA to assist with federal funding and the attached report cannot be shared outside of UCR
Since I've moved to Riverside three years ago, a hermit thrush or two have visited my yard each fall arriving in late October. Here's a photo of this reclusive bird.
<![if !vml]>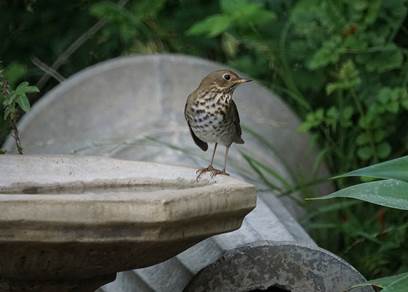 <![endif]>
(click to enlarge)
Michael Pazzani
Vice Chancellor for Research and Economic Development
Professor, Computer Science & Engineering
University of California, Riverside
200 University Office Building
Riverside, CA 92521
Assistant: Linda Bejenaru
Email: VCREDadmin@ucr.edu