UCR Research and Economic Development Newsletter: November 11, 2015
Michael Pazzani
Vice Chancellor for Research and Economic Development
Back Issues of Newsletter: http://research.ucr.edu/vcr/newsletters.aspx
Grant Opportunity Search: http://pivot.cos.com
<![if !supportLists]>· <![endif]>Collaborative Seed Grants
<![if !supportLists]>· <![endif]>High Performance Wireless Research and Education Network (HPWREN) – 11/16/15, 1:15pm
<![if !supportLists]>· <![endif]>Save The Date: CFAMM Celebration of new TEM; Dec 11
<![if !supportLists]>· <![endif]>Travel Tips I wish someone told me three years ago
<![if !supportLists]>· <![endif]>NSF Biological Science Tip
<![if !supportLists]>· <![endif]>Request for Information: Agricultural Innovation
<![if !supportLists]>· <![endif]>Presentation on NIH Specific Aims – 11/12/15 at 10:30am
<![if !supportLists]>· <![endif]>Upcoming Events and Research Information Sessions for Faculty/Researchers
<![if !supportLists]>· <![endif]>Killdeer
UCR's Collaborative Seed Grant program provides funds of up to $75,000 to encourage collaboration make UCR faculty more competitive on federal grant program by funding research needed to get preliminary results. Teams of faculty who were awarded collaborative seed funds in 2013 received at least $28,767,318 in federal funds in subsequent years. (of course, some of this would have occurred without the seed grants). The next deadline is Jan 11, 2016
http://research.ucr.edu/ord/funding/opportunities/collaborative-seed-grant-program.aspx
High Performance Wireless Research and Education Network (HPWREN) – 11/16/15, 1:15pm
On Nov 16th at 1:15pm, Frank Vernon of UCSD will talk about High Performance Wireless Research and Education Network (HPWREN) in UOB 210.
The High Performance Wireless Research and Education Network (HPWREN) is a project of the Applied Network Research (ANR) group at the San Diego Supercomputer Center, University of California San Diego, to support Internet-data applications in the research, education, and public safety realms. HPWREN functions as a collaborative, Internet-connected cyberinfrastructure. The project supports a high-bandwidth wireless data network in San Diego, Riverside, and Imperial counties in areas that are typically not well-served by other data networking technologies. The network includes backbone "nodes," typically sited on mountain tops, to connect often hard-to-reach areas in the remote Southern California back country.
The network supports a wide range of network application requirements, ranging from high-volume astronomical data generated by the Palomar Observatory, to a steady output of continuous, low-volume traffic from devices such as earthquake sensors, which deliver real-time data. HPWREN also includes permanent sites as well as those created temporarily and on short notice, such as firefighter Incident Command Posts (ICPs). HPWREN saw use in several of the major wild fires to hit San Diego County across many years.
The network spans from San Clemente Island in the Pacific Ocean, via the southern California coast to the inland valleys, east toward the mountain elevations of more than 8,700 feet, and the remote desert, reaching almost to the Arizona border. The network's longest link is 72 miles in distance, from the San Diego Supercomputer Center to San Clemente Island.
If you would like to meet with Frank after the talk, (between 2 and 3) or join us for dinner at 5:30 please RSVP to Linda Bejenaru at VCREDadmin@ucr.edu.
Save The Date: CFAMM Celebration of new TEM; Dec 11
On Dec 11 at 5Pm there will be celebration of opening of the new Transmission Electron Microscope, a Titan Themis 300 in the Central Facility for Advanced Microscopy and Microanalysis. This is made possible as part of a $14M investment by the campus in Sept 2014 to improve research infrastructure.
Travel Tips I wish someone told me three years ago
I've been doing a bit of travel recently, and I've learned a few things that I wished I knew when I started at UCR. These may be well known, but just in case.
Hotel Discounts. UCOP has negotiated discount rates with various hotels. You can access these by using the following codes when making reservations directly with hotels
•Marriott: UC0
•Starwood (Westin, Sheraton, W, Four Points): 360858
The Hertz Gold Plus program allows one to avoid the rental car counter and directly go to you reserved car. It normally costs $60 a year but is free to UC employees. http://www.ucop.edu/central-travel-management/travel-supplier-programs/cars.html
Southwest Airlines sometimes has considerably lower prices on its web site than through Connexxus.
NSF Biological Science Tip
This fall, I visited NSF with several faculty and spent time in the BIO division. Here is one thing that I learned that never occurred to me. Several divisions in BIO (e.g., IOS) have gone to required preproposals. If you want feedback on a short version of a proposal, you can send to the competition with preproposals and then use the feedback to submit to another program, e.g., CAREER. The next preproposals deadline in IOS is Jan 15, 2016 and should get feedback before the deadline for CAREER (see http://www.nsf.gov/pubs/2016/nsf16505/nsf16505.htm)
Presentation on NIH Specific Aims – 11/12/15 at 10:30am
Dr. Ilhem Messaoudi Powers will be giving a presentation, on "NIH Specific Aims":
Date: Thursday, 11/12/15
Time: 10:30am-11:30am
Location: SOM Research Building Rm. 321
Note: You will need this PIN to access the building: This temporary PIN will work for entry that day: 18596.
Request for Information: Agricultural Innovation
Opportunity for Public Comment: White House Solicits Sources of Agricultural Innovation: White House Office of Science and Technology Policy (OSTP) released a Request for Information (RFI) about sources of agricultural innovation with the goal of discovering new ideas to spur innovation, elevate the profile of agricultural research, and address the needs of the growing global population. OSTP seeks information about existing programs of innovative agricultural science, as well as feedback on areas of need in research, education, or training. The request calls for input from "biological and agricultural stakeholders"
<![if !supportLists]>· <![endif]>Deadline: December 4, 2015
<![if !supportLists]>· <![endif]>https://www.whitehouse.gov/webform/request-information-agricultural-innovation
Upcoming Events and Research Information Sessions for Faculty/Researchers
Don't forget to check out the Research and Economic Development events this fall http://research.ucr.edu/about/calendar.aspx. Below are the events coming up through the end of November:
Date

Time

Location

Topic

11/12/15

10:30 – 11:30

SOM RB 321

Presentation on NIH Specific Aims by Prof. Ilhem Messaoudi Powers

Use code 18596 to access the building

11/16/15

12:00 – 1:30

UOB 210

Spatial Science – networking lunch

To reserve:

11/16/15

1:30 – 3:30

Alumni & Visitors Center

NIH Small Business Innovation Research (SBIR) Workshop

To reserve:

11/20/15

10:00 – 11:00.

HUB 260

Essentials of Reading an RFP - including interactive case-studies of Federal, State, Non-Profit, and Industry proposal solicitations.

11/30/15

12:00 – 1:30

UOB 210

Unmanned Aerial Vehicles in Research – networking lunch

To reserve:
Killdeer
Here's a killdeer eating a worm from the UCR's AgOps area.
<![if !vml]>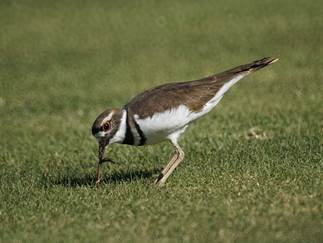 <![endif]>
(click to enlarge)
Michael Pazzani
Vice Chancellor for Research and Economic Development
Professor, Computer Science & Engineering
University of California, Riverside
200 University Office Building
Riverside, CA 92521
Assistant: Linda Bejenaru
Email: VCREDadmin@ucr.edu