UCR Research and Economic Development Newsletter: November 21, 2015
Michael Pazzani
Vice Chancellor for Research and Economic Development
Back Issues of Newsletter: http://research.ucr.edu/vcr/newsletters.aspx
Grant Opportunity Search: http://pivot.cos.com
<![if !supportLists]>· <![endif]>Federal Grant Acceptance Rates
<![if !supportLists]>· <![endif]>NSF Major Research Instrumentation (MRI) – Internal Deadline 12/10/15
<![if !supportLists]>· <![endif]>Amy Litt: NSF Bio Workshop, Thurs., 12/10/15 at 10:00 in UOB 210
<![if !supportLists]>· <![endif]>Army Research Lab – Open Campus Initiative
<![if !supportLists]>· <![endif]>CFAMM Open House/Tours and Reception, Dec 11
<![if !supportLists]>· <![endif]>Life Sciences and Healthcare Accelerator Program
<![if !supportLists]>· <![endif]>Cancer Research Coordinating Committee (CRCC) Awards
<![if !supportLists]>· <![endif]>Upcoming Events and Research Information Sessions for Faculty/Researchers
<![if !supportLists]>· <![endif]>RED Update: IRB, Tech Commercialization, Entrepreneurship, Training, Sponsored Projects
<![if !supportLists]>· <![endif]>Workshop: Collaborating with Industry - Opportunities, Challenges, Solutions 12/4/15 10am
<![if !supportLists]>· <![endif]>Pine Siskin
Federal Grant Acceptance Rates
UCR's overall federal funding has increased significantly in the past few years as the graph below from http://ucrtoday.ucr.edu/33209 illustrates. What is most impressive is this is occurring at a time that Federal funding has declined slightly. (see http://www.nola.com/education/index.ssf/2015/11/federal_funding_for_university.html for example).
<![if !vml]>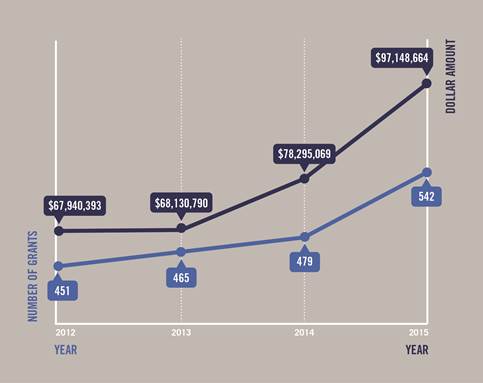 <![endif]>
Most of the increase for federal funding has occurred due to increases in acceptance rates at the various agencies. The graph below shows UCR acceptances rates overall and for our three largest agencies). Overall, the acceptance rate for federal proposals has increased from 15.2% to 25.1% from 2012 to 2015.
<![if !vml]>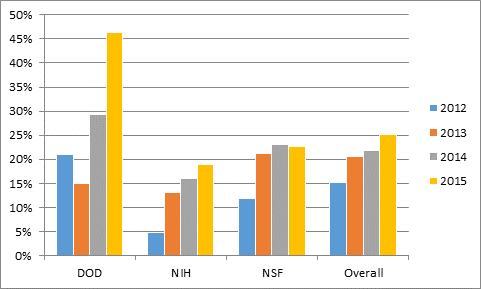 <![endif]>
The data was calculated by examining each new proposal (excluding supplements and continuations of existing grants) submitted between July 1 and June 30 of a given fiscal year, and determining whether it was funded. For 2015, only those proposals submitted before January 1, 2015 are included because many proposals submitted before June 30 are still under review).
The increase in NIH is particularly impressive since many faculty hear of acceptance rates around 8% and UCR's is 18.9% in the most recent year. For example, 143 NIH proposals were submitted in 2012 with 7 funded, while 74 were submitted in the first half of 2015 with 14 funded.
NSF Major Research Instrumentation (MRI) – Internal Deadline 12/10/15
The Major Research Instrumentation Program (MRI) serves to increase access to shared scientific and engineering instruments for research and research training in our Nation's institutions of higher education, not-for-profit museums, science centers and scientific/engineering research organizations. The program provides organizations with opportunities to acquire major instrumentation that supports the research and research training goals of the organization and that may be used by other researchers regionally or nationally.
Each MRI proposal may request support for the acquisition or development of a single research instrument for shared inter- and/or intra-organizational use. Development efforts that leverage the strengths of private sector partners to build instrument development capacity at MRI submission-eligible organizations are encouraged.
The MRI program assists with the acquisition or development of a shared research instrument that is, in general, too costly and/or not appropriate for support through other NSF programs. The program does not fund research projects or provide ongoing support for operating or maintaining facilities or centers. The MRI program does not support the acquisition or development of a suite of instruments to outfit research laboratories or facilities, or that can be used to conduct independent research activities simultaneously.
Instrument acquisition or development proposals that request funds from NSF in the range $100,000-$4 million may be accepted from any MRI-eligible organization. Proposals requesting more than $1M have a lower acceptance rate and go through a secondary review process at NSF.
Cost-sharing of precisely 30% of the total project cost is required for Ph.D.-Research and Economic Development will provide 50% of the required match with the dean(s) of the participating units being responsible for the remainder.
There is a limit of three proposals per institution. No more than two of the three can be for instrument acquisition. The campus limited submission deadline is November 20. See http://research.ucr.edu/ord/limitedsubmissions.aspx The three selected to go forward will be due to NSF on January 13, 2016.
In the past two years, UCR had a 50% acceptance rate receiving three awards from this program. Hints for being successful include
 The PI often has a track record of NSF funding and the instrument will be used by several others with NSF Funding.
 The equipment should enable innovative science and engineering projects
 Development awards, creating a novel instrument, have a higher acceptance rate than acquisition
 Request for funding less than $1M have a higher acceptance rate.
 The match should not be in kind costs such as graduate student's stipends.
 A strong plan for running and maintaining the equipment during the grant and after the grant ends increases chances of funding.
Successful internal proposals will address these issues.
The NSF solicitation is available at http://www.nsf.gov/pubs/2015/nsf15504/nsf15504.htm
Amy Litt: NSF Bio Workshop, Thurs., 12/10/15 at 10:00 in UOB 210
Amy Litt, a professor in Botany and Plant Science and former NSF BIO program officer will lead a workshop focusing on funding from the NSF BIO Directorate. Based on her experience as a program director at NSF, she will give suggestions as to how to craft a successful grant proposal to NSF. Although focusing on BIO, there are similarities between NSF directorates and anyone interested in NSF is welcome to attend.
Army Research Lab – Open Campus Initiative
The Army Research Lab (ARL) held an open house on their Open Campus initiative at the beginning of November. Reed Skaggs with Lewis-Burke Associates (LBA) (UCR's funding consultants) attended. Links to the ARL Open Campus presentations are below. Also below is a link to a website highlighting the various science and technology research topics of interest to ARL. Interested researchers are encouraged to review the S&T areas to see if linkages could be made with ARL. If there are areas of connection, RED and LBA associates are happy to help facilitate interactions with the appropriate program managers at ARL.
ARL Director Dr. Thomas Russell's Open House Presentation: Open Campus Model: Accelerating Innovation and Discovery at ARL and Beyond - (http://www.arl.army.mil/opencampus/sites/default/files/03_OCOH_ARLOverview_DrRussell.pdf)
Mr. Thomas Mulkern's, ARL Technology Transfer, Open House Presentation: Collaborative Mechanisms - (http://www.arl.army.mil/opencampus/sites/default/files/04_OCOH_CollaborativeMechanismsOverview_Mulkern.pdf)
ARL S&T Collaboration Opportunities – by research/technology topic: http://www.arl.army.mil/ocoh-tech-followup/
CFAMM Open House/Tours and Reception, Dec 11
Recent developments in nanosciences and technology require imaging capabilities down to the atomic level as well as chemical identification of different components with atomic resolution. To address such needs the UCRt has invested over $2.5 Million to upgrade the electron microscopy capabilities at UC Riverside to cutting-edge 21st century technology with the purchase of one of the most advanced Scanning/Transmission Electron Microscopes (STEM): the 300 kV FEI Titan Themis complemented by an versatile dual-beam focused ion beam (FIB) - SEM Quanta 3D.
Currently the Titan Themis 300 is the most powerful non-corrected analytical STEM on the West Coast of USA. It is capable of atomic resolution imaging and chemical analysis, nanoscale diffraction characterization and 3D visualization of nanomaterials, minerals, cells and tissue. The FIB-SEM Qunnta 3D is capable of slicing thin foils of almost any material to enable S/TEM imaging as well as Environmental SEM imaging of hydrated samples and tissue at close to atmospheric pressure.
Please join us for tour and demo to get first-hand experience of the new instrumentation, meet the staff, and get further information. The open house will be from 1:00-5:00 in Bourns Hall B116, followed by a reception from 5:00-7:00 in Bourns Hall A265.
To register to attend a tour or reception, please email: VCREDadmin@ucr.edu.
For more info please contact Dr. Krassimir Bozhilov at 951 827-2998 or bozhilov@ucr.edu or visit CFAMM web site: http://cfamm.ucr.edu
Life Sciences and Healthcare Accelerator Program
Students or faculty at UC Riverside may participate in a large life sciences and healthcare accelerator program called OneStart The program is free for applicants and offers a grand prize of $150K in non-dilutive funding, free lab space and ongoing professional services support. Students from other disciplines, including business,, engineering, and computer science are also encouraged to get involved.
All semi-finalists will receive extensive mentorship from sponsors such as McKinsey & Company, Johnson & Johnson Innovation, GlaxoSmithKline, Bristol-Myers Squibb, Roche, Takeda Ventures, and more.
For more information, go to the Onestart Co-founder Hub at http://onestart.co/. The 2016 application deadline is December 1, 2015.
Cancer Research Coordinating Committee (CRCC) Awards
The Research Grants Program Office in the UC Office of the President is pleased to issue a Request for Proposals (http://ucop.edu/research-initiatives/programs/crcc/files/2016%20CRCC%20RFP%20and%20LOI%20Instructions.pdf) for the Cancer Research Coordinating Committee (CRCC) awards for 2017. The CRCC is a systemwide, faculty-directed cancer research program that provides one-year seed grants for topics in any discipline that address any aspect of cancer, including its origins, prevention and cure. Currently, the CRCC awards grants to:
<![if !supportLists]>· <![endif]>New UC faculty to initiate cancer research projects;
<![if !supportLists]>· <![endif]>Established investigators in other areas of research to initiate cancer research projects;
<![if !supportLists]>· <![endif]>Established cancer investigators to initiate cancer studies in new areas.
Proposals must be submitted by a member of the Academic Senate at one of the ten UC campuses who serves as the PI for the award. Please refer to the RFP for funding priorities, eligibility, application guidelines, and additional information.
Note: Beginning with this award cycle, there are new application procedures, including a required Letter of Intent (LOI).
Key Dates:
| | |
| --- | --- |
| Applicant Teleconference (optional): | Thursday, December 10, 2015 at 10:30AM |
| Required Letters of Intent Due: | Thursday, January 21, 2016 |
| Notification of LOI Decision: | by Friday, January 29, 2016 |
| Full Proposals Due: | Thursday, March 31, 2016 |
Additional Information:
You are encouraged to review the CRCC Application FAQs document on our website (http://ucop.edu/research-initiatives/programs/crcc/index.html).
For questions on program scope and priorities, please contact: UCRI@ucop.edu
Administrative questions regarding the application procedures on proposalCENTRAL may be directed to: RGPOGrants@ucop.edu
Upcoming Events and Research Information Sessions for Faculty/Researchers
Don't forget to check out the Research and Economic Development events this fall http://research.ucr.edu/about/calendar.aspx. Below are the events coming up through the end of November:
Date

Time

Location

Topic

11/30/15

12:00 – 1:30

UOB 210

Unmanned Aerial Vehicles in Research – networking lunch

To reserve:

12/4/15

10:00 – 11:00

HUB 260

Faculty Information Seminar – Collaborating with Industry - Opportunities, Challenges, Solutions

To reserve:

12/10/15

10:00 – 10:30

UOB 210

Amy Litt: NSF Bio workshop

12/11/15

1:00 – 5:00

5:00-7:00

Bourns Hall B116

Bourns Hall A265

CFAMM Open House and Tours

CFAMM Reception

To reserve:

Send email to VCREDadmin@ucr.edu
Research and Economic Development has been filling vacant positions and expanding to help faculty with research and commercialization. The following people have joined RED recently:.
<![if !supportLists]>· <![endif]>Dario Kuzmanović (dario.kuzmanovic@ucr.edu) is the new Director of Research Integrity. He is responsible for setting up the biomedical IRB and providing support for the behavioral IRB and the conflict of interest committee.
<![if !supportLists]>· <![endif]>Brian Suh (Brian.Suh@ucr.edu) joins UCR as the new Director of Technology Commercialization.
<![if !supportLists]>· <![endif]>Michalis Faloutsos, (Michalis@cs.ucr.edu) a faculty member in computer science is helping RED and UCR faculty and students as the Director of Entrepreneurship. His goal is to encourage and assist faculty and students to form companies. He works closely with Gunnar Huntig, director of new ventures who helps faculty and students develop business models for companies to prepare them for investment and Entpenuers-in -residence Jay Goth and Jack Tsai who help companies network with potential business partners.
<![if !supportLists]>· <![endif]>Jim Llano (james.llano@ucr.edu) joins UCR Associate Director of Corporate and Strategic Partnerships. He will concentrate on developing relationships between UCR faculty and AgTech companies.
<![if !supportLists]>· <![endif]>Robert Chan (Robert.chan@ucr.edu) moves into the position of Training Officer. He helps faculty and staff with UCR's and the governments electronic systems, provides support to faculty on large multi-investigator grants, and backs up Sponsored Programs Administration(SPA) on their busiest days.
<![if !supportLists]>· <![endif]>Karen Garcia (Karen.garcia@ucr.edu) has joined the SPA team as a Sr. Contract and Grant Officer.
Dario Kuzmanović (CRA, MHSc) comes to UCR with extensive experience in research administration and compliance. For the past 7 years, he has worked in various roles dealing with human subjects and research ethics at University of Toronto. He completed a master's degree in bioethics from University of Toronto's Joint Centre for Bioethics and holds a Clinical Research Associate degree from The Michener Institute for Applied Health Sciences. As a research ethicist, Dario has consulted for numerous private companies and international groups, including the World Health Organization. He has worked on several publications dealing with research ethics, confidentiality, and research in developing countries. Dario loves to share his passion for research ethics and integrity with others and is often a speaker on national and international conferences. In his spare time, Dario loves to explore different cuisines and practices Muay Thai kickboxing.
Brian Suh had joined the Office of Research and Economic Development as the Director of the Office of Technology Commercialization (OTC) at University of California Riverside (UCR). He oversees and manages all aspects of the OTC and staff, which includes the development, protection, marketing, and commercialization of UCR's campus research and intellectual property (IP); outreach to the UCR campus community on IP and technology commercialization; and outreach to the external community on UCR's research capabilities, technologies available for licensing and commercialization, and to promote economic development. Brian comes to UCR from a U.S. Navy laboratory, SPAWAR Systems Center Pacific, in San Diego, CA where he was employed beginning June 2002, most recently as the Director of the Technology Transfer Office since January 2011. He was responsible for identifying potential R&D collaboration and commercialization opportunities to enable strategic partnerships between government, industry, and academia. Brian negotiated 15 licensing agreements which accounted for over $10M in anticipated minimum royalties; this included 5 start-up companies. He was also responsible for the execution of over 60 collaboration, material transfer, non-disclosure, and public-private partnership agreements with $1.5M committed to direct projects and millions of dollars more in in-kind contributions of researchers time, facilities, equipment, and technologies. Brian holds a BS in Electrical Engineering from Michigan State University and received his MBA from the Rady School of Management at University of California San Diego. He also holds the Certified Licensing Professional (CLP) and Project Management Professional (PMP) certifications. For more information on the OTC at UCR, please visit http://research.ucr.edu/otc.
Michalis Faloutsos is a faculty member at the Computer Science Department in the University of California Riverside. He got his bachelor's degree at the National Technical University of Athens and his M.Sc. and Ph.D. at the University of Toronto. His interests include, network and systems security, online social networks analytics, and network measurements. With his two brothers, he co-authored the paper "On powerlaws of the Internet topology" (SIGCOMM'99), which received the "Test of Time" award from ACM SIGCOMM. His research has resulted in more than 15K citations, and an h-index greater than 50. His work has been supported by several NSF, DAPRA, DHS and industry grants, with a cumulative of more than $12M. With Anirban Banerjee (PhD UCR), he founded "stopthehacker.com" (https://www.stopthehacker.com/), a web-security start-up, which got acquired in November 2013. In Aug 2014, he co-founded "programize.com" (http://programize.com/), which has reached 23 employees in 2015. Michalis will serve as the Director for Entrepreneurship in Research and Economic Development. With his background as an academic and his passion for entrepreneurship, he is a perfect person to liaison and encourage faculty to think about starting a company.
Jay Goth and Jack Tsai are assisting UCR start-up as Entrepreneurs in Residence. Both are serial entrepreneurs themselves and bring a wealth of knowledge to those student and faculty who are looking to form their own company.
James (Jim) Llano, joins the RED office as Associate Director of Corporate and Strategic Partnerships. Jim has over 25 years of successful agribusiness sales operations, planning, and commodity /product/ brand management experience representing major agribusiness fresh fruit and vegetable farming corporations with operations in California, Mexico, and South America. Jim developed and sustained customer relationships in the domestic US and Canadian markets, in addition to Asia, Latin America, and the U.K. Jim served 11 years on the Cal Poly, San Luis Obispo Ag Business Advisory Council reflecting industry dynamics and engagement with the University, and also served the agricultural industry as a member of fresh fruit commodity boards. He received his B.S. in Agricultural Sciences from Cal Poly, San Luis Obispo, and an M.B.A. from California State University, Dominguez Hills.
Robert Chan joined UCR in 2011 as a Sr. Contract and Grant Officer. Prior to joining UCR, he was employed by NASA's Jet Propulsion Laboratory (2006 -2011); serving in various capacities, including R&D contract administration. With over 9 years of experience in research administration, Robert is galvanized to take on a new role as RED's Training Officer. In this role, Robert will develop, organize, and implement a comprehensive research administration training program for the campus community. Additionally, Robert will provide institutional-level sponsored programs administration pre-award support and services for large center grant proposals. Robert received his B.A. and M.A. from Azusa Pacific University's School of Business and Management, where he studied organizational development and instructional design.
Karen Garcia has joined the SPA team as a Sr. Contract and Grant Officer. She has filled the role vacated by Robert Chan who was recently promoted to Principal Training Officer. Karen is a seasoned contracts and grants administrator having served in that capacity over the past 20+ years for private and non-profit institutions including Beckman Research Institute of the City of Hope, California State University Dominguez Hills Foundation, and most recently, California Polytechnic University Pomona.
Workshop: Collaborating with Industry - Opportunities, Challenges, Solutions 12/4/15 10am
Misty Madero, Emily Abbott and Robert Chan will hold a workshop on Collaborating With Industry. On 12/4/15 at 10:00 am in HUB 260 Topics Covered will include:
<![if !supportLists]>· <![endif]>Benefits of Collaborating with industry
<![if !supportLists]>· <![endif]>Academic vs. Industry expectations
<![if !supportLists]>· <![endif]>Establishing Contacts with Industry
<![if !supportLists]>· <![endif]>Confidential Disclosure agreements
<![if !supportLists]>· <![endif]>Developing effective written and oral communications for industry
<![if !supportLists]>· <![endif]>Identifying corporate funding
<![if !supportLists]>· <![endif]>Speaking at a Company: Maximize your impact
<![if !supportLists]>· <![endif]>Meeting with company scientists: techniques to increase your effectiveness
<![if !supportLists]>· <![endif]>Arranging productive corporate visits to campus
<![if !supportLists]>· <![endif]>Sponsored Research Agreements
<![if !supportLists]>o <![endif]>Creating a compelling statement of work
<![if !supportLists]>o <![endif]>Budgets for Corporate Contract
<![if !supportLists]>· <![endif]>Sustaining a Partnership
See http://research.ucr.edu/about/calendar.aspx to reserve.
The November 2015 Issue of Grant Writing News is attached. UCR subscribes to this service to provide insight and strategies on funding. Back Issues are available at http://research.ucr.edu/OrApps/SP/Info/GrantWriting/GrantWritingNews.aspx.
I found the article on Win Your Grant on Page 1 particularly useful
<![if !supportLists]>· <![endif]>Win Your Grant on Page 1
<![if !supportLists]>· <![endif]>NSF's New Public Access Plan
<![if !supportLists]>· <![endif]>The Proposal Editor's Checklist
<![if !supportLists]>· <![endif]>Partnerships for Enhanced Engagement in Research
<![if !supportLists]>· <![endif]>Proposals for Basic Research: Why You Need a Theoretical Framework
<![if !supportLists]>· <![endif]>Research Grant Writing Web Resources
<![if !supportLists]>· <![endif]>Educational Grant Writing Web Resources
<![if !supportLists]>· <![endif]>Agency Research News
<![if !supportLists]>· <![endif]>Agency Reports, Workshops & Roadmaps
<![if !supportLists]>· <![endif]>New Funding Opportunities
<![if !supportLists]>· <![endif]>About Academic Research Funding Strategies
Pine Siskin
The pine siskin winters in the Riverside area. They are more widespread and numerous this year. Below is a photo of one in the front of a birdbath in my yard (with a lesser goldfinch).
<![if !vml]>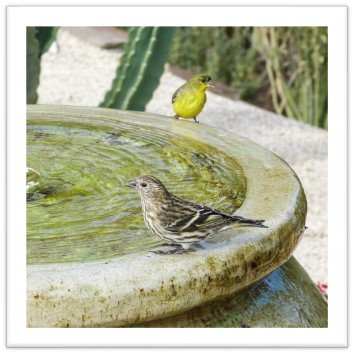 <![endif]>
(click to enlarge)
Michael Pazzani
Vice Chancellor for Research and Economic Development
Professor, Computer Science & Engineering
University of California, Riverside
200 University Office Building
Riverside, CA 92521
Assistant: Linda Bejenaru
Email: VCREDadmin@ucr.edu