UCR Research and Economic Development Newsletter: January 20, 2016
Michael Pazzani
Vice Chancellor for Research and Economic Development
Back Issues of Newsletter: http://research.ucr.edu/vcr/newsletters.aspx
Grant Opportunity Search: http://pivot.cos.com
<![if !supportLists]>· <![endif]>USDA HSI; Jan 21
<![if !supportLists]>· <![endif]>Fulbright Alumni Ambassador Workshop – 1/28/16, 10:00am
<![if !supportLists]>· <![endif]>Talk: Army Research Lab: Jan 29, 10am
<![if !supportLists]>· <![endif]>Funding Opportunity: Department of Defense Releases FOA for the Minerva Research Initiative
<![if !supportLists]>· <![endif]>Informed Consent Guide for IRB
<![if !supportLists]>· <![endif]>Faculty Networking Lunches – 2/8/16 and 3/7/16
<![if !supportLists]>· <![endif]>To Patent or Not to Patent : Jan 21 3pm
<![if !supportLists]>· <![endif]>Research Development & Grant Writing News
<![if !supportLists]>· <![endif]>Bird Photos
USDA Announces $8.8 Million Available to Support Food and Agricultural Sciences Education at Hispanic-Serving Institutions
Unfortunately, the USDA gave less than a month to develop full applications and limits the number of applications we can submit. While we have a formal process for limited applications (see http://research.ucr.edu/ord/limitedsubmissions.aspx), we are going to abbreviate the process. If you are interested in applying, send email to Randy Black by the end of the day Wednesday January 21 with details on which program, the PI and the team. Only if there are more submissions than slots available, we will request details and go through the more formal reviewed process.
The U.S. Department of Agriculture (USDA) announced the availability of more than $8.8 million in competitive funding to support Hispanic-Serving Institutions' (HSIs) agricultural science education programs. These grants will enhance the ability of these colleges and universities to support underserved students and develop a skilled American workforce.
"The number of jobs available in fields pertaining to food, agriculture, natural resources and the environment are far outpacing the number of students graduating with expertise in those areas. At the same time, the agriculture industry, much like other sectors of our economy, is recognizing that a more diverse workforce will help its businesses thrive," said Agriculture Secretary Tom Vilsack. "Hispanic-Serving Institutions can use this investment to increase enrollment in science fields of study, further developing students with the potential to solve society's future agricultural challenges. These fields will only become more important as we continue to develop solutions to feed more than 9 billion people by 2050."
These grants are awarded through USDA's National Institute of Food and Agriculture (NIFA) and the Hispanic-Serving Institution Education Grants Program. The purpose of this program is to support innovative teaching or education applications with potential to impact Hispanic-Serving Institutions to build capacity and then to become models for other institutions that serve underrepresented students, at the regional or national level. While research and extension activities may be included in a funded HSI Education project, the primary focus must be to improve teaching, enrollment, and graduation rates within a degree-granting program. Since 2009, NIFA has awarded more than $58.5 million in funding to this program.
A May 2015 report released by NIFA and Purdue University showed that there is tremendous demand for recent college graduates with a degree in agricultural programs, with an estimated 57,900 high-skilled job openings annually in the food, agriculture, renewable natural resources, and environment fields in the United States. Meanwhile, there is an average of 35,400 new U.S. graduates with a bachelor's degree or higher in agriculture related fields, 22,500 short of the jobs available annually. The report projects almost half of the job opportunities will be in management and business. Another 27 percent will be in science, technology, engineering, and mathematics (STEM) areas. Jobs in food and biomaterials production will make up 15 percent, and 12 percent of the openings will be in education, communication, and governmental services.
The HSI program follows the NIFA Priority Science Areas, which are considered national priorities:
Climate Variability and Change

Childhood Obesity and Prevention

Food Safety

Food Security

Sustainable Bioenergy

Water for Agriculture
Priority will be given to projects that promote and strengthen the ability of Hispanic-Serving Institutions to carry out education, as determined by each institution, within a broadly defined area of food and agricultural sciences and related disciplines.
Applications for collaboration projects are due Feb. 9, standard applications are due Feb. 10, and strengthening project applications are due Feb. 12. Please see the request for applications for specific program requirements.
Since 2009, NIFA has invested in and advanced innovative and transformative initiatives to solve societal challenges and ensure the long-term viability of agriculture. NIFA's integrated research, education, and extension programs, supporting the best and brightest scientists and extension personnel, have resulted user-inspired, groundbreaking discoveries that are combating childhood obesity, improving and sustaining rural economic growth, addressing water availability issues, increasing food production, finding new sources of energy, mitigating climate variability, and ensuring food safety. To learn more about NIFA's impact on agricultural science, visit www.nifa.usda.gov/impacts, sign up for email updates, or follow us on Twitter @usda_NIFA, #NIFAimpacts.
Fulbright Alumni Ambassador Workshop – 1/28/16, 10:00am
Are you interested in teaching or conducting research abroad? Learn more about the Fulbright Scholar Program in a workshop with Dr. Sheryl Ehrman, a 2006-2007 Fulbright Scholar to India.
Where: University of California, Riverside, Highlander Union Building (HUB-260)
When: Thursday, January 28th, 2016 (10:00 – 11:30 a.m.)
In this workshop, Fulbright Ambassador Dr. Sheryl Ehrman, Keystone Professor and Chair of the Department of Chemical and Biomolecular Engineering, University of Maryland College Park, will share her experiences as a Fulbright Scholar to India in 2006-2007. Scholars like Sheryl Ehrman return to their campuses with new perspectives on their fields and fresh ideas for further international engagement. Faculty and administrators will learn about the benefits of Fulbright and the impact it can have personally and professionally.
The Fulbright Ambassador Program trains and utilizes a select group of Fulbright Scholar alumni from the full spectrum of U.S. academic disciplines, higher education institutions, and geographic regions to serve as representatives for the Fulbright Scholar Program at campus workshops and academic conferences across the United States.
Interested UCR faculty, postdocs, and administrators are all encouraged to attend this FREE workshop.
To reserve a seat, please send an email to Robert.Chan@ucr.edu or register online at the UCR Research & Economic Development website: http://research.ucr.edu/about/calendar.aspx.
Talk: Army Research Lab: Jan 29, 10:00 am
Dr. Steven Taulbee from the Army Research Lab will be visiting UCR on January 29th to discuss Materials Research and pursue potential collaboration in research under the new ARL Open Campus Initiative. He will give a seminar on Jan. 29 at 10:00 am, in WCH 443. Topics covered will include Below are some of the major research programs at our part of ARL (the Materials Research and Science)s:

* Advanced Structural and Armor Materials
* Energetic Materials
* Multifunctional and Nanomaterials
* Additive Manufacturing
* Adhesive Bonding and Interphase Science
* Macromolecular Science and Technology
* Coatings, Corrosion, and Engineered Polymers
* Ceramic and Transparent Materials
* Lightweight and Specialty Metals
* Composite and Hybrid Materials
* Applied Physics and Physics Phenomenology
* Optics and Photonics
* Continuum Mechanics (Solid Mechanics, Structural Engineering, etc.)
* Biomechanics and Humans in Extreme Environments
* Guidance, Navigation, and Control of Flight Vehicles
(Aerospace/Mechanical/Electrical Engineering related)
* Computational Fluid Dynamics
If you are interested in meeting with Dr Taulbee, please contact my assistant at VCREDadmin@ucr.edu.
Funding Opportunity: Department of Defense Releases FOA for the Minerva Research Initiative
The Department of Defense (DOD) has released a new Funding Opportunity Announcement (FOA) for its signature social science research program, the Minerva Research Initiative (Minerva). Minerva, first started by former Secretary Robert Gates and continued by his successors, seeks to fund top-quality social science research that provides DOD with a better understanding of the factors influencing the geopolitical environment in which it operates. As the FOA highlights, the Minerva program seeks to support "research in specific areas of social science and to promote a candid and constructive relationship between DOD and the social science academic community."
As with previous years, the newest Minerva FOA solicits projects in topic areas that closely reflect current world events, such as understanding how individuals are recruited into global terrorism, exploring the underpinnings of mass migration from conflicts, and examining how a cyber-enabled world has led to powerful, non-state entities. For 2016, the Minerva program will focus on five primary topic areas and 11 subtopics to call for proposals focused on a broad range of priority countries, regions, and disciplines. While four topic areas are similar to last year's announcement, there is a new topic for 2016 on analytical methods and metrics. Complete details of each topic area, as well as overviews of all subtopics, are in the full FOA. The five primary topic areas are:
<![if !supportLists]>· <![endif]>Identity, Influence, and Mobilization – This topic seeks projects with the potential to improve DOD's understanding of social and cultural factors that influence belief formation and mobilization, particularly when leading to violence. Categories include culture, identity, and security and influence and mobilization for change.
<![if !supportLists]>· <![endif]>Contributors to Societal Resilience and Change – This category seeks projects with the ability to identify factors that make societies resilient to unrest and external shocks. Categories include governance and rule of law, migration and urbanization, environment and natural resources, and economics.
<![if !supportLists]>· <![endif]>Power and Deterrence – Through this topic area, DOD solicits projects with the ability to better explain and model the shifts of power of state and non-state entities given changes in geopolitical factors and increased technological capabilities. Categories include global order, power projection and diffusion, beyond conventional deterrence, and area studies.
<![if !supportLists]>· <![endif]>Analytical Methods and Metrics for Security Research ­– This new topic seeks interdisciplinary projects to develop innovative quantitative methods and models for understanding social science systems for defense-critical challenges. Projects should be rooted in qualitative context.
<![if !supportLists]>· <![endif]>Innovations in National Security, Conflict, and Cooperation ­– This broad topic area allows for researchers to propose international and national security projects, not already enumerated in the FOA, in emerging or yet to be understood areas.
The Basic Research Office within the Office of the Assistant Secretary of Defense for Research and Engineering coordinates Minerva and will make final funding decisions (with input from the Services). DOD will consider both individual awards as well as team proposals for this iteration of Minerva. However, team proposals must name one Principal Investigator as the primary point of contact and designate one institution as the administrative lead for dealing with DOD. Team proposals should describe the expertise brought by each team member and the relationship between participating institutions on a team.
White Papers: DOD strongly encourages researchers interested in Minerva to submit white papers to the appropriate program point of contact, the Research Topic Chiefs, prior to preparing a full proposal. Interested researchers are also strongly encouraged to contact the Topic Chief by February 15 to discuss ideas. The Topic Chiefs for each area are listed in the full FOA. White papers are due by 3:00 PM (EST) on February 29, 2016.
Full Proposals: Following to feedback on the white papers, researchers will be required to submit full proposals. While a researcher may submit a full proposal without having first submitted a white paper, it is discouraged by DOD. The deadline to submit full proposals is 3:00 PM (EDT) on June 17, 2016.
Total Funding and Award Size: A total of $15 million is available for this round of Minerva over the next three years. The FOA states that DOD plans to make between 10 to 12 awards averaging between $150,000 and $1 million per year for a period of three to five years. Previous Minerva awards have averaged approximately $400,000 per year.
Sources and Additional Information:
<![if !supportLists]>· <![endif]>The complete FOA and other details are available at http://www.grants.gov/web/grants/view-opportunity.html?oppId=280923
<![if !supportLists]>· <![endif]>Complete background on the Minerva program, including information on previous awardees, is available at http://minerva.dtic.mil/.
Informed Consent Guide for IRB
The Office of Research Integrity has created UCR ORI Informed Consent Guide. This document is meant to be a guidance document for UCR researchers as well as IRB-Sb members when they create/review the consent documents. https://research.ucr.edu/webdocs/RI/Forms/HRRB/UCR%20Informed%20Consent%20Guide.pdf
For more information, please contact Dario Kuzmanovic at Dario.kuzmanovic@ucr.edu.
Faculty Networking Lunches – 2/8/16 & 3/7/16
I will be holding two catered lunchtime meetings for UCR faculty. The goal is to have an informal discussion on research topics that cross departments and schools and to allow faculty to meet potential collaborators. The lunches will be held in UOB 210 and consist of Thai food from a nearby restaurant. A vegetarian and a gluten-free option will be available. Lunch will be served promptly at 12:00 and the meetings will last until 1:15.
The first lunch of the year will be on Diabetes Research on 2/8/16. To sign up, click on this link: http://diabetes-research.eventbrite.com
The second lunch topic will be on Water Research on 3/7/16. To sign up, click on this link: https://water-research.eventbrite.com.
Both topics are selected because they are of potential interest to faculty from many disciplines.
Additional lunches are scheduled March 28th, April 11th, May 2nd, and May 23rd. NO TOPICS HAVE BEEN DETERMINED for these meetings. CONTACT ME IF YOU HAVE AN IDEA FOR A TOPIC that you think 8-12 other faculty will be interested in.
To Patent or Not to Patent – January 21, 3:00pm
One of the key value drivers for early business is the ownership and documentation of Intellectual Property. This can be in the form of patents, trade secrets, copyrights, trademarks... the list goes on.
Russell Jeide is a partner at Knobbe Martens and will be talking about the basics of intellectual property law. This workshop is designed to answer your questions about what you can and can't patent, the difference between the different kinds of patents, when you may NOT want to patent, and more.
A series has been designed that will be held the third Thursday of every month, with one upcoming meeting at UCR on January 21st at 3:00pm for students and faculty. This presentation will be at a fairly high level, and while Russell could likely speak for hours about one specific aspect of IP, this workshop will be a general presentation and there will be plenty of time for questions. In future meetings we will get into the meat of the different kinds of patents, how to search for patents, protecting against infringement, building your IP fortress, and more.
Any executive, entrepreneur, scientist or researcher who deals with innovation MUST ATTEND these workshops. You will be getting thousands of dollars' worth of value - if not more.
Please register so we can plan accordingly. The UCR meeting is at the University Office Building, Suite 210 (second floor.) Register here:
https://www.eventbrite.com/e/to-patent-or-not-to-patent-at-ucr-tickets-20816455579
For more information, please contact Jay Goth at jgoth@insocalconnect.org.
Academic Research Funding Strategies: Research Development & Grant Writing News
UCR has subscribed to a newsletter from Academic Research Funding Strategies. I have fou8nd this issue particularly useful so I attached it to my newsletter. The discussion on the NIH Strategic Plan and the Overview of Foundations are highly recommended. Back issues are available on the web at http://research.ucr.edu/OrApps/SP/Info/GrantWriting/GrantWritingNews.aspx. The index is below.
Note that this report is for UCR internal use only. It may not be forwarded to colleagues at other institutions or professional associations.
January 2016
<![if !supportLists]>· <![endif]>Topics of Interest URLs
<![if !supportLists]>· <![endif]>Private Foundations that Fund Academic Research: A Quick Guide
<![if !supportLists]>· <![endif]>Research Narrative Knowledge Base
<![if !supportLists]>· <![endif]>In Brief: NIH New Strategic Plan (2016-2020)
<![if !supportLists]>· <![endif]>Write Like You Are the Reviewer
<![if !supportLists]>· <![endif]>Nexus of Food, Energy, and Water Systems
<![if !supportLists]>· <![endif]>Research Grant Writing Web Resources
<![if !supportLists]>· <![endif]>Educational Grant Writing Web Resources
<![if !supportLists]>· <![endif]>Agency Research News
<![if !supportLists]>· <![endif]>Agency Reports, Workshops & Roadmaps
<![if !supportLists]>· <![endif]>New Funding Opportunities
<![if !supportLists]>· <![endif]>About Academic Research Funding Strategies
Bird Photos
No one won last weeks "bird photo contest" so the prize rolls over to this week. This week, I'm offering two Meyer lemons to the first person that identifies the photo below I took in Los Angeles this weekend.
<![if !vml]>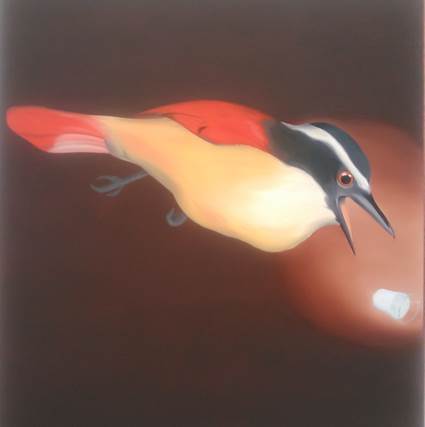 <![endif]>
The American Goldfinch is the state bird of New Jersey and the Western Meadowlark the state bird of North Dakota, two states associated with the new CNAS dean. The chancellor said this was too obscure. I did learn in the process that many of our faculty have Meyer lemon trees and they all are producing an abundant crop this year. If you can't identify the photo above, you can probably get some lemons from the person in the office next to yours.
Below is a real photo of a Pyrrhuloxia, I took in Arizona over break.
<![if !vml]>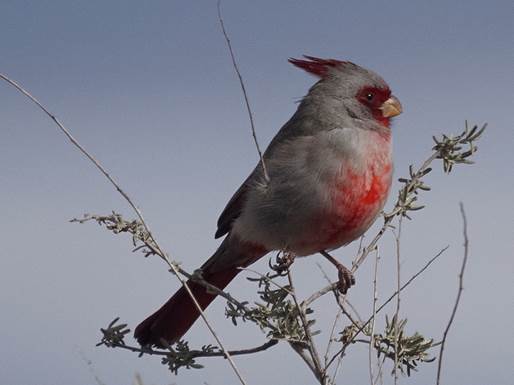 <![endif]>
Michael Pazzani
Vice Chancellor for Research and Economic Development
Professor, Computer Science & Engineering
University of California, Riverside
200 University Office Building
Riverside, CA 92521
Assistant: Linda Bejenaru
Email: VCREDadmin@ucr.edu