UCR Research and Economic Development Newsletter: February 6, 2016
Michael Pazzani
Vice Chancellor for Research and Economic Development
Back Issues of Newsletter: http://research.ucr.edu/vcr/newsletters.aspx
Grant Opportunity Search: http://pivot.cos.com
<![if !supportLists]>· <![endif]>NIH Shared Instrumentation Grants
<![if !supportLists]>· <![endif]>USDA NIFA Specialty Crop Research Initiative Workshop – 2/18/16, 2:00pm
<![if !supportLists]>· <![endif]>Proof of Concept Funding for Technology Commercialization Program
<![if !supportLists]>· <![endif]>Riverside Citizen Science Partnership
<![if !supportLists]>· <![endif]>Symposium in Advanced Electron Microscopy in Nanostructure Research and Inauguration of the new Titan Themis 300 S/TEM – 3/10/16, 9:00am
<![if !supportLists]>· <![endif]>Faculty Networking Lunches: Diabetes, Sustainability and Social Justice, BRAIN, Bio-based Materials, Health Disparities, Water Research
<![if !supportLists]>· <![endif]>Great Backyard Bird Count
NIH Shared Instrumentation Grants
ORIP's Shared Instrumentation Grant (SIG) program supports the purchase of research equipment in the $50,000 to $600,000 price range. Examples of instrumentation supported by SIG funding include nuclear magnetic resonance systems, electron and confocal microscopes, mass spectrometers, protein and DNA sequencers, biosensors, X-ray diffractometers and cell sorters.
Shared Instrumentation Grant Program (S10): http://grants.nih.gov/grants/guide/pa-files/PAR-16-054.html (Deadline: May 16, 2016)
In FY 2015, the SIG program provided 91 awards to biomedical research institutions in 31 states totaling $40,293,834.
Prior Awards: http://dpcpsi.nih.gov/orip/diic/fy_sig_awards
My office will provide 10% of the purchase price as a form of institutional support for proposals submitted to this program and cover any charges for installation that can't be supported by the grant. In general, equipment that will be used by at least 5 NIH funded investigators stand the best chance of funding through this mechanism.
USDA NIFA SCRI Workshop, 2/18/16 at 2:00pm
Tom Bewick, National Program Lead, Specialty Crop Research Initiative, NIFA, will present an informal workshop about NIFA's SCRI program, including more information on the program and best practices for writing proposals. He also will share any upcoming priorities for the next fiscal year. This program funds HLB and ACP research as well as research into crops of significance to California including citrus, avocado, almonds, etc.
When: Thursday, February 18 at 2:00pm
Where: Genomics Auditorium
Proof of Concept Funding for Technology Commercialization Program
The Office of the Vice Chancellor for Research and Economic Development (RED) announces the FY2016-2017 Proof of Concept Funding for Technology Commercialization (POC) Award Program. The POC award provides UCR investigators up to $35,000 to further develop a commercializable invention based upon UCR intellectual property not yet licensed. The effort should address a critical issue, such as creating a prototype, scaling up a process, or obtaining additional data to support a commercialization effort by making the invention more attractive to licensees or investors. The award shall be used only for technical salaries and benefits, supplies, vivarium or other facilities fees and contracted services directly related to the project.
FUNDING CRITERIA
<![if !supportLists]>1. <![endif]>An invention disclosure(s) must be submitted to the UCR Office of Technology Commercialization (OTC) on the key invention(s) by March 4, 2016 and UCR must have clear rights to commercialize the intellectual property.
<![if !supportLists]>2. <![endif]>The intellectual property and prospective product must address a need in the marketplace and have a competitive advantage over existing products.
<![if !supportLists]>3. <![endif]>The proposed work will start on July 1, 2016 and be accomplished by June 30, 2017.
<![if !supportLists]>4. <![endif]>The proposed work should undertake commercial-type prototype development or testing to generate evidence that the disclosed invention meets a market need, not the creation of new inventions or basic research.
<![if !supportLists]>5. <![endif]>Preference will be given to projects that can be completed within six months.
<![if !supportLists]>6. <![endif]>Although the maximum award is $35,000, smaller focused projects are encouraged and the anticipated median award size is $20,000.
APPLICATION DIRECTIONS AND FORMAT
<![if !supportLists]>1. <![endif]>Applications should be submitted by April 15, 2016.
<![if !supportLists]>· <![endif]>A cover sheet should include the project title, the name of the principal investigator, project participants, and names of inventors on the disclosure.
<![if !supportLists]>· <![endif]>Describe the current status of the invention and the funding history of the research (up to 1 page).
<![if !supportLists]>· <![endif]>Describe the proposed product that would be commercialized and the problem it solves (up to1 page).
<![if !supportLists]>· <![endif]>Discuss potential customers, existing solutions available in the marketplace, and competitive advantages of proposed product. Describe a strategy for entering the market, e.g., licensing to an existing company or starting a new company (up to1 page).
<![if !supportLists]>· <![endif]>Describe research at other universities and how your research is different and superior (up to 1 page).
<![if !supportLists]>· <![endif]>Provide a detailed project description including a timeline, expected outcomes, and processes to achieve those goals. Include additional steps to commercialization that will remain following completion of the POC award project (up to 2 pages).
<![if !supportLists]>· <![endif]>Include a Budget and brief narrative of how resources would be used.
REVIEW PROCESS
Proposals will be reviewed by RED/OTC staff and UCR faculty and outside entrepreneurs who have signed a nondisclosure agreement. Anonymous reviews will be returned for all proposals.
APPLICATION PROCESS
Applications should be submitted via email by April 15, 2016 to Judy Swineford at judy.swineford@ucr.edu.
Questions about the application process should be directed to Brian Suh at brian.suh@ucr.edu or 951-827-5578.
For more information, and for the application, click here: http://research.ucr.edu/ord/funding/opportunities/proof-of-concept-fund.aspx.
Riverside Citizen Science Partnership
The mission of the Riverside Citizen Science partnership is to engage our community in conducting science research and in observing and documenting Riverside's natural environment. This program fosters appreciation and stewardship by staging and supporting nature centered activities, and by providing opportunities for members of our community to collect data for local researchers conducting studies in our local environment. Science, through community participation and collaboration, becomes a permanent part of our city's culture and identity. RCS is a partnership among UCR, the Riverside Metropolitan Museum, The Riverside-Corona Resource Conservation District, Riverside Parks, Recreation and Community Services, and the US Forestry Service Pacific Southwest Research Station, with collaborations with the Smithsonian Institute and the Encyclopedia of Life.
RCS successfully raised funds for the establishment of the Ameal Moore Nature Center at the Sycamore Canyon Wilderness Area, and facilitates the engagement of local citizens in research projects underway at local institutions. Some current RCS projects include: Riverside Nature Spotter, Operation Tree Canopy, Seeking All Southern California Stinkbugs, and Bluebird Nest Box monitoring.
The Riverside Nature Spotter smartphone application was developed by Riverside's Innovation and Technology Department. It is available for free download for both iPhone and Android operating systems. The animals and plants that citizen scientists photograph are mapped and stored at www.inaturalist.org/projects/riverside-citizen-science. Data can be used to evaluate distribution of populations and species, life history stages, and more. Seeking All Southern California Stinkbugs was developed in partnership with Dr. Mark Hoddle of UCR Entomology to characterize the diversity and distribution of stinkbug species, including the invasive and destructive brown marmorated stinkbug, in southern California (www.inaturalist.org/projects/seeking-all-southern-california-stinkbugs).
Operation Tree Canopy involves citizen scientists who collect research data to help Dr. Darrel Jenerette, Botany and Plant Sciences, study the benefits of urban trees. During the summer of 2015, volunteers measured trees, sampled leaves, and collected data to help verify photos that were collected during high altitude fly-overs by NASA. The project was brought to the Inland Empire by Earthwatch Institute. Thanks to the work of citizen scientists, research data was collected from over 1,300 trees in 45 urban spaces throughout the greater Los Angeles region, including Riverside. Focal Trees is the newest phase to help with Earthwatch Institute's Urban Forest Resiliency project. After using NASA data and leaf samples collected by citizen scientists, the Jenerette lab is now ready to focus on collecting data from 10 specific tree species.
If you are interested in becoming involved in Riverside Citizen Science, or in engaging citizen scientists in your research, please contact Amy Litt (amy.litt@ucr.edu). We can put you in touch with interested citizens and contribute our resources to help you make connections and plan your citizen science project.
CITIZEN SCIENCE PROJECTS CAN ADDRESS THE NSF BROADER IMPACTS CRITERIA
Symposium in Advanced Electron Microscopy in Nanostructure Research and Inauguration of the new Titan Themis 300 S/TEM – 3/10/16, 9:00am
I am pleased to announce and invite you to a full-day symposium in "Advanced Electron Microscopy in Nanostructure Research" and the inauguration of the new Titan Themis 300 S/TEM and the Quanta 200 duo beam instrument at the Central Facility for Advanced Microscopy and Microanalysis (CFAMM).
The inauguration will take place on March 10th, 2016 starting at 9 a.m. in HUB 355. Plenary seminar talks will be presented by leading researchers demonstrating the application of S/TEM and duo-beam techniques in nanostructure research. The plenary session will be followed by demo sessions on the instruments in the afternoon.
Full program announcement will follow soon.
Registration is free, lunch and refreshments will be provided. To register go to: http://aemnr-cfamm.eventbrite.com.
Upcoming Faculty Networking Lunches
There are still seats available for the following networking lunches:
<![if !supportLists]>· <![endif]>Diabetes Research on 2/8/16 (register here: https://diabetes-research.eventbrite.com)
<![if !supportLists]>· <![endif]>Sustainability and Social Justice on 2/22/16 (register here: https://sustainability-social-justice.eventbrite.com) New
<![if !supportLists]>· <![endif]>Water Research on 3/7/16 (register here: https://water-research.eventbrite.com).
<![if !supportLists]>· <![endif]>BRAIN Initiative-Related Research 3/28/16 (register here: https://brain-initiative.eventbrite.com).
<![if !supportLists]>· <![endif]>Bio-based Materials 5/9/16 (register here: http://biobased-materials.eventbrite.com) New
<![if !supportLists]>· <![endif]>Health Disparities 5/23/16 (register here: https://health-disparities.eventbrite.com) DATE CHANGE
The goal is get faculty with common interests to meet each other in an informal setting and discuss possible collaborations. The food is catered by a local Thai restaurant and includes vegetarian and gluten-free options.
All lunches are held in UOB 210 from 12:00pm – 1:15pm. PLEASE CONTACT ME IF YOU HAVE AN IDEA FOR A TOPIC that you think 8-12 other faculty will be interested in.
Each February, the Cornell Lab of Ornithology and the National Audubon Society hold the great backyard bird count, perhaps the world's largest citizen science project. The goal is to gain an understanding of the distribution of bird species to better understand migration and the impacts of habitat and climate change. The next count is February 12-15, 2016. Info on how you can participate is available at http://gbbc.birdcount.org/news/2016-news-release/
Below are two of my favorite backyard birds. The first is a tufted titmouse from my backyard in New Jersey. After establishing a regular pattern, a few were trained to come to my deck every morning when I put some peanuts out.
<![if !vml]>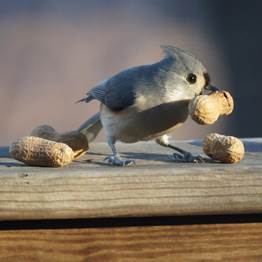 <![endif]>
(Click to enlarge)
The second is a spotted towhee from my backyard in Riverside. Normally a reclusive bird that stays in the shrubs, this one has trained me to bring it sunflower seed when it calls.
<![if !vml]>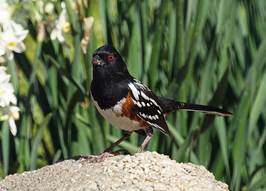 <![endif]>
(Click to enlarge)
Michael Pazzani
Vice Chancellor for Research and Economic Development
Professor, Computer Science & Engineering
University of California, Riverside
200 University Office Building
Assistant: Linda Bejenaru
Email: VCREDadmin@ucr.edu