UCR Research and Economic Development Newsletter: March 9, 2016
Michael Pazzani
Vice Chancellor for Research and Economic Development
Back Issues of Newsletter: http://research.ucr.edu/vcr/newsletters.aspx
Grant Opportunity Search: http://pivot.cos.com
<![if !supportLists]>· <![endif]>NSF CAREER Workshop: 4/28/16 or 4/29/16 from 11:00 am until 1:00 pm (lunch provided)
<![if !supportLists]>· <![endif]>Meetings with Lewis-Burke (Funding Consultants) March 28 & 29
<![if !supportLists]>· <![endif]>Engaging Communities in Research: "The Do's and Don'ts of Community Engagement: 4/14 or 4/15 from 9:00 am until 1:00 pm
<![if !supportLists]>· <![endif]>UC and use of UAVs (drones) in research: Pilots wanted
<![if !supportLists]>· <![endif]>Oculus Rift in Research
<![if !supportLists]>· <![endif]>STEM + Computing Partnerships (STEM+C), Full Proposal Deadline Date: March 28, 2016
<![if !supportLists]>· <![endif]>Monthly Speaker Series: "How Much Payment is Too Much in Ethical Research?" 4/13/16 1:00 pm -2:00 pm, HUB 367
<![if !supportLists]>· <![endif]>NSF Dear Colleague Letter – National Brain Observatory: A Phased Approach for Developing a National Research Infrastructure for Neuroscience
<![if !supportLists]>· <![endif]>NSF Dear Colleague Letter – NSF/SBE Partnering in Round 4 of the Digging into Data Challenge
<![if !supportLists]>· <![endif]>Faculty Networking Lunches: BRAIN, Bio-based Materials, Health Disparities,
<![if !supportLists]>· <![endif]>Western Grebes
Thursday, April 28: 11:00-1:00 (HUB Rm. 260)
Friday, April 29: 11:00-1:00 (HUB Rm. 260)
Did you know that UCR ranks 3rd of all UC campuses in NSF CAREER awards, above UCLA, Davis, Santa Barbara, Irvine, etc.? A workshop on applying for CAREER will be repeated twice.
See below.
<![if !vml]>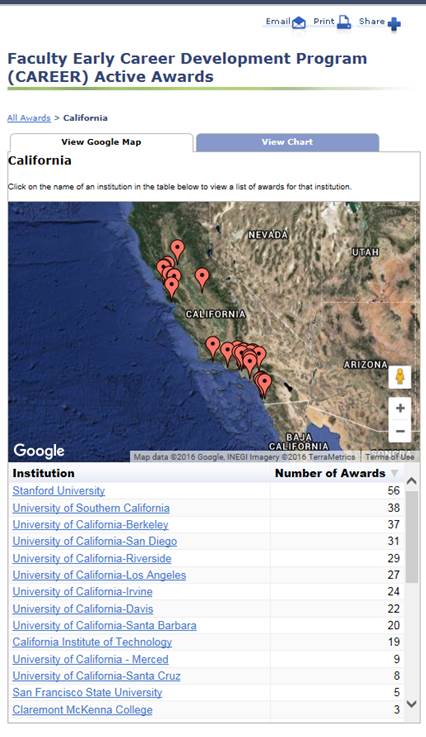 <![endif]>
The annual UCR NSF CAREER Workshop is offered twice this year, presenting the same material in two sessions:
The CAREER is NSF's most prestigious award in support of untenured faculty who exemplify the role of teacher-scholars through outstanding research, excellent education and the integration of education and research within the context of the mission of their organizations. See http://www.nsf.gov/funding/pgm_summ.jsp?pims_id=503214 for the NSF solicitation.
CAREER proposals are due July 20-22, 2016; the exact deadline varies by discipline. It pays to start a few months early to make sure the proposal is well thought-out and addresses all criteria for funding.
The UCR workshop on preparing an NSF CAREER proposal will be held on Thursday, April 28th from 11:00am to 1:00pm (lunch provided) in the Highlander Union Building, Room 260, and repeated again on Friday, April 29th from 11:00am to 1:00pm (lunch provided) in the Highlander Union Building, Room 260.
The workshop will offer guidance on essential components of the CAREER award, including
<![if !supportLists]>· <![endif]>Research Plan
<![if !supportLists]>· <![endif]>Educational Plan
<![if !supportLists]>· <![endif]>Broader Impacts
<![if !supportLists]>· <![endif]>Data Management Plan
Previous winners of the NSF CAREER awards will discuss what worked (and what didn't work) for them. We will go over NSF requirements, suggestions and best practices from past winners, and your questions and ideas. Sample funded proposals will be made available.
Please RSVP by Monday, April 19th here:
4/28: http://nsf-career-workshop-4-28-16.eventbrite.com
4/29: http://nsf-career-workshop-4-29-16.eventbrite.com
Meetings with Lewis-Burke (Funding Consultants) March 28 & 29
UCR works with Lewis-Burke, a DC-based firm which monitors federal funding and provides guidance on federal funding. Representatives will be on campus to discuss funding strategies and availability on a variety of topics. Faculty are welcome and encouraged to attend any session that is of interest to them. The schedule is below.
March 28
| | | |
| --- | --- | --- |
| Time | Topic | Location |
| 9:00a-9:45a | Water Research | UOB 210 |
| 4:00p-5:00p | US Department of Agriculture-Education & Outreach Programs | UOB 210 |
March 29
| | | |
| --- | --- | --- |
| Time | Topic | Location |
| 11:00a-12:00p | Education and Minority Serving Programs | UOB 210 |
| 2:00p-3:00p | DOE | UOB 210 |
| 2:00p-3:00p | Spatial Science | Batchelor 2158 |
| 3:00p-4:00p | DOD | UOB 210 |
| 3:00p-4:00p | Social Science Funding | Batchelor 2158 |
| 4:00p-5:00p | USDA: Agriculture Research | UOB 2109 |
Engaging Communities in Research: "The Do's and Don'ts of Community Engagement"
Many funders, such as the National Institute of Health (NIH), the National Center for Advancing Translational Science (NCATS), and the Patient Centered Outcomes Research Institute (PCORI), are now requiring that community stakeholders are involved in research. But, many faculty have had limited experience in community engagement. Developed with support from NCATS, the training offered here was designed by community members themselves to orient academic faculty to the issues and concerns likely to arise when working directly with communities. The training is predominantly experiential rather than didactic. Local community members will be participating in the training along with UCR faculty. If you would like to learn more about how to engage community members in your research, apply to attend this one-half day training.
To be eligible for training a faculty member would need to commit to attending one half-day of training, either on April 14th or April 15th from 9:00 am until 1:00 pm in downtown Riverside(lunch provided). There will be a 30 minute orientation conference call offered prior to the training.
Only 30 faculty training slots are available (15 per day)!
If you want to sign up or have further questions, please contact Erin Murphy at 951-827-7279 or erin.murphy@ucr.edu
UC and use of UAVs (drones) in research
Good News: UC has been approved for using UAVs in research by the FAA
Bad News: Only pilots can pilot a UAV
Solution: If you are a pilot or know someone who is, contact me and we can get you involved in some research projects using really cool and expensive drones.
We can find a way to compensate pilots,. If playing with drones isn't enough compensation.
Details below:
The FAA has (finally) issued its authorization of UC's systemwide Section 333 exemption request. This authorization will allow UC users of FAA-registered Unmanned Air Systems (UAS) to operate the specified aircraft within the operating parameters described in the FAA's letter. The FAA's letter authorizing UC use may be accessed here: https://www.faa.gov/uas/legislative_programs/section_333/333_authorizations/media/Regents-University-of-California-15087.pdf
SYSTEMWIDE SUPPORT FOR USERS OF UC-OWNED sUAS
UCOP's Risk Services Division has created and funded the Center of Excellence on Unmanned Aerial System Safety. We will have a website up shortly that will provide information about the requirements for use and operation of UC-owned UAS's. We will send out a separate notice about the url for that site as soon as it is up and running. We are very pleased to introduce Brandon Stark, Lab Manager for the Mechatronics, Embedded Systems and Automation Lab in the School of Engineering at UC Merced, who will be leading the formation of the UC Center of Excellence on Unmanned Aerial System Safety. Brandon has agreed to serve as the systemwide advisor with regard to drone use under the Section 333 authorization.
UNTIL FURTHER NOTICE, AND IN ORDER TO ENSURE FAA-COMPLIANCE ALL UC FACULTY AND STAFF WHO WISH TO OPERATE AIRCRAFT UNDER UC'S SYSTEMWIDE SECTION 333 EXEMPTION MUST FIRST CONTACT UC CENTER OF EXCELLENCE ON UNMANNED AERIAL SYSTEM SAFETY BRANDON STARK AT bstark2@ucmerced.edu . Brandon will facilitate the FAA-required tracking of all educational and research flights and operations of UC-owned UAS, pursuant to item 24 of the exemption and the UC flight manual.
FAQS REGARDING UC'S SEC 333 AUTHORIZATION:
1) FAA authorization is required from all non-hobbyist use of drones, which means that all operation of UC drones must be done either under and in accordance with the requirements of this section 333 grant of exemption or under a separately issued COA.
2)All UC-owned aircraft must be registered with a tail number under the name of the Regents of the University of California before they are flown. The list of currently registered aircraft can be found here: http://tinyurl.com/gva2coe
3) Any operator of a UC-owned UAS must have an airline transport, commercial, private, recreational or sport pilot certificate.
4) UC-owned UAS flights must be at least 500 ft away from any persons, vessels, vehicles or structures.
5) UC-owned UAS flights above 200 ft will require a separate approval from the FAA.
6) UC-owned UAS flights must be at least 5 NM away from any towered airport. Operations within 5 NM will require a separate approval from the FAA.
7) Only certain models of commercially available UAS's have been approved by the FAA. No other aircraft may be used with this Sec 333 exemption. It is important to note that the FAA determines which drones are suitable for use under the Sec 333 exemption, and it is not the UC system that decides. The list of FAA-approved models is as follows:
· DJI Phantom 1, DJI Phantom 2, DJI Phantom 2 Vision, DJI Phantom 2 Vision+, DJI Phantom 3, DJI F550 FlameWheel, DJI Inspire 1, DJI Spreading Wing series, 3D Robotics Iris, 3D Robotics Iris+, 3D Robotics X8, 3D Robotics X8+, 3D Robotics Solo, 3D Robotics Aero-M, PrecisionHawk Hawkeye Mk-III, Draganflyer X4-ES, Draganflyer X4-P, Draganflyer X6, Draganflyer Guardian, CyberQuad Maxi and the Pulse Aerospace VAPOR 55
· NOTE: The FAA rejected a number of requested aircraft proposed in UC's application. Some notable rejections: DJI Matrice 100, 3D Robotics Quads, A.R. Parrot Drone. All of the fixed-wing platforms were rejected with the exception of 3D Robotics Aero-M.
Thank you in advance for helping to UC implement safe UAS operations that are compliant with FAA regulations.
Best regards,
Ken Smith, Director UCOP EH&S
Ellen Auriti, Senior Counsel, Office of General Counsel
Jeff Hall, Director, Research Policy Development, Office of Research & Graduate Studies
Rift is a virtual reality headset developed by Oculus VR. The Rift is scheduled for release on March 28, 2016, making it one of the first consumer-targeted virtual reality headsets. If you have a good use for one in research or scholarship, including the arts, please contact me with a short explanation of what you'd like to do, and we will purchase a few.
STEM + Computing Partnerships (STEM+C), Full Proposal Deadline Date: March 28, 2016
Program Guidelines: NSF 16-527
The STEM+Computing Partnerships program seeks to significantly enhance the learning and teaching of science, technology, engineering, mathematics (STEM), and computing by K-12 students and teachers through research on, and development of, courses, curriculum, course materials, pedagogies, instructional strategies, models, or pedagogical environments that innovatively integrate computing into one or more other STEM disciplines, or integrate STEM content into the teaching and learning of computing. In addition, STEM+C seeks to build capacity in K-12 computing education with foundational research and focused teacher preparation. Projects in the STEM+C program should build on research in STEM education and prior research and development efforts that provide theoretical and empirical justification for proposed projects. Pre-service and in-service teachers who participate in STEM+C projects are expected to enhance their understanding and teaching of STEM and computing content, practices, and skills.
STEM+C invites creative and innovative proposals that address emerging challenges in the learning and teaching of STEM and computing. The program offers proposers two tracks: (1) Integration of Computing in STEM Education and (2) Computing Education Knowledge and Capacity Building. The second track is discipline-specific and may be expanded to include additional disciplines in future releases of the solicitation.
More at http://www.nsf.gov/funding/pgm_summ.jsp?pims_id=505006&WT.mc_id=USNSF_39&WT.mc_ev=click
Monthly Speaker Series – 4/13/16 at 2:00 in HUB 367
"How much payment is too much in ethical research?"
Compensation of research participants can present many dilemmas. What's too much money? What kind is appropriate? Are gifts acceptable? Dr. Brown will discuss some considerations in understanding rational and issues involved in determining acceptability of compensation for research participation, incentives, and reimbursement.
Brandon Brown is a health services researcher and assistant professor in the Center for Healthy Communities at the University of California, Riverside School of Medicine. He is responsible for creating new initiatives within the center and partnering with local community centers and public health practitioners to build a robust research portfolio.
His research interests include the global impact, stigma, and ethics of human papillomavirus virus (HPV) and HIV. He is a 2015 HIV Prevention Trials Network Scholar. He earned his bachelor's degree in applied mathematics from the University of California, Irvine, followed by a M.P.H. in epidemiology from UCLA. He then attended the Johns Hopkins Bloomberg School of Public Health to earn his Ph.D. in international health, conducting his postdoctoral work in global health back at UCLA.
NSF Dear Colleague Letter – National Brain Observatory: A Phased Approach for Developing a National Research Infrastructure for Neuroscience
The National Science Foundation has released Dear Colleague Letter 16-047 outlining plans for a "National Brain Observatory" intended to provide resources for interdisciplinary research into the brain. This is not a solicitation, although solicitations and other opportunities are expected in the future. Here is full text of the letter.
http://www.nsf.gov/pubs/2016/nsf16047/nsf16047.jsp?WT.mc_id=USNSF_25&WT.mc_ev=click
February 19, 2016
With this Dear Colleague Letter (DCL), the National Science Foundation (NSF) is announcing the intention to foster the development of a national research infrastructure for neuroscience (National Brain Observatory) to support collaborative and team science for achieving a comprehensive understanding of the brain in action and context. Understanding the brain is one of the grand scientific challenges at the intersection of experimental, theoretical, and computational investigation in the biological, physical, social and behavioral sciences, education research, and engineering. Achieving a comprehensive understanding of the brain requires increased emphasis on systematic, multidisciplinary collaboration and team science to establish quantitative and predictive theories of brain structure and function that span levels of organization, spatial scales of study, and the diversity of species. This challenge necessitates the development of innovative, accessible, and shared capabilities, resources and cyberinfrastructure, along with the eventual organizing of these into a coherent national infrastructure for neuroscience research.
Large-scale collaborative efforts facilitated by shared instrumentation, communication, data representation, and workflow systems, and advanced computational and data resources have enabled transformative discoveries across the spectrum of scientific disciplines. In neuroscience, rapid proliferation of advanced measurement instrumentation and techniques has allowed researchers to study the brain, nervous system, cognition, and behavior at ever-finer physical and temporal scales, and generate very large datasets. However, integrative efforts in neuroscience research are hampered by a lack of systematic means for encouraging maximal utilization of existing resources, and for developing and disseminating new resources that can serve whole disciplines in collecting, managing, and analyzing large-scale data, and comparing those data to theoretical and computational models.
This multi-directorate effort is part of the NSF's Understanding the Brain activity, including NSF's participation in the Brain Research through Advancing Innovative Neurotechnologies (BRAIN) Initiative (http://www.nsf.gov/brain/) and the National Brain Observatory (NBO) effort.
This effort will be realized through a phased approach that:
Fosters development and dissemination/deployment of innovative research resources and instrumentation, neurotechnologies and behavioral paradigms that can be applied across the phylogenetic spectrum, theoretical and computational frameworks, and data infrastructure resources while providing greater access to existing resources where possible and serving broad communities within the brain sciences;

Supports collaborative networks composed of neuroscientists, behavioral scientists, and theorists working in concert with technology and cyberinfrastructure developers on a common question or theme from a variety of perspectives; and

Facilitates the emergence of a coherent national infrastructure comprising the above shared and accessible tools, resources and networks that will allow rapid integration, analysis, and modeling of brain data associated with behaviors from multi-disciplinary projects and enable large-scale collaborative research efforts nationally and internationally that will advance our understanding of brain structure and function.
NSF plans to continue to release Dear Colleague Letters and Solicitations with refined guidance and specific funding opportunities aligned with each of the three phases described above, as this campaign continues into the future. NSF anticipates that this initiative will usher in a new frontier of brain exploration by empowering research communities to cooperatively collect, share, analyze, and model data across molecular, cellular, organismal, developmental, behavioral and evolutionary levels in order to reveal the fundamental principles of nervous system function and complex behavior. If you have questions concerning this DCL, please contact a program officer representing the program or solicitation of interest.
Sincerely,
James L. Olds
Assistant Director for Biological Sciences
James Kurose
Assistant Director for Computer & Information Science & Engineering
Joan Ferrini-Mundy
Assistant Director for Education and Human Resources
Pramod Khargonekar
Assistant Director for Engineering
F. Fleming Crim
Assistant Director for Mathematical and Physical Sciences
Fay Cook
Assistant Director for Social, Behavioral, & Economic Sciences
Dear Colleague Letter: NSF/SBE Partnering in Round 4 of the Digging into Data Challenge
The National Science Foundation has released Dear Colleague Letter 16-056 announcing the "Digging into Data grant competition." Here is full text of the letter.
http://www.nsf.gov/pubs/2016/nsf16056/nsf16056.jsp?WT.mc_id=USNSF_25&WT.mc_ev=click
March 4, 2016
Dear Colleagues:
The purpose of this Dear Colleague Letter is to announce that the National Science Foundation's Directorate for Social, Behavioral & Economic Sciences is partnering in the Trans-Atlantic Platform 2016 Digging into Data Challenge (T-AP DiD). Digging into Data is a grant competition open to international, collaborative projects that address research questions in humanities and/or social science disciplines by using new, large-scale, digital data analysis techniques.
The Digging into Data Challenge (https://www.nsf.gov/cgi-bin/goodbye?http://diggingintodata.org/) has been funding cutting-edge digital research in the humanities and social sciences since 2009. Now under the auspices of T-AP, the program's fourth round of competition will support collaborative research teams from three continents: Europe (Finland, France, Germany, the Netherlands, Portugal and the United Kingdom); North America (Canada, Mexico, the United States); and South America (Brazil and Argentina).
T-AP (https://www.nsf.gov/cgi-bin/goodbye?http://www.transatlanticplatform.com/) is an unprecedented collaboration among key humanities and social science funders and facilitators from South America, North America and Europe. T-AP aims to enhance the ability of funders, research organizations and researchers to engage in transnational dialogue and collaboration. Among other activities, it works to identify common challenges and emerging priorities in social science and humanities research. T-AP also facilitates the formation of networks within the social sciences and humanities and helps connect them with other disciplines.
The funding opportunity is open to international projects that consist of teams from at least three participating T-AP Digging into Data countries, and must include partners from both sides of the Atlantic, i.e., from Europe and the Americas. Research partners will receive funding from their own national funding agencies for projects of up to 36 months in duration.
All projects must address a research question in humanities and/or social science disciplines by using large-scale, digital data analysis. The T-AP Digging into Data Challenge specifically aims to advance multidisciplinary collaborative projects in digital scholarship that seek new perspectives and insights, utilizing any data source or computer science techniques to do so.
Additional information about this transatlantic funding opportunity — including links to application details — will be available on the DiD application website (https://www.nsf.gov/cgi-bin/goodbye?http://diggingintodata.org/about/application-materials) as of March 1, 2016. Interested researchers should review the website for details about the competition and see the list of previous awards on the site for information as to what research areas have been supported in previous rounds.
Questions should be directed to the NSF program officer for the T-AP Digging into Data Challenge, Joan Maling: jmaling@nsf.gov.
Sincerely,
Dr. Fay Lomax Cook
Assistant Director
Directorate for Social, Behavioral & Economic Sciences
Upcoming Faculty Networking Lunches
There are still seats available for the following networking lunches:
<![if !supportLists]>· <![endif]>BRAIN Initiative-Related Research 3/28/16 (register here: https://brain-initiative.eventbrite.com).
<![if !supportLists]>· <![endif]>Bio-based Materials 5/9/16 (register here: http://biobased-materials.eventbrite.com)
<![if !supportLists]>· <![endif]>Health Disparities 5/23/16 (register here: https://health-disparities.eventbrite.com)
The goal is get faculty with common interests to meet each other in an informal setting and discuss possible collaborations. The food is catered by a local Thai restaurant and includes vegetarian and gluten-free options.
All lunches are held in UOB 210 from 12:00pm – 1:00pm. PLEASE CONTACT ME IF YOU HAVE AN IDEA FOR A TOPIC that you think 8-12 other faculty will be interested in.
The Western Grebes have an interesting courtship ritual called rushing where pairs (or more) run on top of the water. These photos from Lake Hodges in San Diego illustrate the rushing.
<![if !vml]>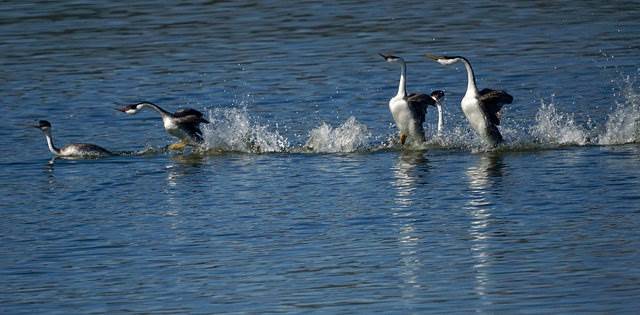 <![endif]>
(Click to enlarge)
Michael Pazzani
Vice Chancellor for Research and Economic Development
Professor, Computer Science & Engineering
University of California, Riverside
200 University Office Building
Assistant: Linda Bejenaru
Email: VCREDadmin@ucr.edu