UCR Research and Economic Development Newsletter: March 23, 2016
Michael Pazzani
Vice Chancellor for Research and Economic Development
Back Issues of Newsletter: http://research.ucr.edu/vcr/newsletters.aspx
Grant Opportunity Search: http://pivot.cos.com
<![if !supportLists]>· <![endif]>Air Force Young Investigator Awards: Deadline 6/1/16
<![if !supportLists]>· <![endif]>Associate Vice Chancellor for Technology Partnerships – Candidate: 3/31/16 Talk at 11:00 am and meeting at 3:30
<![if !supportLists]>· <![endif]>Meetings with Lewis-Burke: 3/28-29/16
<![if !supportLists]>· <![endif]>Faculty Networking Lunches: BRAIN, International Research Projects (New!), Bio-based Materials, Health Disparities
<![if !supportLists]>· <![endif]>NSF CAREER Workshop: 4/28/16 or 4/29/16 from 11:00 am until 1:00 pm (lunch provided)
<![if !supportLists]>· <![endif]>Research Development & Grant Writing News
<![if !supportLists]>· <![endif]>Bald Eagles
Air Force Young Investigator – 6/1/16
The U.S. Air Force has released its Young Investigator Program solicitation for 2016. To be eligible, you must have received your Ph.D. on April 1, 2011, or later; you must have a tenure-track appointment; and you must be a U.S. citizen, national, or permanent resident. Awards are for three years at $120,000 per year
Proposals must be responsive to at least one of the published research interests of the Air Force Office of Scientific Research. See below for a summary. Like most DoD programs, chances of acceptance increase if you talk with the appropriate program officer. See http://www.grants.gov/web/grants/search-grants.html?keywords=BAA-AFRL-AFOSR-201* for details on programs and contacts.
Engineering and Complex Systems
1) Aerothermodynamics
2) Dynamic Materials and Interactions
3) GHz-THz Electronics
4) Energy and Combustion Science
5) Low Density Materials
6) Multi-Scale Structural Mechanics and Prognosis
7) Optoelectronics and Photonics
8) Space Power and Propulsion
9) Test Science for Test and Evaluation (T&E)
10) Turbulence and Transition
Information and Networks
1) Complex Networks
2) Computational Cognition and Machine Intelligence
3) Computational Mathematics
4) Dynamics and Control
5) Dynamic Data Driven Applications Systems (DDDAS)
6) Information Operations and Cybersecurity
7) Optimization and Discrete Mathematics
8) Science of Information, Computation and Fusion
9) Systems and Software
10) Trust and Influence
Physical Sciences (RTB1)
1) Aerospace Materials for Extreme Environments
2) Atomic and Molecular Physics
3) Electromagnetics
4) Flow Interactions and Control
5) Laser and Optical Physics
6) Plasma and Electro-Energetic Physics
7) Quantum Electronic Solids
8) Remote Sensing and Imaging Physics
9) Sensing, Surveillance and Navigation
10) Space Science
Chemistry and Biological Sciences
1) Biophysics
2) Human Performance and Biosystems
3) Mechanics of Multifunctional Materials and Microsystems
4) Molecular Dynamics and Theoretical Chemistry
5) Natural Materials, Systems, and Extremophiles
6) Organic Materials Chemistry
Proposals are due June 1.
The solicitation is available at http://www.grants.gov/web/grants/view-opportunity.html?oppId=282395 under the Related Documents tab.
Associate Vice Chancellor for Technology Partnerships – Candidate Presentation – 3/31/16 at 11:00
A candidate will be interviewing for the AVC for Technology Partnerships next week, and will be giving a talk in the University Lab Building (ULB) 104 on Thursday, March 31st at 11:00am.
The AVC for technology partnerships will be responsible for Technology Commercialization (including patenting, licensing and new company formation) and Corporate Relationships (including corporate contracts and corporate gifts).
All faculty are welcome to attend. Her abstract and bio are below. She will also be available to meet with faculty as a group from 3:30-4:30 in UOB 210.
Entrepreneurial approach to building university partnerships
Universities around the world are facing increasing pressure from governments, communities and the private sector to play a more proactive role in supporting innovation and economic growth in their respective regions. Because of their limited resources, this task compels universities to be very creative and resourceful, so as to meet these demands while fulfilling their educational and research missions.
There is a consensus that in order to accelerate the commercialization of university-based technology and increase the impact of universities in regional job creation and competitiveness, five areas must be strengthened: faculty entrepreneurship, student entrepreneurship, technology transfer, industry collaborations and university engagement in the region's economic development.
In this presentation I will share my experience with building models for accelerating university technology commercialization at the national and international levels, in which programs are integrated in a synergistic manner to maximize available resources and foster an entrepreneurial culture across campus. I will share different approaches to secure public private partnerships through the adoption of a market-driven, entrepreneurial vision.
Rosibel Ochoa, PhD
Dr. Ochoa is the Senior Executive Director for Entrepreneurism and Leadership Programs at the Jacobs School of Engineering, University of California San Diego where she oversees the von Liebig Entrepreneurism Center and the Gordon Center for Engineering Leadership.
She has spent a significant portion of her professional career focused on the commercialization of early stage technologies both in corporate and academic settings. At UC San Diego, she has been involved in designing and implementing regional and international programs aimed at providing a commercialization platform that accelerates the transfer of university discoveries from the laboratory to the private sector. This platform is built out of three key elements: entrepreneurial education, expert mentorship and access to capital. These elements are integrated through a process that supports entrepreneurial faculty and students through the early stages of the commercialization process out of the university, including assisting with the technology transfer process, collaboration with industry as well as facilitating access to the university research infrastructure by external partners.
During her tenure, Dr. Ochoa has transformed the von Liebig Center from an engineering focused program to a regional platform that can be replicated in other regions in the Country and around the world. Since 2008, she has secured more than $6 Million in funding for proof of concept from a variety of federal, corporate and non-profit organizations. These grants allowed her to launch eight Southern California technology acceleration programs to help commercialize discoveries in the areas of healthcare and clean energy.
As part of the Center's educational programs, she has led development of curricular and co-curricular courses and workshops on entrepreneurism, technology commercialization and customer development for faculty and students at the undergraduate and graduate level. Combined with strong mentorship by business advisors, participants gain a better understanding of how to bring product to market.
In 2013, she became Program Director of the UC San Diego I Corps site, funded by the National Science Foundation. To date, more than 90 teams have participated in the program and in a short period of time, these teams have leveraged over $2M in additional funding to further commercialization of their research.
More recently, she spearheaded the creation of the Triton Fund a $10 Million early stage Venture Fund managed by a UCSD Alum to provide access to early stage capital to UCSD and UCSD affiliated startups, where she is now a member of the investment committee. She is also co-Director of the nationally recognized program My Startup XX, a business accelerator that provides mentorship and training to female scientists and engineers interested in pursuing a startup of their own.
Previously, she served as Associate Director of the Office of Technology Licensing and Manager of Industry Contracts at the Georgia Institute of Technology where she was involved in the protection and licensing of a portfolio of more than 150 technologies and led the team in charge of negotiating corporate sponsored research agreements with the university.
She is also the founder of TekDome, a consulting company that provided technology assessment, commercialization strategy and proof of concept support to university researchers and has been a consultant for international organizations such as the Inter-American Development Bank and the Organization of American States.
Dr. Ochoa holds a master and PhD in Chemical Engineering from the University of Louisville and a BS in Chemical Engineering from the National Autonomous University of Honduras. She is the inventor in two US Patents and author in more than 18 technical publications.
Meetings with Lewis-Burke, Funding Consultants – Mar. 28-29, 2016
This is a reminder: UCR works with Lewis-Burke, a DC-based firm which monitors federal funding and provides guidance on federal funding. Representatives will be on campus to discuss funding strategies and availability on a variety of topics. Faculty are welcome and encouraged to attend any session that is of interest to them. The schedule is below. Please sign up. ,
At each session, they will present a short overview of funding various federal agencies for psychology. You should come prepared to discuss a brief overview of your research. They more they know about your research, the more they can hook you up with federal agencies.
Monday, March 28, 2016

Time

Topic

Location

Register Here:

9:00a-9:45a

Water Research

UOB 210

4:00p-5:00p

USDA: Education & Outreach Programs

UOB 210
Tuesday, March 29, 2016

Time

Topic

Location

Register Here:

11:00a-12:00p

US Dept of Education: Education and MSI Programs

UOB 210

http://lba-education-minority-serving-programs.eventbrite.com

11:00a-12:00p

Psychology

PSYCH 3210

2:00p-3:00p

DOE

UOB 210

2:00p-3:00p

Spatial Science

Batchelor 2158

3:00p-4:00p

DOD

UOB 210

3:00p-4:00p

Social Science Funding

Batchelor 2158

4:00p-5:00p

USDA: Agriculture Research

UOB 210
Bios:
Michael Ledford, Partner and Vice President for Client Management, joined Lewis-Burke Associates, LLC in March 2000. He is primarily responsible for the company's work involving innovation and technology transfer, the Department of Health and Human Services Centers for Medicare and Medicaid Services, the National Aeronautics and Space Administration, the Department of Transportation, the National Science Foundation, and the Department of State and Department of Homeland Security's policies regarding immigration. He also works on research and development issues within the Department of Defense.
Leland Cogliani has over 12 years of experience working on Department of Energy basic and applied research and development programs as well as national security issues related to nuclear weapons and non-proliferation activities. In addition to substantive, subject matter expertise on science and innovation issues, he is also an expert on the congressional appropriations process. During his career at the U.S. Senate, Energy and Water Appropriations Subcommittee and the U.S. Government Accountability Office, he worked with authorizing and appropriations committees, a number of federal agencies, and scientists from universities and companies throughout the country.
Prior to joining Lewis-Burke Associates LLC, Mr. Cogliani was the lead Senate staff member with budget responsibility over the National Nuclear Security Administration (NNSA), the Office of Science, the Advanced Research Projects Agency-Energy (ARPA-E), and Other Defense Programs. Mr. Cogliani was instrumental in advancing science and national security priorities through yearly appropriations legislation while developing expertise in federal programs across many scientific disciplines, including basic research, Department of Energy (DOE) national laboratories, and national security programs. He also worked closely with the Senate Select Committee on Intelligence to assess budgetary and programmatic needs for science and national security programs.
Lauren Broccoli brings a unique background to Lewis-Burke that combines federal communications, legislative, and political expertise. Prior to joining Lewis-Burke, Lauren served in the office of Congressman James Langevin. Her experience includes work on a broad range of issues, including education policy, appropriations, cybersecurity, agriculture, and healthcare. While on Capitol Hill, she also contributed to innovative communications strategies to enhance the Congressman's policy profile and constituent interactions.
Lauren tracks federal policy related to the environmental and agricultural sciences, ranging from coastal resilience to plant biology. Her portfolio covers the National Oceanic and Atmospheric Administration (NOAA), U.S. Department of Agriculture (USDA), Department of Interior (DOI), and the National Science Foundation (NSF).
Upcoming Faculty Networking Lunches
A new faculty lunch has been scheduled to discuss international research on May 2. We will be joined by Vice Provost of International Affairs Kelechi Kalu. We will discuss opportunities for funding for international research and available funding including USAID and NSF.
<![if !supportLists]>· <![endif]>BRAIN Initiative-Related Research 3/28/16 (register here: https://brain-initiative.eventbrite.com).
<![if !supportLists]>· <![endif]>New: International Research Projects 5/2/16 (register here: http://intl-research-projects.eventbrite.com)
<![if !supportLists]>· <![endif]>Bio-based Materials 5/9/16 (register here: http://biobased-materials.eventbrite.com)
<![if !supportLists]>· <![endif]>Health Disparities 5/23/16 (register here: https://health-disparities.eventbrite.com)
The goal is get faculty with common interests to meet each other in an informal setting and discuss possible collaborations. The food is catered by a local Thai restaurant and includes vegetarian and gluten-free options.
All lunches are held in UOB 210 from 12:00pm – 1:15pm.
Thursday, April 28: 11:00-1:00 (HUB Rm. 260)
Friday, April 29: 11:00-1:00 (HUB Rm. 260)
Reminder: The annual UCR NSF CAREER Workshop is offered twice this year, presenting the same material in two sessions:
The CAREER is NSF's most prestigious award in support of untenured faculty who exemplify the role of teacher-scholars through outstanding research, excellent education and the integration of education and research within the context of the mission of their organizations. See http://www.nsf.gov/funding/pgm_summ.jsp?pims_id=503214 for the NSF solicitation.
CAREER proposals are due July 20-22, 2016; the exact deadline varies by discipline. It pays to start a few months early to make sure the proposal is well thought-out and addresses all criteria for funding.
The UCR workshop on preparing an NSF CAREER proposal will be held on Thursday, April 28th from 11:00am to 1:00pm (lunch provided) in the Highlander Union Building, Room 260, and repeated again on Friday, April 29th from 11:00am to 1:00pm (lunch provided) in the Highlander Union Building, Room 260.
The workshop will offer guidance on essential components of the CAREER award, including
<![if !supportLists]>· <![endif]>Research Plan
<![if !supportLists]>· <![endif]>Educational Plan
<![if !supportLists]>· <![endif]>Broader Impacts
<![if !supportLists]>· <![endif]>Data Management Plan
Previous winners of the NSF CAREER awards will discuss what worked (and what didn't work) for them. We will go over NSF requirements, suggestions and best practices from past winners, and your questions and ideas. Sample funded proposals will be made available.
Please RSVP by Monday, April 19th here:
4/28: http://nsf-career-workshop-4-28-16.eventbrite.com
4/29: http://nsf-career-workshop-4-29-16.eventbrite.com
Academic Research Funding Strategies: Research Development & Grant Writing News
The March issue of the Academic Research Funding Strategies newsletter is now available on the web at http://research.ucr.edu/OrApps/SP/Info/GrantWriting/GrantWritingNews.aspx. The index is below.
Note that this report is for UCR internal use only. It may not be forwarded to colleagues at other institutions or professional associations.
March 2016
<![if !supportLists]>· <![endif]>Topics of Interest URLs
<![if !supportLists]>· <![endif]>Making Copy-and-Paste Illegal
<![if !supportLists]>· <![endif]>NSF INCLUDES: Success Is All About Scalability
<![if !supportLists]>· <![endif]>The Generic Management Plan
<![if !supportLists]>· <![endif]>FY 2017: Funding Social & Behavioral Sciences
<![if !supportLists]>· <![endif]>Research Grant Writing Web Resources
<![if !supportLists]>· <![endif]>Educational Grant Writing Web Resources
<![if !supportLists]>· <![endif]>Agency Research News
<![if !supportLists]>· <![endif]>Agency Reports, Workshops & Roadmaps
<![if !supportLists]>· <![endif]>New Funding Opportunities
<![if !supportLists]>· <![endif]>About Academic Research Funding Strategies
In 2014, a pair of mated Bald Eagles chose the most idyllic of nest sites within the United States' National Capital (Washington, DC), nestled high in a Tulip Poplar tree amongst the Azalea Collection at the U.S. National Arboretum, which is operated by the United States Department of Agriculture. This is the first Bald Eagle pair to nest in this location since 1947. The two Eagles have been iconically named "Mr. President" and "The First Lady."
The first of the two baby bald eagles, named DC2 (as it is the second eaglet raised by Mr. President and The First Lady at this location) emerged from its shell on Friday at 8:27 a.m. The second eaglet (DC3) hatched at approximately 3:00 a.m. Sunday. You can view the nest cam 24 hours a day. http://www.eagles.org/dceaglecam/.
Below is a photo I took of a pair of eagles making a nest on Honeymoon Island, Florida.
<![if !vml]>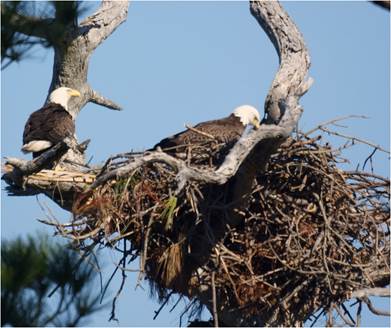 <![endif]>
(Click to enlarge)
Michael Pazzani
Vice Chancellor for Research and Economic Development
Professor, Computer Science & Engineering
University of California, Riverside
200 University Office Building
Assistant: Linda Bejenaru
Email: VCREDadmin@ucr.edu