UCR Research and Economic Development Newsletter: April 17, 2016
Michael Pazzani
Vice Chancellor for Research and Economic Development
Back Issues of Newsletter: http://research.ucr.edu/vcr/newsletters.aspx
Grant Opportunity Search: http://pivot.cos.com
<![if !supportLists]>· <![endif]>Multidisciplinary University Research Initiative (MURI) : DOD
<![if !supportLists]>· <![endif]>2017 UC Laboratory Fees Research Program; Science, Engineering, Social Science and Humanities and
<![if !supportLists]>· <![endif]>San Diego Supercomputer Center: HPC@UC
<![if !supportLists]>· <![endif]>Office of Research Integrity Guest Speaker – 5/10/16, 1:00pm
<![if !supportLists]>· <![endif]>TEDxUCR – 4/23/16, 4:00-8:00pm
<![if !supportLists]>· <![endif]>NSF CAREER Workshop
<![if !supportLists]>· <![endif]>Faculty Networking Lunches – International Research Projects, Bio-based Materials, Health Disparities
<![if !supportLists]>· <![endif]>Center Grants from Lewis-Burke
<![if !supportLists]>· <![endif]>Cooper's Hawk
Multidisciplinary University Research Initiative (MURI): DOD
The Department of Defense has released its Multidisciplinary Research Program of the University Research Initiative (MURI) for the next fiscal year. This program supports large, multi-institutional, multidisciplinary efforts at $1.25 million to $1.5 million per year for five years.
The topics this year are:
Air Force
Topic 1 (AFOSR): Foundations of Interactive Protocols for Quantum Computation and Communications
Topic 2 (AFOSR): Bioinspired Low-Energy Information Processing
Topic 3 (AFOSR): Autonomous Research Systems for Materials Development
Topic 4 (AFOSR): Beam/Wave Dynamics in Geometrically Complex Systems with Emitting Boundaries
Topic 5 (AFOSR): Atmospheric disturbances at high altitudes
Topic 6 (AFOSR): Revolutionary Advances in Computational Quantum Many Body Physics
Topic 7 (AFOSR): Melanin: Unique Biopolymers for Functional Precision Nanoscale Materials
Topic 8 (AFOSR): Adaptive Oxides for Biomimetic Synapse Design via Modulation of Internal States
Navy
Topic 9 (ONR): Physics, Chemistry and Mechanics of Polymer Dielectric Breakdown
Topic 10 (ONR): Percept formation and scene analysis in echolocating systems
Topic 11 (ONR): Phase Change Materials for Photonics
Topic 12 (ONR): Event Representation and Episodic Memory
Topic 13 (ONR): Nonlinear Phenomena and Interactions Induced by Short and Ultra-Short Pulsed Lasers in the Long-Wave Infrared Regime
Topic 14 (ONR): High-Fidelity Simulation Methodologies for Multi-Phase Flows
Topic 15 (ONR): Novel Approaches to Modeling Factions and Conflict
Topic 16 (ONR): Assuring Composability and Correctness for Intelligent and Learning Systems that Interact with Unstructured Physical Environments
Army
Topic 17 (ARO): Additive 3D Self-Assembly of Responsive Materials
Topic 18 (ARO): Anyons in 2D materials and cold Atomic gases
Topic 19 (ARO): Characterization of Information Content in Data for Multimodal Data Analysis (collaborations with the UK are allowed in this topic area only)
Topic 20 (ARO): Nutritional and Environmental Effects on the Gut Microbiome and Cognition
Topic 21 (ARO): Spectral Decomposition and Control of Strongly Coupled Nonlinear Interacting Systems
Topic 22 (ARO): Toward Room Temperature Exciton-Polaritonics
Topic 23 (ARO): Cyber Deception through Active Leverage of Adversaries' Cognition Process
The solicitation has about a page of description for each topic area.
White papers (4 pp plus bios, cover page, and letters) are due August 1. Full proposals should be invited by August 22 and will be due November 15. White papers are submitted via e-mail to the technical point of contact, so ECAFs and formal budgets will not be required at that stage. However, assistance is available from Randy Black in RED or Mitch Boretz in BCOE on proposal preparation. UCR has won 2 of these in the past 3 years. It is essential that these proposal be multi-university and if you are interested it is suggested that you contract peers at other universities to develop teams.
The solicitation is available at http://www.grants.gov/web/grants/view-opportunity.html?oppId=282951 or http://www.onr.navy.mil/Contracts-Grants/Funding-Opportunities/Broad-Agency-Announcements.aspx.
2017 UC Laboratory Fees Research Program
The Program Announcement for the 2017 UC Laboratory Fees Research Program funding opportunities has recently been announced.
Support collaborative research between UC faculty and Laboratory scientists.

Support UC graduate students in programs that promote interaction between laboratory scientists and UC graduate programs.

Support research that takes advantage of unique laboratory facilities, especially involving students.

Support research in the physical, life, or social sciences, or in the humanities, on topics aligned with the mission of the laboratories.
This year's competition offers two distinct funding opportunities:
<![if !supportLists]>1) <![endif]>The UC Multicampus-National Laboratory Collaborative Research and Training award (UC-NL CRT): http://research.ucr.edu/webdocs/vcr/misc/2017_LabFee_NLGF_RFP.pdf
<![if !supportLists]>2) <![endif]>The UC-National Laboratory In-Residence Graduate Fellowship: http://research.ucr.edu/webdocs/vcr/misc/2017_LabFee_CRT_RFP.pdf
These RFPs supersede draft versions that were previously circulated for comment, and all submissions must conform to the requirements of these versions dated April 14, 2016, or any subsequent announcements.
In addition to the RFP, each document includes:
<![if !supportLists]>· <![endif]>Lab Fee Research Program and National Laboratory contact information;
<![if !supportLists]>· <![endif]>Frequently Asked Questions (FAQs); and
<![if !supportLists]>· <![endif]>Instructions for submitting the required Letter of Intent.
Please review these materials carefully, visit the website for additional information, applicant information teleconference registration, or other program announcements: http://ucop.edu/research-initiatives/programs/lab-fees/index.html
Please contact UCRI@ucop.edu for additional guidance.
SFSC HPC@UC
Dr. Mike Norman, Director of the San Diego Supercomputer Center (SDSC), has announced the launch of HPC@UC, a significant new offering from SDSC that provides UC researchers with access to high performance computing and data resources, and the people to help you make the best use of them. The design of this program reflects considerable input that was provided by many researchers, and it could be an important complement to the advanced computing resources available on campus.
The application process for this is very streamlined, with an award decision made within 10 working days of the application. Details on the program along with the application submission instructions are provided here: http://www.sdsc.edu/collaborate/hpc_at_uc.html
Please forward this to your colleagues who may be interested in the program.
Please contact hpc_uc@sdsc.edu if you have any questions about the program or application process.
Office of Research Integrity Guest Speaker – 5/10/16, 1:00pm
The Office of Research Integrity invites you to attend our upcoming seminar held on May 10th at 1:00 pm in HUB 265. Click here for more information: https://research.ucr.edu/WebDocs/RI/ORI-Seminars/Schwitzgebel.pdf.
Our guest speaker is Dr. Eric Schwitzgebel who will be speaking on "Living Up to Our Own Norms? The Ethical Behavior of Ethicists."
This is a free seminar and no registration is required. Light refreshments will be served.
We look forward to seeing you there.
Date: Sat., 4/23/16
Time: 4:00-8:00pm
Location: UCR Theatre
Please join us for UCR's annual TEDx event on April 23rd, 2016 from 4:00-8:00pm at UCR University Theatre! We are excited to announce one of our featured speakers for the evening, internationally renowned writer and scholar of religions, Reza Aslan. We also have a wonderful collective lineup of 6 local speakers/performers.
This is an event you won't want to miss and Dinner is included with the purchase of tickets.
Student tickets (for students with ID) will be $17, and General Admission is $27.
More information about ticket purchase, details about the event and our featured speakers are available on our website http://tedxucr.weebly.com/reaction-2016.html.
We hope to see you there!!
Speakers & Performers
Reza Aslan is an internationally renowned scholar of religions and writer whose books include the #1 New York Times Bestseller, Zealot: The Life and Times of Jesus of Nazareth, and the International Bestseller, No god but God: The Origins, Evolution, and Future of Islam. Aslan teaches creative writing at the University of California, Riverside. His writing has been published in The New York Times, Slate, The Daily Beast, The Christian Science Monitor and The Washington Post, and he makes frequent appearances on TV and radio shows as a religions and political analyst.
Meng Cheng (Summer) is a 2nd-year Ph.D. student in Management. Her research focuses on emotions, human behaviors, and diversity. Summer is passionate about expanding and applying her research interests through her volunteer work, and is active on the fundraising and recruiting committee of the Student United Way Global Leadership Board.
Brian K. To grew up in Los Angeles, CA and currently studies Psychology at the University of California, Riverside with plans to pursue a career assisting the disability community. Aside from his academics, Brian works for the Employment Development Department of the state of California, serving as a Youth Employment & Opportunity Program Specialist. He is also a student intern, artist, and scholarship recipient for the Academy of Special Dreams, an organization striving to increase awareness and provide opportunities to artists with disabilities.
William H. Grover is an Assistant Professor in the Department of Bioengineering at the University of California, Riverside. His research lab at UCR develops instruments for biological, chemical, and medical applications. Dr. Grover also creates smartphone apps and other resources for supporting engineering practices in K-12 schools.
Lenka Morávková is a songwriter, sound-artist and electronic producer from the Czech Republic, who currently pursues her PhD degree in Digital Composition at University California Riverside. As a cross-disciplinary artist, Lenka transgresses boundaries within music, visual art, performance and new media, tours internationally with her music project My Name Is Ann! and performs with the Cristal Baschet instrument. Her installations and performances have been exhibited in various places in Europe such as: Broke L.A., LEM festival in Barcelona, Czech National Theatre Prague, Colours of Ostrava and many others.
Kristian Arceo is an undergraduate at the University of California, Riverside, majoring in history, but with the intent to enter the field of medicine. Kristian has practiced the art of Taekwondo for twelve years and has received numerous accolades from local, state, national, and international competitions. As a fourth degree black belt, Taekwondo has enabled him serve in numerous ways from teaching in orphanages to raising money to create care packages for the homeless.
Emcee, Stan Morrison is the only coach in NCAA history to lead three different basketball teams, in the same state, to the NCAA tournament – UOP, USC and San Jose State. He was "Coach of the Year" in 3 different conferences and director of athletics at UCR for 12 years leading UCR from Division II into Division I. He is senior vice president, Pacific Premier Bank, and a board member of Olive Crest, American Diabetes Association, ARC Riverside County, Mission Inn Foundation, High Five America, and Boy Scouts of America, among others.
Thursday, April 28: 11:00-1:00 (HUB Rm. 260)
Friday, April 29: 11:00-1:00 (HUB Rm. 260)
Reminder: The annual UCR NSF CAREER Workshop is offered twice this year, presenting the same material in two sessions:
The CAREER is NSF's most prestigious award in support of untenured faculty who exemplify the role of teacher-scholars through outstanding research, excellent education and the integration of education and research within the context of the mission of their organizations. See http://www.nsf.gov/funding/pgm_summ.jsp?pims_id=503214 for the NSF solicitation.
CAREER proposals are due July 20-22, 2016; the exact deadline varies by discipline. It pays to start a few months early to make sure the proposal is well thought-out and addresses all criteria for funding.
The UCR workshop on preparing an NSF CAREER proposal will be held on Thursday, April 28th from 11:00am to 1:00pm (lunch provided) in the Highlander Union Building, Room 260, and repeated again on Friday, April 29th from 11:00am to 1:00pm (lunch provided) in the Highlander Union Building, Room 260.
The workshop will offer guidance on essential components of the CAREER award, including
<![if !supportLists]>· <![endif]>Research Plan
<![if !supportLists]>· <![endif]>Educational Plan
<![if !supportLists]>· <![endif]>Broader Impacts
<![if !supportLists]>· <![endif]>Data Management Plan
Previous winners of the NSF CAREER awards will discuss what worked (and what didn't work) for them. We will go over NSF requirements, suggestions and best practices from past winners, and your questions and ideas. Sample funded proposals will be made available.
Please RSVP by Monday, April 19th here:
4/28: http://nsf-career-workshop-4-28-16.eventbrite.com
4/29: http://nsf-career-workshop-4-29-16.eventbrite.com
Upcoming Faculty Networking Lunches
There are still seats available for the following networking lunches:
<![if !supportLists]>· <![endif]>International Research Projects 5/2/16 (register here: http://intl-research-projects.eventbrite.com)
<![if !supportLists]>· <![endif]>Bio-based Materials 5/9/16 (register here: http://biobased-materials.eventbrite.com) This event is jointed hosted by RED and CNAS Dean Kathryn Uhrich, an expert in bio-based materials and will discuss corporate collaborations.
<![if !supportLists]>· <![endif]>Health Disparities 5/23/16 (register here: https://health-disparities.eventbrite.com)
The goal is get faculty with common interests to meet each other in an informal setting and discuss possible collaborations. The food is catered by a local Thai restaurant and includes vegetarian and gluten-free options.
All lunches are held in UOB 210 from 12:00pm – 1:15pm. PLEASE CONTACT ME IF YOU HAVE AN IDEA FOR A TOPIC that you think 8-12 other faculty will be interested in.
Center Grants
Lewis Burke has prepared the attached brochure on center grants to support research. See attached
Contents:
National Science Foundation ........................................................................................................................ 3
Department of Energy .................................................................................................................................. 6
Department of Defense .............................................................................................................................. 13
National Institutes of Health ....................................................................................................................... 18
National Aeronautics and Space Administration ........................................................................................ 29
Department of Homeland Security ............................................................................................................. 31
Department of Transportation ................................................................................................................... 32
One hot day last week, this Cooper's Hawk decide to take a bath in the bubbler in my yard,
<![if !vml]>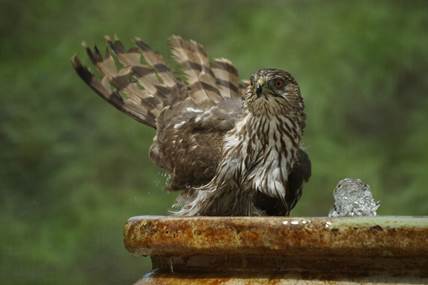 <![endif]>
(Click to enlarge)
Michael Pazzani
Vice Chancellor for Research and Economic Development
Professor, Computer Science & Engineering
University of California, Riverside
200 University Office Building
Assistant: Linda Bejenaru
Email: VCREDadmin@ucr.edu