UCR Research and Economic Development Newsletter: April 23, 2016
Michael Pazzani
Vice Chancellor for Research and Economic Development
Back Issues of Newsletter: http://research.ucr.edu/vcr/newsletters.aspx
Grant Opportunity Search: http://pivot.cos.com
<![if !supportLists]>· <![endif]>TEDxUCR – TONIGHT** 4/23/16, 4:00-8:00pm
<![if !supportLists]>· <![endif]>Greatest Hits
<![if !supportLists]>· <![endif]>Tufted Titmouse
The main point of this newsletter is to encourage faculty (and their entire family and their grad students and postdocs) to join me in attending TEDxUCR today. It's guaranteed to be better than Netflix. Oh, I'll also throw in some "greatest hits" from old newsletters and one of my favorite bird photos ever.
Date: Sat., 4/23/16
Time: 4:00-8:00pm
Location: UCR Theatre
Please join us for UCR's annual TEDx event on April 23rd, 2016 from 4:00-8:00pm at UCR University Theatre! We are excited to announce one of our featured speakers for the evening, internationally renowned writer and scholar of religions, Reza Aslan. We also have a wonderful collective lineup of 6 local speakers/performers.
This is an event you won't want to miss and Dinner is included with the purchase of tickets.
Student tickets (for students with ID) will be $17, and General Admission is $27.
More information about ticket purchase, details about the event and our featured speakers are available on our website http://tedxucr.weebly.com/reaction-2016.html.
We hope to see you there!!
Speakers & Performers
Reza Aslan is an internationally renowned scholar of religions and writer whose books include the #1 New York Times Bestseller, Zealot: The Life and Times of Jesus of Nazareth, and the International Bestseller, No god but God: The Origins, Evolution, and Future of Islam. Aslan teaches creative writing at the University of California, Riverside. His writing has been published in The New York Times, Slate, The Daily Beast, The Christian Science Monitor and The Washington Post, and he makes frequent appearances on TV and radio shows as a religions and political analyst.
Meng Cheng (Summer) is a 2nd-year Ph.D. student in Management. Her research focuses on emotions, human behaviors, and diversity. Summer is passionate about expanding and applying her research interests through her volunteer work, and is active on the fundraising and recruiting committee of the Student United Way Global Leadership Board.
Brian K. To grew up in Los Angeles, CA and currently studies Psychology at the University of California, Riverside with plans to pursue a career assisting the disability community. Aside from his academics, Brian works for the Employment Development Department of the state of California, serving as a Youth Employment & Opportunity Program Specialist. He is also a student intern, artist, and scholarship recipient for the Academy of Special Dreams, an organization striving to increase awareness and provide opportunities to artists with disabilities.
William H. Grover is an Assistant Professor in the Department of Bioengineering at the University of California, Riverside. His research lab at UCR develops instruments for biological, chemical, and medical applications. Dr. Grover also creates smartphone apps and other resources for supporting engineering practices in K-12 schools.
Lenka Morávková is a songwriter, sound-artist and electronic producer from the Czech Republic, who currently pursues her PhD degree in Digital Composition at University California Riverside. As a cross-disciplinary artist, Lenka transgresses boundaries within music, visual art, performance and new media, tours internationally with her music project My Name Is Ann! and performs with the Cristal Baschet instrument. Her installations and performances have been exhibited in various places in Europe such as: Broke L.A., LEM festival in Barcelona, Czech National Theatre Prague, Colours of Ostrava and many others.
Kristian Arceo is an undergraduate at the University of California, Riverside, majoring in history, but with the intent to enter the field of medicine. Kristian has practiced the art of Taekwondo for twelve years and has received numerous accolades from local, state, national, and international competitions. As a fourth degree black belt, Taekwondo has enabled him serve in numerous ways from teaching in orphanages to raising money to create care packages for the homeless.
Emcee, Stan Morrison is the only coach in NCAA history to lead three different basketball teams, in the same state, to the NCAA tournament – UOP, USC and San Jose State. He was "Coach of the Year" in 3 different conferences and director of athletics at UCR for 12 years leading UCR from Division II into Division I. He is senior vice president, Pacific Premier Bank, and a board member of Olive Crest, American Diabetes Association, ARC Riverside County, Mission Inn Foundation, High Five America, and Boy Scouts of America, among others.
HONING YOUR PROPOSAL WRITING SKILLS
George A. Hazelrigg, a program director at NSF has some hints on writing proposals. Here are my favorite excerpts. See http://poole.ncsu.edu/i/com/weblogs/research-development/Honing-Proposal-Skillls-1.pdf for more.
It should be totally obvious that the most important thing a reviewer wants to know when he or she picks up a proposal is what it's about. Ergo, for NSF, the first sentence of paragraph one, page one should begin, "The research objective of this proposal is..." In my experience, any other sentence used to start the proposal results in a lower rating.
There are many words that, to reviewers, mean "not research." These include "develop," "design," "optimize," "control," "manage," and so on. If your statement of your research objective includes one of these words, for example, "The research objective of this proposal is to develop....," you have just told the reviewers that your objective is not research, and your rating will be lower.
Dr. Mark Silver's National Endowment for the Humanities Workshop Materials & Hints
For those that were unable to attend or would like the slides that were presented by Dr. Mark Silver (NEH Research Division) at the February 5th National Endowment for the Humanities Workshop they are available athttp://research.ucr.edu/OrApps/VCR/Talks/20140207-NEH/default.aspx.
Helen Magid collected some Hints from the talk.
· The NEH will offer feedback for many proposals if they are provided a working draft approximately 6 weeks before the final deadline. They do not read drafts for Fellowship or Summer Stipend programs as those have a considerable number of submissions. (Each funding opportunity has specific deadlines for feedback responses.)
· Applicants can submit to more than NEH one program concurrently on the same topic. This differs from other agencies such as NSF and NIH where duplication is prohibited. If you have a strong application, this can improve your odds. You can only accept one award if offered more than one.
· The NEH will provide panelist notes on proposals only if requested by the applicant. These can help strengthen a proposal when revising and resubmitting. You should always request these even if funded.
· The NEH encourages reapplication of proposals that are revised to take pane notes into account. All review panels have 100% turnover so no panelist will see a revised application and there is no need to mention that the application is being resubmitted.
· Letters of recommendation, which have no page limit, are an excellent way to expand proposal content beyond page limits in order to address the applicant's capability but also to emphasize the way in which the research or project is of intellectual significance.
For a complete list of all upcoming NEH grants and deadlines please visit, http://www.neh.gov/grants.
Sometimes, little changes can have a big impact. Here are a few fairly minor things I'd like to see changed about the UCR culture.
a. Grant Start Dates: Most federal agencies strive to review proposals and make funding decisions in six months. However, many faculty set grant start dates much longer than this. For example, many faculty are advised by staff in their department to start an NSF CAREER submitted in mid-July on July 1 of the following year. To date this year, we have heard of three CAREER grants submitted less than five months ago that will be funded. Using April 1 (or even January 1) as a start date for a CAREER grant gives you access to funds earlier to travel, purchase equipment and recruit graduate students and postdocs.
b. Proposals to companies: Unless explicitly requested by a company, there is absolutely no UC or UCR reason to provide a company with a detailed, itemized budget. Indeed, we have recently signed several six figure contracts, and one 7 figure one, without detailed budgets. While it is required that there be the same overhead on corporate grants as federal ones such as NSF or NIH, unless requested, the company doesn't need to know the details of benefits, tuition, etc. Manycompanies care about the bottom line and it's not necessary to give the same details as federal agencies (unless they want them). Companies also are not like NIH. If you tell them only direct costs, they'll assume that is the entire budget.
c. No federal agency, company, foundation, market board (and likely no Dean, or Vice Chancellors) provides you with funds to prevent one of your goals from failing. Instead, proposals should explain to a funder how providing you funds will make one of their goals succeed. Of course, if you share that same goal with funder, your goal will succeed.
d. UCR subscribes to a service by COS PIVOT for searching for grant opportunities. It also contains a feature to email you weekly with new opportunities that match a profile you set up. See http://pivot.cos.com and use Save Search. I'd like to see more people use the Save Search feature to alert them of new opportunities. It takes 5 minutes to set up and might be worth a million dollars.
Proposals Tips
I've been looking at some recent proposals submitted by UCR recently and working on one of my own. Here are some tips:
<![if !supportLists]>· <![endif]>Include several photographs, graphs, and diagrams in a proposal. These can include photographs of a lab, a field site, a outreach activity as well as graphs or data that might appear in a publications. Approximately 40% of the NSF CAREER awards submitted from UCR with illustrations were funded. No proposal without illustration was funded.
<![if !supportLists]>· <![endif]>Finish a complete draft at least a month early and allow other in the department and colleagues at other universities to comment and address their comments. I recently passed a proposal I was writing on to people at 3 universities, and there was sufficient time to change the approach in one section, to clarify several points, and to emphasize an additional point. Often, the second version of a proposal is the one that is funded. It's better to wait a week or two for comments from colleagues to produce the second version than 6-8 months for agency comments.
<![if !supportLists]>· <![endif]>Have someone not familiar with the proposal proofread the final proposal. Even after working with UCR grant facilitators, my wife found about 20 typos. Little things, like "under way" vs. "underway" inconsistent capitalization and incomplete sentences can form a bad impression on reviewers.
The Road to NIH Funding on YouTube
New to the NIH grants process? Looking for some direction? Then grab a seat and watch our new YouTube video, The NIH Grants Process: the Big Picture, designed to help you get started on the road to NIH funding. This video, produced by the NIH Office of Extramural Research (OER), provides a high-level overview of the grants process from application to award.
As you begin to navigate the NIH grants process, be sure to bookmark grants.nih.gov for many more online resources. These include guidance on the various aspects of the grants process, podcasts, webinars, policy information, the NIH Guide to Grants and Contracts, and so much more. More videos related to NIH grants information may be also be found on YouTube.
Tufted Titmouse
The Tufted Titmouse was one of my favorite birds from New Jersey. They eat most bird seed but really like peanuts. Although there is a relative in the Riverside area- the Oak Titmouse, formerly known as the "plain titmouse" it lacks the tuft and coloration of the tufted titmouse.
<![if !vml]>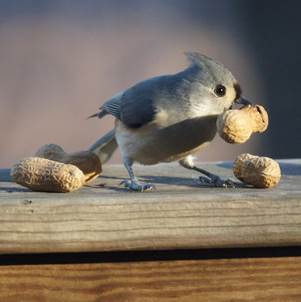 <![endif]>
(click to enlarge)
Michael Pazzani
Vice Chancellor for Research and Economic Development
Professor, Computer Science & Engineering
University of California, Riverside
200 University Office Building
Assistant: Linda Bejenaru
Email: VCREDadmin@ucr.edu