UCR Research and Economic Development Newsletter: June 3, 2016
Michael Pazzani
Vice Chancellor for Research and Economic Development
Back Issues of Newsletter: http://research.ucr.edu/vcr/newsletters.aspx
Grant Opportunity Search: http://pivot.cos.com
<![if !supportLists]>· <![endif]>Funding Opportunity: NEA Releases New Research Labs Program
<![if !supportLists]>· <![endif]>Funding Opportunity: NSF Releases Solicitation for Next Generation Networks for Neuroscience (NeuroNex) Program
<![if !supportLists]>· <![endif]>UCR Export Control Awareness Day (June 3rd, 2016) <- Today @ noon (or 1)
<![if !supportLists]>· <![endif]>Rosibel Ochoa – Associate Vice Chancellor, Technology Partnerships
<![if !supportLists]>· <![endif]>NEH Summer stipends
<![if !supportLists]>· <![endif]>Stupid Faculty Tricks
<![if !supportLists]>· <![endif]>Faculty Networking Lunches
<![if !supportLists]>· <![endif]>Baby Burrowing Owl
Funding Opportunity: NEA Releases New Research Labs Program
The National Endowment for the Arts (NEA) has released a new program entitled "National Endowment for the Arts Research Labs" (NEA Research Labs). Through this program, NEA seeks to "support a series of transdisciplinary research partnerships, grounded in the social and behavioral sciences, to produce and report empirical insights about the arts for the benefit of arts and non-arts sectors alike."
This new opportunity builds upon NEA's prior efforts to measure and understand the value, benefits, and impacts of the arts. Unlike most NEA funding opportunities which support the development of artistic projects, this solicitation is research focused. NEA is looking to fund applications that examine a theory-based research question.
NEA has identified three areas of special interest. Each NEA Research Lab should focus on one of the following topic areas:
<![if !supportLists]>1. <![endif]>The Arts, Health, and Social/Emotional Well-Being
<![if !supportLists]>2. <![endif]>The Arts, Creativity, Cognition, and Learning
<![if !supportLists]>3. <![endif]>The Arts, Entrepreneurship, and Innovation
Due Date: Proposals are due July 12.
Total Funding and Award Size: This program will fund cooperative agreements for a duration of up to two years. NEA expects to award $150,000 to successful proposals. Each NEA Research Lab must provide a one-to-one match from non-federal sources. NEA has not indicated how many awards it expects to issue.
Eligibility and Limitations: Eligible applicants include institutions of higher education and nonprofit research organizations.
Sources and Additional Background:
<![if !supportLists]>· <![endif]>The solicitation is available at https://www.arts.gov/sites/default/files/nea-research-labs-program-solicitation.pdf.
<![if !supportLists]>· <![endif]>Additional information can be found at https://www.arts.gov/program-solicitation-national-endowment-for-the-arts-research-labs/.
Funding Opportunity: NSF Releases Solicitation for Next Generation Networks for Neuroscience (NeuroNex) Program
On June 1, the National Science Foundation (NSF) released a solicitation for the Next Generation Networks for Neuroscience (NeuroNex) program focused on the "development of innovative, accessible, and shared capabilities and resources towards the establishment of a coherent national infrastructure for neuroscience research." The NSF Directorate for the Biological Sciences (BIO) is leading this program with additional participation by the Directorates for Mathematical and Physical Sciences (MPS), Social, Behavioral, and Economic Sciences (SBE), and Engineering (ENG). NeuroNex is part of the agency's cross-cutting Understanding the Brain initiative to better understand cognitive functions, including efforts to respond to the Administration's Brain Research through Advancing Innovative Neurotechnologies (BRAIN) initiative.
The primary objective of this program is to increase the development and dissemination of innovative research resources, neurotechnologies, and theoretical frameworks to transform the ability of researchers to understand linkages between neural activity and cognition and behavior across systems, environments, and species. NSF requests that proposals focus on one of the following: neurotechnology hubs that will develop and disseminate new and innovative technologies to the neuroscience community for use in studying brain structure and function in diverse species; or theory teams, which will foster theoretical approaches to understanding neural underpinnings of behavior and cognition across organizational levels, scales of analysis, and/or a range of species, including humans. Successful proposals will have a rationale that justifies a team approach and large scale investment beyond the contributions of individual investigators as part of the objective is to build and grow networks and the community connectivity. In addition, as BIO is leading this effort, it is recommended that proposals, while including interdisciplinary approaches, focus on resources, technologies, or theoretical frameworks with relevance to the communities that BIO supports.
This opportunity is one of several cross-cutting efforts by NSF to support brain research in addition to numerous core programs that support neurotechnologies and neurotheory development. The NeuroNex solicitation specifically notes that the program will not fund research that would be funded by other programs at NSF. None of the programs that fall under the Understanding the Brain umbrella are NSF-wide and thus it is important to take note of the divisions listed within a solicitation to determine which program is the best fit for a given team or project proposal. As previously reported, the Directorate for Computer and Information Science and Engineering (CISE) is also expected to release its own solicitation related to the formation of a National Brain Observatory according to two previous Dear Colleague Letters (DCL) released earlier this year.
Letters of Intent: Applicants are required to submit a Letter of Intent (LOI) by 5 p.m. on September 2, 2016.
Application Deadline: Full proposals are due by 5 p.m. on October 21, 2016
Total Funding and Award Size: NSF expects up to $30 million to be available for this program, with individual awards ranging from $500,000 to $2 million annually for 3-5 years. NSF anticipates awarding between 10-15 grants for FY 2017.
Eligibility: Eligible applicants include institutions of higher education and non-profit research organizations.
Sources and Additional Information:
<![if !supportLists]>· <![endif]>The program page, which has updated program contacts and will eventually have information on awardees as well as any new information added about the program, is available at http://www.nsf.gov/funding/pgm_summ.jsp?pims_id=505281.
<![if !supportLists]>· <![endif]>The full solicitation is available at http://www.nsf.gov/pubs/2016/nsf16569/nsf16569.htm?WT.mc_id=USNSF_25&amp;WT.mc_ev=click
<![if !supportLists]>· <![endif]>The National Brain Observatory DCL is available at http://www.nsf.gov/pubs/2016/nsf16076/nsf16076.jsp
<![if !supportLists]>· <![endif]>The full list of opportunities available as part of the Understanding the Brain initiative is available at http://www.nsf.gov/news/special_reports/brain/funding/
UCR Export Control Awareness Day (June 3rd, 2016) TODAY (Plus free lunch)
Export Control comprises the U.S. laws and regulations that govern the electronic transfer or shipment overseas (or to foreign nationals within the United States) of certain information, technologies, and commodities. The federal government has enacted export control laws in order to protect the U.S. economy, promote trade goals, and restrict the export of technology and goods that could militarily aid U.S. adversaries.
On Friday, June 3rd, Research and Economic Development, Office of International Affairs and the Campus Ethics and Compliance Office will host concurrent seminars across campus to raise institutional and individual awareness of Export Control regulations and how to avoid civil and criminal penalties. If you have international collaborations, travel abroad or conduct research in the fields of biomedical sciences, computer sciences, space sciences, engineering, physics, chemistry, or anthropology…this one hour seminar is for you!
Two 1-hour sessions (same material) will be offered for Faculty and Researchers at 12:00 p.m. and again at 1:00 p.m. UCOP's Elizabeth Boyd, Ph.D., Executive Director of Research Compliance & Export Control Officer will address specific export control areas of interest for faculty and researchers.
<![if !supportLists]>· <![endif]>Both sessions will be located at: Winston Chung Hall, Room 443
<![if !supportLists]>· <![endif]>Lunch will be provided at both sessions, but it will be warmer at the first.
<![if !supportLists]>· <![endif]>To reserve a seat, please send an email to Robert.Chan@ucr.edu or register online at: https://research.ucr.edu/about/calendar.
Rosibel Ochoa – Associate Vice Chancellor, Technology Partnerships
Please join me in welcoming Dr. Rosibel Ochoa to UCR as Associate Vice Chancellor, Technology Partnerships.
Rosibel Ochoa, Ph.D. has joined UC Riverside as associate vice chancellor for technology partnerships in the Office of Research and Economic Development. In the position, she will focus on increasing UCR's momentum in research advancement and the commercialization of faculty and student discoveries.
Ochoa comes to the position with experience that includes service at universities, in industry, and in entrepreneurship.
For the past decade, she worked at the Jacobs School of Engineering at UC San Diego, where she was executive director of the von Liebig Entrepreneurism Center, senior executive director of entrepreneurism and leadership programs, and since 2013, program director of the UC San Diego NSF-funded I-Corps site,
In her work at UC San Diego, Ochoa created and implemented regional and international programs aimed at providing a commercialization platform to accelerate the transfer of university discoveries from the laboratory to the private sector. She also developed innovation training programs for international partners in Asia and Latin America.
In 2011, Ochoa co-founded My Startup XX, a business accelerator funded by the National Collegiate Inventors and Innovator Alliance, now Venture Well, to foster female scientist and engineer participation in entrepreneurship. The program has received two national awards from the Small Business Administration and Athena's San Diego Pinnacle Award for best organization in 2014.
In 2006, she founded TekDome, LLC, a consulting company that provided expert advice on strategies for intellectual property development, commercialization and licensing support. TekDome delivered consulting services to the Research Triangle Institute (North Carolina), the Georgia Institute of Technology, the University of Louisville and several faculty-led startup companies.
Prior to TekDome, Ochoa was associate director of the Office of Technology Licensing and manager of the Industry Contracts Group, Georgia Institute of Technology. Previously, she served as licensing manager for Motorola's Energy Systems Group.
Ochoa holds a master's and Ph.D. in chemical engineering from the University of Louisville.
UCR may nominate two people to apply for the NEH summer Stipend program, Apply by June 30 at
http://research.ucr.edu/ord/limitedsubmissions.aspx
NEH Summer Stipends program
http://www.neh.gov/grants/research/summer-stipends

Summer Stipends provide $6,000 for two consecutive months of full-time research and writing. Recipients must work full-time on their projects for these two months and may hold other research grants supporting the same project during this time. Summer Stipends normally support work carried out during the summer months, but arrangements can be made for other times of the year.

Brief Summary

Summer Stipends support individuals pursuing advanced research that is of value to humanities scholars, general audiences, or both.

Eligible projects usually result in articles, monographs, books, digital materials and publications, archaeological site reports, translations, editions, or other scholarly resources.

Summer Stipends support continuous full-time work on a humanities project for a period of two consecutive months.

Summer Stipends support projects at any stage of development.
Here are some worst practices to avoid (taken verbatim from NSF OIG Semiannual Report to Congress - March 2016. http://www.nsf.gov/pubs/2016/oig16002/oig16002.pdf
Fabricated IRB Approval Leads to $1.66 Million Available for Better Use
We previously reported that a PI at a Pennsylvania university fabricated a document showing his project's required IRB approval, and submitted the fabricated document to NSF as part of his research proposal, which was subsequently awarded. 6 The university returned about $44,000 that had been expended and voluntarily relinquished the award, making an additional $1.6 million available for better use. Our investigation is ongoing.
University Repays $260,000 for Professor's Mischarges to NSF and DOE Awards
Our investigation revealed that a professor at a Florida university was paying her husband (who had no science background) for "helpful suggestions" on her publications resulting from research funded by two NSF awards as well as two Department of Energy (DOE) awards. She claimed that her NSF program officers gave her permission to hire her husband for this purpose, which was not true. We also found that she significantly mischarged student and postdoc salaries on NSF awards. She defended these actions by stating that all her research fit under one "umbrella."
We presented evidence to the university, which agreed with our findings and returned over $165,000 for mischarged funds related to student salary. The university also repaid over $40,000 to NSF and $50,000 to DOE for award funds used for the professor's husband's salary. In addition, the university issued a reprimand, made the professor ineligible for promotions or salary increases for three years, required her to complete training on federal effort reporting, and will heavily monitor all aspects of her reporting related to sponsored projects for three years. The professor resigned her position as department chair.
University's Lack of Candor Results in Nearly $300,000 Put to Better Use
In response to our recommendation, NSF terminated a Texas university's award, which resulted in $300,000 of funds put to better use. Previously, NSF had suspended the award because the university failed to notify NSF of the PI's absence for nine of the first twelve months' of the award and his resignation from the university.17 Immediately prior to the leave of absence, the university determined that the PI had misused funds from an earlier NSF award, violated university conflict of interest policies, and failed to obtain the requisite approval for outside employment.
Although the PI gave seven months' notice before he resigned, the university did not inform NSF of the pending resignation until nine months later. The university failed to provide oversight of the PI's graduate students during the PI's absence. One month before the PI's final day, the university requested that a co-PI be added to the award, but did not inform NSF that the PI was going to resign. The NSF program officer indicated that had he known of the PI's pending absence, he would not have approved the addition of a co-PI.
There are still seats available for the following faculty networking lunches:
<![if !supportLists]>· <![endif]>Bio-based Materials: 6/20/16 at 11:30 (please note earlier time!) Please register here: https://biobased-materials.eventbrite.com
<![if !supportLists]>· <![endif]>Health Disparities: 6/27/16. Please register here: https://health-disparities.eventbrite.com
Here's a photo of a baby burrowing owl. I think the best place to see burrowing owls in Southern California is near the Salton Sea. They have burrows along Walker Road in Brawley, CA. We went last weekend in hopes of seeing baby owls and we found this one. They are one of the few owls that is visible during the day, although due to the heat they are out most in the morning and late afternoon.
<![if !vml]>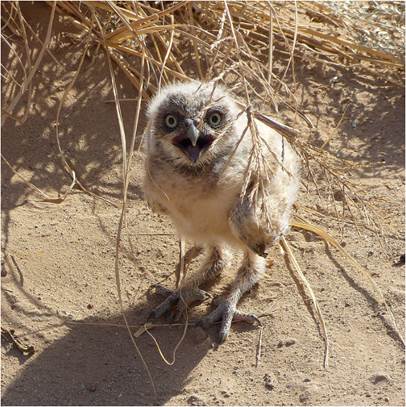 <![endif]>
(Click to enlarge)
Michael Pazzani
Vice Chancellor for Research and Economic Development
Professor, Computer Science & Engineering
University of California, Riverside
200 University Office Building
Assistant: Linda Bejenaru
Email: VCREDadmin@ucr.edu