UCR Research and Economic Development Newsletter: August 13, 2016
Michael Pazzani
Vice Chancellor for Research and Economic Development
Back Issues of Newsletter: http://research.ucr.edu/vcr/newsletters.aspx
Grant Opportunity Search: http://pivot.cos.com
<![if !supportLists]>· <![endif]>Welcome
<![if !supportLists]>· <![endif]>Funding for FY2015-16
<![if !supportLists]>· <![endif]>Limited Submission: 2016 Department of Homeland Security (DHS) Scientific Leadership Awards for Minority Serving Institutions (MSI) Granting Bachelor Degrees – 9/8/16
<![if !supportLists]>· <![endif]>U.S. - Egypt Science and Technology Joint Fund's Collaborative Research and Junior Scientist Development Visit grant programs – 9/27/16
<![if !supportLists]>· <![endif]>Office of Naval Research 2017 Young Investigator Program – 11/4/16
<![if !supportLists]>· <![endif]>Department of Labor: Research and Evaluation Grants: 10/3/2016
<![if !supportLists]>· <![endif]> American Council of Learned Societies Collaborative Research Fellowships 9/28/2016
<![if !supportLists]>· <![endif]>Behavioral and Social Science Research on Understanding and Reducing Health Disparities (R21)
<![if !supportLists]>· <![endif]>Google Faculty Research Awards: 9/30/2016
<![if !supportLists]>· <![endif]>Hooded Orioles
<![if !supportLists]>· <![endif]>Fox Update
This newsletter adds 50+ faculty who have joined UCR since July 1. (About the same number will join us later this year). This newsletter is sent out by the Office of Research and Economic Development with the goal of informing faculty about trends and advice in research, funding, and internal funding opportunities. It is not intended to be a comprehensive list of funding opportunities, but rather a sample of those that may have wide interest or some with specialized interest that are representative of other opportunities. Here are a few resources at UCR that new faculty may wish to explore:
<![if !supportLists]>· <![endif]>Research and Economic Development Website: https://research.ucr.edu contains information on Sponsored Projects (for submitting all grant proposals), Research Integrity (For research involving human subjects, animals, etc), Technology Commercialization (for assistance with patenting, licensing, and new company formation), Research Development (for assistance with proposal strategy including
<![if !supportLists]>· <![endif]>Identifying Funding Opportunities. We use COS Pivot, http://pivot.cos.com a service that collects grant opportunities from the federal government. If you have a UCR email address, you can create an account on Pivot. It is easy to do, but if you like instruction, they are available at. http://research.ucr.edu/ord/funding/search-engines/pivot.aspx. In addition to searching for funding opportunities, Pivot allows one to save a search and emails you with new opportunities. Below is an example email for me.
<![if !vml]>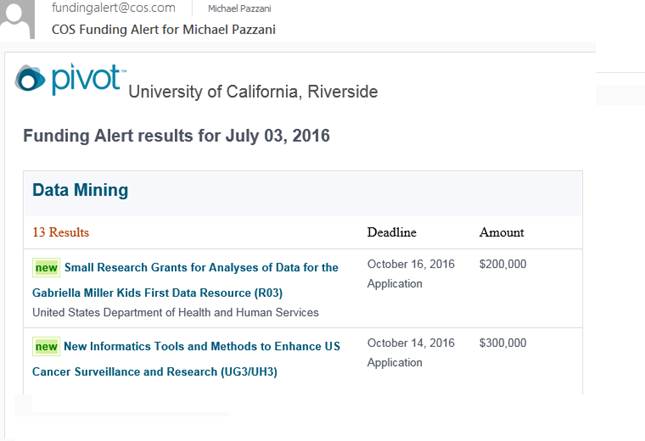 <![endif]>
<![if !supportLists]>· <![endif]>Internal UCR funding for Research:
<![if !supportLists]>o <![endif]>Research and Economic Development has a funding program to encourage collaboration that will lead to federal funding. The deadline is typically the beginning of the winter quarter with awards made July 1. http://research.ucr.edu/ord/funding/opportunities/collaborative-seed-grant-program.aspx has last year's program and the only change anticipated is replacing 2016 with 2017.
<![if !supportLists]>o <![endif]>The UCR academic senate has a grant program, http://senate.ucr.edu/research_grants/
My newsletters typically close with a photograph of a bird, because bird photograph is a hobby of my mine and not every newsletter contains an item of interest to every faculty member.
Funding for FY2015-16
The table below shows sponsored projects funds received by UCR in the past two years. Overall, the funding is up 9.2% with federal agencies being the largest source of funds. Funding from corporations increased the largest percentage and now is approaching the state funding.
Sponsor Type

2014-15 Count

2014-15 Amount

2015-16 Count

2015-16 Amount

Federal

525

93,106,240

541

98,271,323

State

45

8,820,377

27

9,340,700

Marketing Orders

82

5,640,348

69

4,304,354

Foundation/Charitable Trust

26

4,059,298

30

2,786,923

Business

33

3,820,481

41

8,794,633

Interest Group

56

3,614,841

44

4703565

Other Government

39

2,926,402

30

2,596,979

Other Charitable Organization

39

1,504,641

20

1,511,631

UC

20

998,943

20

1,511,631

Higher Education Inst/Assn

5

406,298

7

559,226

Total:

870

124,897,869

848

136,363,307
Limited Submission: 2016 Department of Homeland Security (DHS) Scientific Leadership Awards for Minority Serving Institutions (MSI) Granting Bachelor Degrees – 9/8/16
The Science and Technology Directorate (S&T) is DHS's primary research and development (R&D) arm. S&T manages science and technology research, from development through transition, for the department's operational components and the nation's first responders. S&T's engineers, scientists and researchers work closely with industry and academic partners to ensure R&D investments address the high-priority needs of today and the growing demands of the future. The DHS Scientific Leadership Awards (SLA) program is one of several programs administered by the S&T Office of University Programs. Through the SLA program, OUP seeks to build a diverse, highly capable, technical workforce for the homeland security enterprise. This NOFO is soliciting applications from Minority Serving Intuitions (MSIs) to establish programs that relevant to S&T's mission within their institutions or MSI networks.
The Department of Homeland Security has a solicitation out for minority serving institutions that want to set up undergraduate programs in fields related to homeland security. There is a limit of one proposal per institution. DHS expects to make 3-6 awards from a $3.6 million pool. Awards will be up to five years. Funding is $1million to $1.2 million.
UCR Internal Limited Applications due by 5:00 pm on September 8, 2016. http://research.ucr.edu/ord/SearchOr.aspx?k=2126965752&ae=A
More information is available here: http://www.grants.gov/web/grants/view-opportunity.html?oppId=286814.
U.S. - Egypt Science and Technology Joint Fund's Collaborative Research and Junior Scientist Development Visit grant programs – 9/27/16
Proposals are now being accepted for the U.S. - Egypt Science and Technology Joint Fund's Collaborative Research and Junior Scientist Development Visit grant programs. Researchers from U.S. and Egyptian scientific institutes, universities, research centers, and governmental agencies are eligible to apply. U.S. researchers from private sector companies are also eligible to apply. For the 2016 announcement, support for competitively awarded research and development cooperation may take the form of:
Junior Scientist Development Visit Grants - Short term non-academic training visits for Egyptian researchers to U.S. institutions:
<![if !supportLists]>· <![endif]>Up to a maximum of $30,000 USD
<![if !supportLists]>· <![endif]>Up to nine months in duration
Collaborative Research Grants - Grants intended to foster research collaboration between Egyptian and U.S. scientists:
<![if !supportLists]>· <![endif]>Up to $200,000 USD maximum each side
<![if !supportLists]>· <![endif]>Up to two to three years in duration
Areas of interest are:
<![if !supportLists]>· <![endif]>Agriculture, particularly climate change and sustainable crop/livestock production; emerging livestock diseases; and food processing and safety
<![if !supportLists]>· <![endif]>Energy, particularly advances in energy storage systems and new trends in renewable energy
<![if !supportLists]>· <![endif]>Health, particularly cancer; immunology; infectious diseases; neuroscience; stem cells; and responsible conduct of research
<![if !supportLists]>· <![endif]>Water, particularly advances in desalination technology and improved efficiency for current water/agricultural practices
<![if !supportLists]>· <![endif]>Nexus proposals, which intersect at least two of the four research areas (Agriculture, Energy, Health, and Water)
The call for proposals application deadline is September 27, 2016. For more information, full instructions, and to apply, visit: www.nationalacademies.org/egypt or www.stdf.org.eg.
Office of Naval Research 2017 Young Investigator Program – 11/4/16
The Office of Naval Research has released its 2017 Young Investigator Program solicitation (N00014-16-S-FO15). This program funds basic research by early-career investigators in an area of interest to the Navy. Applicants are strongly encouraged to contact the relevant ONR program officer before submitting a proposal. A list of program officers by topic can be found at http://www.onr.navy.mil/en/Science-Technology/Contacts.aspx
The PI must be a U.S. citizen, national, or permanent resident holding a first or second full-time tenure-track faculty position. Your first full-time tenure-track appointment must have begun on or after November 4, 2011.
Awards will be up to $170,000 per year for three years. Last year, the win rate was 18%.
Proposals are due November 4, 2016. The solicitation is available at http://www.grants.gov/web/grants/view-opportunity.html?oppId=286980.
Department of Labor: Research and Evaluation Grants
http://www.grants.gov/web/grants/view-opportunity.html?oppId=286915
Sponsor: United States Department of Labor (DOL), Employment and Training Administration (ETA)
Sponsor ID: FOA-CEO-16-01
CFDA Numbers: 17.791
Amount: Upper $250,000USD - Lower $100,000USD
Deadline: Oct 03, 2016
DOL has a long history of supporting research and evaluation studies of important and emerging issues affecting America's workforce. America's working men and women deserve the opportunity to provide for their families by earning a fair day's pay for a fair day's work, and to do so without unnecessary risk to their health and safety. Various Department of Labor agencies address these issues by enforcing health and safety standards, protecting the minimum wage and overtime pay, monitoring health and retirement benefits, fostering the progress of historically underpaid groups, and providing employment services and training opportunities.
<![if !supportLists]>· <![endif]>Suggested topic areas for an LRE grant that are of priority interest to DOL include but are not limited to:
<![if !supportLists]>- <![endif]>Employee Benefits Security,
<![if !supportLists]>- <![endif]>Miners' Safety and Health,
<![if !supportLists]>- <![endif]>Wage and Hour and Labor Standards,
<![if !supportLists]>- <![endif]>Worker and Workplace Safety and Health,
<![if !supportLists]>- <![endif]>Workers' Compensation,
<![if !supportLists]>- <![endif]>Labor/Management Relations,
<![if !supportLists]>- <![endif]>International Topics in Worker Protection including child and forced labor issues,
<![if !supportLists]>- <![endif]>Improving Equal Employment Opportunities for Targeted Populations,
<![if !supportLists]>- <![endif]>Innovative approaches to evaluating the impact of DOL worker protection programs and policies using existing administrative or other data, and
<![if !supportLists]>- <![endif]>Low-cost randomized controlled trials or natural experiments to evaluate the impact of DOL programs.
ACLS Collaborative Research Fellowships
http://www.acls.org/programs/collaborative/
Sponsor: American Council of Learned Societies (ACLS)
Amount: Upper $201,000
Deadline: September 28, 2016
ACLS invites applications for the ninth annual competition for ACLS Collaborative Research Fellowships, which support small teams of two or more scholars collaborating intensively on a single, substantive project in the humanities and related social sciences. The goal of the project should be a tangible research product (such as joint print or web publications) for which at least two collaborators will take credit. The program is funded by a generous grant from The Andrew W. Mellon Foundation.
For the purpose of these competitions, the humanities and related social sciences include but are not limited to American studies; anthropology; archaeology; art and architectural history; classics; economics; film; geography; history; languages and literatures; legal studies; linguistics; musicology; philosophy; political science; psychology (excluding clinical or counseling psychology); religious studies; rhetoric, communication, and media studies; sociology; and theater, dance, and performance studies. Proposals in the social science fields listed above are eligible only if they employ predominantly humanistic approaches (e.g., economic history, law and literature, political philosophy, history of psychology). Proposals in interdisciplinary and cross-disciplinary studies are welcome, as are proposals focused on any geographic region or on any cultural or linguistic group.
The award amount will depend on the number of collaborators and the duration of the research leaves but will not exceed $201,000 for any one project. Fellowships provide up to $60,000 in salary-replacement stipends for each collaborator to take a semester- or academic year-long supported research leave, as well as up to $21,000 in project funds, which may be used for such purposes as travel, materials, or research assistance. The total amount of a fellowship for any collaborative project will vary depending on the number of collaborators and the duration of research leaves, but the total amount of stipends may not exceed $180,000 for any one project. The fellowships are for a total period of up to 24 months, during which time project funds may be expended, to be initiated between July 1, 2017 and September 1, 2019. Collaborator's research leaves may be taken during any semester or year within the overall award period, and leaves need not be concurrent. Up to eight awards will be made in the 2016-17 competition.
Eligibility
A collaborative project must be constituted of at least two scholars who are each seeking salary-replacement stipends for six to twelve continuous months of supported research leave to pursue full-time collaborative research and writing during the fellowship tenure.
<![if !supportLists]>· <![endif]>The Project Coordinator must have an appointment at a US-based institution of higher education; other project members may be at institutions outside the United States or may be independent scholars.
<![if !supportLists]>· <![endif]>Applicants must hold a PhD degree or its equivalent in publications and professional experience.
Application Process – please review carefully
One member of the project team must be designated as the Project Coordinator (PC). The PC is responsible for starting the application, entering the names and email addresses of the other collaborator(s), completing the project sections of the application, uploading the proposal, entering information for two project reference letters, and ensuring that all collaborators in the project have submitted their elements of the application. It is anticipated that the PC's institution will administer the funds for collaboration costs. Please note that for the purposes of this program, only scholars who are requesting ACLS funding for research leaves are considered collaborators. If the project includes other participants (not requesting funding for a research leave), please list them in your proposal document and explain their roles in the project. (However, large research clusters that do not produce jointly authored publications should not apply to this program.)
Once the PC has entered the list of collaborators into the application, each scholar will receive an email with registration information and a code to access the group application. Each collaborator will have to complete the individual sections of the application (including personal and professional information) and upload a publications list. In order for an application to be considered, all project collaborators (PC and additional collaborators) must have their application in SUBMITTED status by the application deadline of September 28, 2016.
Application Requirements
Applications must be submitted online and must include:
<![if !supportLists]>· <![endif]>Completed application form
<![if !supportLists]>· <![endif]>Participant information sheet, listing all collaborators (and identifying PC) and additional project members
<![if !supportLists]>· <![endif]>Proposal (no more than 10-pages, double spaced, in Times New Roman 11-point font). The proposal should describe the intellectual significance of the research project and explain in detail the process and product of the collaboration. It should make clear the goal of the collaboration, its structure, how credit and acknowledgement would be determined, and how the process and project of collaboration would be mutually informing. Finally, the proposal should explain how collaboration enables research that is intellectually innovative and produces a final outcome that would be more valuable than the sum of individual efforts of the project members.
<![if !supportLists]>· <![endif]>Bibliography (no more than two pages)
<![if !supportLists]>· <![endif]>Research plan, including timeline of proposed research activities. The plan should specify the location, duration, and names of individuals involved in each stage, and may be in the form of a graphic timeline or narrative description.
<![if !supportLists]>· <![endif]>Budget statement, outlining salary replacement and project funds, which may include such items as research assistance, travel, and research materials. (See sample budget.)
<![if !supportLists]>· <![endif]>Publications lists, one for each collaborator (no more than two pages each)
<![if !supportLists]>· <![endif]>Two reference letters. Letters should address the proposed collaborative project and all collaborators explicitly.
Evaluation Criteria
Peer reviewers in this program are asked to evaluate all eligible proposals on the following criteria:
<![if !supportLists]>1. <![endif]>Intellectual significance of the project, including its ambition and scope, and its potential contribution to scholarship in the humanities.
<![if !supportLists]>2. <![endif]>Relevance of the research questions being posed, appropriateness of research methods, feasibility of the work plan, appropriateness of the field work to be undertaken, the archival or source materials to be studied, and the research site.
<![if !supportLists]>3. <![endif]>Qualifications, expertise, and commitment of the project coordinator and collaborator(s).
<![if !supportLists]>4. <![endif]>Detail and soundness of the process and product of the collaboration, including dissemination plans.
<![if !supportLists]>5. <![endif]>Degree to which the proposed collaboration represents intellectually and methodologically innovative practice in the applicants' disciplines and sub-fields, and will produce a final outcome more valuable than the sum of individual efforts of the project members.
<![if !supportLists]>6. <![endif]>Potential for success, including the likelihood that the work proposed will be completed and will lead to distinct results within the projected timeframe; where appropriate, the collaborators' previous record of success; and the size and allocation of the proposed budget in relation to anticipated results.
<![if !supportLists]>7. <![endif]>It is hoped that projects of successful applicants will help demonstrate the range and value of collaborative research and inquiry in the humanities, and model how such collaboration may be carried out successfully.
What the Collaborative Research Fellowship Program does not fund:
<![if !supportLists]>· <![endif]>Large research clusters that do not produce publications jointly authored by all project collaborators
<![if !supportLists]>· <![endif]>Collaborative projects that result in an anthology or edited volume of secondary scholarship
<![if !supportLists]>· <![endif]>Projects that are not primarily focused on research
<![if !supportLists]>· <![endif]>Projects whose primary aim it is to transform existing research results into digital format
<![if !supportLists]>· <![endif]>Projects whose primary emphasis is on organization of events (workshops, lectures, exhibitions)
Behavioral and Social Science Research on Understanding and Reducing Health Disparities (R21)
http://grants.nih.gov/grants/guide/pa-files/PA-13-288.html
Application budgets are not to exceed two years. Direct costs are limited to $275,000 over a two-year period with no more than 200,000 in direct costs in any single year.
The purpose of this FOA is to encourage behavioral and social science research on the causes and solutions to health and disabilities disparities in the U.S. population. Health disparities between, on the one hand, racial/ethnic populations, lower socioeconomic classes, and rural residents and, on the other hand, the overall U.S. population are major public health concerns. Emphasis is placed on research in and among three broad areas of action: 1) public policy, 2) health care, and 3) disease/disability prevention. Particular attention is given to reducing "health gaps" among groups. Applications that utilize an interdisciplinary approach, investigate multiple levels of analysis, incorporate a life-course perspective, and/or employ innovative methods such as systems science or community-based participatory research are particularly encouraged.
Google Faculty Research Awards: 9/30/2016
Google gives faculty research awards (to be in an amount approximately equivalent to the amount necessary to support one graduate student for one year plus travel). Most awards are in the $40,000 to $70,000 range. The maximum amount a PI can request is $150,000. The intent of the Google Research Awards is to support cutting-edge research in Computer Science, Engineering, and related fields. There are two items worth noting in applying for these awards:
http://research.google.com/university/relations/research_awards.html
Deadline: September 30, 2016
Google ask applicants to categorize their proposals into one of the following broad research areas of interest to Google:
Computational neuroscience, Economics and market algorithms, Geo/maps, Human-computer interaction, Information retrieval, extraction, and organization (including semantic graphs) , Machine learning and data mining, Machine perception, Machine translation, Mobile, Natural language processing, Networking, Online education at scale, Physical interactions with devices, Policy and standards, Privacy, Robotics, Security, Social networks, Software engineering and programming languages, Speech, Structured data and database management, Systems (hardware and software)
Hooded Orioles
I haven't been going bird watching recently, but the hooded orioles have been enjoying the drought tolerant landscaping we put in.
<![if !vml]>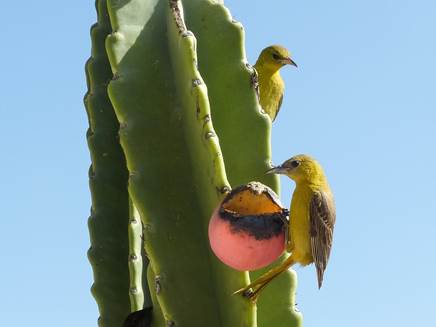 <![endif]>
(Click to enlarge)
The video in the last newsletter of a fox "hunting" in my backyard https://www.flickr.com/photos/pazzani/28003727104/in/dateposted-public/ was quite popular. However, David Reznick pointed out that while I thought it was eating a baby opossum, it's actually eating a kangaroo rat. Upon further review, I agree with David. I did have to explain to wife how special kangaroo rats are and how lucky we are to have them, but she keeps focusing on the rat part.
The foxes have been enjoying our yard as much as we do. Below is a recent video.
<![if !vml]>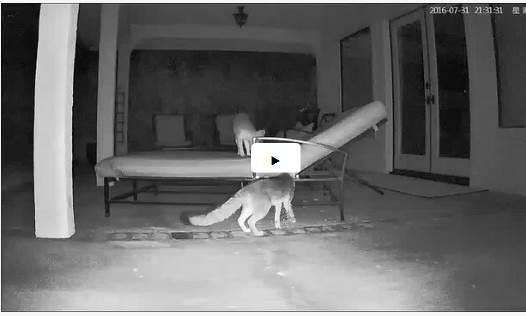 <![endif]>
(Click to play)
Michael Pazzani
Vice Chancellor for Research and Economic Development
Professor, Computer Science & Engineering
University of California, Riverside
200 University Office Building
Assistant: Linda Bejenaru
Email: VCREDadmin@ucr.edu