UCR Research and Economic Development Newsletter: January 22, 2017
Michael Pazzani
Vice Chancellor for Research and Economic Development
Back Issues of Newsletter: http://research.ucr.edu/vcr/newsletters.aspx
Grant Opportunity Search: http://pivot.cos.com
<![if !supportLists]>· <![endif]>Center for Advanced Neuroimaging (CAN) Building Dedication – 1/30/17
<![if !supportLists]>· <![endif]>Lunch Research Meetings
<![if !supportLists]>· <![endif]>Limited Submission: FFAR New Innovator in Food and Agriculture Research Award – 2/9/17
<![if !supportLists]>· <![endif]>Limited Submission: Hispanic Serving Institutions -- Education Grants Program, Department of Agriculture, National Institute of Food and Agriculture – 2/17/17
<![if !supportLists]>· <![endif]>NSF Cognitive Neuroscience
<![if !supportLists]>· <![endif]>Call for Proposals: UC Research in OptumLabs Data Warehouse
<![if !supportLists]>· <![endif]>Australia: Buff-Breasted Paradise Kingfisher, Fruit Bat, Kangaroo
Center for Advanced Neuroimaging (CAN) Building Dedication – 1/30/17
Please join us for the Dedication Ceremony and tours of the Center for Advanced Neuroimaging (CAN) on Monday, January 30, 2017, followed by a lecture presented by Dr. Roderic Pettigrew, Director, National Institute of Biomedical Imaging and Bioengineering, National Institutes of Health
9:45 a.m.

Tours of the Center for Advanced Neuroimaging

10:15 a.m.

Dedication Ceremony
UCR Center for Advanced Neuroimaging
(located immediately south of the UCR Psychology building)

11:00 a.m.

Lecture Presented by Dr. Roderic Pettigrew
Director, National Institute of Biomedical Imaging and Bioengineering
National Institutes of Health
UCR Genomics Auditorium 1102A
Complimentary parking is available in Parking Lot 6.
Kindly RSVP by January 27, 2017 to specialevents@ucr.edu or call (951) 827-3144
The Center for Advanced Neuroimaging (CAN) is a newly established MRI imaging facility that is aimed at providing state-of-art capabilities for neuroimaging and other applications of MRI. It is equipped with a state-of-art 3T MRI scanner (Siemens Prisma) for human imaging and will soon be equipped with an insert for small animal imaging. Furthermore, it is staffed with 3 highly experienced full time support staff. The techniques that are available include structural imaging, functional brain imaging, perfusion imaging, diffusion imaging, susceptibility imaging, and in vivo MR spectroscopy. These techniques are expected to play critical roles in noninvasive studies of brain and other organs.
2017 Faculty Networking Lunches
Announcing more faculty networking lunches for 2017! Topics are:
Australia Day on 1/26/17 (register here: https://australia-lunch.eventbrite.com)
Sustainability Research and Education on 1/30/17 (register here: https://sustainability-lunch.eventbrite.com)
Neuroscience on 2/6/17 (register here: https://brain-lunch.eventbrite.com)
High Performance Computing on 2/13/17 (register here: https://high_performance_computing.eventbrite.com)
More to be announced soon. The goal is get faculty with common interests to meet each other in an informal setting and discuss possible collaborations.
January 26 is Australia Day. Faculty from Australia are particularly encouraged to attend, or those that have studied in or about Australia. Okay, Mark, we'll even allow Kiwis. In 1993, I spent a sabbatical in Australia and really enjoyed an Australia Day celebration on a small island on the great barrier reef. I've celebrated Australia day every year since although one year I went to an Outback Steakhouse and they had never heard of it.
The food at our faculty lunches is usually catered by a local Thai restaurant and includes vegetarian and gluten-free options. I'm going to get Aussie Pies and lamingtons for Australia Day.
Limited Submission: FFAR New Innovator in Food and Agriculture Research Award – 2/9/17
A limited submission has been posted seeking outstanding early career nominees for the 2017 New Innovator in Food and Agriculture Research Award. Nominees will compete for up to 10 awards, with each awardee receiving up to $600,000 total over three years.
FFAR created the New Innovator Award to help support the next generation of food and agriculture scientists who will spur future innovation to meet the needs of a growing global population. The Award funds promising individuals pursuing research with potential to sustainably enhance agricultural production or improve health through food.
Nominees must be within the first three years of his or her tenure-track or equivalent faculty career. Preference will be given to individuals near the onset of their independent research careers.
Timeline:
Internal Deadline: February 9, 2017 by 5:00pm PST
Nominations Due: February 28, 2017 by 11:59 p.m. EST
Eligible Nominees Invited to Apply: by March 10, 2017
There is a limit of two proposals per institution. The deadline to apply for the limited submission is 2/9/17. See http://research.ucr.edu/ord/limitedsubmissions.aspx for the UCR application process.
Limited Submission: Hispanic Serving Institutions -- Education Grants Program, Department of Agriculture, National Institute of Food and Agriculture – 2/16/17
A Limited Submission has been posted for the U.S. Department of Agriculture, which has released USDA-NIFA-HSI-006206, USDA: National Institute of Food and Agriculture Hispanic Serving Institutions -- Education Grants Program. This program will support several types of educational opportunities at the undergraduate and graduate levels. The overall purpose is to promote and strengthen the ability of HSIs to carry out higher education programs that attract, retain, and graduate outstanding students capable of enhancing the nation's food, natural resources, human sciences and agricultural scientific and professional work force.
A proposal may address education in any area of food, agriculture, natural resources and human (FANH) sciences. However, the solicitation lists 16 targeted educational areas (p. 7). Collaborations with USDA agencies is encouraged. Examples of collaborative activities with USDA could include but are not limited to: internships, USDA Career Days, HSI student visits or tours, and USDA staff presentations to students and faculty.
The HSIs Education Grants Program supports social and behavioral science disciplines. Projects that integrate social and biological sciences to provide experiential learning opportunities for students in applied research and related community development programs are encouraged. Incorporation of social and behavioral sciences is important for addressing many of the challenges facing agriculture and rural communities, such as increasing global demand for food production in the face of limited natural resources, improving health and reducing obesity by engaging in heathy diets, and alleviating poverty by fostering economic opportunity.
Every proposal must address leadership skills development for student trainees.
There are three "grant types" and six "project types." The grant types are Regular/Bridge (Bridge is for institutions that have not had a Regular award before), Collaboration, and Conference. The project types are:
1) Curricula Design, Materials Development, and Library Resources (including development of courses of study and degree programs)
2) Faculty Preparation and Enhancement for Teaching
3) Instruction Delivery Systems
4) Scientific Instrumentation for Teaching
5) Student Experiential Learning
6) Student Recruitment and Retention
The grant types:
Regular (up to $250,000 total over up to four years, single institution or a team) grants are expected to enhance institutional capacity with the goal of leading to future funding in the project area, as well as strengthen the competitiveness of the applicant's education activities. The educational activities should be designed to: (1) increase the pool of highly-qualified underrepresented students in professional careers in the FANH sciences and USDA's workforce; (2) increase the state-of the-art scientific knowledge for HSIs; (3) provide technical and financial assistance through grant and scholarship programs to recruit and retain talented students and faculty; and (4) provide support for the development and utilization of faculty/staff expertise.
Bridge is a sort of sub-class of Regular for institutions that have not won a Regular before.
Collaborative (multiple institutions, at least two of which are HSIs, up to $250,000 per year x 4 years = $1 million total) grants should build linkages to generate a critical mass of expertise, skill and technology to address education/teaching programs related to the FANH sciences.
Conference (up to $50,000 total over up to two years) grants support scientific meetings that bring together educators to identify research, education/teaching, and/or extension needs, update information, or advance an area of education/teaching.
For the FY 2017 program, an applicant may not submit more than four Regular applications and two Collaboration applications to this program, as a lead institution. Only two awards will be made to the same lead institution. Up to one Regular and Collaboration application will be funded per institution.
The deadline to apply for the limited submission is 2/16/17. See http://research.ucr.edu/ord/limitedsubmissions.aspx for the UCR application process.
NSF Cognitive Neuroscience (CogNeuro)
Full Proposal Deadline Date: February 13, 2017
Program Guidelines: PD 151699
The National Science Foundation announces the area of Cognitive Neuroscience within the Division of Behavioral and
Cognitive Sciences in the Directorate for Social, Behavioral, and Economic Sciences.
INTRODUCTION
Cognitive neuroscience is an interdisciplinary field of research to understand the neural basis of human cognition. The
cognitive neuroscience program therefore seeks to fund highly innovative proposals that employ brain based
measurements in order to advance ...
More at https://www.nsf.gov/funding/pgm_summ.jsp?pims_id=5316&WT.mc_id=USNSF_50&WT.mc_ev=click
Call for Proposals: UC Research in OptumLabs Data Warehouse
PURPOSE
The University of California - OptumLabs partnership was established to help accelerate improvements in patient care and value. The 10-year strategic relationship will help transition California to a value-based health care system while leveraging the expertise of each organization to examine broader trends in care delivery. As part of the strategic relationship between UC and OptumLabs, OptumLabs will provide up to 7 UC researchers with complimentary access (aka: "research credits") to its data warehouse. We are soliciting proposals for research ideas that leverage the OptumLabs data.
ELIGIBILITY
Principal Investigators at all 10 UC campuses (PI must be full time faculty at a UC campus and eligible to submit grants).
DETAILS
Deadline: Research Proposal Forms are due by 5 pm on February 2, 2017
The attached Call for Proposals contains detailed information about the OptumLabs proposal selection criteria and submission process. The Research Proposal Form (RPF) is also attached.
For copies of the Call for Proposals, Research Proposal Form, Research Application Template, and detailed information about the OptumLabs data sets, visit the UC-OptumLabs "microsite".
ABOUT the UC-OPTUMLABS PARTNERSHIP
You do not have to wait for the competition to get started. If you wish to "pay" for access to the OptumLabs Data Warehouse, you can move forward immediately. You will find the Sandbox Fee Schedule on the UC-OptumLabs micro-site.
Get more information by visiting the UC-OptumLabs microsite/knowledge repository:
https://sp.ucop.edu/sites/its/immediate/ciosupport/internal/optumlabs/
Stay up to date on the latest OptumLabs opportunities and information by signing up for the OptumLabs listserv: https://goo.gl/HoSLgh
Australia: Buff-Breasted Paradise Kingfisher, Fruit Bat, Kangaroo
I just got back from 4 weeks in Australia. Below is my favorite photo (a Buff-breasted Paradise Kingfisher) and one of the reasons I went.
<![if !vml]>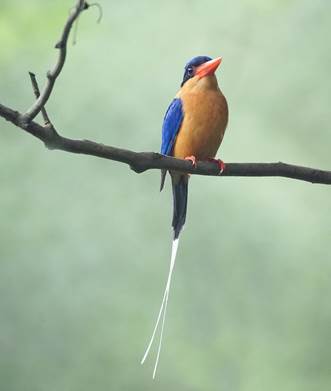 <![endif]>
Australia also has flying foxes (fruit bats) that are quite interesting.
<![if !vml]>
<![endif]>
And of course, we encountered a few kangaroos (and many more wallabies and pademelons) while out bird watching. It was only after looking at photos we realized this one had a joey in the pouch.
<![if !vml]>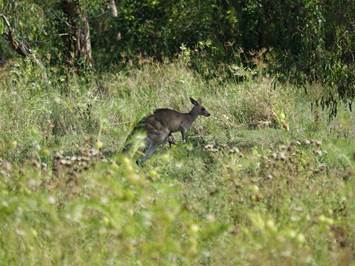 <![endif]>