UCR Research and Economic Development Newsletter: March 5, 2017
Michael Pazzani
Vice Chancellor for Research and Economic Development
Back Issues of Newsletter: http://research.ucr.edu/vcr/newsletters.aspx
Grant Opportunity Search: http://pivot.cos.com
<![if !supportLists]>∑ <![endif]>NSF CAREER Workshops: April 13 & 14,
<![if !supportLists]>∑ <![endif]>Visit by Lewis-Burke, Funding Consultants
<![if !supportLists]>∑ <![endif]>Pilot Grants supporting Translational Research: March 20, 2017
<![if !supportLists]>∑ <![endif]>Office of Research Integrity Website Update
<![if !supportLists]>∑ <![endif]>Getting Funded by NIH, March 24
<![if !supportLists]>∑ <![endif]>Faculty Lunches: Immigration, High Performance Computing, Computational Design
<![if !supportLists]>∑ <![endif]>Australia: Another Tawny Frogmouth, a Baby Fruit Bat, and Heron Island
NSF CAREER Workshops
UCR will hold two identical workshop on Thursday, April 13th and Friday, April 14th, both from 11:30- 1:30pm in Room 240, Orbach Science Library. Each will have a presentation on the NSF CAREER program and a panel of faculty who received or reviewed for CAREER awards. Lunch will be provided.
Visit by Lewis-Burke, Funding Consultants
Representatives of Lewis-Burke Associates will be visiting UCR on May 1 &2. The firm monitors developments in Washington regarding funding for research and education for higher education. With the new administration, we can expect changes in federal policy in many agencies. Itís anticipated there will be more clarity in May than we have now. A typical visit includes presentations and discussions on topics e.g., a particular agency (e.g., DOE) or a particular cross agency topic (such as brain research). If you have suggestions for a topic that you think a group of faculty would like to attend, please let me know and Iíll arrange.
Pilot Grants supporting Translational Research 2017
The UCR Center for Molecular and Translational Medicine (molmed.ucr.edu), is looking for applications from faculty interested in pursuing early stage translational projects aimed at catalyzing translational life-science research on campus to improve the health of individuals by translating basic findings into future innovative diagnostic or therapeutics.
Funds for these pilot studies have been allocated to UC Riverside by the State of California through Assembly Bill 2664, Innovation and Entrepreneurship Initiative (AB2664) and by the Office for Research and Economic Development (RED) of UCR. These grants are from $25,000 up to $50,000 total and requested funds should be adequate to conduct the proposed studies; a duration of up to one year.
It is expected that successful awardees will use the data generated by the grant to submit publications, translational grant proposals, and patent applications as appropriate. Selected trans-funds awardees are expected to present their research at the centerís annual symposium (the inaugural symposium is being planned for May/June 2017).
The deadline for submission is March 20th, 2017; funding will commence May 1st 2017.
For more information visit molmed.ucr.edu or download the full RFA https://www.dropbox.com/s/tv92xvqn4eplq31/2017EPIC_MOLMED_RFA.pdf?dl=0 .
Office of Research Integrity Website Update
The Office of Research Integrity (ORI) is revising its committee webpages and guidance to ensure researchers have easier access to information and resources. Some of the recent updates include:
Committee Pages
There are now separate webpages for our two Institutional Review Boards (IRBs). There is one page with information regarding socio-behavioral research (IRB-SB) and one regarding clinical research (IRB-Clin).
The Institutional Biosafety Committee (IBC) page now includes the committee charter and easy-to-follow representations of key IBC information. The SCRO page has also been revised to follow the same layout.
Keep an eye out for future ORI online updates, including revised sites for IACUC, DURC, more FAQís, and other guidance.
FAQ Page
ORIís Frequently Asked Questions (FAQ) page contains lists which allow users to easily find information about ORI services. So far, there are lists for IRB and IBC. Additional FAQ lists are in development.
RCR Page
The revised page for Responsible Conduct of Research (RCR) provides information regarding training requirements for different federal funders.
Feedback
New ORI Pages now contain sections asking users to comment anonymously on the pageís helpfulness and point out any missing information. These comments are reviewed regularly as we continue to streamline our processes and provide more helpful support for UCR researchers.
Getting Funded by NIH: 3/24
UCR will hold a workshop by faculty who have served on NIH study sections. This is scheduled for March 24 and will feature Kathryn Uhrich, Monica Carson, Xiaoping Hu, Aaron Seitz, Stefano Lonardi, Katie Dehesh, Bruce Link and Seema Tiwari-Woodruff, March 24, 11:00-12:30 Orbach Science Library 240 the goal is to discuss how to get NIH funding from reviewers perspectives.
If youíd like a copy of Howard Mossí Powerpoint on NIH funding, itís available at https://www.dropbox.com/s/9wkk5a1yrvkn829/MossNIH.pdf?dl=0
And, if youíd like to watch videos. NIH has a resource New Peer Review Videos for Applicants and Reviewers
ż NIHís Center for Scientific Review posted recordings of their most recent webinar series on peer review.
2017 Faculty Networking Lunches
<![if !supportLists]>∑ <![endif]>Immigration: Research on immigration 3/6/17 (register here. https://www.eventbrite.com/e/ucr-immigation-research-discussion-tickets-31567187307)
<![if !supportLists]>∑ <![endif]>High Performance Computing on 3/13/17 (register here: https://high_performance_computing.eventbrite.com)
<![if !supportLists]>∑ <![endif]>Computational Design: 3/13/17 https://www.eventbrite.com/e/lunch-session-computational-design-tickets-32263957365 This topic includes computational design of novel materials, molecules, drugs, and other engineering and scientific artifacts
The goal is get faculty with common interests to meet each other in an informal setting and discuss possible collaborations. All lunches are held at 11:55-1:00 in University Office Building Room 210.
The immigration lunch is intended to be broad covering all aspects of research on immigration populations as well as immigration policy. It will catered by a local Persian restaurant and include vegetarian and halal dishes.
Iím still looking for a topic for some weeks in April. Suggestions from CHASS are particularly welcome since they have been underrepresented in recent lunches.
Australia: Another Tawny Frogmouth, a Baby Fruit Bat, and Heron Island
The tawny frogmouth was quite popular, so I thought Iíd show another one on a nest. If you look carefully, you can see it was sitting on a baby frogmouth. (There were actually two, but only one is visible from this angle).
<![if !vml]>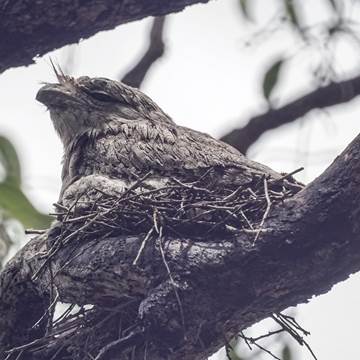 <![endif]>
(click photo to enlarge)
By the way, Norm Ellstrand pointed out that the potoo in Central and South America has a similar appearance and behavior to the frogmouth. I have seen a potoo, but havenít been able to locate my photo.
I might as well finish my Australia photos, since the spring migration is picking up in Riverside. In an earlier newsletter, I had a photo of an adult fruit bat flying. They have a wingspan of about two feet. While in Cairns, we walked past by the public library in the afternoon. The trees there are filled with roosting fruit bats. We encountered two women with nets on poles who were rescuing abandoned or orphaned fruit bat babies. We struck up a conversation with them and they let us see one of the babies.
<![if !vml]>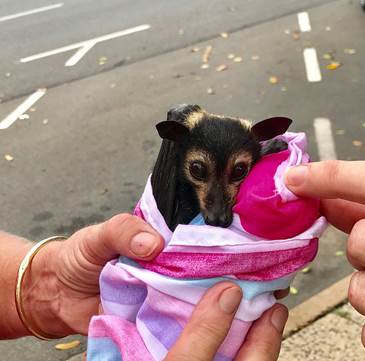 <![endif]>
(click photo to enlarge)
One of our stops in Australia was Heron Island, a coral cay on the Great Barrier Reef. While the herons (actually egrets) are abundant, the island has become overrun with buff-banded rails. Hereís a photo of one with a chick.
<![if !vml]>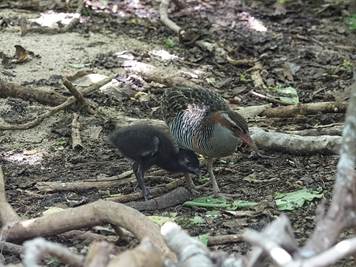 <![endif]>
(click photo to enlarge)
Rails are usually elusive and hide in reeds or other vegetation. Iíve seen a Virginia rails for about 15 seconds (in Irvine actually). On Heron Island, the buff-banded rails act more like pigeons. Hereís a photo of one at the bar.
<![if !vml]>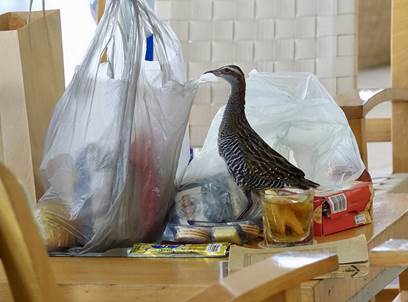 <![endif]>
I read that in the 1998, the buff-banded rails were rounded up and sent by boat to an uninhabited island 10 miles away. Although rails donít often fly, they flew back to the Heron Island, arriving before the boat that dropped them off. If you really like rails, https://www.flickr.com/photos/pazzani/32473317011 is a video of one inspecting a camera and bathing in the footbath.
We actually went to Heron Island because of the turtles that nest there. We had visited the island in 1993 and learned that turtles lay their eggs on the same beach they are born. Once hatched, the baby turtles crawl their way from the sand to the sea where they spend 20-25 years before reaching maturity, finding a mate, and returning to the beach where they are born to dig a nest and lay eggs. The crawl to the sea is dangerous with sea gulls swarming down to eat the baby turtles. In 1993, my wife and kids protected some baby turtles from the gulls and carried them to the sea.
<![if !vml]>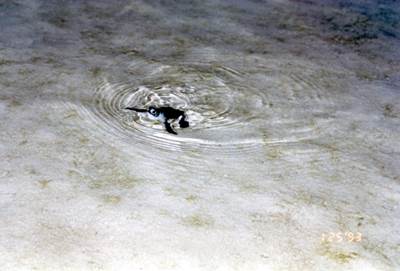 <![endif]>
Two decades later we return to Heron Island. I got up early one morning to find a turtle knocking against our door. Could it be the same turtle my wife saved years ago? Is it possible the grateful turtle came back to see us again?
<![if !vml]>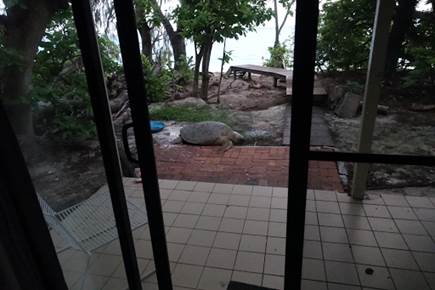 <![endif]>
I canít be sure, but it certainly looks like the same turtle.