UCR Research and Economic Development Newsletter: March 12, 2017
Michael Pazzani
Vice Chancellor for Research and Economic Development
Back Issues of Newsletter: http://research.ucr.edu/vcr/newsletters.aspx
Grant Opportunity Search: http://pivot.cos.com
<![if !supportLists]>· <![endif]>UC Lab Fees Grant Programs (Social Science/Security, Cybersecurity, Climate Science)
<![if !supportLists]>· <![endif]>Howard Hughes Medical Institute investigators
<![if !supportLists]>· <![endif]>DOD FUNDING AND ENGAGEMENT OPPORTUNITIES
<![if !supportLists]>· <![endif]>Getting Funded by NIH, March 24
<![if !supportLists]>· <![endif]>NSF CAREER Workshops: April 13 & 14,
<![if !supportLists]>· <![endif]>Faculty Lunches: Computational Science (3/13, Computational Design 5/1)
<![if !supportLists]>· <![endif]>Cedar Waxwing (and UCR birdwalk, March 14)
UC Lab Fees Grant Programs
UC will be issuing a Request for Proposals (RFPs) for the 2018 UC National Laboratory Fees Research Program (LFRP). The expected deadline will be Jin une 2017. The LFRP sponsors innovative research, fosters new collaborations between UC faculty and national laboratory scientists, and provides unique training for UC students and postdoctoral fellows. This competition cycle, the LFRP is offering two targeted funding opportunities:
I. Targeted UC Multicampus-National Lab Collaborative Research and Training (UC-NL CRT) Awards in one of three key strategic areas (total anticipated investment for all funded awards in this opportunity: up to $15 million over 3 years)
Proposals in this category must focus on collaborative research and training activities in one of the following three targeted areas identified for high-impact research realized through UC-national lab synergy:
<![if !supportLists]>· <![endif]>Climate science
<![if !supportLists]>· <![endif]>Cybersecurity
<![if !supportLists]>· <![endif]>National security through social sciences
Proposal requirements, detailed in the RFP, include:
<![if !supportLists]>· <![endif]>Project leadership constituted by a Lead (Applicant) Principal Investigator from a UC campus, and a Site Lead/Co-Principal Investigator (Co-PI) from each eligible participating collaborating site.
<![if !supportLists]>· <![endif]>Research participation by a minimum of four (4) UC campuses and either LANL or LLNL. Additional collaborating sites, as defined in the RFP, are permitted.
<![if !supportLists]>· <![endif]>Interdisciplinary, multi-disciplinary and cross-disciplinary research collaboration in one of the three identified targeted research areas among UC and lab investigators with meaningful research training opportunities for UC students (graduate and undergraduate) and post-doctoral fellows from the participating UC campuses.
<![if !supportLists]>· <![endif]>Contributions by the collaborating national laboratories that directly contribute to the research execution and outcomes of the collaboration. These may include equipment, space, access to relevant unclassified data, or personnel time that may be covered by other sources of support or directly relevant activities at the lab.
<![if !supportLists]>· <![endif]>Total funding request per application may not exceed $4 million over 3 years, including indirect costs, and excluding matching cost contributions from the labs. Additional budget restrictions are detailed in the RFP.
II. UC-NL In-Residence Graduate Fellowships (2-year awards, with a merit-based Year 3 extension option; Annual fellowship amount is $60,000; Fellowship includes supplemental travel funding of $5,200 per award)
UC graduate students in any area of research relevant to the national labs who meet the following criteria (detailed in the RFP) may apply for a fellowship to conduct dissertation research and receive research mentorship on-site at LANL or LLNL:
<![if !supportLists]>· <![endif]>Enrolled in one of the 10 UC campuses and advanced to candidacy at commencement of award
<![if !supportLists]>· <![endif]>Have an identified LLNL or LANL scientist to serve as a mentor and research supervisor at the lab
<![if !supportLists]>· <![endif]>Have the proposed research and training approved by their UC faculty advisor
<![if !supportLists]>· <![endif]>Must commit to devoting 80% time to the research in the proposed plan and spend a minimum of 6 months/fellowship year in residence at the lab
Letters of Intent and Proposals must conform to the final RFP, and it is the responsibility of the PIs to check our website for program updates: http://ucop.edu/research-initiatives/programs/lab-fees/index.html
Workshops that encourage collaboration between LABS and UC Campuses will be held in April and Early May. Plans are still underway, but it's likely that there will be workshops
Cybersecurity: San Jose, April 26-27
National security/social sciences, Irvine May 8-9
Climate Science, San Diego, May 8-9 or May 31-June1
Dates are subject to change. UCR will provide funding to attend workshops, so let me know if you are interested.
Howard Hughes Medical Institute investigators
Howard Hughes Medical Institute (HHMI) has launched a national competition to select new HHMI investigators. Researchers are invited to apply who bring original and innovative approaches to the investigation of biological problems in biomedical disciplines, plant biology, evolutionary biology, biophysics, chemical biology, biomedical engineering, and computational biology. Physician scientists are encouraged to participate in the competition. HHMI expecst to appoint up to 20 new investigators.
Eligible candidates apply directly without an institutional nomination, and there are no limits on the number of applicants or awardees from any of the over 200 eligible institutions. More information about the HHMI Investigator Program and this competition may be found at website: http://www.hhmi.org/inv2018.
In brief, candidates must meet the following eligibility criteria at the time of the application deadline:
PhD and/or MD (or the equivalent).

Tenured or tenure-track position as an assistant professor or higher academic rank (or the equivalent) at an eligible U.S. institution, which would become the host institution.

More than 3, but no more than 12, years of post-training, professional experience. To meet this requirement, the applicant's professional appointment(s) must have begun no earlier than June 1, 2005, and no later than September 1, 2014.


Principal investigator on one or more active, national peer-reviewed research grants with an initial duration of at least three years, such as an NIH R01 grant. Mentored awards, career development and training grants do not qualify. Multi-investigator grants may qualify.
The deadline for submission of all application materials is June 27, 2017, at 3:00 p.m., Eastern Time.
The HHMI review process will include evaluation of applications by distinguished scientists, leading to the selection of semifinalists by early 2018. Following further review, finalists will be selected in the spring of 2018, with appointments to begin as early as September 1, 2018. Institutions with finalists who have not previously hosted an HHMI investigator will be required to enter into a collaborative agreement with HHMI.
HHMI welcomes a diverse and broad applicant pool. Individuals from gender, racial and ethnic groups underrepresented in biomedical research at the career stages targeted by this program are encouraged to apply. As an equal opportunity employer, HHMI does not discriminate on the basis of race, color, sex, religion, national origin, disability, age or any other characteristic protected under applicable law.
DOD FUNDING AND ENGAGEMENT OPPORTUNITIES

DOD Releases Minerva Solicitation
On February 28, DOD released a funding opportunity announcement for the Minerva Research Initiative, the department's signature social science research program. The Minerva program seeks to support "research in specific areas of social science and to promote a candid and constructive relationship between DOD and the social science academic community." The full announcement is available at https://www.grants.gov/web/grants/view-opportunity.html?oppId=292016.

ARL Releases CRA Program Announcement
On February 21, the Army Research Laboratory (ARL) released a program announcement for the Distributed and Collaborative Intelligent Systems Technology (DCIST) Collaborative Research Alliance (CRA). The goal of the DCIST CRA is to advance the theoretical foundations of intelligent systems to augment the operational effectiveness of soldiers and intelligent systems. The full program announcement is available at https://www.grants.gov/web/grants/view-opportunity.html?oppId=291951.


AFRL Releases Machine Learning Solicitation
On February 21, the Air Force Research Laboratory (AFRL) released a funding solicitation for streamlined machine learning. AFRL wants an end to end machine learning framework that allows rapid, reusable machine learning capabilities necessary for Air Force data needs. Additional information about the solicitation is available at https://www.fbo.gov/index?s=opportunity&mode=form&id=6aacbeae54eb3f1e58f94ec12f943d02&tab=core&tabmode=list&=.

DHS Announces S&T Cyber Security Division Five-Year BAA
On February 3, the Department of Homeland Security (DHS) S&T Cyber Security Division issued a combined synopsis and solicitation for its five-year cybersecurity research and development Broad Agency Announcement (BAA), which will be the vehicle for research and development calls for white papers throughout the next five years, valued at up to $95 million. On February 23, DHS held a BAA Industry Day for its Information Marketplace for Policy and Analysis of Cyber-risk and Trust (IMPACT) program, which is the first solicitation under the BAA. IMPACT seeks providers of data and providers of decision analytics to foster an evolved research and development infrastructure that supports solutions to various cybersecurity threats and challenges for the Homeland Security Enterprise. Academia and industry can submit proposals as either Data Providers or Decision Analytics-As-a-Service Provider, or to both topics. The full announcement is available at https://www.fbo.gov/spg/DHS/OCPO/DHS-OCPO/HSHQDC-17-R-B0002/listing.html.

NDIA Holds 18th Annual Science and Engineering Technology Conference
The National Defense Industrial Association (NDIA) will hold its annual Science and Engineering Technology Conference on April 18-20 at the National Defense University, on Fort McNair in Washington, DC. The conference conveys DOD's Science and Technology priorities and roadmaps, focused on establishing innovative partnerships with industry and academia. The event includes opportunities to register for one-on-one sessions with DOD program managers. Information and registration is available at http://www.ndia.org/events/2017/4/18/7720.

CDMRP Releases Pre-Announcements
On February 23, the Congressionally Directed Medical Research Programs (CDMRP) released two pre-announcements regarding the lung cancer and neurofibromatosis research programs. The pre-announcements are intended to allow researchers time to prepare their proposals even though funds have not yet been appropriated due to the FY 2017 continuing resolution. The announcements are available at http://cdmrp.army.mil/pubs/press/press.
NSF CAREER Workshops
UCR will hold two identical workshops on Thursday, April 13th and Friday, April 14th, both from 11:30- 1:30pm in Room 240, Orbach Science Library. Each will have a presentation on the NSF CAREER program and a panel of faculty who received or reviewed for CAREER awards. Lunch will be provided. Please register so we know how much lunch to order.
April 13 https://www.eventbrite.com/e/nsf-career-workshop-41317-tickets-32704998531
April 14 https://www.eventbrite.com/e/nsf-career-workshop-41417-tickets-32705255299
Getting Funded by NIH: 3/24
UCR will hold a workshop by faculty who have served on NIH study sections. This is scheduled for March 24 and will feature Kathryn Uhrich, Monica Carson, Xiaoping Hu, Aaron Seitz, Stefano Lonardi, Katie Dehesh, Bruce Link and Seema Tiwari-Woodruff, March 24, 11:00-12:30 Orbach Science Library 240 the goal is to discuss how to get NIH funding from reviewers perspectives.
Topics covered include NIH R and K grants, equipment grants, training grants, and program project grants.
2017 Faculty Networking Lunches
<![if !supportLists]>· <![endif]>High Performance Computing on 3/13/17 (register here: https://high_performance_computing.eventbrite.com)
<![if !supportLists]>· <![endif]>Computational Design: May 1, 2017 https://www.eventbrite.com/e/lunch-session-computational-design-tickets-32263957365 This topic includes computational design of novel materials, molecules, drugs, and other engineering and scientific artifacts. (Sorry, Wrong date was in last newsletter)
The goal is get faculty with common interests to meet each other in an informal setting and discuss possible collaborations. All lunches are held at 11:55-1:00 in University Office Building Room 210.
I'm still looking for a topic for some weeks in April. Suggestions from CHASS are particularly welcome since they have been underrepresented in recent lunches.
Cedar Waxwing (and UCR birdwalk, March 14)
Cedar Waxwings, one of my favorite birds, are migrating through Riverside. I saw some outside Hinderacker this Monday. They've been at my house feeding on pyrracantha and toyon this week, in large numbers the past few days. They do require binoculars or a good camera to really appreciate. The tips of the wings (and tail) look like they are dipped in red wax (if they've been eating red berries).
<![if !vml]>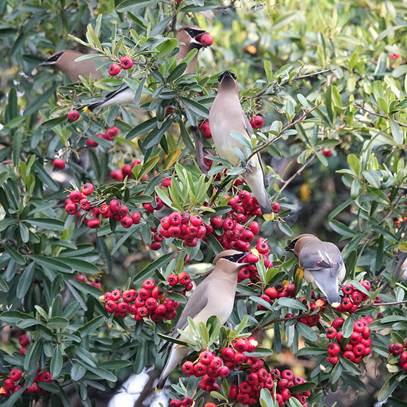 <![endif]>
(click photo to enlarge)
David Rankin will be leading a walk through the UCR botanic gardens at noon on Tuesday March 14. No promises, but you might see a flock of waxwings (or the hooded orioles that also arrived this week). For info on other UCR Birding events see https://groups.yahoo.com/neo/groups/UCRBirders/info