UCR Research and Economic Development Newsletter: April 1, 2017
Michael Pazzani
Vice Chancellor for Research and Economic Development
Back Issues of Newsletter: http://research.ucr.edu/vcr/newsletters.aspx
Grant Opportunity Search: http://pivot.cos.com
<![if !supportLists]>· <![endif]>Trump and budget for Political Science and medical research
<![if !supportLists]>· <![endif]>Research Funding and the Value of Collaboration
<![if !supportLists]>· <![endif]>DOD MURI
<![if !supportLists]>· <![endif]>Research Integrity Talk: Rachel Wu: April 20
<![if !supportLists]>· <![endif]>SBIR Workshop: April 8
<![if !supportLists]>· <![endif]>Creat'R Lab grad opening: April 18
<![if !supportLists]>· <![endif]>UC Lab Fees Grant Programs (Social Science/Security, Cybersecurity, Climate Science)
<![if !supportLists]>· <![endif]>NIH Funding Recap
<![if !supportLists]>· <![endif]>NSF CAREER Workshops: April 13 & 14,
<![if !supportLists]>· <![endif]>Faculty Lunch: Computational Design 5/1
<![if !supportLists]>· <![endif]>Hooded Oriole
Trump and budget for Political Science and medical research
April 1, 2017. In a surprise turn around, White House spokesperson April Fulesjook, announced today that President Trump has argued for doubling the budget for Political Science at the National Science Foundation. "Governing is difficult and we need to know more about political processes." Similarly, a proposal for increasing the NIH budget by 20% is under development, "It's projected that caring for Alzheimer's and other dementia patients will cost $200B a year. Progress on this one disease alone can justify the entire NIH budget." NIH will no longer require preliminary data or any form of evidence in proposals. A proposal can now include an Alternative Facts section instead of background research.
Research Funding and the Value of Collaboration
In FY 2015, 62% of the funds awarded to UCR by the federal government went to awards with single PIs. In FY16, this declined to 58%. In FY 2017 to date, this is 50%. The pie chart below shows the proportional of funds awarded to UCR as a number of the number of UCR collaborators on a grant.
<![if !vml]>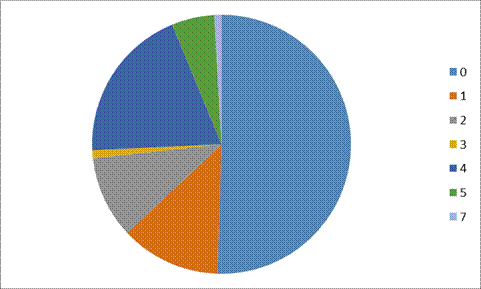 <![endif]>
This data is actually an underestimate of the value of collaboration since our databases do not include collaborators not affiliated with UCR.
Funding Opportunity: DOD Releases FY 2018 MURI BAA
On March 16, the Department of Defense (DOD) released the broad agency announcement (BAA) for the fiscal year (FY) 2018 Multidisciplinary University Research Initiative (MURI), as part of the larger University Research Initiative (URI) aimed at institutions of higher education. MURI remains one of the signature DOD research programs for the university community and stands as the benchmark for building a defense-oriented research capability on campus. The anticipated funding amount of $170 million is $25 million more than last year's award, which might provide for larger awards, as compared to past years, pending FY 2018 appropriations
This year's 24 topics are provided from the Army, Air Force, and Navy basic research offices. Topics include:
Army Research Office (ARO)
Integrated Quantum Sensing and Control for High Fidelity Qubit Operations

Novel solid-state materials and color centers for quantum science and engineering

Controlling Protein Function Using Dynamic Chemical Switches to Modulate Structure

Consolidation of Novel Materials and Macrostructures from a Dusty Plasma

Embodied Learning and Control

Coevolution of Neural, Cognitive, & Social Networks: Mind-Body-Community Connections

Network Games

Modeling Interdependence among Natural Systems and Human Population Dynamics
Air Force Office of Scientific Research
Physically Viable Learning for Control of Autonomous Dynamical Systems

Nanoscale Vacuum Field Effect Transistors

Molecular-scale Studies of Liquid-Solid Interfaces in Electrochemical Processes

Electromagnetic Non-reciprocity via Temporal Modulation

Heterogeneous Interfaces: Route to New Optoelectronic Properties

Piezoelectric

Nanoenergetic

Materials with Adaptable and Tailorable Reactivity

Advanced Mean-Field Game Theory for Complex Physical & Socio-Economical Systems

â-Ga2O3 as a High-Critical Field Strength Material for Power Systems
Office of Naval Research
Predicting and Validating Pathways for Chemical Synthesis

Synthetic Microbial Electronics

Automated Technical Document Comprehension

Materials for Smart Multifunctional Superstructures [(MS)2]

Advanced Optical Materials that Create Force from Light

In situ Microstructural and Defect Evolution below the Micron Scale in as-Deposited Metal Alloys

Enhancing Thermal Transport at Material Interfaces

Self-Assessment of Proficiency for Autonomous and Intelligent Systems
The FY 2018 topics continue to reflect the research priorities of Dr. Robin Staffin, the Director for Basic Research in the Office of Assistant Secretary Defense for Research and Engineering, and the Service basic research offices. Quantum, novel materials, and biology are again presented as topics, while the listing of social and network sciences indicates emerging priorities for DOD.
DOD encourages faculty to engage with the Research Topic Chiefs assigned to each topic area (see section VIII) through the white paper process to assess the feasibility of proposed topics. Topics listed above describe the focus areas important to each Service and are not meant to restrict the possible directions awarded research could take.
Letters of Intent: Not required. Prospective awardees should submit white papers to minimize the labor and cost associated with the production of detailed full proposals.
Time Line for Submission:
Questions regarding white papers are due on Friday, June 30 at 11:59 PM EDT

White papers are due on Monday, July 17 at 11:59 PM EDT

DOD will send notification of initial DOD evaluations of white papers on Monday, August 7

Questions regarding full proposals are due Wednesday, October 11 at 11:59 PM EDT

Full proposals are due Wednesday, November 1 at 11:59 PM EDT

Notification of selection for award will be made on Friday, March 30, 2018

Grants will start on Friday, June 1, 2018
Total Funding and Award Size: DOD expects $170 million to be made available, pending congressional appropriations. Individual awards are expected to be $1.25 to $1.5 million per year for a base period of three years, with the option to extend the grant for an additional two years.
Eligibility and Limitations: The competition is open to U.S. institutions of higher education, including DOD institutions of higher education, with degree-granting programs in science, mathematics, or engineering. While industry, DOD laboratories, and foreign universities may not receive funding, DOD encourages universities to collaborate with entities focused on applied and transitional research for potential commercial applications of MURI-funded research.
Sources and Additional Background:
Research Integrity Talk: Rachel Wu: April 20
UCR's Office of Research Integrity (ORI) is proud to partner with the Department of Psychology to present the final talk of the 2016-17 Seminar Series. The ORI Seminar Series focuses on ethical dilemmas and hot topics in human subjects research. This month's presentation, entitled "A New View on Aging", will be led by Dr. Rachel Wu, Director of UCR's CALLA Lab and Assistant Professor in the Psychology Department. The talk will take place on April 20 at 2:00 pm in HUB 379.
Dr. Wu has degrees from the University of London, University College in London, Carnegie Mellon University and Middlesex University. She is an accomplished artist and musician who studies the learning process in human participants ranging from infancy to older adulthood.
Key points for the talk:
1. What aspects of aging may be self-imposed?
2. What aspects of child development can we adapt for aging?
3. What are ethical concerns when conducting research with infants and older adults?
A New View on Aging
Dr. Rachel Wu
Thursday, April 20, 2:00pm
HUB 379
This seminar is free and open to the public. No registration is required but seating is limited. Light refreshments will be provided.
SBIR workshop: April 8
For Entrepreneurs and Faculty looking for funding to commercialize their research
<![if !supportLists]>· <![endif]>•Learn how to develop a winning proposal
<![if !supportLists]>· <![endif]>•Hear from NSF, NIH and DOD program managers
<![if !supportLists]>· <![endif]>•Gain valuable information about NSF, NIH and DoD SBIR/STTR programs unique characteristics
<![if !supportLists]>· <![endif]>•Discover how to partner with the university and federal labs
<![if !supportLists]>· <![endif]>•Network with fellow entrepreneurs, faculty and researchers
<![if !supportLists]>· <![endif]>•Understand SBIR eligibility requirements
<![if !supportLists]>· <![endif]>•Hear agency reviewer decision criteria
<![if !supportLists]>· <![endif]>•Find the resources to support your commercialization efforts
<![if !supportLists]>· <![endif]>•Get key insight for 2017 from SBIR insiders
<![if !supportLists]>· <![endif]>•Engage in an interactive panel with recent business and university award winners
<![if !supportLists]>· <![endif]>Highlander Union Building (HUB) Room 355.
<![if !supportLists]>· <![endif]>Registration: https://santaanadistrictsbdc.ecenterdirect.com/events/5566
7:30 AM - Doors Open
Networking and Continental Breakfast

8:00 AM - Welcome and Introductions
Rosibel Ochoa, UC Riverside Associate Vice-Chancellor, Technology Partnerships
Mark Mitchell, Executive Director, TriTech SBDC

8:15 AM – Short Topic I: SBIR and STTR Overview
Molly Schmid, TriTech SBDC – Speaker; Common features of all SBIR/STTR programs; key differences between SBIR, STTR; how to get more help: Resources - TriTechSBDC, FAST Grant; UC Riverside Commercialization Support

8:30 AM - National Science Foundation (NSF)
Martin Kleckner, TriTech SBDC – Host
Rajesh Mehta, Program Director, SBIR/STTR at NSF – Speaker
Unique and distinguishing aspects of the NSF SBIR program; what is the NSF looking for in SBIR proposals? how funding decisions are made; how to improve your chances for success

9:15 AM – Short Topic II: Writing to the Reviewers: What is Important to Them
Martin Kleckner, TriTech SBDC – Speaker
How reviewers evaluate your proposal; Key Criteria; the Importance of your Commercialization Plan

9:30 AM – Department of Defense (DoD)
Rick Shindell, President, Zyn Systems – Host
Robert Smith, Director, DON SBIR/STTR Programs, Office of Naval Research – Speaker
Unique and distinguishing aspects of the DoD SBIR program; what is the DoD looking for in SBIR proposals; how funding decisions are made; how to improve your chances for success

10:15 AM – Forming Technology Partnerships to Commercialize and Build upon Academic Research
Jennifer Stewart, Technology Transfer Manager, Naval Surface Warfare Center, Corona; Far-West Regional Coordinator, Federal Laboratory Consortium for Technology Transfer - Speaker
Larry Morgan, Director, UCR Entrepreneurial Proof of Concept & Innovation Center (EPIC) Opportunities and challenges in creating partnerships between university researchers and federal labs, university researchers and small businesses - Speaker

11:15 PM – National Institutes of Health (NIH)
Molly Schmid, TriTech SBDC – Host
Matthew Portnoy, NIH SBIR/STTR Program Coordinator – Speaker
Unique and distinguishing aspects of the NIH SBIR program; what is the NIH looking for in SBIR proposals; how funding decisions are made; how to improve your chances for success

12:15 PM – Lunch

12:45 PM – An Insider's Guide to the SBIR and STTR Program
Rick Shindell, President, Zyn Systems – Speaker

1:00 PM – The Hero's Journey: Your Odyssey as a Founder and the SBIR Program
Martin Kleckner, Brian Suh – Hosts; Panel: UCR Faculty SBIR awardees; TriTech SBDC SBIR Awardees

2:00 PM – Program Wrap-Up; Next Steps; Acknowledgments
Networking and Refreshments
Creat'R Lab grand opening: April 18
On behalf of University Librarian Steven Mandeville-Gamble and Vice Chancellor Michael Pazzani, please join us for the Creat'R Lab Launch on Tuesday, April 18, 2017. Doors open at 4:30 PM. Program begins at 5:15 PM.
Creat'R Lab is an innovation space at UCR, where students can learn, experiment, design and create. This is where new technologies, scientific curiosity, and entrepreneurship come together to change the world.
Creat'R Lab is located at the Orbach Science Library and welcomes all UCR students, staff, and faculty.
RSVP:
https://www.eventbrite.com/e/creatr-lab-launch-tickets-32940593201
UC Lab Fees Grant Programs
UC Research Initiatives is pleased to release the Program Announcement for the 2018 UC Laboratory Fees Research Program. This year's competition offers two distinct funding opportunities:
1) The UC Multicampus-National Laboratory Collaborative Research and Training Award (UC-NL CRT); and
2) The UC-National Laboratory In-Residence Graduate Fellowship (UC NLGF)
The UC Vice Chancellors for Research are organizing a systemwide workshop in each of these 3 thematic areas in May, 2017.
The workshops are intended to provide a forum to discuss compelling research directions and for potential collaborators to make connections to build research teams. While attendance is meant to facilitate the formation of teams, the workshops are not proposal writing venues. Attendance at the workshops is not a requirement (or prerequisite) for submitting a proposal, and the workshop organizers reserve the right to limit attendance to the workshop based on space or budget constraints.
Information on the three workshops is provided below and posted at: http://www.ucop.edu/research-initiatives/programs/lab-fees/workshops.html. If you'd like to attend, (funding will be provided) fill out the form at (http://bit.ly/labfee-wkshp).
Topic: National Security through Social Sciences
Dates: May 8-9, 2017
Location: UC Irvine Student Center
VCR leads: Ann Karagozian (UCLA), Cameron Carter (UCD), Pramod Khargonekar (UCI)
Contact: Stephanie Beckham (Stephanie.Beckham@uci.edu)
Topic: Cybersecurity
Date: May 11, 2017
Location: UC Santa Cruz Silicon Valley Campus – 3175 Bowers Avenue, Santa Clara
VCR leads: Scott Brandt (UCSC), Michael Pazzani (UCR)
Contact: Tedd Siegel (tssiegel@ucsc.edu)
Topic: Climate Science
Dates: May 30-31, 2017
Location: Lawrence Livermore National Laboratory
VCR leads: Samuel Traina (UCM), Sandra Brown (UCSD)
Contact: Stephanie Butticci (sbutticci@ucmerced.edu)
In addition to the Program guidelines and eligibility, each RFP includes the following attachments:
· UC Laboratory Fees Research Program and National Laboratory contact information;
· Frequently Asked Questions (FAQs); and
· Instructions for submitting the required Letter of Intent.
Please review these materials carefully, visit our website for additional information, applicant teleconference registration, or other program announcements:
http://ucop.edu/research-initiatives/programs/lab-fees/index.html
You may UCRI@ucop.edu for additional guidance.
NSF CAREER Workshops
UCR will hold two identical workshops on Thursday, April 13th and Friday, April 14th, both from 11:30- 1:30pm in Room 240, Orbach Science Library. Each will have a presentation on the NSF CAREER program and a panel of faculty who received or reviewed for CAREER awards. Lunch will be provided. Please register so we know how much lunch to order.
April 13 https://www.eventbrite.com/e/nsf-career-workshop-41317-tickets-32704998531
April 14 https://www.eventbrite.com/e/nsf-career-workshop-41417-tickets-32705255299
NIH funding recap
If you missed last month's workshops on NIH funding, you can find the slides available at
<![if !supportLists]>· <![endif]>Howard Moss: https://www.dropbox.com/s/9wkk5a1yrvkn829/MossNIH.pdf?dl=0
<![if !supportLists]>· <![endif]>Kathryn Uhrich, Monica Carson, Xiaoping Hu, Aaron Seitz, Stefano Lonardi, Katie Dehesh, Bruce Link and Seema Tiwari-Woodruff: https://www.dropbox.com/s/isd4zksbtnmoywb/All%20NIH%20Panel%20slides2.ppt?dl=0
Other useful tips:
<![if !supportLists]>· <![endif]>Kathryn Uhrich: Look at the Critique templates used by reviewers: https://grants.nih.gov/grants/peer/critiques/rpg.htm
<![if !supportLists]>· <![endif]>Aaron Seitz: Including unpublished data in NIH applications: https://grants.nih.gov/grants/guide/notice-files/NOT-OD-17-050.html
2017 Faculty Networking Lunches
<![if !supportLists]>· <![endif]>Computational Design: May 1, 2017 https://www.eventbrite.com/e/lunch-session-computational-design-tickets-32263957365 This topic includes computational design of novel materials, molecules, drugs, and other engineering and scientific artifacts. (Sorry, Wrong date was in last newsletter)
The goal is get faculty with common interests to meet each other in an informal setting and discuss possible collaborations. All lunches are held at 11:55-1:00 in University Office Building Room 210.
I'm still looking for a topic for some weeks in April. Suggestions from CHASS are particularly welcome since they have been underrepresented in recent lunches.
Hooded Oriole
The Hooded Orioles have returned to Riverside. They are one of the most colorful summer residents. They have been known to show up at hummingbird feeders but their favorite feeder food is grape jelly. They also like to long baths.
<![if !vml]>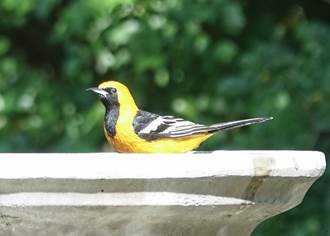 <![endif]>(
P.S., if you like owls, Starr Ranch has a webcam on a Barn Owl nest. The owlets are very active right now. http://starrranch.org/blog/