UCR Research and Economic Development Newsletter: April 28 , 2017
Michael Pazzani
Vice Chancellor for Research and Economic Development
Back Issues of Newsletter: http://research.ucr.edu/vcr/newsletters.aspx
Grant Opportunity Search: http://pivot.cos.com
<![if !supportLists]>· <![endif]>NSF Stats
<![if !supportLists]>· <![endif]>NSF CAREER materials and incentives
<![if !supportLists]>· <![endif]>NIH Director's New Innovator Award Program & Incentives
<![if !supportLists]>· <![endif]>Working with DARPA
<![if !supportLists]>· <![endif]>Working with NIFA
<![if !supportLists]>· <![endif]>No Change in Vivarium or CFAMM Fees next year
<![if !supportLists]>· <![endif]>An Opportunity for NSF Grantees - NSF is Currently Recruiting for Summer 2017 I-Corps Teams
<![if !supportLists]>· <![endif]>2017 Faculty Networking Lunches
<![if !supportLists]>· <![endif]>UC Lab Fees Grants Big Money & Paid Travel to Workshops
<![if !supportLists]>· <![endif]>Allen's Hummingbirds
NSF Stats
At the CAREER workshop, the question was raised on the number of people awarded the NSF CAREER award on their first try. The majority at UCR since 2003 were awarded on their first try (35), followed by second (28), followed by third and final (2). In addition, 16 faculty applied 3 times and were never awarded. The success rate on the first try was 25%. The success rate on the second try was 44%. The success rate on the third try was 11%.
Robert Pirsig's , "Zen and the Art of Motorcycle Maintenance," was rejected by 123 publishing houses before being accepted.
Another question asked related to the number of other NSF awards a CAREER awardee had as a PI before the CAREER was awarded. The answer at UCR since 2000 is that for most, (40) it's their first NSF award. For some, it was their second (22), and for a few the third (8). For one, it was his 6th.
To get this answer, I first had to look at the number of NSF awards each faculty received since 2000. The graph below shows that 173 faculty have had a single NSF award in this time, and one had 16 (Francisco Zaera!!!)
<![if !vml]>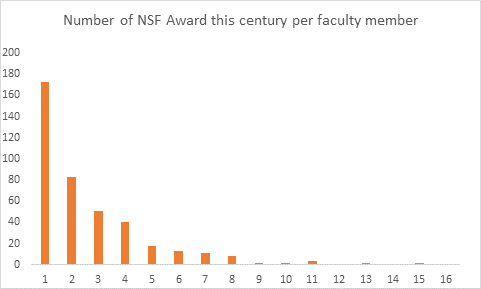 <![endif]>
NSF CAREER materials and incentives
If you are applying for an NSF CAREER award and if you finish a complete draft by June 26, mail to vcredadmin@ucr.edu, and we'll hold a panel and review it on July 6 and get you feedback by July 7. Also RED will send you $1000 in a research fund as incentive for finishing early.
If you have reviewed for the NSF program and would like to be on the July 6 CAREER panel, send mail to vcredadmin@ucr.edu, Panelists will review 5-8 CAREER proposals, get a free lunch, and $1000 in a research fund.
Here are some UCR specific resources for CAREER
<![if !supportLists]>· <![endif]>My notes from a recent presentation on CAREER are available at https://www.dropbox.com/s/jd5jv6si11pj2ue/PazzaniCareer17.pdf?dl=0
<![if !supportLists]>· <![endif]>UCR's Programs for Outreach for Broader Impacts https://www.dropbox.com/s/nvs8saszr710nk4/UCROutreachBroaderImpacts.pdf?dl=0
<![if !supportLists]>· <![endif]>References on Learning, Education and Assessment for Education Plans
Other Materials from the workshop, sample proposals, and more resources are available at https://research.ucr.edu/ord/proposaldevlopment.aspx The picture below shows how to use it.
<![if !vml]>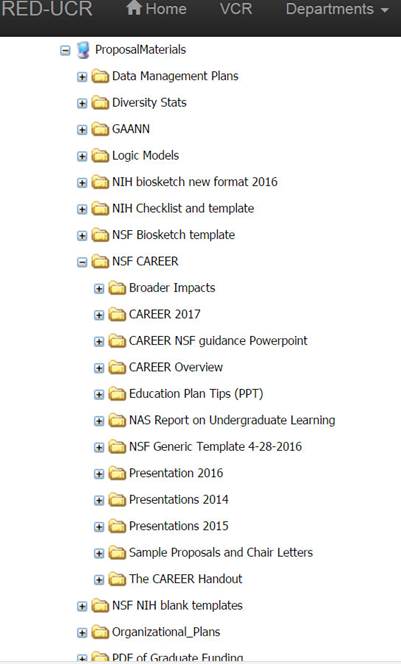 <![endif]>
NIH Director's New Innovator Award Program & Incentives
We are going to do the same thing for NIH New Innovator as NSF CAREER. If you are applying for an NIH New Innovator and if you finish a complete draft by August 1, mail to vcredadmin@ucr.edu, and we'll review it on July 6 and get you feedback by August 15. Also RED will send you $1000 in a research fund as incentive for finishing early.
https://grants.nih.gov/grants/guide/rfa-files/RFA-RM-17-006.html Due September 8, 2017
The NIH Director's New Innovator Award (DP2) supports a small number of early stage investigators of exceptional creativity who propose bold and highly innovative new research approaches that have the potential to produce a major impact on broad, important problems in biomedical and behavioral research. The NIH Director's New Innovator Award complements ongoing efforts by NIH and its Institutes and Centers to fund early stage investigators through R01 grants.
An early stage investigator has not competed successfully for a significant NIH independent research award and is within 10 years of completing his/her terminal research degree or is within 10 years of completing medical residency (or the equivalent).
New investigators may have exceptionally innovative research ideas, but not the preliminary data required to fare well in the traditional NIH peer review system. As part of NIH's commitment to increasing opportunities for new scientists, it has created the NIH Director's New Innovator Award to support exceptionally creative new investigators who propose highly innovative research projects that have the potential for unusually high impact. This award complements ongoing efforts by NIH and its Institutes and Centers to fund new investigators through R01 grants and other mechanisms.
The NIH Director's New Innovator Award is different from traditional NIH grants in several ways. It is designed specifically to support unusually creative investigators with highly innovative research ideas at an early stage of their career when they may lack the preliminary data required for an R01 grant application. The emphasis is on innovation and creativity; preliminary data are not required, but may be included. No detailed, annual budget is requested in the application. The review process emphasizes the individual's creativity, the innovativeness of the research approaches, and the potential of the project, if successful, to have a significant impact on an important biomedical or behavioral research problem.
The research proposed for a NIH Director's New Innovator Award may be in any scientific area relevant to the mission of NIH (biological, behavioral, clinical, social, physical, chemical, computational, engineering, and mathematical sciences). Investigators who were not selected for an award in prior years may submit applications this year as long as they retain their ESI (early stage investigator) eligibility; however, all applications must be submitted as "new" applications regardless of any previous submission to the program.
Awards will be up to $1.5 million of direct costs ($300,000 per year over five years).
Working with DARPA
I recently attended a meeting at the Defense Advanced Research Project Agency (DARPA) about how to work with DARPA. The presentation is available at https://www.dropbox.com/s/pc36ekdckk400i6/DARPA%204-20-17.pdf?dl=0
One of the key difference between DARPA and most other agencies is that DARPA doesn't have programs on topics such as Computer Security with calls for proposals every year. Rather, DARPA has projects, with specific narrow goals such as "Clean-slate design of Resilient, Adaptive, Secure Hosts." A project will start on a particular date and fund several different teams to address the problem for a period of 3-4 years and then ends. Of course, an agile researcher can shift from one project to another.
George H. Heilmeier, a director of ARPA in the 70s developed a set of questions that he expected every proposal to answer. He called them the "Heilmeier Catechism". DARPA still uses these and they are worthwhile outside of the DARPA context, e.g., when interacting with other agencies, particularly mission ones.
What are you trying to do? Articulate your objectives using absolutely no jargon. What is the problem? Why is it hard?

How

is it done

today, and what are the limits of current practice?

What's

new in your approach and why do you think it will be successful?

Who cares?

If

you're

successful, what difference will it make? What impact will success have? How

will it be measured

?

What are the risks and the payoffs?

How much will it cost?

How long will it take?

What are the midterm and final "exams" to check for success? How

will progress be measured

?
Working with NIFA
1.) Best practices for National Institute of Food and Agriculture funding success: A twenty-year perspective - On February 23, 2017, Dr. Lee-Ann Jaykus, North Carolina State University, presented "Best practices for National Institute of Food and Agriculture funding success: A twenty year perspective." Seminar Overview: -Understanding how to interpret Agency RFA's; -Producing an award-winning grant application, including planning, writing, and budgeting; -Putting together an effective team; -Good grant management practices, including scientific, financial, and reporting aspects; Link to Adobe Connect Recording
2.) Upcoming Competitive Funding Opportunity Webinar - Provides an overview of the NIFA's competitive grant programs in order to enhance the application success rate of eligible institutions. 2-part informational webinar is meant to enhance the application success rate of all, with a focus on tips for minority serving institutions: Session I (5/25/17 at 11 a.m.-12 p.m. EDT); and Session II (5/25/16 at 1-2pm EDT). Join Live! Webinar Link: http://nifa-connect.nifa.usda.gov/cfow/; Participant Audio: Phone via AT&T Connect: 1-877-369-5243 or 1-617-668-3633, Access Code: 0211403#.
An Opportunity for NSF Grantees - NSF is Currently Recruiting for Summer 2017 I-Corps
If you have an existing NSF you may be eligible for support by NSF's Innovation Corps (I-Corps™) Teams Program.
I-Corps™ Teams does not fund research. It provides additional support in the form of entrepreneurial mentoring and funding ($50K) to potentially accelerate your tech-transfer and help you explore commercialization of research outcomes.
I-Corps™ Teams Eligibility:
 The award that you were affiliated with, that would make you eligible for I-Corps™, should be current or should not have expired more than five years ago.
 Eligibility for I-Corps extends to the PI, Co-PIs, Senior Personnel, Post-Docs, Professional Staff or others – provided you were named or supported under an award. For example, if you were a Post Doc supported by a grant you are eligible to pursue I-Corps funding.
 The current or prior award could range from a modest single-investigator award to participation in a large, distributed center and also includes awards involving students such as REU Sites or Graduate Research Fellowships.
To date, NSF's I-Corps™ Teams Program has supported more than 850 Teams – of those, many are now engaged in startups as a result of their I-Corps™ experience.
To find out more about NSF's I-Corps Teams Program please watch our introductory webinar here:
Watch Now: I-Corps™ Introductory Webinar
You are invited to join our Webinar and Q&A Session on:
Tuesday, May 2nd, 2017 at 2 P.M. (Eastern Time)
To join the Webinar:
Join WebEx I-Corps Q&A meeting
Meeting number: 746 732 125
Meeting password: I_C0rp5!
For phone connection
1-800-857-5210 toll free participant code: 3192939
Following entry of your code, please provide the required details when prompted.
If you would like to pursue I-Corps support, please do the following:
1. Review the NSF I-Corps™ website and solicitation:
http://www.nsf.gov/news/special_reports/i-corps/
http://www.nsf.gov/pubs/2012/nsf12602/nsf12602.pdf
2. Form your team (see below). UCR's EPIC CAN HELP WITH THIS. CONTACT Rosibel Ochoa. rosibel@ucr.edu
3. Prepare an Executive Summary (2 pages maximum) that describes the following:
 Composition and roles (EL, PI, IM) of the team members proposing to undertake the commercialization feasibility research. Give a few sentences on each team member describing their current position and background relevant to the proposed I-Corps™ project.
 The Entrepreneurial Lead (EL) could be a Post -Doctoral scholar, graduate or other student, or other person with relevant knowledge of the technology and a deep commitment to investigate the commercial landscape surrounding the innovation. The Entrepreneurial Lead should also be capable and have the will to support the transition of the technology, should the I-Corps project demonstrate the potential for commercial viability.
 The I-Corps™ Mentor (IM) will typically be an experienced entrepreneur with proximity to the institution and experience in transitioning technology out of Academic labs. The I-Corps™ Mentor must be a third-party resource and may be recommended by the proposing institution. The I-Corps™ Mentor will be responsible for advising the team through the I-Corps™ process and helping the team navigate the business ecosystem in the specific application area(s).
 The Technical Lead (TL)/Principal Investigator (PI) will typically be a faculty member, senior research scientist or postdoctoral scholar with deep and direct technical expertise in the actual core technology about which the I-Corps team is exploring commercial potential. Typically the Technical Lead will also serve as the proposal Principal Investigator (PI).
 Relevant current/previous NSF awards (i.e., I-Corps idea lineage)
 Brief description of the technology and potential commercial applications
 Brief description of the current commercialization plan
3. Send the Executive Summary to: skonsek@nsf.gov
No Change in Vivarium or CFAMM Fees next
There will be no change in per diem rate for any UCR Vivarium for the next fiscal year. There will also be no change in fees Central Facility for Advanced Microscopy and Microanalysis. Although rates are not set many years into the future, for grant budgeting purposes, include a 3% annual increase in each starting July 1, 2018.
IRB Update: Regulations to simplify "Common Rule" regulations still under review
RED has have had several inquiries as to the status of the revisions to Federal Policy for the Protection of Human Subjects (known as the 'Common Rule'). The final Common Rule revisions were published in the Federal Register by the Office of Human Subjects Protections (OHRP) on January 19th, 2017. You can read a summary of the changes to the Rule here. For a more comprehensive summary of changes and news coverage, please review this page.
On Jan 20th, 2017, the White House issued a memorandum to all federal agencies freezing all pending federal regulations for 60 days, including the Common Rule revisions. Though the 60-day period ended in March, we have had no update as to the status of the pending final revisions and are currently waiting to hear how and when the new Common Rule revisions will be implemented. Implementation will be sometime in 2018, if there are no changes. As of today, these final revisions have not been adopted and the current Common Rule is still the regulation that we follow.
Some of the changes that may affect our campus include:
<![if !supportLists]>· <![endif]>Changes to the consent form process that provides subjects with a better understanding of the research
<![if !supportLists]>· <![endif]>The establishment of new exempt categories of research based on the level of risk
<![if !supportLists]>· <![endif]>Removal of the requirement to conduct continuing review of ongoing research studies in certain instances where such review does little to protect subjects
We are closely following the status of the revisions to the Common Rule and hope to hear definitive updates by June of 2017. We will inform campus constituents and stakeholders once we have more information with regard to status. We will also work with faculty to revise UCR policy to make sure it requires nothing not required by the revision to the Final Rule. Until then, please feel free to contact us at irb@ucr.edu if you have any further questions.
2017 Faculty Networking Lunches
Computational Design: May 1, 2017 https://www.eventbrite.com/e/lunch-session-computational-design-tickets-32263957365 This topic includes computational design of novel materials, molecules, drugs, and other engineering and scientific artifacts.
The goal is get faculty with common interests to meet each other in an informal setting and discuss possible collaborations. All lunches are held at 11:55-1:00 in University Office Building Room 210.
I'm still looking for a topic for some weeks in May or June. Suggestions from CHASS are particularly welcome since they have been underrepresented in recent lunches.
UC Lab Fees Grant Programs; Big Money & Paid Travel to Workshops
UC Research Initiatives is pleased to release the Program Announcement for the 2018 UC Laboratory Fees Research Program. This year's competition offers two distinct funding opportunities:
1) The UC Multicampus-National Laboratory Collaborative Research and Training Award (UC-NL CRT); and
2) The UC-National Laboratory In-Residence Graduate Fellowship (UC NLGF)
The UC Vice Chancellors for Research are organizing a systemwide workshop in each of these 3 thematic areas in May, 2017.
The workshops are intended to provide a forum to discuss compelling research directions and for potential collaborators to make connections to build research teams. While attendance is meant to facilitate the formation of teams, the workshops are not proposal writing venues. Attendance at the workshops is not a requirement (or prerequisite) for submitting a proposal, and the workshop organizers reserve the right to limit attendance to the workshop based on space or budget constraints.
Information on the three workshops is provided below and posted at: http://www.ucop.edu/research-initiatives/programs/lab-fees/workshops.html. If you'd like to attend, (funding will be provided) fill out the form at (http://bit.ly/labfee-wkshp).
Topic: National Security through Social Sciences
Dates: May 8-9, 2017
Location: UC Irvine Student Center
VCR leads: Ann Karagozian (UCLA), Cameron Carter (UCD), Pramod Khargonekar (UCI)
Contact: Stephanie Beckham (Stephanie.Beckham@uci.edu)
Topic: Cybersecurity
Date: May 11, 2017
Location: UC Santa Cruz Silicon Valley Campus – 3175 Bowers Avenue, Santa Clara
VCR leads: Scott Brandt (UCSC), Michael Pazzani (UCR)
Contact: Tedd Siegel (tssiegel@ucsc.edu)
Topic: Climate Science
Dates: May 30-31, 2017
Location: Lawrence Livermore National Laboratory
VCR leads: Samuel Traina (UCM), Sandra Brown (UCSD)
Contact: Stephanie Butticci (sbutticci@ucmerced.edu)
Allen's Hummingbirds
Hummingbirds are particularly active this time of year. The most common hummingbird your likely to encounter in Riverside is an Allen's hummingbird. They are territorial. Below is a photo of what happens when one Allen's encounters another.
<![if !vml]>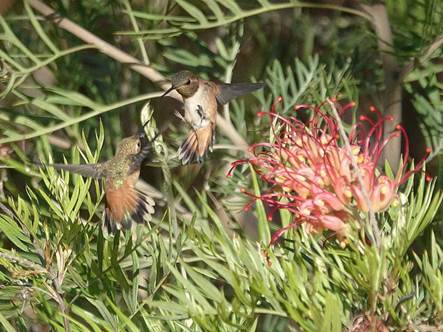 <![endif]>