UCR Research and Economic Development Newsletter: May 20 , 2017
Michael Pazzani
Vice Chancellor for Research and Economic Development
Back Issues of Newsletter: http://research.ucr.edu/vcr/newsletters.aspx
Grant Opportunity Search: http://pivot.cos.com
<![if !supportLists]>· <![endif]>W.M. Keck Foundation Pre-proposal Information
<![if !supportLists]>· <![endif]>Mexico's Request for Proposals - COLLABORATION PROJECTS IN ENERGY EFFICIENCY
<![if !supportLists]>· <![endif]>USDA NIFA Competitive Funding Opportunity Webinar
<![if !supportLists]>· <![endif]>ONR workshop"
<![if !supportLists]>· <![endif]>The California Air Resources Board (ARB) is Soliciting Draft Research Proposals
Funding Opportunity: CNCS Announces National Service and Civic Engagement Research
Nuttail's

Woodpecker feeding
W.M. Keck Foundation Pre-proposal Information
The W.M. Keck Foundation offers the opportunity to discuss potential projects with universities before full proposals are submitted. The foundation allows each university to submit one proposal each in the areas of medical research and science/engineering research during each biannual cycle (see http://www.wmkeck.org/grant-programs/research/eligibility-and-priorities for details.)
Funding is awarded for projects in Medical Research as well as Science and Engineering Research. A successful proposal:
Focuses on important and emerging areas of research
Has the potential to develop breakthrough technologies, instrumentation or methodologies
Is innovative, distinctive and interdisciplinary
Demonstrates a high level of risk due to unconventional approaches, or by challenging the prevailing paradigm
Has the potential for transformative impact, such as the founding of a new field of research, the enabling of observations not previously possible or the altered perception of a previously intractable problem
Falls outside the mission of public funding agencies
Demonstrates that private philanthropy generally, and the W. M. Keck Foundation in particular, is essential to the project's success. For example, they

don't

fund the type of research that the Gates Foundation funds.
An ideal target as stated by Keck is $1 Million over three years. An abstract might present a disruptive concept that was declined by a federal agency, with reviews that indicate the research is extremely innovative, exciting and would have a large impact, but is too risky due to the lack of preliminary data.
Some common reasons why concepts are rejected by Keck:
The project is not ambitious enough (i.e. represents only an incremental advance over the state of the art vs. creating a new paradigm)
The proposal does not fully detail the scope of work and potential impact
The proposal does not list the reasons why Keck support is important (comments from reviewers at federal agencies are strongly recommended)
The project focuses on disease-related therapies or treatments (in the case of medical research) as opposed to bench science.
An abstract of less than one page will help focus the conversation and is needed by June 23 in advance of the next phone counseling period which begins July 1. Please do not submit anything directly to the Keck Foundation. Interested faculty should submit an internal preproposal following the below format at http://or.ucr.edu/ord/limitedsubmissions.aspx by June 23, 2017.
Single-paged concepts for the Research Program must be in 12 point Times New Roman font with 1 inch margins and should include:
an overview of the proposed project emphasizing any unique aspects and pilot studies (for Research Program concepts, indicate area of emphasis for project - medical research or science and engineering research);
a description of the methodologies and key personnel;
a brief justification of the need for W.M. Keck Foundation support; and
an estimated budget broken down, if possible, by major areas, e.g., personnel, equipment, consumable supplies, etc. (budgets can be rough approximations at this stage).
If there's room, the authors are free to add other details (e.g., background to put the research into perspective, description of the institution's prominence in the field, etc.). Avoid illustrations in these single-pagers – the researchers will need all the room for text. If a reference is necessary, abbreviate it as (Science, 323, 45, '11). DO NOT USE (Jones et al., 2011).
Here is more information from the Keck Foundation's home page: Supporting pioneering discoveries in science, engineering and medicine has been our mandate from the beginning. By funding the high-risk/high-impact work of leading researchers, we are laying the groundwork for new paradigms, technologies and discoveries that will save lives, provide innovative solutions, and add to our understanding of the world. Both Senior and Early Career investigators are encouraged to apply.
Mexico's Request for Proposals COLLABORATION PROJECTS IN ENERGY EFFICIENCY
Translation provided for reference purposes. In case of doubt, please review the official RFP posted on the CONACYT website (in Spanish).
1. Description
The call for Collaboration Projects in Energy Efficiency, Mexico - University of California, promoted by the Secretariat of Energy (SENER) and the National Council of Science and Technology (CONACYT), has as its main objective the technological development and capacity building in energy efficiency in Mexico. The research contribution of the projects will be aimed at reducing the energy demand in buildings and urban services (lighting and water pumping) in cities and at accelerating the transition to a low carbon economy, through the development of demonstration projects and integral solutions of energy efficiency.
The expectation with the projects is centered in the use of the experience of the industry (manufacturers, installers and operators), the government and the academia of Mexico and UC, including the Laboratories Lawrence Berkeley and Lawrence Livermore (UC).
There are three priority areas of collaboration: (i) Scientific and technological research; (ii) energy regulation and governance; and (iii) industrial development, from which five major themes are developed: 
(1) 

diagnosis

 of public policies, regulation and strategies of energy use in buildings; 
(2) 

evaluation

 and technological development of high-efficiency equipment; 
(3) 

measurement

, demonstration and application of energy efficiency retrofits in buildings; 
(4) 

implementation

 of energy saving and energy efficiency measures in cities focused on public lighting and the water-energy nexus; and, 
(5) 

database

 creation projects for the efficient exchange of information among different stakeholders related to energy efficiency in Mexico.
It is important to note that the strategic alliance with UC intends to: 
(a) 

promote

 scientific applied R&D; 
(b) 

improve

 the understanding of the current energy demand in Mexican buildings and cities; 
(c) 

acquire

 technology for the reduction of energy demand; 
(d) 

accelerate

 the implementation of energy efficiency measures, and 
(e) 

document

 the environmental and economic impacts of these measures and projects.
Details at https://www.dropbox.com/s/waoe0wc1y7akpk6/Mexico%20request%20for%20proposals.docx?dl=0
---
USDA NIFA Competitive Funding Opportunity Webinar
Join us for the USDA NIFA Competitive Funding Opportunity Webinar.



<![if !supportLineBreakNewLine]>

<![endif]>


<![if !supportLineBreakNewLine]>

<![endif]>
This webinar provides an overview of the USDA NIFA competitive grant programs. The 2-part webinar will share information about NIFA programs more broadly and will provide tips for institutions underrepresented in NIFA grant programs.  Topics 

are divided

 into: 
<![if !supportLists]>·

         

<![endif]>

Session I (8-9 PDT)
<![if !supportLists]>·

         

<![endif]>

Session II

 (10-11 PDT)
Join Live
Link: http://nifa-connect.nifa.usda.gov/cfow/

Participant Audio
Phone via AT&T Connect : 1-877-369-5243 or 1-617-668-3633
Access Code: 0211403#
ONR workshop
The Office of Naval Research (ONR) fosters and coordinates scientific research, discovering new knowledge that accelerates technologies for disruptive capabilities assuring Maritime Superiority into the future.
America is a maritime nation. Research is critical to solving complex, technical issues facing our Sailors and Marines in the naval warfighting domain.
Participants will explore new programs and opportunities in the key Naval Research Priorities:
<![if !supportLists]>· <![endif]>Augmented Warfighter
<![if !supportLists]>· <![endif]>Operational Endurance
<![if !supportLists]>· <![endif]>Integrated & Distributed Forces
<![if !supportLists]>· <![endif]>Sensing & Sense Making
<![if !supportLists]>· <![endif]>Scalable Lethality
As ONR investigates these and other technologies, it recognizes the importance of dialogue and sharing new ideas on complex challenges. ONR's six Integrated Research Portfolios will be discussed at the conference:
<![if !supportLists]>· <![endif]>Amphibious Expeditionary Maneuver
<![if !supportLists]>· <![endif]>Information, Cyber and Spectrum Superiority
<![if !supportLists]>· <![endif]>Undersea Battlespace and Maritime Domain Access
<![if !supportLists]>· <![endif]>Capable, Persistent and Survivable Sea Platforms
<![if !supportLists]>· <![endif]>Aviation, Force Projection and Integrated Defense
<![if !supportLists]>· <![endif]>Warfighter Supremacy
In addition to the technology EXPO, complimentary topics will run concurrently on: doing research with ONR; small business opportunities; working with the Naval Research Laboratory; and international research collaboration with ONR Global.
A new CNR Challenge will also be announced to encourage ideas on accelerating innovation in research priorities and to facilitate new partnerships.
Who should come? Industry, academia, small businesses, research agencies, labs, naval and S&T community leaders, international partners, students and other military services.
Registration: www.onr.navy.mil/expo
Get updates on: www.facebook.com/officeofnavalresearch
This event is co-sponsored with the American Society of Naval Engineers (ASNE). www.navalengineers.org
The California Air Resources Board (ARB or Board) is Soliciting Draft Research Proposals to Implement the Development of the Fiscal Year 2017-18 Annual Research Plan
The California Air Resources Board (ARB or Board) is soliciting draft research proposals from California public universities and colleges to implement the development of the Fiscal Year 2017-18 Annual Research Plan https://www.arb.ca.gov/research/apr/plan/fy17-18/2017-18_arb_draft_research_plan.pdf. The enclosed solicitation provides greater detail on ARB's priority research topics for the Plan.
If you are interested in submitting a draft proposal for the research project described in this solicitation, please send an email that indicates your intent to submit a proposal and identifies the tasks to which you plan to respond, to Sarah Pittiglio by May 30, 2017. Draft proposals will then be due no later than June 21, 2017. Eligible applicants may submit their draft proposal through our proposal solicitation website at: http://researchplanning.arb.wagn.org/. The website will be open to receive submissions by May 22, 2017.
Guidelines for developing your draft proposal are also included in this solicitation package and available at the solicitation website.
Guidelines for developing your draft proposal are included in this solicitation package. Projects that provide co-funding or other leveraging will be evaluated more favorably. Please note that the amount of money allocated for each project is an estimated cost, and the actual cost for submitted proposals may vary. Projects that provide co-funding or other leveraging will be evaluated more favorably.
We expect to select a proposal by July 14, 2017. A final proposal incorporating comments by ARB staff will be needed by July 26, 2017 for further review and refinement by the Board's Research Screening Committee in August. Final proposals would be needed by early September for a final decision by the Board and our target of executed contracts by December 2017.
Prospective investigators are encouraged to contact Sarah Pittiglio at (916) 324-0627 or sarah.pittiglio@arb.ca.gov for any clarification on these topics.
THANKS MITCH!
Corporation for National and Community Service Announces National Service and Civic Engagement Research Program Competition
The Corporation for National and Community Service (CNCS) recently announced a new competition for its National Service and Civic Engagement Research program, which will be limited exclusively to university applicants. The announcement identifies two distinct project categories intended for funding: dissertation category and scholar category.
The dissertation category "targets research that may support doctoral dissertations. The dissertator must have completed their Ph.D. coursework and passed qualifying exams and achieved All But Dissertation (ABD) status by October 1, 2017. The dissertator's advisor will be the Program Director (i.e., Principal Investigator) and the Dissertator will be the Co-Program Director (i.e., Co-Principal Investigator)."
The scholar category "targets established academics, researchers, and postdoctoral researchers with a proven track record and standing in their respective fields."
The solicitation identifies three primary research priority areas:
"How are civic infrastructure and civic engagement defined, measured, developed and hindered?
How does an individual's civic engagement change over the course of a lifetime?
What are the impacts associated with civic engagement, volunteering, or national service?"
Total Funding and Award Size: Depending on the availability of funds, CNCS expects to award $800,000 total through the solicitation with individual awards ranging from $20,000 to $150,000.
Performance Period: Awards for this solicitation would be for an expected project duration of two years.
Important Deadlines:
Notification of Intent to Apply: Encouraged, due June 9, 2017
Application Deadline: July 11, 2017
Sources and Additional Information:
Nuttail's Woodpecker feeding
Last week I was in Pasadena and stopped by Lacy Park. We saw a male and female woodpecker enter a hole in a tree where they nest carrying insects. We heard babies but they never showed themselves We went back this weekend in hopes that they baby woodpeckers had grown enough to stick their heads out for feeding. Over the course of an hour each parent returned about 10 times and I took over 600 photos. Here's my favorite.
<![if !vml]>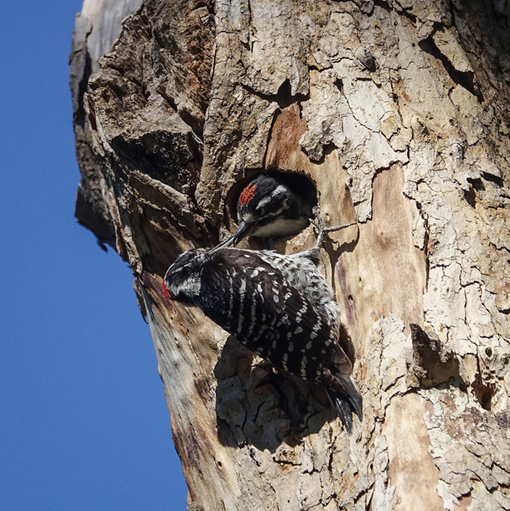 <![endif]>

Michael Pazzani
Vice Chancellor for Research and Economic Development
Professor, Computer Science & Engineering
University of California, Riverside
200 University Office Building
Riverside, CA 92521
To schedule a meeting with me, please contact