UCR Research and Economic Development Newsletter: May 25, 2017
Michael Pazzani
Vice Chancellor for Research and Economic Development
Back Issues of Newsletter: http://research.ucr.edu/vcr/newsletters.aspx
Grant Opportunity Search: http://pivot.cos.com
I'm just a bill

Federal Budget: Overview and Opportunities; May 31, 3:30

Early Career Funding Workshop & COOKIES, June 1, 3:30

Funding Opportunity: DOD: CDMRP and PRMRP

"For comment" draft of the NSF Proposal & Award Policies & Procedures Guide (PAPPG)

Federal Workshops

Black-headed Grosbeak
I'm just a bill
The President's proposed budget is not good for university research. There clearly will be headwinds in Washington, but there are two points to remember:
It's

just a proposal.

It's

not even a bill. As you may remember from Schoolhouse Rock, the legislative branch of government creates spending bills. The process

is outlined

below.
I'm just a bill
Yes I'm only a bill
And I got as far as Capitol Hill
Well, now I'm stuck in committee
And I'll sit here and wait
While a few key congressmen discuss and debate
Whether they should let me be a law
The final bill is likely to be more moderate than the proposal. Furthermore, if Congress can't reach agreement, the most likely scenario is a continuing resolution for the entire year in which funding levels are about the same as this year.
If you look beyond the numbers in the propped budget of each agency. You can agency priorities that

have been vetted

by the executive branch. For example, in May 2016, the NSF director introduced "Big Ideas." (see https://www.sciencemag.org/sites/default/files/documents/Big%20Ideas%20compiled.pdf) Most of these are present, with new programs and budget increases in the trimmed NSF budget.: (https://www.nsf.gov/about/budget/fy2018/toc.jsp
BIO include:
Understanding the Rules of Life (

URoL

): First introduced in FY 2017, support for

URoL

will continue in FY 2018 emphasizing research areas such as the genotype to phenotype challenge, plant-organismal interactions, and developing biological theory as a framework for the rules of life. Quantitative approaches that integrate the mathematical and physical sciences, computer science, and engineering into advancing basic biological understanding underpinning the study of the rules of life will continue to be encouraged.
Understanding the Brain (

UtB

), including the Brain Research through Advancing Innovative

Neurotechnologies

(BRAIN) Initiative
CISE:
Harnessing the Data Revolution (HDR) Big Idea. HDR (+$50.0 million to a total of $50.0 million): CISE will lead HDR in partnership with all other NSF directorates and offices, continuing the visioning and planning activities that have already begun. 2 HDR will engage NSF's research and education community in the pursuit of fundamental research in data science and engineering, the development of a cohesive, federated, national-scale approach to research data infrastructure, and the development of a 21st-century data-capable workforce. CISE, together with MPS, will continue the initial HDR investment in Transdisciplinary Research in Principles of Data Science (TRIPODS), bringing together the statistics, mathematics, and theoretical computer science communities to develop the theoretical foundations of data science through integrated research and training activities. In addition to these forward-looking investments aimed at building the foundation for future HDR activities, HDR will also encompass NSF's existing data-related research, research infrastructure, and education portfolio that is transitioning from CIF21, including Critical Techniques, Technologies and Methodologies for Advancing Foundations and Applications of Big Data Science (BIGDATA); Data Infrastructure Building Blocks (DIBBs); EarthCube; and Resource Implementations for Data Intensive Research in Social, Behavioral, and Economic Sciences (RIDIR)
SBE:
Work at the Human-Technology Frontier: Shaping the Future (W-HTF)¯SBE will lead the W-HTF Big Idea in partnership with the Directorates for Computer and Information Science and Engineering (CISE), Engineering (ENG), Education and Human Resources (EHR), and the Office of Integrative Activities (OIA). The W-HTF will engage the research communities in the sciences, engineering, and education to understand and explain how constantly evolving technologies are changing the world of work and the lives of workers and how people can in turn shape those technologies
Federal Budget: Overview and Opportunities; May 31, 3:30
On May 31, in the Orbach Science Library, Room 240, at 3:30 there will be a presentation and discussion on the federal budget. Representative from Lewis Burke associates will present info on the proposed budget as it impacts universities. An analysis is attached.
Early Career Funding Workshop & COOKIES
Eat cookies and learn about federal funding opportunities, including how to:
· Learn about forthcoming funding opportunities
· Interact with program officers
· Plan a visit to DC
· Become a peer reviewer
· How to get on advisory committees
Workshop hosted by RED UCR's federal funding consultants, Lewis-Burke Associates, LLC.
Thursday, June 1 at 3:30P in HUB 367
Funding Opportunity: DOD: CDMRP and PRMRP
The Congressionally Directed Medical Research Program (CDMRP) has started to release its solicitations for fiscal year (FY) 2017. Funding opportunities recently released include:
Amyotrophic Lateral Sclerosis

Bone Marrow Failure

Breast Cancer

Defense Medical Research and Development Program

Gulf War Illness

Lung Cancer

Multiple Sclerosis

Ovarian Cancer

Peer Reviewed Cancer

Vision
We expect a flurry of new opportunities to be announced quickly, including new research programs on lupus, hearing restoration, kidney cancer, global HIV/AIDS prevention, and orthotics and prosthetics. We also anticipate the Peer Reviewed Medical Research Program (PRMRP) announcement. The PRMRP topics and award mechanisms are available to help investigators prepare, at: http://cdmrp.army.mil/pubs/press/2017/17prmrppreann. PRMRP includes 11 new topics: arthritis, burn pit exposure, diarrheal diseases, early trauma thermal regulation, epidermolysis bullosa, Guillain-Barre syndrome, immunomonitoring of intestinal transplants, musculoskeletal disorders, spinal muscular atrophy, and sustained-release drug delivery.
The list of current open solicitations is available at: http://cdmrp.army.mil/funding/default. Interested investigators are strongly encouraged to receive email updates to receive up-to-date information on their focus areas: https://ebrap.org/eBRAP/programSubscription/Subscribe.htm.
"For comment" draft of the Proposal & Award Policies & Procedures Guide (PAPPG)
NSF published a notice today in the Federal Register announcing the availability of a "For comment" draft of the Proposal & Award Policies & Procedures Guide (PAPPG). The Foundation is accepting comments from the external community until cob July 24, 2017. The draft PAPPG is available on the Division of Institution and Award Support (DIAS)/Policy Office website.
To facilitate review, revised text has been highlighted in yellow throughout the document and explanatory comments have been included in the margins, where appropriate.
Any questions should be directed to the Policy Office at policy@nsf.gov.
We appreciate the research and education community's interest and look forward to your input.
Federal Workshops
1) NIST Big Data Workshop, June 1-2, 2017
The National Institute of Standards and Technology (NIST) will hold the 2nd NIST Big Data Public Working Group (NBD-PWG) Workshop on June 1-2, 2017 at their campus in Gaithersburg, MD on June 1-2, 2017. The theme is "Towards a Standard Ecosystem for Big Data Applications and Analytics." Workshop participants may register to attend in-person or join the live webcast. The registration deadline is May 29th. The agenda is here, which includes bios of the 22 scheduled speakers from NIST, NSF, DOE, NASA, USDA and other federal agencies, as well as academia, industry, and scientific associations.
2) NOAA Environmental Observations – RFI, Workshop on Emerging Technologies
Response Date: June 6, 2017
Solicitation Number: 2017NOAAETE
https://www.fbo.gov/index?s=opportunity&mode=form&id=cf95a0797d6364c7c99daa9c9d3a9da8&tab=core&_cview=0
The purpose of this RFI is to solicit responses from federal agencies, academia, and industry to identify opportunities for enhancement to NOAA's Observing System Architecture. NOAA is conducting an Emerging Technologies Workshop in College Park, Maryland, at the NOAA Center for Weather and Climate Prediction to identify new environmental observing capabilities and applications for synthesizing environmental information which have the potential for improving NOAA services and enhancing organizational efficiencies. NOAA is interested in improved access to environmental data from the following sources: new environmental observing platform/sensor capabilities; innovative data processing techniques to improve data synthesis; and more efficient observing system/network/constellation solutions including system-of-system approaches. The goal for this workshop is to improve awareness of emerging observing technologies and to facilitate discussions on associated opportunities and challenges. Contact: Sarah Waugh sarah.waugh@noaa.gov
Phone: 206-526-6544. Fax: 206-526-6025.
3) Defense Advanced Research Projects Agency Proposers Day -- Cyber-Hunting at Scale (CHASE)
Response Date: May 25, 2017
Meeting Date: June 1, 2017
Solicitation Number: DARPA-SN-17-47
https://www.fbo.gov/index?s=opportunity&mode=form&id=a6b09e0661902c71a9c3205db0fff55d&tab=core&_cview=
The Defense Advanced Research Projects Agency (DARPA) Information Innovation Office (I2O) is sponsoring a Proposers Day, to provide information to potential proposers on the objectives of the anticipated Cyber-Hunting at Scale Broad Agency Announcement.
Networks within the United States and abroad face increasingly broad-spectrum cyber threats from numerous actors and novel attack vectors. Malicious activity also crosscuts organizational boundaries, as nefarious actors use networks with less protection to pivot into networks containing key assets. Detection of these threats requires adjustments to network and host sensors at machine speed. Additionally, the data required to detect these threats may be distributed across devices and networks. In all of these cases, the threat actors are using technology to perpetrate their attacks and hide their activities and movement, both physical and virtual, inside DoD, commercial, and Internet Access Provider (IAP) networks. DARPA hosts Proposer Days to promote teaming arrangements between researchers, provide potential performers with information on whether and how they might respond to the Government's research and development solicitations, and to increase efficiency in proposal preparation and evaluation. Therefore, Proposers Days are open only to registered potential proposers. Contact: CHASE@darpa.mi
4) Office of the Director of National Intelligence - Intelligence Advanced Research - Proposers' Day Notification for Proteos Projects Activity
Response Date: July 18, 2017
Proposer Day Date: July 25, 2017
Solicitation Number: IARPA-BAA-17-03
https://www.fbo.gov/index?s=opportunity&mode=form&id=ddc2abb0b58db7f759999e32e84c9049&tab=core&_cview=0
The Intelligence Advanced Research Projects Activity (IARPA) will host a Proposers' Day Conference for the Proteos Program on July 25, 2017 in the Washington, DC metropolitan area in anticipation of the release of a new solicitation. The Conference will be held from 9:00 AM to 3:00 PM EDT. The purpose of the conference will be to provide information on the Proteos Program and the research challenges the program seeks to address, to receive and discuss questions from potential proposers, and to provide an opportunity for potential proposers to present their capabilities for teaming opportunities.
DNA is the cornerstone of forensic science and is used for human identification in a variety of scenarios, e.g. criminal and missing persons investigations and the identification of human remains. Identification from biological material is dependent on the ability to characterize genetic polymorphisms in DNA….The Proteos Program seeks to analyze the relationship between polymorphisms in the proteome called genetically variable peptides (GVPs) and non-synonymous single nucleotide polymorphisms (SNPs) to provide an additional forensic tool for correlating an individual with particular objects, events, and locations. Contact: Kristen E. Jordan, Program Manager, dni-iarpa-baa-17-03@iarpa.gov
Black-headed Grosbeak
Here's a photo of a black-headed grosbeak.
<![if !vml]>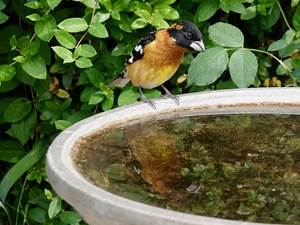 <![endif]>