UCR Research and Economic Development Newsletter: June 5, 2017
Michael Pazzani
Vice Chancellor for Research and Economic Development
Back Issues of Newsletter: http://research.ucr.edu/vcr/newsletters.aspx
Grant Opportunity Search: http://pivot.cos.com
Lunch: Canada Day June 30

2017-18 Budget Outlook. Presentations by Lewis-Burke

NSF CAREER Panel

Great Blue Herons
Lunch: Canada Day June 30
July 1st is Canada Day. Come join us on Friday June 30 at 12:00 in UOB 210 to discuss research and The True North's global standing. Faculty from Canada are particularly encouraged to attend or those that have studied in Canada or conduct research on Canada
Please note, due to space limitations, only 20 seats are available. Sign up now to reserve yours! RSVP by 6/28/17 the latest. https://www.eventbrite.com/e/oh-canada-day-tickets-34921402856
A Canada-themed lunch will be provided, including
Chicken Poutine
Veggie Poutine
Butter Tarts
Nanaimo Bars
2017-18 Budget Outlook. Presentations by Lewis-Burke
Attached to this message are 5 presentations by Lewis-Burke on Federal funding.
Reminder: NSF CAREER Proposals
If you are applying for an NSF CAREER award and if you finish a complete draft by June 26, mail to vcredadmin@ucr.edu, and we'll hold a panel and review it on July 6 and get you feedback by July 7. Also RED will send you $1000 in a research fund as incentive for finishing early.
Note: If you are resubmitting, please also provide a copy of your prior proposal, the reviews, and a short discussion of how you modified the proposal in response to the reviews.
Here are some UCR specific resources for CAREER
<![if !supportLists]>· <![endif]>My notes from a recent presentation on CAREER are available at https://www.dropbox.com/s/jd5jv6si11pj2ue/PazzaniCareer17.pdf?dl=0
<![if !supportLists]>· <![endif]>UCR's Programs for Outreach for Broader Impacts https://www.dropbox.com/s/nvs8saszr710nk4/UCROutreachBroaderImpacts.pdf?dl=0
<![if !supportLists]>· <![endif]>References on Learning, Education and Assessment for Education Plans
Other Materials from the workshop, sample proposals, and more resources are available at https://research.ucr.edu/ord/proposaldevlopment.aspx
Thanks to Rachel Wu for proving some additional information:
Instructions to reviewers
https://www.dropbox.com/s/7wyr3a8odubv1j9/note_for_CAREER_reviewers_2016.pdf?dl=0
Education and Human Recourses at NSF has issued these tios
https://www.nsf.gov/pubs/2017/nsf17093/nsf17093.jsp?WT.mc_id=USNSF_25&WT.mc_ev=click
Baby Horned Owl
Here's a photo of a Three Baby Great Blue Herons from Bolsa Chica in Huntington Beach.
<![if !vml]>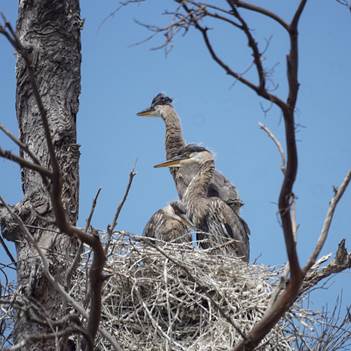 <![endif]>