UCR Research and Economic Development Newsletter: July 15, 2017
Michael Pazzani
Vice Chancellor for Research and Economic Development
Back Issues of Newsletter: http://research.ucr.edu/vcr/newsletters.aspx
Grant Opportunity Search: http://pivot.cos.com
<![if !supportLists]>· <![endif]>High-Performance Computing Center (HPCC)
<![if !supportLists]>· <![endif]>Funding Opportunity – Tobacco-Related Disease Research
<![if !supportLists]>· <![endif]>Drones at the University of California – August 14th, 2017
<![if !supportLists]>· <![endif]>National Academy of Sciences - Public Discussion: The Value of Social, Behavioral, and Economic Sciences to National Priorities
<![if !supportLists]>· <![endif]>Microsoft Research Faculty Summit – Live Streamed July 17-18
<![if !supportLists]>· <![endif]>Stellar's Jay
High-Performance Computing Center (HPCC)
The High-Performance Computing Center (HPCC) at UCR, previously a research function within the Institute for Integrated Genome Biology (IIGB), provides state-of-the-art research computing infrastructure and training for any interested UCR researchers. This shared research computing environment allows access to a much larger infrastructure (with thousands of CPUs/GPUs and many PBs of directly attached storage) than what smaller clusters of individual research groups could afford, while also providing a long-term sustainability plan and professional systems administrative support.
HPCC builds upon the existing resources of the IIGB's Bioinformatics facility and is supported by two full-time HPC systems administrators and one director. Thomas Girke, Professor of Bioinformatics, serves as the Director of the HPCC and brings with him hands-on research expertise in large-scale data analysis. The HPCC is a resource supporting research in multiple disciplines including the Institute for Integrative Genome Biology, the Data Science Center and others.
Access to the shared HPCC resources and services is available to all UCR researchers and affiliates at a low cost via the existing recharge system of IIGB's Bioinformatics facility. Thanks to a recent grant, storage costs have decreased compared to rates from two years ago. An annual registration fee of $1000 provides access to all members of a UCR lab and PIs can rent or purchase additional data storage space if needed at $1000 per 10TB. More information about the facility, services, access and rates, and contacts can be found on the HPCC website at http://hpcc.ucr.edu.
Funding Opportunity – Tobacco-Related Disease Research
The Tobacco-Related Disease Research Program (TRDRP) at the University of California, Office of the President, announces an open call for applications to fund research that is supported by tobacco tax revenue from Proposition 56 and Proposition 99.

Letters of Intent Due July 17 – August 21, 2017, 12 p.m. PT
Invited Full Proposals Due September 25, 2017, 12 p.m. PT

TRDRP administers the portion of state retail taxes levied on tobacco products that are designated for supporting research within California. This opportunity is open to investigators at all eligible California institutions who are engaged in health-related research.

TRDRP has broadened its current research priorities and expanded the scope to better serve the Proposition 56 mandate. The expanded priorities invite research under the following areas and encourage addressing health disparities in a crosscutting manner:
Tobacco-Related Health Disparities

Cancer Prevention, Treatment, and Biology

Cardiovascular and Cerebrovascular Diseases

Environmental Exposure and Toxicology

Neuroscience of Nicotine Addiction and Treatment

Oral Diseases and Dental Health

Pulmonary Biology and Lung Disease

State and Local Tobacco Control Policy Research
TRDRP will also hold two informational webinars for potential applicants on July 27 and August 3, 2017. Please visit their website at http://ucop.us12.list-manage2.com/track/click?u=2ae4678f6e94927e764ad58e5&id=5bd4b2febc&e=0425c10c95 for further details and how to submit an application.
Drones at the University of California – August 14th, 2017
On August 14th, Dr. Brandon Stark, Director of the UC Center of Excellence on Unmanned Aircraft System Safety, will be on campus to present on drone regulations and policies in the UC system. The presentation will take place at the Alumni & Visitors Center, Redmond Dining Room beginning at 9am and will be followed by a flight demonstration. In his talk, Dr. Stark will provide an overview of new and existing Federal drone laws and regulations, discuss the new SUAS license for research and commercial use, and explain best practices for safety, and record-keeping requirements. Brandon will also talk about UC's UAS Safety Management System. A key component of this system is the UC UAS Fleet Management System software suite, available to campuses free of charge. The UC UAS Fleet Management System software will promote the safe operation of UASs by providing end-users and oversight managers with a tool to track UAS usage. Brandon will talk about how this information is being used to shape UC UAS policies and safety strategies. Additionally, Dr. Stark will be offering a drone pilot license test prep workshop and facilitating two beginner flight instruction sessions. One drone will be available for everyone to use during the instruction sessions. Attendees are welcome to bring their own drone to use if possible.
Registration links for the presentation, test prep workshop, and the instruction sessions are below:
Presentation and Flight Demonstration: 9am – 1pm, Alumni & Visitors Center, Redmond Dining Room https://www.eventbrite.com/e/drones-at-the-university-of-california-tickets-9759764719?utm_source=eb_email&utm_medium=email&utm_campaign=new_event_email&utm_term=viewmyevent_button
Pilot License Test Prep Workshop: 1pm – 3pm, Alumni & Visitors Center, Redmond Dining Room https://www.eventbrite.com/e/drone-pilot-license-test-prep-tickets-36210968983
Beginner Flight Instruction (limited availability) : 2 sessions on August 14, 3-5pm or August 15, 9-11am, Amy Harrison Softball Fields
https://www.eventbrite.com/e/beginner-flight-instruction-tickets-36211027157
National Academy of Sciences - Public Discussion: The Value of Social, Behavioral, and Economic Sciences to National Priorities
Public Discussion Event on The Value of Social, Behavioral,
and Economic Sciences to National Priorities:
A Report for the National Science Foundation

Wednesday, July 19
National Academy of Sciences, Lecture Room
9:00 a.m. - 1:00 p.m.

In response to a request from the National Science Foundation, the National Academies appointed an expert committee to help determine whether the federal government should fund research in the social, behavioral, and economic sciences (SBE). Specifically, the committee was asked to examine whether SBE research furthers the mission of NSF and those of other federal agencies and advances business and industry. The report also offers recommendations to better enable SBE research to meet the nation's priorities and elements to include in future strategic planning. Members of the committee will present key findings followed by Q&A with the audience. A panel of experts will offer brief commentary and engage in a roundtable discussion with committee members about the report recommendations, followed by general audience discussion.
The event will be webcast. Register here: http://nap.us4.list-manage1.com/track/click?u=eaea39b6442dc4e0d08e6aa4a&id=15c860b31d&e=8fab7a45ae
Microsoft Research Faculty Summit – Live Streamed July 17-18
Microsoft Research Faculty Summit to Be Live Streamed July 17-18
Join ACM for broadcasts from the Microsoft Research Faculty Summit streamed live from Redmond, Washington on Monday, July 17 and Tuesday, July 18. This free online event offers keynotes and selected presentations from the Faculty Summit on artificial intelligence research, "The Edge of AI."
Panels on both days will cover a range of AI topics, including machine learning; human language technologies; perception and sensing; AI and society; systems, tools and platforms; Integrative intelligence; cyber-physical systems and robotics; human/AI collaboration; and decision making.
Speakers will include Eric Horvitz, Microsoft Research Technical Fellow and Managing Director; Barbara Grosz, Higgins Professor of Natural Sciences at Harvard University; and ACM Fellow Ravi Kannan.
Sessions on both days will begin at 7:30 AM PDT (10:30 AM EDT) and run until 6 PM PDT (9 PM EDT).
https://learning.acm.org/microsoft_faculty_summit.cfm
I went to Vancouver recently. Here's a photo of a Steller's Jay from the trip. You can find them in most of the mountains in Southern California.
<![if !vml]>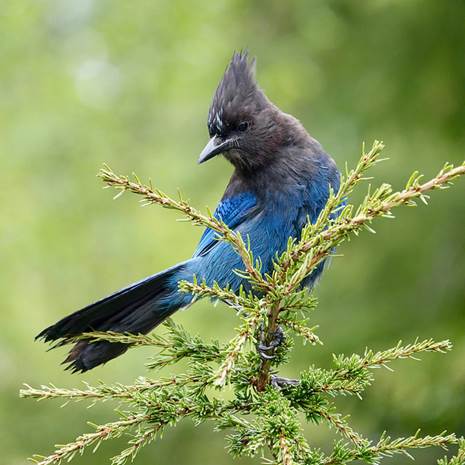 <![endif]>
Michael Pazzani
Vice Chancellor for Research and Economic Development
Professor, Computer Science & Engineering
University of California, Riverside
200 University Office Building
Assistant: Bri Cates
Email: VCREDadmin@ucr.edu