UCR Research and Economic Development Newsletter: July 22, 2017
Michael Pazzani
Vice Chancellor for Research and Economic Development
Back Issues of Newsletter: http://research.ucr.edu/vcr/newsletters.aspx
Grant Opportunity Search: http://pivot.cos.com
<![if !supportLists]>· <![endif]>NSF CAREER Awards Data
<![if !supportLists]>· <![endif]>Call for Nominations – Sloan Research Fellowships
<![if !supportLists]>· <![endif]>Cultural Anthropology Program – Doctoral Dissertation Research Improvement Grants
<![if !supportLists]>· <![endif]>Drones at the University of California
<![if !supportLists]>· <![endif]>Sony Research Award Program
<![if !supportLists]>· <![endif]>UCR Researchers and Faculty: Interested in applying for SBIR/STTR and follow-on funding?
<![if !supportLists]>· <![endif]>NIH Director's New Innovator Award Program & Incentives
<![if !supportLists]>· <![endif]>Pileated Woodpecker
A while back, I reported that UCR was tied with Berkeley for the most number of active NSF Career Awards in University of California. We've now passed Berkeley.
<![if !vml]>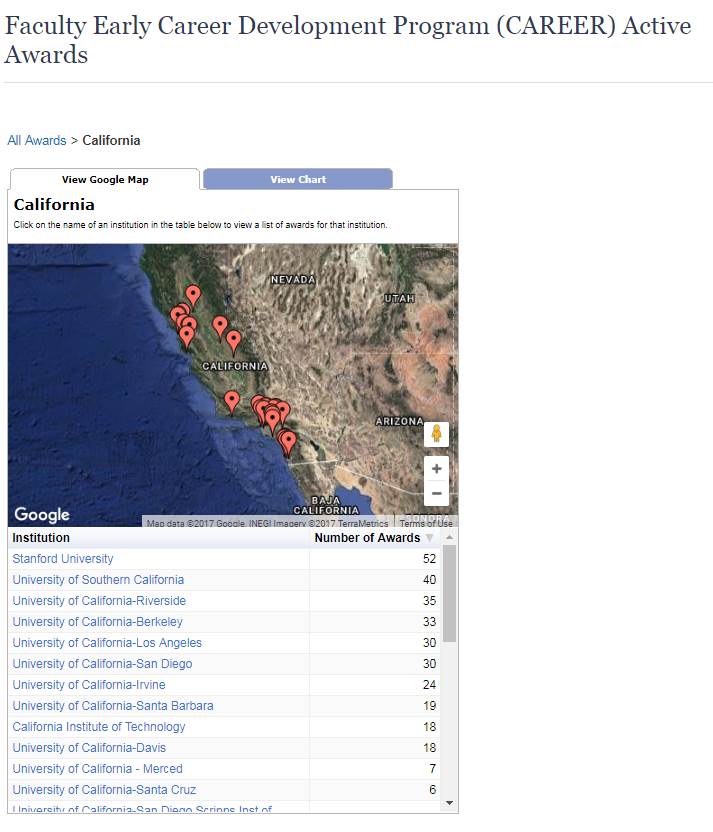 <![endif]>
Call for Nominations – Sloan Research Fellowships
$65,000 fellowships for exceptional junior faculty in recognition of distinguished performance and a unique potential to make substantial contributions to their field. Fellowships awarded annually to exceptional junior faculty in the fields of: chemistry, computational and evolutionary molecular biology, computer science, economics, mathematics, neuroscience, ocean sciences, and physics.
Who is eligible?
<![if !supportLists]>· <![endif]>Candidates must hold a tenure track (or equivalent) position at a college, university, or other degree-granting institution in the United States or Canada. Tenure track faculty positions at the candidate's institution must include a yearly teaching requirement.
<![if !supportLists]>· <![endif]>Candidates must hold a Ph.D. (or equivalent) in chemistry, computational or evolutionary molecular biology, computer science, economics, mathematics, neuroscience, ocean sciences, physics, or a related field;
<![if !supportLists]>· <![endif]>Candidates' most recent Ph.D. (or equivalent) must have been awarded on or after September 1, 2011. Exceptions may apply.
To be eligible, candidates must be nominated by a department head or other senior researcher. No more than three candidates may be nominated from any one department. At UCR, the selection of three candidates by each department is handled within the department. Please inform your chair is you wish to be nominated.
All nomination materials, including nomination letters and all letters of support, must be submitted through the Foundation's online application system no later than 11:59PM EDT, September 15, 2017.
Learn more at https://sloan.org/fellowships
Cultural Anthropology Program – Doctoral Dissertation Research Improvement Grants (CA-DDRIG)
Full Proposal Target Date: August 15, 2017

Program Guidelines: NSF 15-556
The primary objective of the Cultural Anthropology Program is to support basic scientific research on the causes, consequences, and complexities of human social and cultural variability.
Anthropological research spans a wide gamut, and contemporary cultural anthropology is an arena in which diverse research traditions and methodologies are valid. Recognizing the breadth of the field's contributions to science, the Cultural Anthropology Program welcomes proposals for empirically grounded, theoretically engaged, and methodologically sophisticated research in all sub-fields of cultural anthropology. Because the National Science Foundation's mandate is to support basic research, the NSF Cultural Anthropology Program does not fund research that takes as its primary goal improved clinical practice or applied policy. A proposal that uses anthropological methods to understand a social problem but does not propose to make a theory-testing and/or theory expanding contribution to anthropology will be returned without review.
Program research priorities include, but are not limited to, research that increases our understanding of:
Socio-cultural drivers of critical anthropogenic processes such as deforestation, desertification, land cover change, urbanization, and poverty

Resilience and robustness of socio-cultural systems

Conflict, cooperation, and altruism

Economy, culture, migration, and globalization

Variability and change in kinship and family norms and practices

Cultural and social drivers of health outcomes and disease transmission

Social regulation, governmentality, and violence

Origins of complexity in socio-cultural systems

Language and culture: orality and literacy, sociolinguistics, and cognition

Human variation through empirically grounded ethnographic descriptions

Mathematical and computational models of sociocultural systems such as social network analysis, agent-based models, multi-level models, and modes that integrate agent-based simulations and geographic information systems (GIS)
As part of its effort to encourage and support projects that explicitly integrate education and basic research, CA provides support to enhance and improve the conduct of doctoral dissertation projects designed and carried out by doctoral students enrolled in U.S. universities who are conducting scientific research that enhances basic scientific knowledge.
Anticipated funding amount: $800,000
Who May Serve as PI: The proposal must be submitted through regular organizational channels by the dissertation advisor(s) on behalf of the graduate student. The advisor is the Principal Investigator (PI); the student is the Co-Principal Investigator (CoPI). The student must be the author of the proposal. The student must be enrolled at a U.S. institution, but need not be a U.S. citizen.
More information can be found at: https://www.nsf.gov/pubs/2015/nsf15556/nsf15556.pdf
Drones at the University of California – August 14th, 2017
On August 14th, Dr. Brandon Stark, Director of the UC Center of Excellence on Unmanned Aircraft System Safety, will be on campus to present on drone regulations and policies in the UC system. The presentation will take place at the Alumni & Visitors Center, Redmond Dining Room beginning at 9am and will be followed by a flight demonstration. In his talk, Dr. Stark will provide an overview of new and existing Federal drone laws and regulations, discuss the new SUAS license for research and commercial use, and explain best practices for safety, and record-keeping requirements. Brandon will also talk about UC's UAS Safety Management System. A key component of this system is the UC UAS Fleet Management System software suite, available to campuses free of charge. The UC UAS Fleet Management System software will promote the safe operation of UASs by providing end-users and oversight managers with a tool to track UAS usage. Brandon will talk about how this information is being used to shape UC UAS policies and safety strategies. Additionally, Dr. Stark will be offering a drone pilot license test prep workshop and facilitating two beginner flight instruction sessions. One drone will be available for everyone to use during the instruction sessions. Attendees are welcome to bring their own drone to use if possible.
Faculty, staff, postdocs, graduate students, and undergraduate students are welcome to register.
Registration links for the presentation, test prep workshop, and the instruction sessions are below:
Presentation and Flight Demonstration: 9am – 1pm, Alumni & Visitors Center, Redmond Dining Room https://www.eventbrite.com/e/drones-at-the-university-of-california-tickets-9759764719?utm_source=eb_email&utm_medium=email&utm_campaign=new_event_email&utm_term=viewmyevent_button
Pilot License Test Prep Workshop: 1pm – 3pm, Alumni & Visitors Center, Redmond Dining Room https://www.eventbrite.com/e/drone-pilot-license-test-prep-tickets-36210968983
Beginner Flight Instruction (limited availability) : 2 sessions on August 14, 3-5pm or August 15, 9-11am, Amy Harrison Softball Fields
https://www.eventbrite.com/e/beginner-flight-instruction-tickets-36211027157
Deadline – September 15, 2017
The Sony Research Award Program provides funding for cutting-edge academic research and helps build a collaborative relationship between faculty and Sony researchers. With awards up to $150,000 per year for each accepted proposal, both the Faculty Innovation Award and Focused Research Award create new opportunities for university faculties to engage in pioneering research that could drive new technologies, industries and the future.
Sony Faculty Innovation Award provides up to $100K in funds to conduct pioneering research in specified areas. The Sony Focused Research Award provides an opportunity for university faculty and Sony to conduct this type of collaborative, focused research. The award provides up to $150K in funds, and may be renewed for subsequent year(s). A list of candidate research topics appears below.
Adaptive Network Structure Optimization for Deep Learning
Next-Generation Dialogue Management System
New Robotic Actuator
Machine Learning Based Image Processing
Next Generation Novel Display System
Image-based Photo-realistic Rendering
Channel Modeling of Self-Interference Signals for In-Band Full-Duplex Systems
Core Technology Design for Low Earth Orbit (LEO) based Satellite Communication System
Millimeter Wave based Wireless Communication Technologies for Automated Vehicle Management
Egocentric Motion Tracking
3D Generic Real World Object Recognition
High-Precision Sensing Technology of Human Body Motion in Living Spaces
AR/MR Eyewear Display
Eligible Applicants
Principal Investigators (PIs) who are tenured or tenure-track faculty members and are eligible to supervise Ph.D.. Full professors, associate professors, and assistant professors are eligible to apply.
More information can be found at: https://www.sony.com/research-award-program#Overview
UCR Researchers and Faculty: Interested in applying for SBIR/STTR and follow-on funding?
UC Riverside has partnered with UC Irvine, TriTech and the Santa Ana District Office of the U.S. Small Business Administration to bring the Small Business Innovation Research (SBIR) Road Tour to the Orange County and Inland Empire. The all-day event is on Tuesday, September 12, 2017 at UC Irvine. Attendees will have the opportunity to hear directly from federal agency SBIR Program Managers who represent $2.5 billion in early stage funding and MEET with them one-on-one to improve the chances of getting Phase I and follow-on funding!
This is a must-attend event for innovators, entrepreneurs, researchers, small technology firms applying for the first time, past SBIR/STTR applicants and existing recipients!
Registration is now open! To register, go to: http://innovation.uci.edu/the-cove/sbir-road-tour/
DATE:
Tuesday, September 12, 2017
All Day Event – 7:30 AM to 6:00 PM
LOCATION:
The Cove @ UCI
5141 California Ave. Ste. 200
Irvine, CA 92617
Can't make the event or want to know more about applying for an SBIR/STTR?
Contact Misty Madero at UCR's Office of Technology Partnerships: misty.madero@ucr.edu or (951) 827-2210
Have an idea/research/technology you are interested in commercializing? Contact the Office of Technology Partnerships (OTP) today to learn more about our programs and resources!
Website: http://www.ucreduotp.net/
Phone: (951) 827-7941
Address: 200 University Office Building, Riverside, CA 92521
NIH Director's New Innovator Award Program & Incentives
If you are applying for an NIH New Innovator and if you finish a complete draft by August 1, mail to vcredadmin@ucr.edu, and we'll get you feedback by August 15. Also RED will send you $1000 in a research fund as incentive for finishing early.
https://grants.nih.gov/grants/guide/rfa-files/RFA-RM-17-006.html Due September 8, 2017
The NIH Director's New Innovator Award (DP2) supports a small number of early stage investigators of exceptional creativity who propose bold and highly innovative new research approaches that have the potential to produce a major impact on broad, important problems in biomedical and behavioral research. The NIH Director's New Innovator Award complements ongoing efforts by NIH and its Institutes and Centers to fund early stage investigators through R01 grants.
An early stage investigator has not competed successfully for a significant NIH independent research award and is within 10 years of completing his/her terminal research degree or is within 10 years of completing medical residency (or the equivalent).
New investigators may have exceptionally innovative research ideas, but not the preliminary data required to fare well in the traditional NIH peer review system. As part of NIH's commitment to increasing opportunities for new scientists, it has created the NIH Director's New Innovator Award to support exceptionally creative new investigators who propose highly innovative research projects that have the potential for unusually high impact. This award complements ongoing efforts by NIH and its Institutes and Centers to fund new investigators through R01 grants and other mechanisms.
The NIH Director's New Innovator Award is different from traditional NIH grants in several ways. It is designed specifically to support unusually creative investigators with highly innovative research ideas at an early stage of their career when they may lack the preliminary data required for an R01 grant application. The emphasis is on innovation and creativity; preliminary data are not required, but may be included. No detailed, annual budget is requested in the application. The review process emphasizes the individual's creativity, the innovativeness of the research approaches, and the potential of the project, if successful, to have a significant impact on an important biomedical or behavioral research problem.
The research proposed for a NIH Director's New Innovator Award may be in any scientific area relevant to the mission of NIH (biological, behavioral, clinical, social, physical, chemical, computational, engineering, and mathematical sciences). Investigators who were not selected for an award in prior years may submit applications this year as long as they retain their ESI (early stage investigator) eligibility; however, all applications must be submitted as "new" applications regardless of any previous submission to the program.
Awards will be up to $1.5 million of direct costs ($300,000 per year over five years).
Here's a photo of one of my favorite woodpeckers, the pileated woodpecker. This is from Florida. In Southern California, the best places to see them are in Sequoia National Park.
<![if !vml]>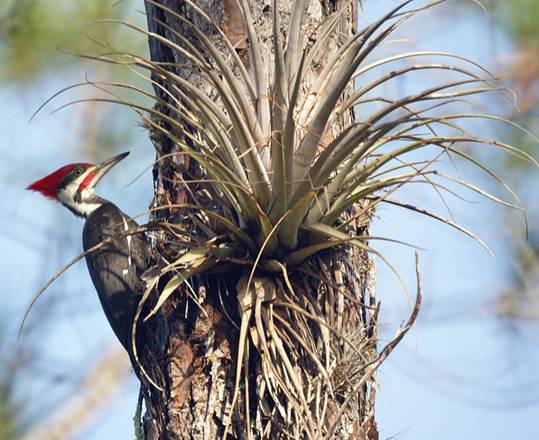 <![endif]>
Michael Pazzani
Vice Chancellor for Research and Economic Development
Professor, Computer Science & Engineering
University of California, Riverside
200 University Office Building
To schedule a meeting with me, please contact Bri Cates at
Email: VCREDadmin@ucr.edu