UCR Research and Economic Development Newsletter: Octobers 2, 2017
Michael Pazzani
Vice Chancellor for Research and Economic Development
http://research.ucr.edu
Back Issues of Newsletter: http://research.ucr.edu/vcr/newsletters.aspx
Grant Opportunity Search: http://pivot.cos.com
<![if !supportLists]>· <![endif]>NIH Next Generation Researchers Initiative
<![if !supportLists]>· <![endif]>2018 HHMI Hanna H. Gray Fellows Program: Diversity in Biomedical Science
<![if !supportLists]>· <![endif]>Engineering for Civil Infrastructure (ECI) Program
<![if !supportLists]>· <![endif]>NSF: Stimulating Research Related to the Science of Broadening Participation
<![if !supportLists]>· <![endif]>Fall Quarter 2017 I-Corps Info Session
<![if !supportLists]>· <![endif]>Getty/ACLS Postdoctoral Fellowships in the History of Art
<![if !supportLists]>· <![endif]>NEA Literature Fellowships: Translation Projects, FY2019
<![if !supportLists]>· <![endif]>UAV Lunch
<![if !supportLists]>· <![endif]>Cannabis Potluck
<![if !supportLists]>· <![endif]>Yellow-breasted Chat
NIH Next Generation Researchers Initiative
Earlier this year, NIH announced the launch of the Next Generation Researchers Initiative (NGRI), which will allocate approximately $210 million in fiscal year (FY) 2017 and an additional $210 million each year for four years to support additional meritorious early-stage and mid-career investigators. This amount will ramp up over five years to reach approximately $1.1 billion per year. On August 31, NIH released a policy supporting the NGRI that defines the categories of researchers eligible for the funding pool.
• Early Stage Investigator (ESI): An investigator who has completed a terminal research degree or end of post-graduate clinical training, whichever date is later, within the past 10 years and has been awarded an R01-equivalent as the principal investigator. A list of NIH grants that an investigator can hold and still be considered an ESI can be found at https://grants.nih.gov/policy/early-investigators/list-smaller-grants.htm.
• Early Established Investigator (EEI): an investigator who is within 10 years of receiving their NIH R01 equivalent research award as an ESI. Their application will be prioritized if they are at risk of losing all NIH support or are supported by only one award.
Our office encourages faculty who fall into these categories to take advantage of this new initiative. We recommend connecting with your program officers to discuss resubmitting proposals that were not funded and discussing new ideas that would be potentially fundable. Each NIH institute and center (IC) is setting the priorities and determining funding for investigators within their portfolios, hence, it is important to engage program officers.
Information on the initiative is available here https://grants.nih.gov/ngri.htm, the new policy is available here https://grants.nih.gov/grants/guide/notice-files/NOT-OD-17-101.html, and a blog post from NIH Director of Extramural Research Mike Lauer is here https://nexus.od.nih.gov/all/2017/08/31/nihs-next-generation-researchers-policy-now-posted/.
2018 HHMI Hanna H. Gray Fellows Program: Diversity in Biomedical Science
Through this program, HHMI is working to increase diversity in biomedical science. The Hanna Gray Fellows are early career scientists from gender, racial, ethnic, and other groups underrepresented in the life sciences, including those individuals from disadvantaged backgrounds. The Institute will select and support up to 15 Fellows in this grant competition. The competition is open to all eligible applicants, and no nomination is required. Please note that Fellows do not need to be working in HHMI labs.
Applicants can establish eligibility and submit an application via the HHMI online competition site: www.hhmi.org/research/application/fellow2018. Applications are due January 10, 2018, at 3:00 p.m. (Eastern Time).
Eligibility: open to individuals from gender, racial, ethnic or other groups underrepresented in the life sciences. Applicants can have no more than 12 months of postdoctoral research experience at the time of the application due date.
More information can be found at: https://www.hhmi.org/sites/default/files/Programs/Hanna%20Gray%20Fellows/Hanna-Gray-Program-Announcement-2018.pdf
Engineering for Civil Infrastructure (ECI) Program
The Division of Civil, Mechanical and Manufacturing Innovation (CMMI) within the National Science Foundation's Directorate for Engineering, announces creation of the Engineering for Civil Infrastructure (ECI) program. The ECI program represents a new and integrated vision for fundamental research to underpin transformative innovations for the built environment that are resilient, economical, and adaptable to enhance national prosperity and societal benefits.
In support of this vision, the ECI program replaces the Engineering for Natural Hazard (ENH), Geotechnical Engineering and Materials (GEM), and Structural and Architectural Engineering and Materials (SAEM) programs. ECI will also support research in construction engineering that is compatible with this vision.
The ENH and SAEM programs will no longer accept proposals. The GEM program will not accept proposals after 5:00 p.m. submitter's local time on December 29, 2017. Active awards in ENH, GEM and SAEM programs will be managed by the ECI Program Directors and will remain eligible for supplements and extensions.
New Program Highlights:
The ECI program supports fundamental research that will shape the future of our nation's constructed civil infrastructure, subjected to and interacting with the natural environment and to meet the needs of humans. In this context, research driven by radical rethinking of traditional civil infrastructure in response to emerging technological innovations, changing population demographics, and evolving societal needs is encouraged.
The ECI program focuses on the physical infrastructure, such as the soil-foundation-structure-envelope-nonstructural building system; geostructures; and underground facilities. It seeks proposals that advance knowledge and methodologies within geotechnical, structural, architectural, materials, coastal, and construction engineering, especially that include collaboration with researchers from other fields, including, for example, biomimetics, bioinspired design, advanced computation, data science, materials science, additive manufacturing, robotics, and control theory.
Research may explore holistic building systems that view construction, geotechnical, structural, and architectural design as an integrated system; adaptive building envelope systems; nonconventional building materials; breakthroughs in remediated geological materials; and transformational construction processes. Principal investigators are encouraged to consider civil infrastructure subjected to and interacting with the natural environment under "normal" operating conditions; intermediate stress conditions (such as deterioration, and severe locational and climate conditions); and extreme single or multi natural hazard events (including earthquakes, windstorms, tsunamis, storm surges, sinkholes, subsidence, and landslides). Principal investigators are expected to bear in mind broader impacts associated with, for example, economic, environmental, habitant comfort, and societal benefits, which may include implications for resource and energy efficiency, life cycle, adaptability and resilience, and reduced dependence on municipal services and utilities.
Full program details are available at: https://www.nsf.gov/funding/pgm_summ.jsp?pims_id=505488.
NSF: Stimulating Research Related to the Science of Broadening Participation
Building on previous investments, the Directorate for Social, Behavioral & Economic Sciences (SBE) and the Directorate for Education & Human Resources (EHR) announce their interest in continuing support of research related to the Science of Broadening Participation (SBP). The Science of Broadening Participation will employ the theories, methods, and analytic techniques of the social, behavioral, economic, and learning sciences to better understand the barriers that hinder and factors that enhance our ability to broaden participation in science, technology, engineering, and mathematics (STEM) and other sectors. The results of these efforts will inform approaches to increase the access and involvement of underrepresented groups in STEM and to strengthen our national STEM capabilities and competitive advantage. Ultimately, the SBP research will provide scientific evidence that STEM educators, STEM employers, and policy makers need to make informed decisions and to design effective programs and interventions.
In FY 2018, SBE and EHR will partner to support SBP research proposals that will contribute to the overall understanding of the positive and negative factors impacting the participation of underrepresented individuals in STEM education and careers. SBP research proposals may focus on factors such as the following:
<![if !supportLists]>· <![endif]>Institutional and organizational factors (e.g., studies of organizational, structural, cultural or climate factors that impact STEM participation)
<![if !supportLists]>· <![endif]>Cultural and social factors (e.g., studies of psychological or behavioral factors that affect STEM participation and achievement rates)
<![if !supportLists]>· <![endif]>Economic and policy-related factors (e.g., studies of economic factors that impact STEM participation and the relationship between broader participation and social innovation).
We anticipate that many of the fields represented within SBE and EHR can contribute to the Science of Broadening Participation. Some examples of potential research questions related to the SBP include but are not limited to:
<![if !supportLists]>· <![endif]>What are the underlying psychological and social issues affecting the different participation and graduation rates in STEM of women, men, persons with disabilities, and racial and ethnic minorities?
<![if !supportLists]>· <![endif]>Under which conditions do behavioral, economic, and socio-legal factors influence recruitment and retention in STEM education at the individual, meso, and macro levels?
<![if !supportLists]>· <![endif]>What aspects of preK-12, informal, and higher education learning environments and workplace culture moderate the factors impacting underrepresented minorities, women, and/or persons with disabilities?
<![if !supportLists]>· <![endif]>What behavioral or economic processes result in outcomes that are associated with success in STEM?
<![if !supportLists]>· <![endif]>What theoretical approaches predict success in ensuring that young people from underrepresented groups do not lose interest in science during adolescence?
<![if !supportLists]>· <![endif]>What are the impacts of a diverse STEM workforce on scientific productivity and innovation and the national economy?
Scholars with research proposals that contribute to the Science of Broadening Participation should submit proposals to the most relevant programs of the SBE Directorate and designate the proposal as SBP by including "SBP" at the beginning of the proposal title. Information concerning SBE programs may be found on the following websites under each one's respective Programs and Funding section: Behavioral and Cognitive Sciences, Social and Economic Sciences, and SBE Office of Multidisciplinary Activities.
Alternatively, proposals may also be submitted to appropriate EHR education research programs (https://www.nsf.gov/dir/index.jsp?org=EHR). In particular, scholars may wish to consider the Broadening Participation in STEM strand in the EHR Core Research (ECR) program (https://www.nsf.gov/funding/pgm_summ.jsp?pims_id=504924). The Division of Human Resource Development (HRD) also has a Broadening Participation Research in STEM strand in HBCU-UP and TCUP for scholars at Historically Black Colleges and Universities and Tribal Colleges and Universities. Please see the HRD homepage for links to the appropriate program solicitation: https://www.nsf.gov/div/index.jsp?div=HRD.
Successful research proposals will have scientifically sound research plans that are rooted in relevant theory and scientific literature. Proposals will be evaluated based on their intellectual merit and broader impacts, as well as their potential contribution to SBP.
Specific questions about an SBE or EHR program should be directed to the program director of the program. This is not a special competition or new program; proposals in response to this Dear Colleague Letter must meet the requirements and deadlines of the program to which they are submitted.
Fall Quarter 2017 I-Corps Info Session
<![if !supportLists]>· <![endif]>Monday, October 2, 2017
<![if !supportLists]>· <![endif]>12:00 – 1:00 pm (lunch provided)
<![if !supportLists]>· <![endif]>University Laboratory Building, Room 104
<![if !supportLists]>· <![endif]>Please RSVP online: https://www.ucreduotp.net/events/nsf-i-corps-startups-for-innovators-information-session
The UCR NSF I-Corps Startups for Innovators workshops utilize the Lean Launchpad methodology championed by Steve Blank to help teams conduct customer discovery and help determine if there is a market for your innovation. The UCR entrepreneurial teaching team will discuss our experiential workshops and answer your questions. In these, teams "get out of the building" to conduct customer discovery interviews and learn to make quick business presentations. Experienced entrepreneurs provide one-on-one mentoring to each team.
Participation in the workshop requires approximately 8 – 10 hours/week of effort by the team members.
Topics include:
<![if !supportLists]>• <![endif]>Identify customers
<![if !supportLists]>• <![endif]>Define customer needs/pains
<![if !supportLists]>• <![endif]>Effectively communicate your business to outsiders
Teams completing the program can receive up to $3000 to help validate the commercial potential of their product.
Fall Quarter Phase I workshops will be held on Tuesday evenings: 6:00 – 8:00 PM
(Food and Networking: 5:30 – 6:00)
Session Dates: October 17, 24, 31
For questions, contact: Mark Leibowitz at mark.leibowitz@ucr.edu
Getty/ACLS Postdoctoral Fellowships in the History of Art
Due October 25
ACLS invites applications for Getty/ACLS Postdoctoral Fellowships in the History of Art, made possible by the generous support of the Getty Foundation. These fellowships are intended to support an academic year of research and/or writing by early career scholars for a project that will make a substantial and original contribution to the understanding of art and its history. The ultimate goal of the project should be a major piece of scholarly work by the applicant.
ACLS does not fund creative work (e.g., novels or films), textbooks, straightforward translation, or pedagogical projects. ACLS will award 10 fellowships, each with a salary-replacement stipend of $60,000, plus $5,000 for research and travel during the award period.
Awards also will include a one-week residence at the Getty Research Institute following the fellowship period.
Eligibility:
<![if !supportLists]>· <![endif]>Applicants must have a PhD that was conferred between September 1, 2012 and December 31, 2016.
<![if !supportLists]>· <![endif]>Applicants who earned their PhDs in and/or are currently employed in any humanistic field may apply, so long as they demonstrate that their research draws substantially on the materials, methods, and/or findings of art history, and contributes to the field. Scholars may propose new approaches to art historical scholarship and/or explore connections between art history and other humanistic disciplines.
More information can be found at: https://www.acls.org/programs/getty/
NEA Literature Fellowships: Translation Projects, FY2019
Due December 5
Through fellowships to published translators, the National Endowment for the Arts supports projects for the translation of specific works of prose, poetry, or drama from other languages into English. We encourage translations of writers and of work that are not well represented in English translation. All proposed projects must be for creative translations of literary material into English. The work to be translated should be of interest for its literary excellence and value. Priority will be given to projects that involve work that has not previously been translated into English. Competition for fellowships is rigorous. Potential applicants should consider carefully whether their work will be competitive at the national level.
An individual may submit only one application for FY 2019 funding. You may not apply for both a Translation Project under this deadline (December 5, 2017) and a Literature Fellowship (in prose or poetry) under the 2018 deadline (when fellowships in prose are offered). The Arts Endowment's support of a project may begin any time between November 1, 2018, and November 1, 2019, and extend for up to two years.
More information can be found at: https://www.arts.gov/grants-individuals/translation-projects
UAV Lunch: Oct 23
Research and Economic Development hosts lunches to get together faculty from different colleges working on related problems.
We'll host a lunch on Oct 23 starting at noon in UOB 210 with the topic of Unmanned Aerial Vehicles (UAVs or drones) in research and education. If interested, please sign up at. https://www.eventbrite.com/e/research-lunch-tickets-37958335403
The lunches are catered by a local Thai restaurant and include vegetarian and gluten-free options.
If you have an idea for a topic, please notify me. (We are planning a lunch for autism researchers)
Cannabis Potluck: Oct 11
We'll host a lunch on Oct 11 starting at noon in UOB 210 with the topic of Cannabis Research.
https://www.eventbrite.com/e/research-lunch-on-cannibis-tickets-38440409299
The goal is to connect researchers who are conducting academic research on cannabis and users of cannabis. Topics may include but are not limited to
<![if !supportLists]>· <![endif]>Agricultural Research: Plan Breeding, Horticulture, Plant Pathology, Pesticides, etc.
<![if !supportLists]>· <![endif]>Research on purity and chemical composition of cannabis products available to consumers
<![if !supportLists]>· <![endif]>Biomedical research on cannabis and related compounds.
<![if !supportLists]>· <![endif]>Social Science and public policy research on cannabis and its users
See https://www.drugabuse.gov/drugs-abuse/marijuana for some info on NIH and cannibis
There is likely to be a UC completive grant program funded by a tax on cannabis next year.
It's not really a potluck. It will be catered by a local Thai restaurant and include vegetarian and gluten-free options. However, you may bring dessert. I'll be baking brownies.
<![if !vml]>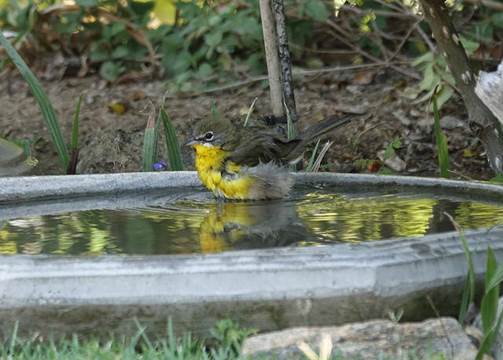 <![endif]>
The Yellow-breasted Chat is the largest warbler. It's an elusive bird, staying in shrubs, but it has to come out for water sometime. One was at my bird bath for a few days in September.
Michael Pazzani
Vice Chancellor for Research and Economic Development
Professor, Computer Science & Engineering
University of California, Riverside
200 University Office Building
To schedule a meeting with me, please contact Bri Cates at
Email: VCREDadmin@ucr.edu